Fatima College will reclaim their position in the Secondary Schools Football League (SSFL) Premier Division in 2020, as the North Zone outfit sealed promotion from the Big Five competition today with a 1-0 win away to Signal Hill Secondary.
Attacker Joshua Mason got the vital item for Fatima with a sublime control and finish at the far post in Tobago. And the host team could not muster a response.
The win pushed Fatima, coached by former 'Strike Squad' standout Hutson 'Barber' Charles, to seven points and level with South Zone team Moruga Secondary, who have also qualified for the top flight. Moruga lead the standing on goal difference.
Moruga and Fatima will enter the final round of matches next Saturday looking for a win to claim the Big Five title. But there is plenty at stake for the remaining three schools, who all still have a chance at grabbing the third and final Premier Division ticket available.
This afternoon, Arima North Secondary kept their promotion dreams alive with a last gasp 2-1 win over Chaguanas North Secondary at Edinburgh 500.

Team captain Jesus De Lecia put the 'Dial Dynamos' ahead in the 32nd minute with a tidy finish on the break, after a crucial interception by teammate and midfielder Jayden Moore. However, Chaguanas North emerged from their dressing room fired up after the interval and pulled themselves level after a speculative long distance effort by midfielder Drei Guisseppi managed to elude Arima North custodian Kedhar Williams.
Neither team were happy with a draw. Chaguanas North midfielder Anderson Gibson thought he had the winner after pouncing on a defensive error, late in the second half, only for opposing defender Christopher Bartholomew to execute a goal line clearance.
[sports-match template="logos" match="57670″]
And, in the 83rd minute, Chaguanas North fans breathed a sigh of relief as goalkeeper Jon-Pierre David clawed away a goal bound header from Arima North forward Khalil Francis.
Four minutes into second half stoppage time, the visitors landed the killer blow as defender Lasean Greene and forward Daniel Warner combined to release De Lecia down the right flank. And De Lecia's low cross was ushered home by substitute Ronaldo Rogers for the winner.
Chaguanas North, Signal Hill and Arima North have three points each going into the last round of matches with goal differences of minus-one (CN), minus-three (AN) and minus-seven (SH) respectively. Chaguanas North host Fatima on 23 November while Arima North welcome Moruga to their Arima Old Road compound. Signal Hill have already played their four matches.
If Chaguanas North and Arima North get the same results—whether win, lose or draw—then the former school will be promoted. If Arima North win or draw and Chaguanas North fail to match them, then the East Zone Championship winners will go up.
The only scenario that sees Signal Hill promoted is if Chaguanas North lose by seven goals and Arima North lose by five goals. The die is cast for a nervy weekend.
Big Five results
(Saturday 16 November)
Chaguanas North 1 (Drei Guisseppi 58), Arima North 2 (Jesus De Lecia 32, Ronaldo Rogers 90+4) at Edinburgh 500;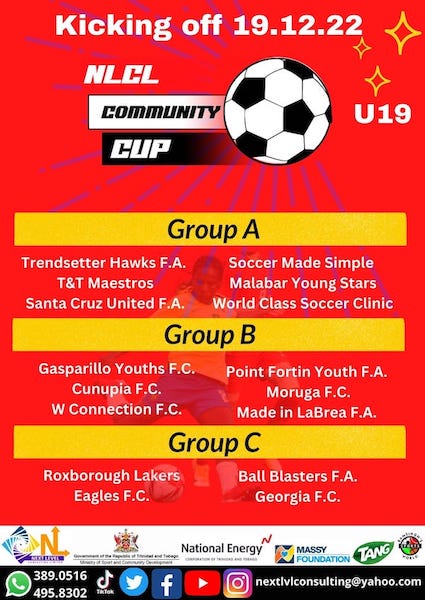 Signal Hill 0, Fatima College 1 (Joshua Mason) at Tobago;
Moruga Secondary are on a bye.
Upcoming fixtures
(Saturday 23 November)
Arima North v Moruga Secondary, 3.40pm, Arima Old Road;
Chaguanas North v Fatima College, 3.40pm, Edinburgh 500;
Signal Hill are on a bye.
Big 5 Scorers
2—Jesus De Lecia (Arima North), Jordan Romany, Andrew De Gannes [1 pen] (Fatima College), Mont Zion Bain, Kesney Bain, Matthew Lee Cummings (Moruga Secondary), Javier King (Signal Hill);
1—Daniel Warner, Ronaldo Rogers (Arima North), Anthony Mohammed, Tristan Lewis, Anderson Gibson, Isaiah Albert, Anthony Bain, Drei Guisseppi (Chaguanas North), Alexi George (Fatima College), Rundel Hamilton, Tyrique Lucas, Kevin Steeling, Jeremiah John, Joshua Kesney (Moruga Secondary), Justice Williams (Signal Hill).