Acting Pro League chairman Brent Sancho has accused Trinidad and Tobago Football Association (TTFA) president David John-Williams of 'total disrespect' to the local top flight competition and putting the health of players at risk, due to the latter's unilateral decision to shift Trinidad and Tobago's friendly international against Anguilla from Monday night to Sunday evening.
A release from the TTFA yesterday said only that 'the shift in date has come about due to FIFA regulations'. FIFA rules state that countries cannot play more than two games in one match window, which lasts nine days.
However, with the TTFA apparently desperate to play Anguilla—who are the lowest ranked team of FIFA's 209 member associations—the local football body decided to play the minnows 24 hours earlier. Technically, the friendly is now outside the FIFA match window although it means the Men's National Senior Team play three times in nine days against Anguilla (10 November) and away to Ecuador (14 November) and Honduras (17 November).
The switch shortens the recovery time for Pro League players who are competing in the ongoing First Citizens Cup, which has matches this weekend on Friday, Saturday and Sunday. And kick off between Cunupia FC and AC Port of Spain at the Hasely Crawford Stadium mirrors the start time between the Warriors and Anguilla.
Sancho slammed John-Williams' decision, which he said was made without TTFA Board approval.

"We have the ridiculous situation where the National Team will kick off at exactly the same time as a First Citizens Cup match, on a surface that would have seen two 90 minute games played the day before," said Sancho, via a press statement. "Imagine the condition of that surface for an international game if it rains on Saturday!
"[…] As a Pro League club owner, and now as acting chairman of the TT Pro League, I have always tried to support our national teams. Even when we have had important games, we have still tried to accommodate TTFA's wishes.
"But this decision by David John-Williams—because I know for a fact that this hasn't come from the TTFA board—is totally disrespecting clubs, players, supporters and sponsors. We have First Citizens Cup matches being played on Friday, Saturday and Sunday and you want to play a Senior Men's international on the same weekend?!"
Sancho confirmed that John-Williams did not consult or advise the Pro League before his decision, although he is the owner of the W Connection Football Club which is also participating in the First Citizens Cup. Connection tackle Defence Force from 8pm tonight at the Hasely Crawford Stadium.
"I have seen the notice on the TTFA website, but to my knowledge, no club—or Pro League CEO—Mrs [Julia] Baptiste has received an official confirmation," said Sancho, who blamed the fixture change on the TTFA's 'poor planning'. "This is discourteous and totally disrespectful. Because of the timing I have not had a chance to discuss this with the clubs, but [Soca Warriors head coach] Dennis Lawrence should be concerned about who will show up for the game on Sunday, and what kind of condition the players will be in.
"[…] Even playing on Monday as originally planned was ambitious to say the least. Clubs would want a full roster for the FCB and the recovery time for players was dangerously short as it was. So to bring the game forward is nothing but crazy."
Ironically, John-Williams is a member of the FIFA Players' Status Committee whose duties include the welfare of players on international duty.
Sancho reminded the TTFA that, since the Anguilla game is now outside the international match window, Pro League clubs are not obliged to release their players. However, there is no suggestion to date that any team will not make their players available and the chairman did not threaten to withhold his players either. Central FC head coach Stern John is assistant to Lawrence with the Warriors.
Sancho is urging that the TTFA respect the Pro League's competitions and sponsors though.
"The FCB Cup is currently the most lucrative prize on offer to Pro League clubs and, in the current climate, coaches have to prioritise this competition," he said. "It meant that some players may have had to play for their clubs on Sunday and then pull on a national team jersey on Monday. That can never be healthy for players.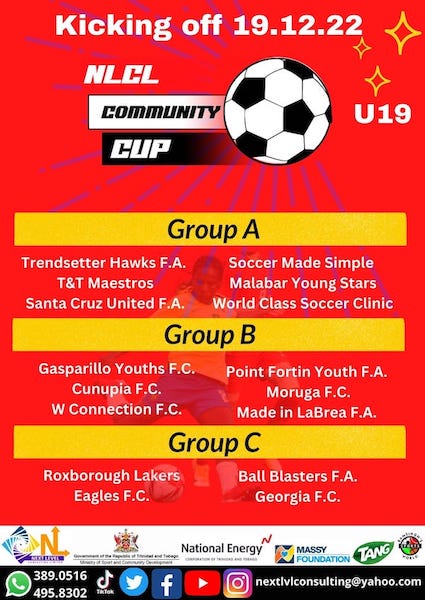 "And, of course, as this game now falls outside of the FIFA window, clubs are not compelled to release their players. While clubs may have respect for the position of Dennis Lawrence, they may well use this opportunity to vent their displeasure at David John-Williams' lack of respect.
"[…] While league attendances last year were disappointing, attendances for the FCB Cup have always been strong. It's an exciting format that keeps supporters interested. It will be very disappointing to us and our sponsors if we lose supporters on Sunday."
Trinidad and Tobago face Anguilla from 6pm on Sunday in Couva. Tickets for the friendly are TT$40 and are available on match day at the venue.