Signal Hill Secondary kept their aspirations of playing in the 2020 Secondary Schools Football League (SSFL) Premier Division season alive after edging ten-man Arima North Secondary by a 3-2 margin in an enthralling Big 5 playoff encounter yesterday afternoon.
The Shell/FCB Big 5 tournament pits the five Championship zonal winners against each other in intense round robin battle with the top three teams rewarded by promotion to the Premier Division. Signal Hill's own quest to return to the top flight took a big dent on Wednesday when they were beaten 4-nil by Central Zone champions, Chaguanas North Secondary. To make matters worse, Signal Hill then axed coach Sherwin Jordan and elevated Under-16 coach, Downie Marcelle to the helm.
With little knowledge of Arima's current crop of 'Dial Dynamos', Marcelle took the gigantic task head on. And yesterday at least, he and his Signal Hill charges passed with flying colours.
Their mid-week humbling at the feet of Chaguanas meant that today's encounter was virtually a must-win one for the boys from the Sister Isle. And boy did they approach it like one.
Whatever they lacked in finesse and technique, they certainly made up for it with their physicality and sheer determination. And in the 89th minute of play, substitute Justice Williams sent his teammates and Signal Hill's small band of supporters into pandemonium, when he unleashed a wicked left-footed shot into the top corner from roughly 30 yards out.

"Oh yeah, Justice scored a brilliant goal there!" an excited Marcelle told Wired868, "It was almost Ronaldo-esque or Messi-esque […] Justice has always been a good player but he can be inconsistent sometimes, so it's about the moment."
With two matches left on their Big 5 calendar, Signal Hill still have their work cut out if they are to join fellow Tobago school, Speyside High, in the Premier Division. But yesterday, they lived to fight another day and they celebrated as though they had just won precious silverware.
[sports-match template="logos" match="57225″]
Three points didn't always look on the cards for the Tobago schoolboys, who were heavily reliant on the pace and trickery of attacker Javier King on the counter attack.
Luckily for Signal Hill, King reigned supreme, as he often showed a clean pair of heals to opposing right back Emmanuel Hunte, and had the finishing touches to go along with it. Twice Signal Hill trailed and, on both occasions, King was the man to deliver.
Arima went into the halftime interval with a 1-nil advantage courtesy their skipper, Jesus De Lecia, who buried home from close range in the 34th minute after nifty footwork down the right by flanker Daniel Warner. Arima coach Wayne Sheppard could argue that his team should've had a bigger lead by then, as Warner and defenders Lasean Greene and Dorian Jeffrey all had decent efforts at goal in a frenetic end to the first half.
"I thought that we started without the intensity that we needed to," said Sheppard. "Signal Hill is a team that was hurting and we needed to come here today and jump on them from the start. We needed to be intense and be in their face [and] do the stuff we have been doing all season…"
The young Dial Dynamos looked a touch nervous. And despite creating more clear-cut chances than their opponents in the first half, their passing lacked fluidity and was too casual at times. This relaxed approach saw unforced errors creep into their game, and with King threatening down the left flank, it was only a matter of time before they paid the price.
Sheppard indicated that a few of players are currently fighting off the flu. Centre back Greene was visibly bothered by the virus and spent much of his time hunched over or asking Sheppard to take him out of the game. He lost the latter battle and his overall display wasn't spectacular either.
In the 50th minute, the Arima rear guard were caught out by a simple ball over the top towards attacker Kyle Jack. The slender attacker made his way towards goal but never seemed assured. As the Arima defence retreated slowly, Jack had two bites at the cherry and was thwarted on both occasions by the alert goalkeeper Kedhar Williams, only for King to ram home the rebound from close range.
"Is dem little battles we losing!" Sheppard shouted. "These guys can't want it more than you!"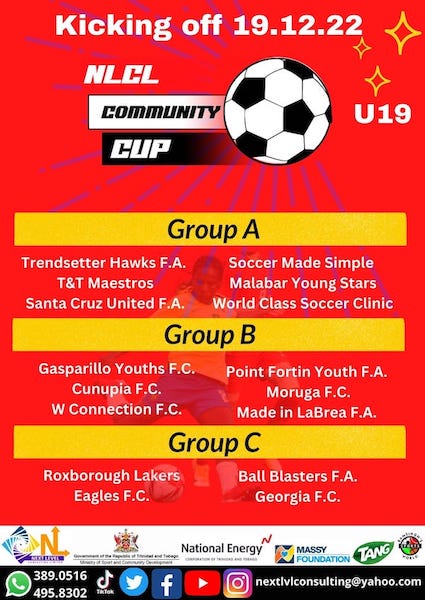 King's item seemed to inspire Signal Hill who, as Sheppard alluded, were winning the 50-50 battles and scooping up the loose balls. It was not pretty, but the Signal Hill players weren't afraid to get their noses dirty.
The diminutive Quincy Winchester made a nuisance of himself in the middle of the park, while the central defensive duo of Hamilton Bristol and skipper Shaquille Carrington dealt with aerial balls like it was meat and drink.
The Signal Hill defence fell asleep in the 65th minute though, as Warner fortuitously prodded a Justin Modeste corner past the opposing goalkeeper and his namesake, Kareem Warner. It's safe to say that Warner (D) knew little about his go-ahead goal, as the ball appeared to strike him in the face before trickling over the goal line.
However, the response that came from King three minutes later was a thing of beauty. Sure, the Arima defence was sloppy yet again as they failed to deal with a long free kick, taken in the opposing half. King was a man on a mission though. And once the long punt was flicked into his path, he left Hunte on his backside with a sharp turn towards the left before arching a fierce, low drive across Williams (K) and into the far corner.
Game on!
"We didn't deal with that as we needed to defensively," said Sheppard, after the match. "We don't ever like to be in one v one situations in any part of the field; we prefer two v one situations."
With compromising positions in mind, Arima's worst fears were realised in the 74th minute when referee Gyasi McDonald showed Jeffrey a straight red card for pulling back King, who had a clear run at goal. It was all Jeffrey's own doing really. Again Signal Hill attempted a long ball from the back and, instead of heading away from danger, Jeffrey tried to control and ended up making a meal of it.
King pounced and looked certain to get a hat-trick, only to be unceremoniously tugged back.
Even with his team down to 10 men for the closing 20 minutes, Sheppard was still confident of getting all three points.
"At that point in time, I wasn't worried about losing because I felt as though we still had enough [going forward] to see about Signal Hill," Sheppard said. "We didn't cave in."
Sheppard's players appeared to be thinking along the same wavelengths and they fashioned some decent opportunities after Jeffrey's ejection. Captain De Lecia looked to shoulder the added responsibility as he found an extra burst of energy and took on all in his path. Meanwhile, central midfielder Jayden Moore, who had a relatively quiet game, suddenly sprung to life as he tried to engineer a precious result.
In the 79th minute, Moore had a curling right-footed shot well stopped by Warner (K), while he struck a meaty effort just over bar two minutes later, after a nice exchange with striker Khalil Francis.
The ten men of Arima looked as though they might just unlock the opposing defence for a third time to nick the result. But when an eager Justice Williams swung a vicious left-footer past his namesake Kedhar, the final verdict was adjudged to be in Signal Hill's favour.
The visitors were ecstatic. Williams (J) celebrated with a somersault right in front of the Arima technical area as his teammates joined him in a jubilant frenzy.
"We had to win today to give ourselves any opportunity of qualifying for the Premier Division," Marcelle said. "If we had lost today, it would've meant that our last two games would've been like finals and that would have made it all the more difficult."
After receiving a 4-nil thumping by Chaguanas North, coupled with the axing of coach Jordan, the Signal Hill boys could've folded. Instead, they found the resolve and character to battle from two deficits to clinch a critical away win.
"Every time Arima scored we came back and we showed character and I'm really grateful," Marcelle said. "We had strength and we had courage to come to Arima and now we are heading back home with three points."
Marcelle reckons that a tally of five points might be enough to seal promotion. Today, Signal Hill clawed themselves within touching distance of that mark.
"I'm glad for the boys. Yes I'm doing the interview, but it's all about them," Marcelle said. "I ain't do anything. They went out there and they played their hearts out."
Arima's next Big 5 encounter is a tasty one against Fatima College, who are Sheppard's ex-employers. Fatima were on a bye today and currently sit in fourth position in the five-team table, with Arima bringing up the rear. When the teams meet on Saturday 9 November, the former Fatima boss expects to see fireworks.
"The team that's playing for Fatima now is the team that won the National Under-16 title in 2017," Sheppard said. "I saw them play against Moruga Secondary the other day and they have good spirit. And just the mere fact that they are playing against a team led by their former coach, they'll want to show their worth; so I expect then to come out fighting.
"I've been hearing some chatter from parents and others around Fatima, and it seems as though it's a big game for them; it's simply about three points for us."
Before their next Big 5 contest, Arima North have the not insignificant matter of a East Zone quarterfinal contest with East Zone Championship Division runners-up, Manzanilla Secondary, on Wednesday. Sheppard was unhappy with the Intercol draw and suggested that he might be prepared to sacrifice knock-out glory for a chance at promotion.
"The technical staff has to sit and see what weighting we put on that Intercol tournament; because frankly, the seeding for that tournament was ridiculous as far as I'm concerned," Sheppard said. "We finished first in the Championship and we will be playing the team that finished second. We have to consider what we are doing because the squad is very thin and getting into the Premier Division is the real aim.
"It's going to be another battle against Manzanilla and I don't know if I can put these boys through that and then ask them to be ready for a Fatima team that is practically the same team from last year."
Whatever Sheppard and the Arima technical staff decide, they know they will have some ground to make if they are to gain promotion to the Premier Division.
"I don't think we're out of [the promotion race]," Sheppard said. "This defeat probably means that we [can't win] the tournament itself. We still have three games to play, one of which is at home. So we need to go and deal with the teams that are put before us."
In yesterday's other Big 5 encounter, Moruga Secondary laid down a huge marker as they thumped Chaguanas North by a 5-1 margin in the south land. With the resounding victory, Moruga move into top spot while Chaguanas slip to third. In their next Big 5 game, the Dial Dynamos will hope that Fatima are the ones suffering from cruel justice.
(Teams)
Arima North Secondary (4-1-4-1): 31.Kedhar Williams (GK); 20.Emmanuel Hunte (17.Jonathan Robinson 90+2), 3.Christopher Bartholomew, 5.Lasean Greene, 2.Dorian Jeffrey [Red card 74]; 6.Stephen Moore; 7.Daniel Warner, 8.Jayden Moore, 10.Jesus De Lecia (captain), 16.Justin Modeste (12.Nicholas Franklyn 77); 9.Khalil Francis (18.Ronaldo Rogers 83).
Unused Substitutes: 11.Kercelle Callender, 13.Keyel James, 14.Jaydon Bancroft.
Coach: Wayne Sheppard
Signal Hill Secondary (4-2-3-1): 25.Kareem Warner (GK); 5.Rayjuan Thomas, 4.Hamilton Bristol, 18.Shaquille Carrington (captain), 3.Nikosy Taitt; 6.Quincy Winchester, 21.Keelon Clement; 8.Tyrel Laptiste (10.Justice Williams 70), 12.Keiwyan Reid (14.Jerry Sterling 57), 11.Javier King; 17.Kyle Jack (7.Aaron Cape 90+1).
Unused Substitutes: 2.Terrell Kennedy,15.Akelon Peters, 16.Quie Pollard, 20.Obari Elliott.
Coach: Downie Marcelle
Referee: Gyasi McDonald
Wired868 Man of the Match: Javier King (Signal Hill Secondary)
Big Five Results
(Saturday 2 November)
Moruga Secondary 5 (Kevin Steeling 34, Matthew Lee Cummings 41, Mont Zion Bain 63, Kesney Bain 75, Jeremiah John 85), Chaguanas North Secondary 1 (Anthony Bain 60) at Moruga;
Arima North Secondary 2 (Jesus De Lecia 34, Daniel Warner 65), Signal Hill Secondary 3 (Javier King 50, 68, Justice Williams 89) at Arima;
Upcoming fixtures
(Saturday 9 November)
Moruga Secondary v Signal Hill, 3.40pm, Moruga;
Fatima College v Arima North, 3.40pm, Mucurapo Road;
Chaguanas North are on a bye.