The following letter, designed to 'offer a few thoughts on the recent Big Five pan concert, staged at the Queen's Park Savannah last Saturday evening', was submitted to Wired868 by Earl Best, who asked that we stress that pan music is emphatically NOT one of the several areas in which he believes himself to have genuine expertise.
Let me begin by making clear that, not only am I not a pan expert, I am emphatically NOT even a pan lover; in nearly five decades of adulthood, I have never once sat—or stood—through an entire Panorama. According to Martin Daly, nowadays that is an ordeal not to be wished on one's worst enemy. And although I have dutifully attended a handful of pan concerts, I have generally tolerated them, no more.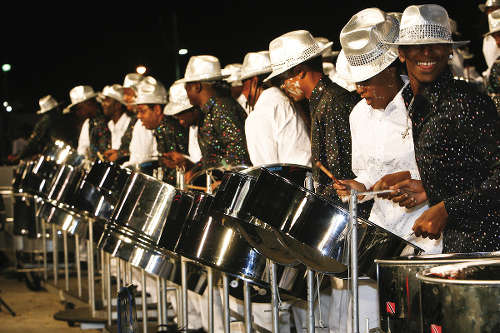 Not so Saturday's International Steelband Foundation's (ISF) Big Five affair in the Grand Stand, nor its predecessors under tents in the Paddock. They were thoroughly enjoyable experiences. I would be genuinely surprised to discover that there are patrons who came away from Saturday's feeling they had not got their money's worth. A punctual start, abundant sweet steelband music, clean sound, efficient stage management and, above all, a pre-midnight curtain. Pan fans would also have been cheered by the presence of large percentages of young people of both sexes, on the stage although not in the stands.
It was not, however, all positive. Some of the lessons offered by the earlier editions were not really learned, arguably, at least in part, owing to the change of venue.
At the Paddock, the double-stage arrangement made for a very smooth transition between performing bands. At the Grand Stand, however, it was not replicated, perhaps for engineering or other logistical reasons. That meant that there was a 15-minute changeover period between performances. With the show advertised as being 'in tribute to Neville Jules', one feels that these unavoidable interludes could—and should—have been used as information refilling stations. Patrons might have been served information preferably on the steelbands involved in the show or, at the very least, on the steelband movement and its rich history. Without, of course, the overkill of the first edition. Morsels, not mouthfuls.
In the event, the last three entr'actes were used to test patrons' knowledge of—and familiarity with—calypsoes about the steelband. But should there not have been some special focus on Jules and/or his beloved All Stars? While Exodus were replacing All Stars on the stage, patrons were provided with a few biographical tidbits from the renowned panman's CV; thereafter, essentially silence. Surely a skilled researcher should have been easily able to unearth enough data about Jules, who turned 92 in May. Surely a skilful presenter could have been equipped with enough stuff about him to fill five minutes, say, of each of the quarter-hour breaks that followed Exodus' offering?
But on the whole, information was in short supply on the day. Not for the first time, there was no printed programme. Perhaps understandably; attractive programmes are costly. Additionally, the introductions of the bands came over as almost perfunctory, certainly uninspired. The underlying assumption seemed to be that most people are already familiar with most if not all there is to know about this band so …
"Band X hails from area Y, was founded in year Z and distinguished itself in the following way. Ladies and gentlemen, here is Band X."
Can one really be satisfied with an introduction of Renegades that never mentions Jit Samaroo? An introduction of Desperadoes that mentions Rudolph "The Hammer" Charles but omits mention of Clive Bradley? And what of the other Clive, "Zanda" Alexander, who actually made a cameo appearance to preface one of the tunes played by Desperadoes but whose presence went completely unacknowledged?
As did, by the way, Pelham Goddard, visible on stage amid the Exodus throng.
If you were interested in the identity of the performers who appeared along with the bands, you were in for a major disappointment. Ditto if you did not recognise Len 'Boogsie' Sharpe's Dance of the Douens, or Mozart's Eine Kleine Nachtmusik or Satchmo's Wonderful World or Kes' Savannah Grass or any of the medley of 20th Century road marches with which Phase Two rounded off their hair-raising set; such information was not forthcoming either from the house MC (2017) or from a band spokesperson (2018) or from the big screens beside the stage.
It was a tribute to the skill and the reputation of the panside born long ago up in the Hills of Laventille that the full house remained full to the last. When Despers took the stage after Renegades to bring the curtain down on the show, many people were still loudly asking who the saxophonist was who had performed with the Woodbrook band. Phase Two's 45-minute set had included a Relator apéritif, which a merely tolerant audience, their appetite more than whetted by the preceding acts, had greeted with little more than polite applause.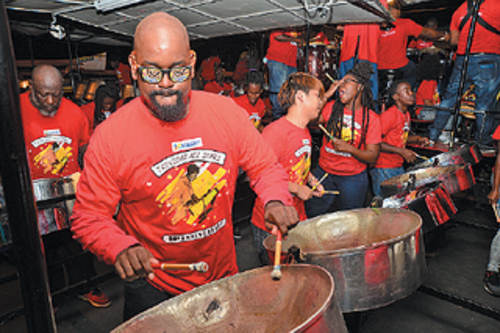 The main course proved to be sumptuous, not just for connoisseurs of jazz but for lovers of pan as well. Boogsie's protracted shootout with the unidentified Mr (Sa)X brought the crowd to its feet and almost brought the house down. At its end, despite knowing that the programme provided for nothing unscripted, including a well-deserved encore, the audience seemed to be demanding more.
So might the ISF consider shaving a little time off each band's allotted 45 minutes and adding a brief soloist shootout to the 2020 programme? And perhaps billing next year's affair as Big Five + 1 v 1?
In an election year, both the prime minister, under whose 'distinguished patronage' Saturday's event was staged, and the minister of finance will be very interested in the organisers' real targets. They will want, one feels, all eyes to turn to the tourists to whom we now seem bound to look as replacements for oil and gas.