The Trinidad and Tobago Football Association (TTFA) president for the next four years looks to be either incumbent David John-Williams, Secondary Schools Football League (SSFL) president William Wallace or Terminix La Horquetta Rangers managing director Richard Ferguson.
Today is nomination deadline day for the jobs of TTFA president and vice-presidents and, bizarrely, the Constitution does not mandate that the local football confirm the proposed candidates until 10 days before its 24 November AGM and election. It means candidates seeking to dethrone John-Williams must campaign without being certain about who they are running against and whether their candidacy itself was deemed valid.
Worse, John-Williams and his general secretary Camara David neglected to have an Electoral Committee properly activated. According to the TTFA Constitution, the Electoral Committee is 'the body in charge of organising and supervising the election process' and can only be legally set up by the general membership. However, this is one of over a dozen committees that remain non-functional under the current leadership.
An extraordinary general meeting can be used to appoint an Electoral Committee within 60 days but this has not been triggered. Instead, John-Williams sought to address his negligence on this front by having FIFA 'authorise' the selection of an Electoral Committee by email to the members. There is no provision for this in the Constitution but the candidates appear to have accepted the patch-job, so as to avoid delaying the election.
The proposed Electoral Committee members are: Boris Punch (former TTFF vice-president and match commissioner), Dr Justin Koo (law lecturer and certified referee), Dr Dexter Browne (dentist), Michael Cooper (UTT board member, Panland president and former national senior team assistant coach) and Jerome Herrera (attorney and First Lieutenant of the Trinidad and Tobago Cadet Force). Punch has been proposed as the committee's chair.

Thus far, two slates have openly declared their candidacies.
The first, which refers to itself as 'United TTFA', is headed by Wallace, a retired school teacher, and includes first vice-president Clynt Taylor, second vice-president Susan Joseph-Warrick and third vice-president Joseph Sam Phillip.
Taylor is the general secretary of the Central Football Association (CFA), a member of the local referees body and was an unsuccessful candidate as president in the 2015 TTFA election. Joseph-Warrick is the current women's football president while Phillip is a former Pro League chairman.
Ferguson, a chartered accountant, leads the second slate with Eddie Dean as first vice-president, Raymond Thom as second vice-president and Shymdeo Gosine as third vice-president. Dean is a businessman and owner of the Club Sando Football Club, Thom is a manager of Police FC and Gosine is a businessman and the CFA president.
Although, true to form, John-Williams has not publicly declared his slate or indicated whether he will push for re-election, Wired868 understands that he also put his hat in the ring. John-Williams' team allegedly comprises of first vice-president Selby Browne, second vice-president Anthony Moore and third vice-president Colin Partap.
Browne is the interim president of the Veteran Footballers Foundation of Trinidad and Tobago (VFFOTT) and a NLCB board member, Moore is the Tobago Football Association (TFA) president and Partap is an attorney and former UNC MP and was the CFA's representative on the TTFA Board for the past two years.
Article 34.6 states that candidates: shall have been active in a managerial or similar position in local football for at least three of the five years preceding the election; must not have been found guilty of an indictable offence; and shall be a Trinidad and Tobago national with 'permanent residence' on these shores.
The elections will be conducted by secret ballot and a presidential candidate must get at least 51 per cent of the vote to be declared winner.
Article 26.3: 'A majority (more than 50%) of the valid votes cast is necessary for the election of the President. If there are more than two candidates for the office of President, whoever obtains the lowest number of votes is eliminated as from the second ballot until only two candidates are left.'
There will be no need for a run-off for the vice-presidential posts though. In this case, Article 26.4 stipulates: '[…] If there are three candidates or less for one position, whoever obtains the most votes in the first ballot shall be elected.'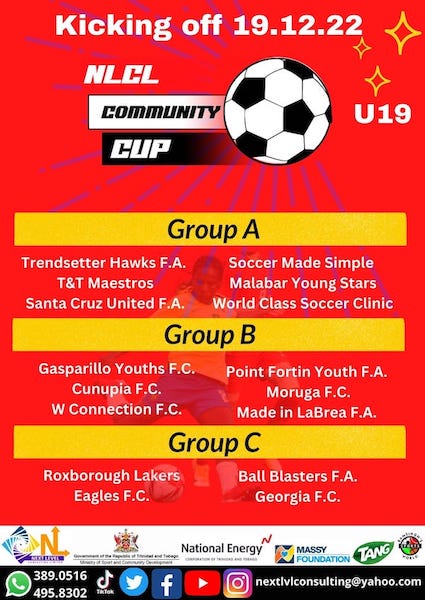 John-Williams is pushing for re-election on the grounds that he supposedly did well as president in difficult circumstances and has given local football a valuable asset in the controversial and still unfinished Home of Football.
Wallace's slate accuses the incumbent of running local football into the ground and suggests that it will get the sport moving in the right direction with: 'honesty, collective decision making and responsibility, transparency and accountability, and professionalism'.
Ferguson suggests his slate has strong business acumen and promises to improve the financial status of the local game—he proposes a three tier national football league—through the injection of corporate sponsorship, while he also vowed to conduct TTFA business with 'accountability, transparency and democracy'.