There were no 'Raz-a-Taz' chants or signs of the 'Saints' going marching in on Serpentine Road today, as Queen's Royal College emerged 1-0 victors over long-time rivals, St Mary's College, in Secondary Schools Football League (SSFL) action.
The QRC and St Mary's rivalry certainly cannot match 'El Clasico'. Naparima College and Presentation College (San Fernando) fans would assure you that their rivalry is the most heated in the SSFL's Premier Division. And with the two south juggernauts winning the last two Premier Division titles, it would be hard to argue against them.
Still, the 'Royalians' and the 'Saints' have been battling for more than 100 years, and their matchup is always a key fixture on the SSFL calendar, regardless of either team's standing at the time. But with both teams struggling for consistency in the early stages of the 2019 Premier Division season, the stakes were raised even higher in the sweltering Port of Spain sun today.
QRC and the visiting CIC outfit came into today's game in 10th and 12th place respectively, with the former already suffering heavy defeats to East Mucurapo (6-nil) and San Juan North Secondary (4-nil).
"That 4-nil scoreline [against San Juan North] doesn't tell the whole story," QRC head coach, Nigel Grosvenor, told Wired868.

He explained that his team had a chance to cut into a 2-nil halftime deficit but failed to convert a penalty early in the second half. Rubbing salt in the wound, a QRC defender later went on to see red and Jerry Moe's San Juan outfit eventually sauntered to victory.
"A team like San Juan will just take advantage of that, and they eventually punished us."
Today, though, in front of passionate students, parents, teachers and some troublemakers who caused a stir with a brief off-field fracas in the second half, coach Grosvenor's QRC outfit put their poor form behind them to halt their northern rivals and momentarily send them into the relegation zone.
The former St Anthony's coach, who oversaw many triumphant seasons with the 'Westmoorings Tigers', reminded his young QRC charges that a duel with old rivals, St Mary's, was much bigger than three points.
Grosvenor said: "We are talking about tradition, way before these players were born. So this victory today is for all the old boys, the parents, past footballers, the school. That's what this victory is about and we really enjoyed it."
The weight of the occasion was not lost on the St Mary's youngsters either.
"I know this CIC and QRC meeting is one of the biggest games that will play in the north, and people always talk about this matchup," said Jamerson, the former Strike Squad midfielder. "Of course [the players] knew the importance of the clash because the school will always give them the history between the two schools, and I also told them about the history of the teams in the north, east and south.
"However, one team would win and one team would lose. And I think QRC just put an extra effort into the game in the last period of the game and they got the result."
Although both teams started the season sluggishly, they do possess bright prospects in the National Under-15 duo of CIC's Abdul-Quddoos Hypolite and QRC's Nathaniel James. Despite their tender ages (both are 15-year-olds in an under 20 competition), the youngsters are already integral to their teams' attacking play. And today, they really showed their worth as they went toe-to-toe in the middle of the park.
The pint-sized Hypolite, who could probably fit in the back pocket of QRC midfielder Brian Armstrong, was at the centre of every play St Mary's created. He used his low centre of gravity to his advantage as he buzzed around the QRC playing field. Meanwhile, James, who seemed to be favouring a knock, flirted on the periphery of the game, often springing to life with tidy footwork in the attacking third.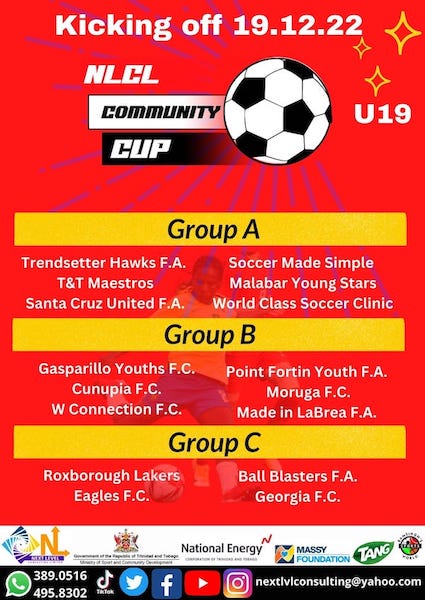 Hypolite, one of the few bright sparks for St Mary's this season, in his first derby, spent much of his time trying to wriggle free of opposing midfielders Armstrong and Jude-Anthony Johnson.
"Since [Hypolite] started, I think he's shown a lot of quality as a young footballer," Jamerson said of his young talent. "He's very limited with his height and size, but he has shown an aspiration to grow into a mature player much faster than a normal player."
Hypolite and attacker Jahiem Ryan had some decent chemistry in attack, but St Mary's finishing on the day was not up to scratch.
"I think we had two or three clear cut chances in the first half that we failed to capitalize on," Jamerson said.
One such chance fell to Ryan in the 43rd minute, but the attacker blazed over the bar from close range after teammate Dante Cooper robbed QRC left back Jerimiah Logie of possession just outside the area. Meanwhile, Hypolite fizzed a long-range effort just wide of Jumaane McNeil's goal frame in the 49th minute.
"We had a good passage of play where I think we should have at least been one goal up," Jamerson continued. "But in the second half, QRC came running at us. It's a home game for them, so I expected nothing less."
In the second half, the hosts looked a totally different unit. Armstrong and Johnson slowly started to wrestle the midfield ascendancy away from St Mary's central midfield duo of Adonis Andrews and Daylon Riley, while attackers Jahiem Granderson and Randy Harris worked up a fine understanding in the final third.
With James sometimes occupying two markers as he picked up little pockets of space in the midfield, Granderson and Harris got ample room to do damage down the left. In the 55th minute, after Harris squared from the by-line, Granderson found himself on goal. But the attacker's first touch was horrid, so the visitors avoided any danger.
Granderson, who was celebrating his 17th birthday, ultimately had the last laugh. He stole the show when he calmly slotted a close-range effort past Saints goalkeeper Jordan Bedaisee in the 66th minute. Once again, Granderson and Harris combined sweetly down the left, bamboozling the CIC defence with a series of passes before the birthday boy applied the grand touch.
Granderson probably should have added to his tally in the latter stages of the contest, but Bedaisee denied him the chance at a possible birthday hat-trick.
After their defeat to the boys from Bourg Mulatresse, Grosvenor said they adjusted their defence to send the boys of the old brigade of gallant CIC packing without a single Raz!
"So that was the plan today," he said, "to hustle St Mary's in the defence and midfield especially, and we did that. We put them under pressure and we saw them tiring because we were pressuring them and we were playing quick football."
Elsewhere, Naparima (17 points) maintained their slender lead atop the standings when they blanked Trinity College East 3-nil at Lewis Street, San Fernando. St Anthony's (16 points) stayed hot on the heels of the defending champions, though, defeating cellar-placed St Benedict's by a 2-1 margin at the Mannie Ramjohn Stadium.
Meanwhile, in Tobago, Speyside High School sprung the surprise of the round, holding the 'Pres Lions' to a 2-2 draw. The 'Country Boys' have now gone four games unbeaten following the two drubbings they received at the start of the season.
The stalemate means that Presentation (13 points) slides down to fourth spot, while Carapichaima East Secondary (14 points), who carved out a 3-1 result away to Trinity College Moka, moved into third.
The Royalians will try to continue Granderson's birthday celebrations on Saturday when they travel to central to face the undefeated Carapichaima outfit.
(Teams)
QRC: Jumaane McNeil (GK), 2.Randy Harris, 7.Jahiem Granderson, 8.Brian Armstrong (21.Tyreke Harding 87), 9.Veron Aqui, 10.Darian Bradshaw (captain), 13.Nathaniel James, 14.Miguel Cross (25.Kaylon Taylor), 17.Jerimiah Logie, 18.Tristan Stafford, 19.Jude-Anthony Johnson.
Unused substitutes: 3.Jediah John, 6.Christian Reid, 12.Jardel Joslyn, 22.Koshun Thomas, 23.Diego Nanton.
Coach: Nigel Grosvenor
St Mary's College: 22.Jordan Bedaisee (GK), 4.Chad Alonzo, 6.Xavier O'Garro, 8.Kristoff Dingwall (17.Tyrique Huggins 60), 9.Jahiem Ryan,10.Abdul-Quddoos Hypolite, 12.Isaac Harriott, 13.Daylon Riley, 15.Dante Cooper (11.Nickoli Bynoe 67), 20.Kaylan Seales (captain), 24.Adonis Andrews.
Unused substitutes: 1.Joel Charran (GK), 3.Jayden Reyes, 7.Jermeel Dosithee, 19.Jamal Thomas, 21.Harrison Parks.
Coach: Kerry Jamerson
Referee: Garfield Weekes
Wired868 Man of the Match: Jahiem Granderson (QRC)
SSFL Premier Division results
(Wednesday 2 October)
Trinity Moka 1 (Jaheim Marshall 76), Carapichaima East 3 (Malik Robinson 32, Jaron Pascal 38, Josiah Henry 40) at Moka;
St Augustine Secondary 5 (Tyrese Spicer [2], Kyle Carrington, Jardel John, OG), Malick Secondary 1 at St Augustine;
Speyside Secondary 2 (Adriel George 35, Luke Charles OG 83), Presentation (San F'do) 2 (Nkosi Charles 9, Luke Charles 72) at Speyside;
East Mucurapo 1 (Jaheim Patrick 2), San Juan North 0 at Mucurapo Road;
St Benedict's College 1 (Ackeem Mason), St Anthony's College 2 (Kaihim Thomas, Kiron Manswell) at Mannie Ramjohn;
QRC 1 (Jaheim Granderson 66), St Mary's College 0 at QRC;
Naparima College 3 (Jaden McKree, Tyrike Andrews, Seon Shippley), Trinity East 0 at Lewis Street;
Pleasantville Secondary are on a bye.
Upcoming fixtures
(Saturday 5 October)
St Benedict's College v Speyside Secondary at Mahaica Oval, Pt Fortin;
St Anthony's College v East Mucurapo at Westmoorings;
Carapichaima East v QRC at Carapichaima;
Presentation (San F'do) v San Juan North at Mannie Ramjohn;
Trinity East v St Mary's College at Trincity;
Naparima College v Trinity Moka at Lewis Street;
Malick Secondary v Pleasantville Secondary at Serpentine Road;
St Augustine are on a bye.