Minister of Communications Donna Cox confirmed this afternoon that her Cabinet colleague and Member of Parliament Marlene McDonald is now under police investigation but did not divulge whether internal action might be underway.
A Loop T&T report this morning, which quoted an unnamed 'senior police officer', stated that McDonald and her husband were detained for questioning on corruption allegations. McDonald is in a common-law relationship with Michael Carew.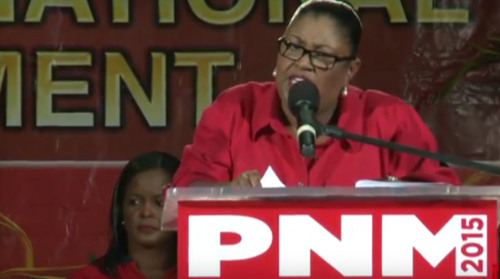 The website claimed that McDonald and Carew were arrested at their St Joseph residence at around 4am and taken to a police station. McDonald, allegedly, was subsequently taken to the hospital for treatment for low blood sugar after complaining of feeling unwell.
Cox, via a press release, stated: "The Government of the Republic of Trinidad and Tobago (GoRTT) wishes to confirm that a search warrant was executed at the home of Minister of Public Administration the Honourable Marlene McDonald this morning.
"However, this is an ongoing police investigation and further information will be provided as it is made available by the Trinidad and Tobago Police Service."
McDonald is one of four deputy political leaders for the ruling People's National Movement (PNM) party.
While Cox did not state whether McDonald was arrested or the reason for the investigation, the Trinidad and Tobago Police Service (TTPS) confirmed that it was a corruption case.
"Police officers investigating alleged corruption offences have arrested and taken into custody, Government Minister Marlene McDonald and her husband for questioning," stated a subsequent TTPS release. "They were detained earlier today. Enquiries are ongoing at this time and more information will be provided when it becomes available."
McDonald and Carew have been dogged by accusations of corruption for years and Prime Minister Dr Keith Rowley fired the Port of Spain South MP twice—in this term in office alone—as Minister of Housing and Urban Development in 2016 and then as Minister of Public Utilities in 2017.
In 2018, Rowley hired her as Minister of Public Administration and Communications. She retains only the former half of that portfolio at present.
McDonald was first sacked in 2016 while the subject of an Integrity Commission investigation into her role in State payments to the Calabash Foundation, which is headed by Carew. A year later, Rowley axed McDonald again after Sea Lots businessman Cedric Burke—a purported person of interest to the TTPS who was arrested as an alleged gang leader during a State of Emergency under the previous government—attended her swearing-in ceremony.
Incidentally, Burke spent much of the past week in police custody after lawmen seized his mobile phones and electronic devices. He was released this morning. Neither the TTPS nor the Government suggested that there is any link between McDonald's detention and Burke's.
So far, Rowley has not issued a statement on McDonald's arrest.
At her last swearing-in ceremony as Public Administrations and Communications Minister, Rowley told the public that: "Ms McDonald can make a valuable contribution to the ministry and I am confident that she will meritoriously perform the duties required as a minister in the ministry."