Sunday 9 June. India and Australia, their places almost reserved in the final four of the 2019 World Cup, are trying to settle the pecking order.
The Indian innings is almost at an end. And already, with six balls still left, Australia are going to have to put together the biggest successful World Cup chase to snatch a win. On the books, there is Ireland's 329 for 7 against England in Bengaluru in 2011; the India score currently stands at 338 for 3, 102 of them off the last nine overs and 22 off the last two.
Doing the continuing damage are Mahendra Singh Dhoni and Virat Kohli.
The camera zooms in. Aussie captain Aaron Finch. His face is the face of Aesop's bullfrog as he tries to make himself as big as a bull.
Stress! Desahuciado stress!

At 32, Finchie has played over 150 ODIs and T20s for Australia, almost 45 of them as captain. He's been around long enough to know what he's up against. He's not worrying about the sandpaper in Adam Zampa's pocket, as some internet techie tried to suggest yesterday; his problem is present and immediate.
Mitchell Starc, his number one strike bowler, has just completed his last over. It cost 13 runs. Starkie has over 150 wickets in under 80 ODIs.
[dfp-ad]
And Marcus Stoinis, who has less than 30 wickets in his 30-odd ODIs, has ball in hand, ready to bowl over number 50.
Stress! Desahuciado stress!
Several of the television commentators during yesterday's game put the blame for the 36-run loss to India on the Australian batsmen. Batsmen were blamed too for England's 14-run June 3 loss to Pakistan. And West Indies' June 6 15-run defeat by Australia.
The Aussie batsmen, said the commentators over and over, had 'left it too late!' Saurav Ganguly and Michael Slater in particular were very, very sure.
It's rubbish! The science of TV's Win Predictor never at any stage gave the Aussies so much as a 25% chance. Neither does the on-the-field evidence of this World Cup so far support their conclusion.
Neither, I am certain, does any of Kohli, Finch and Pakistan's Safaraz Ahmed.
That unsustainable view fails to take into account the very real effect of scoreboard pressure. And the fact that Kohli, whose record batting in chases is unparalleled, won the toss and opted to put runs on the board. Plenty of them.
That clearly did not give the commentators the pause it should have.
England, with a powerful line-up that bats very deep, love to chase. So winning the toss against Pakistan, they had no hesitation. You have a bat, sahib.
No score, they feel, is beyond their reach. They have hard evidence. In their minds, scoreboard pressure does not exist. Not for them!
Safaraz demonstrated that it does exist. Even for England! Having put 348 on the board, he opted to defend the large total, with ring fields and few close catchers. Catch me if you can.
England couldn't—despite centuries from numbers three and six!
The psyched up West Indies, duly boosted by their brutal demolition of Pakistan in their opener, believed. That timely reminder of the halcyon Fire in Babylon days sufficed.
Winning the toss in the next game, the West Indies skipper had neither doubt nor hesitation. You have a bat, mate.
At 37 for five, Australia were staring down the barrel of a big Babylon gun. A bigger ego got them safely out of the firing line. It belonged not to Steve Smith or to Alex Carey but to Jason Holder.
But that we'll leave for another day.
Back to India. Their captain has probably scored more runs than anyone else when chasing in an ODI. And definitely the most centuries—all of 21! Rohit Sharma, the India opener, runs him a not-too-close second in the ODI rankings. And also included in the starting XI was Dhoni who, 38 next month, is indisputably among the best finishers the short-format game has seen.
Logically, winning the toss, Kohli should put Australia in. He does not. You have a bat, mate.
Why? The India backroom is everything you want it to be. And Dhoni, with 90 Tests, over 340 ODIs and almost 100 T20s under his belt, has a cricketing brain that is the envy of every captain in the IPL. And countless captains around the world.
Additionally, there is India's captain's absolute addiction to winning.
But Slater and Ganguly and company seemingly never ask the question, completely missing the significance of the answer.
The promotion of Hardik Pandya to number four provided another clue. Dhoni's acceleration skills are unquestioned but they are no longer quite as sharp as those of the 25-year-old new kid on the World Cup block.
And they remain available, if need be, to put a score on the board that daunts even the dauntless Aussies. Their line-up, Kohli is well aware, includes Finch, and the new, revised, re-burnished iterations of David Warner and Smith.
So 353 is 353 already on the board. One or two early slips, every captain is acutely aware, could lead to a slide.
Even before the Indian innings had ended, Finch's desahuciado face spoke volumes….
Seared into my brain is an image of a desahuciado.
November 19, 1989. The ram-cram Hasely Crawford Stadium. One point needed to qualify for Italy 1990. Gally Cummings' announcement that T&T cannot lose. Government's declaration of a November 20 national holiday celebrating imminent qualification.
The USA have scored; they lead 1-0. And we're into stoppage time.
The camera zooms in on Cummings.
Stress! Desahuciado stress!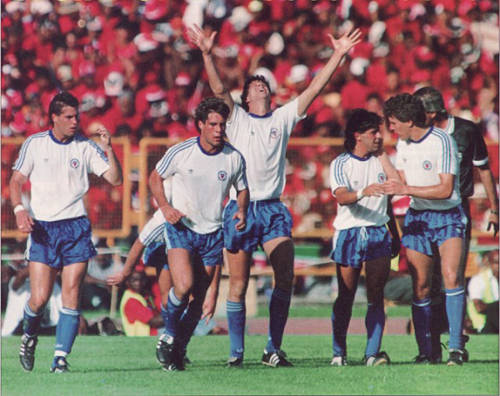 Ask your friendly neighbourhood Venezuelan. (S)he will tell you desahuciado refers to a person who's been evicted from his place of abode. Or one whom doctors have completely given up on, abandoned all hope for.
In short, someone who knows that the game is up.
Like Finchie on Sunday even before he batted.
Or Faf du Plessis after today's washout.