I was finishing last week's column about the unrelenting grip in which murderous crime holds our country when I read our Prime Minister, Dr Keith Rowley's plaintive cry: "What have we become?"
Dr Rowley was mourning the reportedly gruesome murders of a life long Tobagonian friend and his wife of forty years. This is not the first such brutality in Tobago, but it is still at odds with the peaceful life hitherto available there.
Dr Rowley informed us that the murdered husband was 'his classmate and buddy' and they 'grew up together in poverty, with pride, but violence and criminality were never part of our lives.' He reminisced about sharing lunch money, loving and respecting each other and: "honouring our parents, neighbours, and respecting all adults."
That was the context of the plaintive cry: "What have we become? What are we producing as the next generation?"
The very next day, in the heart of Dr Rowley's constituency, there was a shoot-out in Carenage between police and residents. Naomi, a 14-year old girl, was killed as a result of a stray bullet to the back of her head.
Are we pouring out grief for Naomi in equal measure?
These recent killings underline the fact that there is nowhere safe in Trinidad and Tobago. I asserted this a long time ago, when then Prime Minister Manning was trying to brush off murder by making excuses, such as citizens were safe outside the so-called hotspots; and, later, that an innocent citizen killed in the vicinity of MovieTowne, was 'collateral damage.'
Respecting the current Prime Minister's personal grief, it is nevertheless necessary to ask the more fundamental question: How did we become this murderous society?
The brutal and destructive members of our country did not produce themselves. The 'we' that has produced the next generation is our failed leadership over generations since Independence.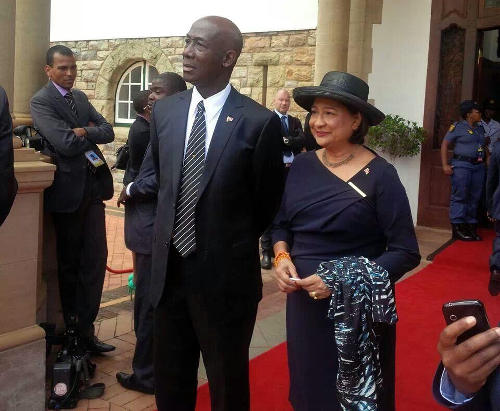 The bungling of the NAR Government following the attempted coup is the place to start in a brief historical review of how our leaders remained in denial that there was a serious and growing violent crime problem, until we are now helpless. Then followed, in and out, eras of the Manning fatuous excuse making—as indicated above—the perceived clouds of UNC-led corruption and the UNC/PP's bogus state of emergency.
There has also been the continuing insinuation that the murder toll should be discounted by removing domestic violence numbers from the murders per year. I noted with dismay a reported statement this week that 'the police cannot prevent domestic violence,' thereby confirming that current PNM leaders still suffer from the blindness of the Manning era.
Domestic violence requires treatment by a range of social development and educational opportunities informed by research. Data is needed on the characteristics of the persons and communities in which it is prevalent and whether there are any socio-economic factors which are causative of the problem. This is another example of leadership failure to take enlightened action.
Weary as I am of constantly repeating it, the lack of consequences for committing murder has made it commonplace. The detection rate in murder cases is reportedly a deplorable 20 per cent. There is no strategy to develop the capacity of the police service to find and apprehend murder and other suspects. The administration of criminal justice has also largely failed.
We are no longer living in the 'ole time days' when there was no drug trade, no easy access to guns, no human trafficking, no CEPEP or related contract employment and no ability to become rich through a questionable State Enterprise system.
Moreover, the information age had not yet arrived. Respect for authority declined when, through the growth of the information age, the hypocrisy and corruption of leaders in all sectors were exposed.
There are two commentary lines that are particularly relevant to how did we become so. One is relevant to the setting of an example: "If the priest could play, who is we?"
The other is directly relevant to the relationship of corrupt leadership to our crime, contained in David Rudder's Madman's rant: "Somebody clean out the weed well fast, but somebody letting the cocaine pass."