On his first overseas tour as West Indies captain in 1998-99, Brian Lara took action on behalf of the players and forced the now late Pat Rousseau's and the WICBC's hand.
Where, pray, were the calypsonians? Beginner and Maestro had already passed on but Sparrow and Kitchie were still with us. Where was Super Blue? Where was Relator? Where was Chalkdust, now a nine-time Calypso Monarch?
Where was Machel Montano who, years later, would lead a select group of T&T singers, including 1911 Monarch and perennial Calypso Monarch finalist Karene Asche, in a remake of 'Gold' to mark Keshorn Walcott's victory in the javelin at the 2012 London Olympics?
Some 20 years earlier, the authoritative voice of the Calypso King of the World rang out loud and clear when Clive Lloyd and his men had signed lucrative contracts with World Series Cricket. In 'Kerry Packer,' the Birdie didn't take 'we' side because, in this kaiso classic, the real 'we' is disguised as 'dem,' 'they' and 'deh:'
Ah ent negotiating ah told dem;

If deh get money, we cyar control dem.
A West Indian cricketer must always be broke;
Is then he does bowl fast and make pretty stroke.
They have fame but they want 
Money like me and Gerry
So deh won't play against in dis country.
Why did no one come to the Prince's defence in song? What special quality did the bards of the day lack that none felt the need to mark so auspicious an occasion? Or one as historic as claiming a world record? Twice! Or winning the Champions Trophy? Or any of the other signal moments of Lara's career, including the staging of the 2007 World Cup in the Caribbean?
Was the fault perhaps not in our star performers on the calypso stage but in our star performer on the cricketing stage? Might it simply be that whereas the stellar batsman succeeded in capturing the popular imagination, the captain failed to ignite the creative genius because his team just did not win consistently?
Relator's 1972 classic, 'Gavaskar', provides a fascinating study. It is worth noting that the chorus' closing 'We couldn't out Gavaskar at all' noticeably becomes 'The West Indies couldn't out Gavaskar at all.'
And asking why the 1980 Monarch deemed it fit to celebrate an Indian—not West Indian!—batsman who was 'just like a wall' and whom 'we couldn't out […] at all.'
Why does the bard so frequently, in referring to the West Indies, oscillate between the first and third persons?
There are those who maintain that the calypsonian's original intent was not to make a hero of the Mumbai Master but merely to exploit the comedic potential of the tourists' polysyllabic names.
Erapalli Prasanna, Jeejeebhoy and Wadekar, 
Krishnamurthy and Vishnu Mankad,
(…)
Venkataraghavan, Bedi in a turban
Vijay, Jaisimha, Jayantilal,
(…)
Govindraj and Durani, Solkar, Abid Ali
Dilip Sardesai and Vishwanath
But why does he shower undiluted praise on the Indian hero while being less than complimentary about the West Indian captain? Sobers, be it noted, took 12 wickets in the series and made 597 runs, including two centuries.
Bedi hear that he became a father
So he ketch out Holford in the cover
But when Sobers hear he too had a son,
He make duck and went back in the pavilion
And
Little Desmond Lewis
Also Charlie Davis, deh
Take a little shame from out we face
But Sobers as a captain, 
He want plenty coaching
Before we cricket end up in a disgrace.
[dfp-ad]
As a West Indian supporter, you're amused, you laugh, but you feel a certain degree of discomfiture. And you are more than surprised to discover that Relator is a staunch West Indies diehard who is rarely if ever absent when the regional team is engaged at the Queen's Park Oval. So was he perhaps unwittingly putting some psychological distance between himself and the losers?
"We will attack, we will defend/We go pressure dem to the very end/(…) Anytime you see we in the uniform/to get the victory is the norm," sang Maximus Dan during the successful 2006 World Cup campaign.
And, during the 1989 national football team's ultimately unsuccessful campaign to qualify for the 1990 World Cup Finals, the now late Lancelot Layne recorded "Strike Squad," leaving no doubt about whom he was supporting.
We go gie yuh pressure day or night
In hot sun or floodlight
In T&T…
We go sting him between the uprights
under the crossbar and up in the vee.
We have a good ting going 
With football in T&T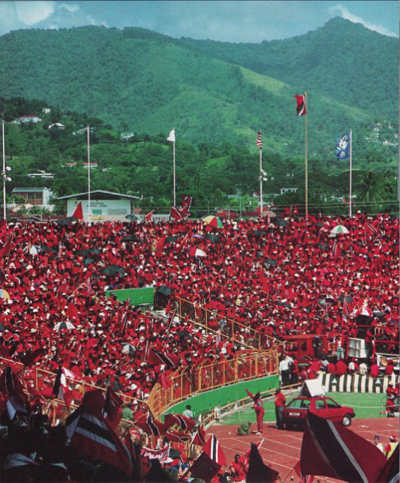 Not great stuff, not even a calypso, but it marked the spot. And worthy of note is the complete absence in both songs of Relatoresque ambivalence. The songs produced to celebrate both the Strike Squad and the later Soca Warriors testify to nothing but unshakeable confidence in the team's eventual qualification.
In football, unshakeable confidence. Not so in cricket, not once the cracks began to appear in Clive Lloyd's team. So was it the changing West Indian cricketing fortunes that staunched the flow of the creative juices?
By the late 80s, David Rudder was already appealing to the flagging WI fandom to rally round. The runs—277, 167, 375, 213, 153—did indeed pretty soon begin to "flow again like water/bringing so much joy to each and every son and daughter…"
By the mid-90s, Rudder returned with a warning about the coming of the West Indies, "the bad boys who go bring yuh to yuh knees." But 'bad' assumed its original sense and the team often brought 'we' to we knees. In prayer.
Almost 20% of all the runs flowed essentially off one bat, BC Lara's. And largely in vain as far as the eventual results were concerned. So that, following Relator's unwitting 1972 lead, perhaps the big-name bards of the era consciously opted not to identify too closely with losers.
Because, as Wired868 warned readers during the CPL in 2017, in sport, we does win and dem does lose.
Perhaps, therefore, that is why there are not many—not any?—memorable tributes to the cricketing superstar, Lara, Lara, Lara, Lara ad infinitum, who entertained us so royally over two decades and gave us so many magical moments.
After all, his pithy summary of his tenure was: "Moderate success, devastating failures."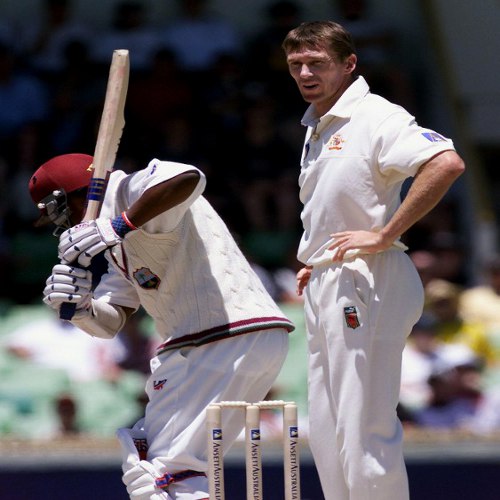 All the world—including, one supposes, calypsonians!—loves a winner.
And even the Lara magic couldn't change that reality.