Probably for the first time, the government and the Opposition paid official attention in Parliament to the non-governmental organisations and non-profit entities (NGOs) that play a significant and life-saving role in the socio-economic and cultural life of our country, even though they may have dished out funds to them on an arbitrary basis.
This attention came late last month in the hurried introduction of legislation relating to NGOs. It was attention forced upon our politicians by the pressure on our country to control the use of such organisations as vehicles for money laundering—all part of trying to satisfy the demands of powerful countries and multilateral bodies.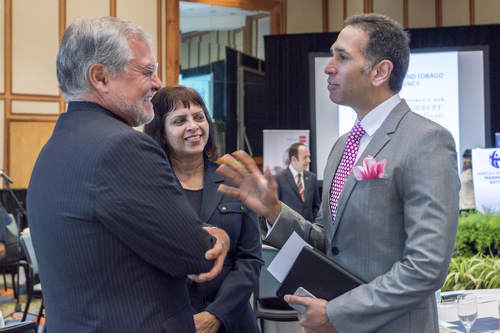 As we know, money laundering is the activity whereby persons who profit from illegal activity take their profits and transfer them into legitimate organisations as a means of 'washing' dirty money and giving it an apparently legitimate origin when it is used again.
Under the new legislation, the controller of an NGO 'must ensure that proper financial accounts and records are kept, inclusive of all sums of cash received and expended and in matters relating to which such receipts and expenditures relate'.
There are other obligations, including accounting for all sums of cash raised through fundraising, and ensuring that the accounts are 'able to accurately disclose at any time the financial position of the non-profit organization'.
I found irony in the government being forced to make the keeping of accounts a statutory requirement for NGOs, since our governments frequently indulge in what I will call reverse money laundering.
Our governments routinely take the clean revenues going into the Consolidated Fund (the national cash register) as a result of taxation, royalties, dividends and other inflows and then dirty those revenues by using them to fund groups whose merits and track records are not subject to due diligence, but who are loudly self praising of themselves—for example as promoters of culture, religious tradition or keepers of heritage.
In stark contrast to the requirements of the new legislation mentioned above, our governments are carefree about accountability and in particular 'the provision of proper financial accounts and records including expenditures' on the part of fund recipients. Consequently, clean taxpayer money goes into dirty organisations in several cases.
What is required of the organisations that receive governments funds—in priority to accounts and accountability—is that, when they have events, they receive and feast government officials and allow themselves to be used in public relations photo-ops and paid advertisements. Mobilising their members politically in support of the party that provides the largesse is also expected.
Several of the bodies which govern sporting activities, commonly referred to as National Sporting Organisations (NSOs) and National Governing Bodies (NGBs), also conduct themselves in ways that abuse our clean taxpayer funds as demonstrated by the findings of the High Court against the Gymnastic Federation in the Thema Williams case. But our governments look the other way and in many cases plough on, providing clean taxpayer funds regardless of the toxic governance practices of the sporting bodies.
These bodies will be the subject of a separate column soon; but let me now put the concept of reverse money laundering further into context, consistent with recurring themes in these columns.
I have repeatedly asserted that the fundamental and unchanging practice of our politics is the persistent electoral battle to gain access to and control of the national cash register and the state enterprise sector.
Insightful commentator, Noble Philip, recently identified this practice in similar terms: "The state's leading role in distributing scarce economic resources leads to fierce battles. Power brokers induce and finance their co-ethnics to believe that salvation only comes from 'their' being in power."
Once the electoral battle is won, the winner takes care of its party financiers, faithful supporters, sycophants and those trading on tribal affiliation.
This practice will continue whether we put the PNM or the UNC in power. The sanctimonious tone with which the government and Opposition are both claiming credit for the current trio of Bills dealing with unexplained wealth, NGO's finances and asset recovery, is at complete variance with the sleaze of the politics, collusive and campaign finance that puts them into the Parliament.