St Anthony's College overcame a titanic comeback from Trinity College (Moka) to claim the 2018 North Zone Intercol North title on penalties after a 3-3 score at the St Mary's College grounds this evening
It meant heartbreak for the Moka faithful, as St Anthony's custodian Josiah Perez kept out Anfernee Bascombe's spot kick to confirm a 4-2 victory on penalties for the 'Westmoorings Tigers'. The young men in green were inconsolable.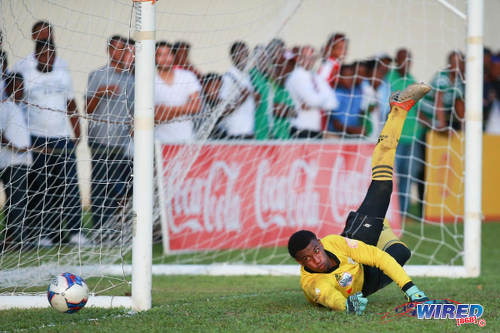 "Games like these, you have to be proud of your team, showing that type of resilience, that type of comeback," Trinity College head coach Ken Elie told Wired868. "This is a team that worked hard and played with conviction and today it was the goalkeeper of St Anthony's day, when it came to the penalty shootout."
The Serpentine Road venue was a melting pot of northern school supporters with pockets of Bishop Anstey, St Mary's College and Queen's Royal College (QRC) students all adding to the vibrance of the atmosphere.
The game itself got off to a cagey start before a defensive blunder led to the opening goal.

Trinity goalkeeper Justin dos Santos, the hero of their semi-final penalty shoot-out win over East Mucurapo, completely mis-kicked while attempting a clearance and St Anthony's attacker Haile Beckles was on spot to steer the ball into the empty net.
Elie, a former National Senior team assistant coach and national youth team coach, has seen it all in local football and was quick to sweep aside his goalkeeper's costly struggles in the final.
"Today I will want to reach out to Dos Santos, our goalkeeper; he brought us this far and today was not his day," said Elie. "Outside of that, there is so much to be thankful for: the quality of football, the support, the crowd, the talent that was on display."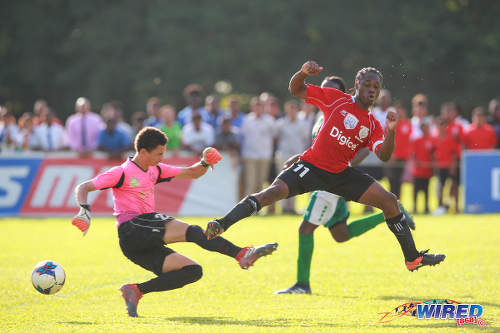 At the other end, St Anthony's College head coach Ronald Daniel could not contain his joy after earning his revenge on the boys from Moka, who upstaged his team in the 2016 final.
It was Daniel's maiden title with the Westmoorings team and their first trophy since the departure of iconic head coach Nigel Grosvenor.
"Well, this was the atmosphere for football and I think today was for football," said Daniel. "I am feeling so joyful, I cannot even explain. [Beckles] is the man. As long as he is on, you see the whole football of St Anthony's around Haile."
Beckles' fortuitous early item was the only notable moment of the opening 45 minutes. However, if the first half was timid, the second was anything but; as both teams traded goals in a manic five minute spell.
After St Anthony's midfielder Quinn Frederick's long range effort cannoned off Dos Santos' crossbar, Trinity tried to make the most of the reprieve as they steamed forward in search of the equalizer. And they got their just desserts in the 68th minute, as towering defender, Bascombe, rose highest to place a powerful header in at the far post.
Trinity barely had time to temper their excitement before they found themselves trailing yet again.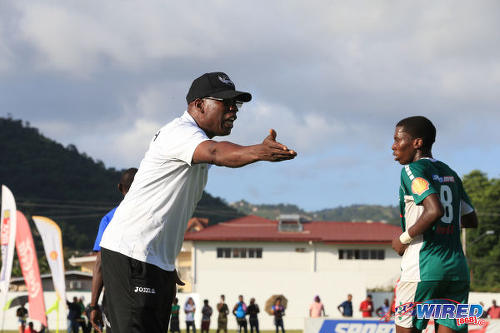 Trinidad and Tobago National Under-17 midfielder Josiah Edwards whipped in a free kick that bounced just in front of Dos Santos, who parried the ball into Beckles' path. And the St Anthony's attacker made no mistake with his header from six yards out.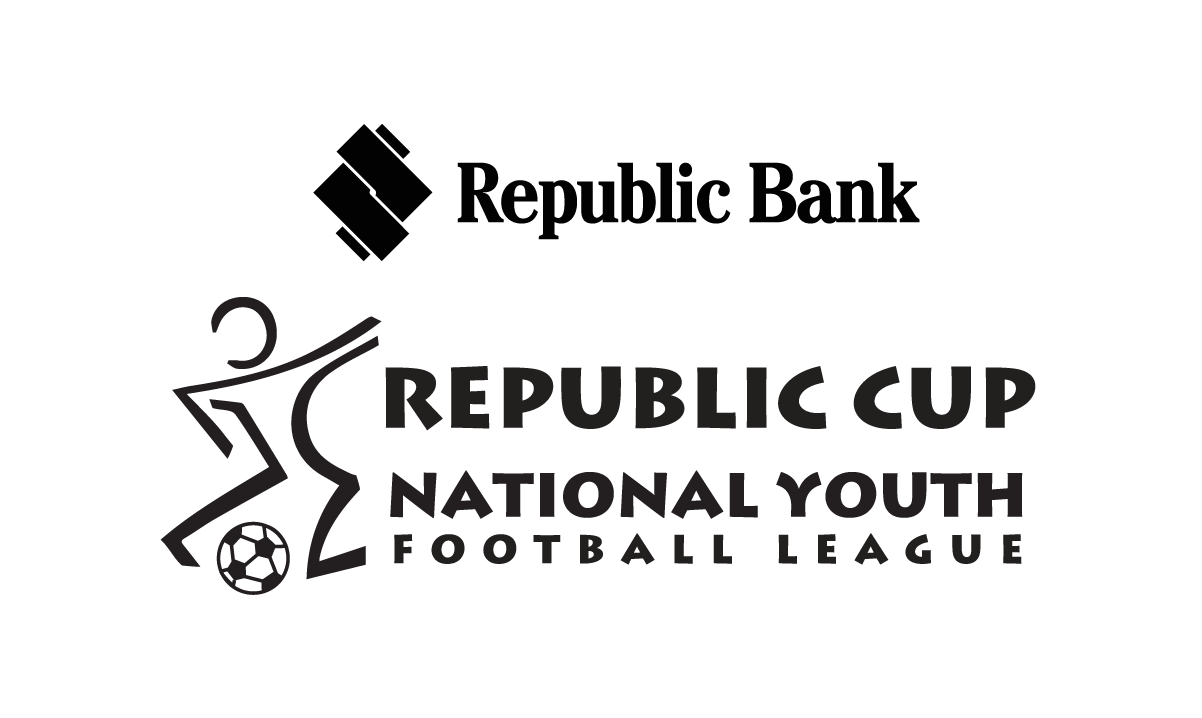 At the interval, Elie had urged his players to believe in their personal quality and allow it to shine through as a collective. Striker Kai Phillip clearly took that to heart.
The lanky, fleet-footed striker probed and buzzed throughout the match. And when a ball was played into space over the top of the St Anthony's defence, Phillip chased—and he believed.
Phillip, Perez and St Anthony's central defender Ian Cowie converged on the loose ball and clattered into each other. Two from that three lacked conviction, though. And, at the point of collision, it was the green-shirted attacker who got a toe on the ball to poke it high into the net.
Two-all after 73 minutes with the script far from finished!
As the see-saw nature of the affair continued, Beckles again punished hesitant goalkeeping from Dos Santos, as he was first to a long punt upfield and slid home from a tight angle to claim his hattrick in the 82nd minute.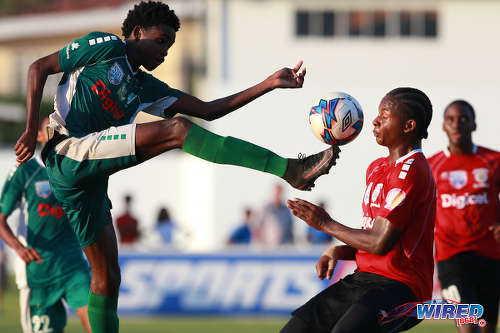 The Tigers thought they were home and dry now. But in stoppage time, the Moka schoolboys still had one more trick up their sleeves.
"We got a goal that [put] us down, we got another one that [put] us down but this team always has faith in themselves," said Elie.
Three minutes into stoppage time, Trinity earned a free kick and the tension at the ground was palpable, as Trinity defender Ronaldo Jacob—a former St Anthony's student—stood over the free-kick for what seemed like an eternity.
Jacob's eventual set piece was whipped in with menace and Perez could only palm the ball towards Bascombe, who somehow nudged it over the line at the back post.
Waves of green shirts exploded into pandemonium.
Perez got the last laugh in the shoot out though, as the Tigers withstood the topsy turvy affair to take the North Zone trophy.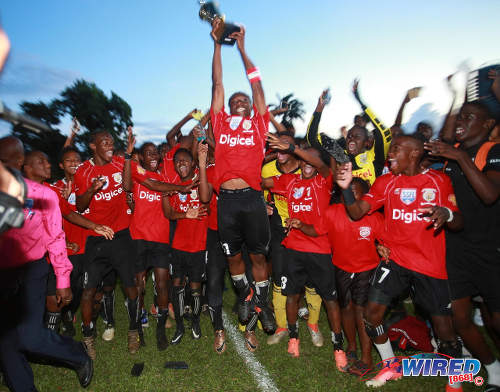 St Anthony's will play Carapichaima East Secondary next in the National Intercol quarterfinal at Couva on Tuesday while newly crowned Tobago champions, Signal Hill Secondary, face San Juan North Secondary in Thursday's National Intercol semifinal in Malabar.
(Teams)
St Anthony's College (4-2-3-1): Josiah Perez (GK); 18.Shakir Clapham (7.Kaihim Thomas), 4.Ian Cowie, 16.Jordan Barclay, 6.Khiesa Grainger; 26.Timothy Brandel, 30.Shurland Augustine; 9.Zion Williams (10.Josiah Edwards), 13.Quinn Frederick (28.Kaiell George), 2.Kiron Manswell; 11.Haile Beckles (captain).
Unused Substitutes: 22.Darnell Pollard, 12.Mikhail Prescod,14.Jahi Solomon, 21.Jahmeiq Pierre.
Coach: Ronald Daniel
Trinity College Moka (5-3-2): Justin Dos Santos (GK); 5.Anfernee Bascombe, 13.Jean Luc Pantin, 20.Ronaldo Jacob, 14.Abdul-Raheem Lezama, 3.Josiah Superville; 9.Raheim Jawahir (17.Ardel Black-Haynes), 22.Josiah Wilson (18.Jardel Mitchell); 10.Tezera Temesgn (captain); 19. Kai Phillip, 8.Jevon Ward (16 Jara Menes).
Unused Substitues: 1.Nathaniel Thomas, 4.Cade Massy, 15.Mulik Duke, 23.Sean Pierre.
Coach: Ken Elie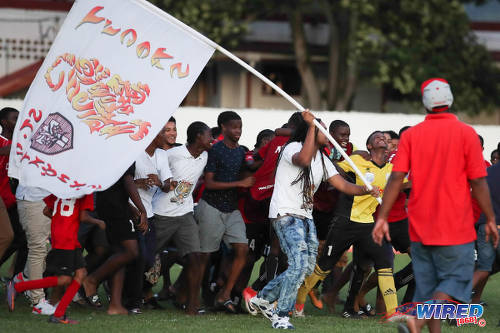 Intercol results
(Thursday 22 November)
Central Zone final
Carapichaima East 3 (OG, Kevon Williams, Akiel Vespree), Chaguanas North 1 at Ato Boldon Stadium.
Tobago Zone final
Signal Hill Secondary 5 (Collin Sergeant [4], Jalanie James), Speyside High 3 (C'el Toppin, Deleon Beckles, Jonathan Thomas).
North Zone final
St Anthony's College 3 (Haile Beckles 34, 71, 82), Trinity College Moka 3 (Anfernee Bascombe 68, 90+3, Kai Phillip 73)
*—St Anthony's won 4-2 on kicks from the penalty mark
(Penalties)
St Anthony's: Ian Cowie scored, Kiron Manswell scored, Kaihim Thomas scored, Josiah Edwards scored.
Trinity: Kai Phillip scored, Josiah Superville saved, Ronaldo Jacobs scored, Anfernee Bascombe saved.