"Life is a cycle. This is a circle."
Desiree Sarjeant beamed with the 2018 Girls National Intercol East Zone trophy as Five Rivers Secondary players celebrated a historic 4-1 finals victory over Valencia Secondary yesterday at St Augustine Secondary Ground.
Life, as she put it, is definitely not without its own sense of irony. After all, St Augustine Secondary was Sarjeant's home for almost two decades before her unceremonious removal in 2016.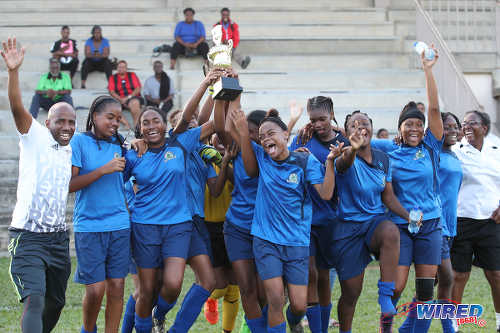 Sarjeant was a student, football star and record breaking coach for the fabled "Green Machine" girls team throughout the years, with six titles to her name. However, two years ago, she was relieved of her duties by St Augustine principal Linda Francis during an overhaul of their football program, which saw current school coach Adrian Romain installed.
Sarjeant and then boys' team coach Michael Grayson were fired just months after they were formally recognised by the Secondary School Football League (SSFL) as among the top coaches in local school football history.
Sarjeant, a former stand-out national player and assistant coach to the Women's National Under-20 Team, admitted that she was gutted by her departure, although philosophical about her return 'home' yesterday.
"Ya know it's something," Sarjeant told Wired868. "My career started here, on this very said ground and here I am today winning another Intercol title on this ground.
"It feels good. It feels good."
The career trajectory of Sarjeant and Grayson since their bitter exits from St Augustine is eye-opening. Grayson took over second tier school, Trinity College East—who, ironically, were relegated during Romain's last season there—and immediately took them up to the Premier Division.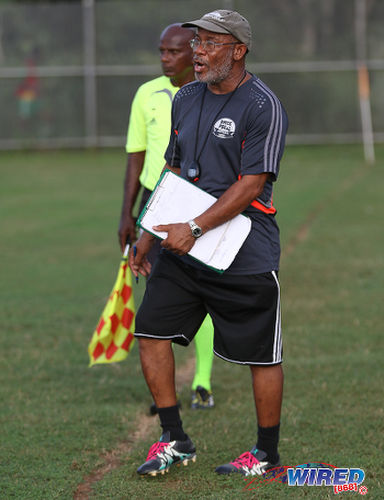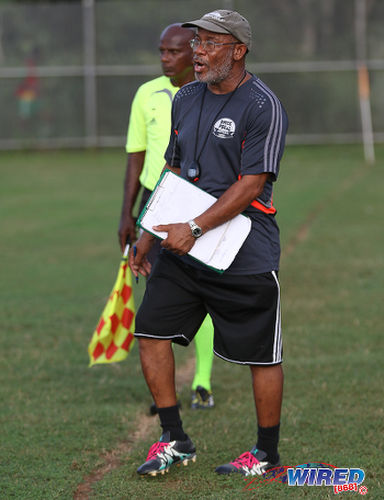 And, last week, Grayson's Trinity East eliminated Romain's St Augustine in the Boys' East Zone Intercol semifinals.
Sarjeant also took a step back to go forward while the once all-conquering St Augustine girls have not added a single trophy since her departure. Five Rivers were a second division outfit until this year.
"At the beginning of the season as we got promoted from the Under-20," said Sarjeant, "if anyone had told me that today I would be coaching in the Girls Intercol East Zone Final and wining it, I would have said 'no way'!
"We said that we just wanted to have a good season and this is really surreal in some ways they say. I'm ecstatic!"
Yesterday was certainly new territory for Five Rivers—who finished as runners-up to Bishop Anstey East on goal difference in the regular season—but, looking on from the sidelines, you would not have noticed.
It took only 12 minutes for the new kids on the block to make their mark, as the electric Mia Mitchell slotted home to open the scoring. Mitchell, who turned 16 yesterday, was a constant menace to the Valencia backline and showed more than to suggest that football talent runs deep in her family.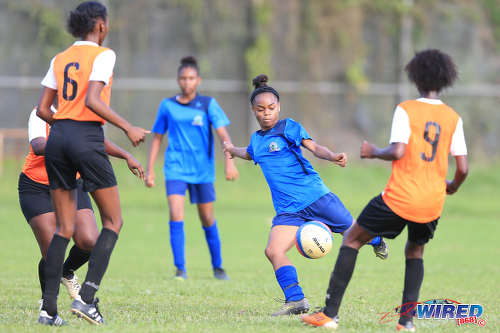 Her father, Devon Mitchell, is a former Trinidad and Tobago national youth international and Pro League champion with San Juan Jabloteh. And her uncle, Carlyle Mitchell, has over 30 caps with the Soca Warriors and plays professionally in the United States at present.
Before Valencia could recover, Mitchell doubled her school's lead in the 22nd minute with an even better finish. This time, she burst through two opponents near the centre circle, turned on the after-burners down the left—to leave the Valencia defence trailing in her wake—and finished with a clean swivel of her left boot, which hammered the ball into the back of the net.
Not to be outdone, Mitchell's partner-in-crime, Jada Gaskin, threatened next as she waltzed down the left flank and zipped a fierce shot that brought a fine save from Valencia goalkeeper Tishana Orosco.
Orosco's block came at a cost, as the young custodian injured herself in the process and had to be stretchered off the field and substituted.
After the interval, the match continued in largely the same vein as the first half. Gaskin whipped in a cross from the left flank and there was Mitchell to acrobatically volley into the net for her third item.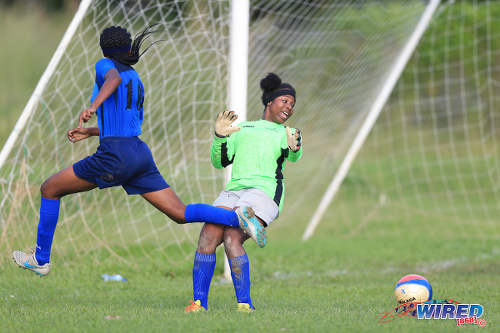 What better way to celebrate a birthday, than a hattrick in a final?
It was a fine goal and one that evoked a smile from Sarjeant on the touchline,
Sarjeant, who generally wore a face of steely conviction on the touchline and barked at her players throughout, could not help but crack a smile.
Then, out of nothing, the coach's fears were realised as Valencia snatched a lifeline.
Their best player on the day, Cyan Williams, lined up a free kick from 30 yards and decided to have a crack. And her shot dipped, struck the underside of the crossbar and bounced over the line to bring Valencia within two goals.
But it was as good as it got for Valencia as Gaskin stepped up to put the final name in their coffin.
After missing a few presentable opportunities, the lanky forward—who was in her debut season with the SSFL—made space for herself and arrowed a shot into the far corner beyond substitute goalkeeper Kishana Canoute.
It meant the first of what Sarjeant hopes will be many trophies for her new employers.
"I've been here since 2016 and we have been competing in the Under-20 Senior Division," said the Five Rivers coach, "so this was our first year in the Girls Championship.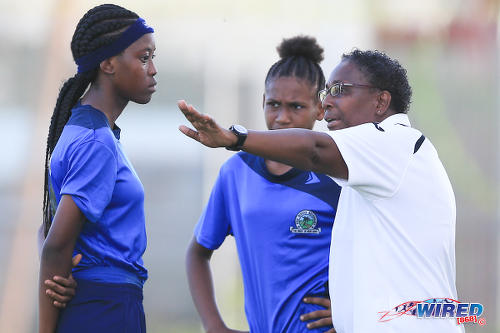 "When I spoke to the principal this year, I told her that I wanted to start a legacy program and to change what people thought about Five Rivers, its people and the environment.
"This is a good way to start. I was really hoping today that we could carry this victory back to Five Rivers—and not just the school, but the community on a whole. So I am so thankful to God and my players that we were able to do it."
(Teams)
Five Rivers Secondary (3-3-2-2): 30.Ximara Daniel (GK); 12.Maya Blanc (captain), 13.Leona Hernandez, 14.Faith Wolfe; 5.Luann Craig, 7.Adana Modeste, 8.Nathifa Hackshaw; 2.Eve Jones (6.Missy Lambert), 11.Makeda Morang; 10.Jada Gaskin, 17.Mia Mitchell.
Unused Substitutes: 9.Tamia Gomez, 18.Shaniqua James, 4.Terissa Gibson.
Coach: Desiree Sarjeant
Valencia Secondary (4-4-2): 1.Tishana Orosco (GK) (22.Kishana Canoute); 6.Ameelia Charles, 3.Naomi Mejias, 4.Cyan Williams, 12.Aaliyah Wilson; 5.Vanessa Jones (13.Nyoka Harry), 17.Sherice Nickie, 9. Akeila Charles (7.Moesha Martin), 18.Naomi Ragoonanan; 10.Kayla Baboolal (captain) (2.Akala Mark), 11.Sharona Canoute.
Unused Substitutes: 16.Patrice Miller, 19.Shizzel Augustus, 20.Keyana Gittens.
Coach: Gyasi McDonald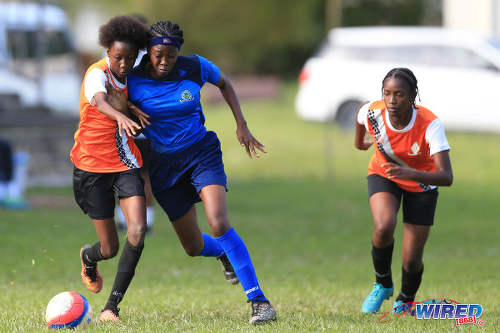 Girls National Intercol results
(Tuesday 20 November)
East Zone Finals
Five Rivers Secondary 4 (Mia Mitchell 12, 22, 46 Jada Gaskin 62), Valencia Secondary 1 (Cyan Williams 55) at St Augustine Secondary Grounds;
Central Zone Finals
Carapichaima East 5, Miracle Ministries 1 at Couva.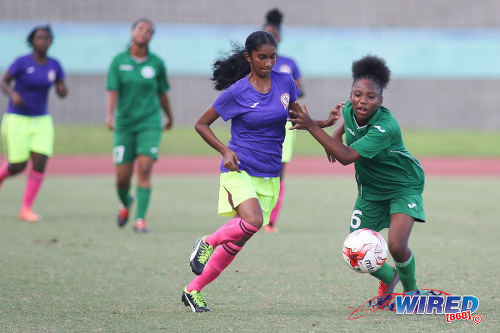 Upcoming fixtures
(Sunday 25 November)
Girls National Intercol Quarterfinals
Signal Hill Secondary vs Five Rivers Secondary, 3pm, TBA;
(Thursday 29 November)
Girls National Intercol Semifinals
Pleasantville Secondary vs Carapichaima East Secondary, 3pm, Mannie Ramjohn Stadium;
Tranquility Secondary vs Signal Hill/Five Rivers, 3pm, TBA.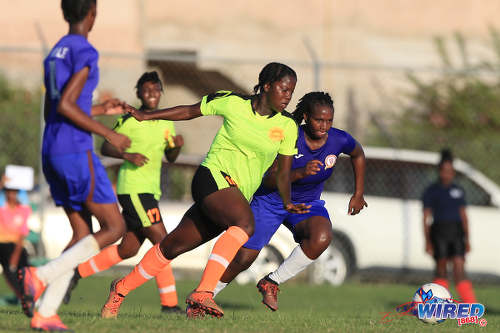 Boys National Intercol results
(Tuesday 20 November)
Central Zone Semifinals
Carapichaima East Secondary 6 (Kevon Williams [2], Luke Charles, Josiah King, Keilon Burnette, Ivan Dos Santos), Couva East Secondary 0 at Ato Boldon Stadium;
Chaguanas North Secondary 4 (Michael Francis, Syrron De La Rosa, Robert Lambert, Isaiah Albert), Presentation College (Chaguanas) 1 (Ethan Persad) at Ato Boldon Stadium.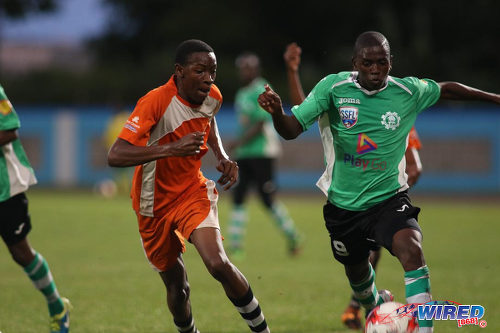 Upcoming fixtures
(Wednesday 21 November)
East Zone final
San Juan North vs Trinity College East, 3:30pm, Larry Gomes Stadium;
(Thursday 22 November)
Tobago Zone final
Signal Hill Secondary vs Speyside High School, 3:30pm, Mt Pleasant;
Central Zone final
Carapichaima East Secondary vs Chaguanas North Secondary, 3:30pm, Ato Boldon Stadium;
North Zone final
St Anthony's College vs Trinity College (Moka), 3:30pm, St Mary's College.