East Mucurapo Secondary and Trinity College (Moka) set up a North Zone Intercol semifinal date on 19 November, after convincing wins over Malick Secondary and Fatima College at the Hasely Crawford Stadium today.
The "Maroon Boys" from Mucurapo Road drubbed the newly-promoted Malick 7-0, while Trinity eased past Fatima—one of three teams relegated from the Secondary Schools Football League (SSFL) Premier Division—by a 4-1 margin.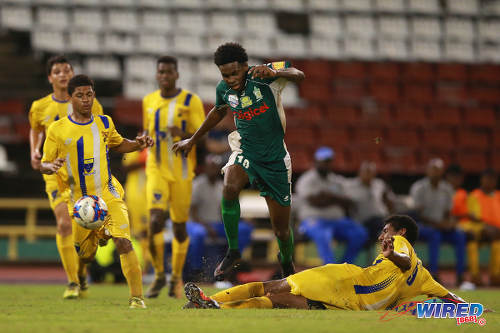 Coach Anthony Bartholomew hopes to bring some joy and love back to the Morvant/Laventille community when Malick make their Premier Division debut in 2019. But judging from the looks of today's mismatch at the Hasely Crawford Stadium, they will have their work cut out for them.
The Malick schoolboys weren't the only ones left licking their wounds though, as coach Wayne Sheppard's Fatima outfit were put out of their misery after enduring a disastrous 2018 campaign.
What a difference a year makes.

Last year, Fatima were a breath of fresh air in the Premier Division as they finished fourth—and seven points away from victors Presentation College (San Fernando)—while their Intercol run was cut short by eventual North Zone champs, St Mary's College, in the semifinal round.
But Fatima will have to battle it out in the North Championship Division next season and hope to earn a return to the top flight for 2020.
Today, Malick saw the gulf in class between the Premier and Championship Divisions first-hand, as they were soundly beaten by Mucurapo, a team which seemed to gain momentum at the business end of the 2018 SSFL season.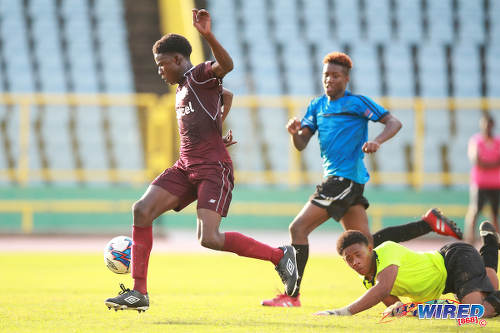 As early as the 11th minute, Malick found themselves on the back foot when lively Mucurapo midfielder Daniel David prodded into a vacant goal after goalkeeper Jaydon Taylor clattered into opposing attacker Zion McLeod.
Near the half hour mark, McLeod created more problems amongst the Malick ranks as his devilish low free kick was turned into his own goal by Malick midfielder Kyrstean Morris—an act which was mirrored by teammate and defender Terique Reid in the second half.
And the Maroon Boys put the game to bed after the interval with a clinical display of counter attacking football with substitute Malachi Celestine helping himself to a double and setting up up another for David. Captain McLeod also got a deserved item while Reid contributed an own goal.
It was a difficult performance to stomach for the sprinkling of Malick supporters.
"What Malick football really come to boy?" asked one frustrated supporter, as he headed for the exit. "Mucurapo eh saying nothing. Just the other day they was fighting up in the Premier [Division]!"
Mucurapo did endure a rough start to the 2018 season. But coach Dale Saunders' troops rebounded beautifully and eventually finished a credible seventh—one spot ahead of coach Ken Elie's Trinity (Moka) outfit.
The two teams will clash next Monday.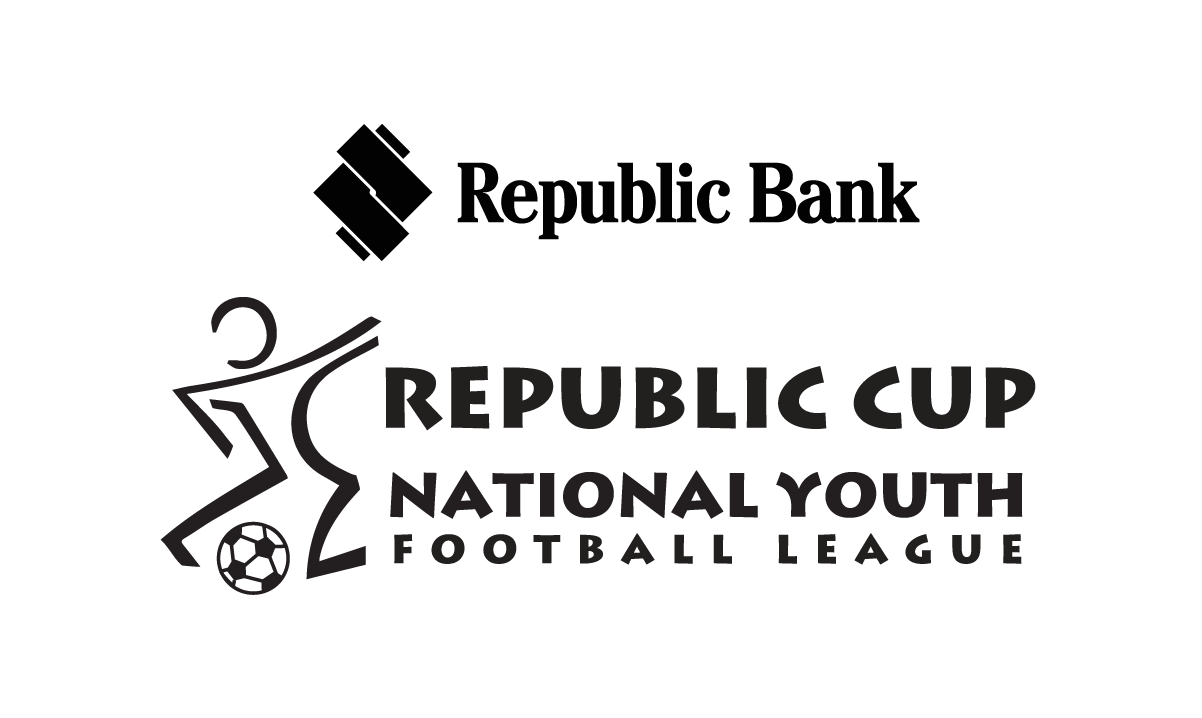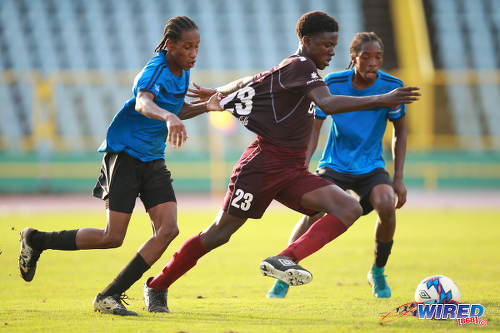 "I'm looking forward to good things from them," Elie told Wired868. "And if I had to choose a team for us to come up against at this point in time, it would not have been Mucurapo… I saw a part of the Mucurapo game and I enjoyed what I saw."
Trinity are no slouches themselves. Battered and bruised, Elie had to dig deep into his bench since as many as seven starters picked up injuries towards the end of the season.
Elie's outfit was close to full strength today though and midfielders Raheim Jawahir and captain Temesgn Tezera punished their wayward, sluggish Fatima opponents
In the ninth minute, Trinity demonstrated their own poise and patience on the ball, as attacker Jevon Ward helped up the ball well in a fluent attack that winger Mulik Duke finished off with a low right-footed shot from the edge of the area.
Striker Kai Phillip bettered Duke's cute finish in the 22nd minute, as he drilled a right-footed shot past goalkeeper Jacob Camacho at his near post—after Ward found him with a peach of a through ball from the right.
Fatima were in a daze. Elie said later that the coordination and cohesion he really desires isn't quite there yet. The Mucurapo Street college should thank the Lord for small mercies then.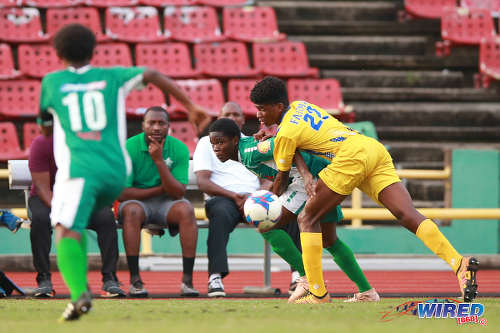 Still, Fatima did have their chances and midfielders Luke Darwent and Kaylon Taylor missed presentable opportunities inside the first half hour. And when they did get on the score sheet, it was on the wrong end, as defender Elisha Taylor inadvertently knocked past Camacho after nice link up play between Duke and Phillip.
At the interval, Fatima looked in danger of being on the wrong end of a tennis score. But to their credit, Sheppard's charges put up a much better fight in the second half and might have given Trinity a scare with better finishing.
Forwards Mikhail McComie and Jean-Heim McFee both missed good chances while some last ditch defending also preserved Trinity's advantage.
Darwent made up somewhat for his first half blemish as he tucked away from close range in the 67th minute, after a blocked shot fell invitingly to him in the penalty area. But overturning a three-goal deficit was always going to be a mountainous task for Fatima.
"I think what Fatima showed in the second half is that they are also a team to be reckoned with on their day," Elie said. "But goals win matches. They had their chances but couldn't put them away. We got ours and we put them away."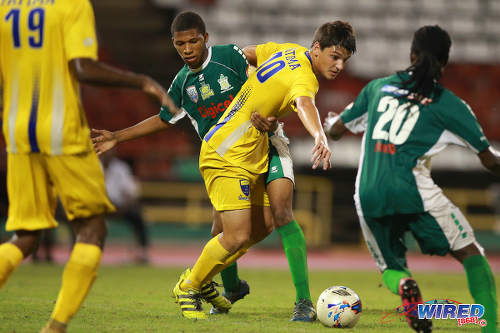 After a couple brilliant saves by Camacho at the other end, Trinity finally put the icing on the contest in the 87th minute, as Phillip buried a shot into the bottom corner after a sweet play down the left.
The "Trinity Lions" are roaming. And maybe they can hit the heights of 2016 where they pipped St Anthony's College to the North Intercol trophy.
"Trinity won that 2016 North Intercol title with Marlon Minguel, who is a very, very good coach," said Elie. "The way he would've bonded with that team over the years to produce that result was good. If we can get anything close to that during this Intercol season that would be great…
"I'm hopeful that a performance like the one tonight can hold. When we come up against the better teams in the League, we'll see how that works."
(Teams)
Fatima College (4-1-4-1): 1.Jacob Camacho (GK); 22.Jaden Perryman (23.Jordan Romany 46), 4.Elisha Taylor, 3.Joshua Evans (captain), 21.Saeed Pompey Charles (33.Azahrias Ali 59); 12.Aaron Moruf (6.Adenike Fraser 84); 18.Kaylon Taylor, 19.Lleyton Auguste, 10.Luke Darwent, 7.Jean-Heim McFee; 9.Mikhail McComie.
Unused Substitutes: 39.Jordan Casimire (GK), 5.Jaheim Aguilleria, 11.Lucas Farfan, 17.Joshua Thomas.
Coach: Wayne Sheppard
Trinity College Moka (4-4-2): 25.Justin Dos Santos (GK); 22.Nkosi Davis, 13.Jean Luc Pantin (17.Adel Black-Haynes 73), 14.Abdul Raheem-Lezama, 20.Ronaldo Jacob (18.Jardel Mitchell 89); 3.Josiah Superville, 9.Raheim Jawahir, 10.Temesgn Tezera (captain), 15.Mulik Duke (16.Menes Lara 59); 19.Kai Phillip, 8.Jevon Ward.
Unused Substitutes: 1.Nathaniel Thomas (GK), 5.Anfernee Bascombe, 6.Olomidara Olukayode, 23.Sean Pierre.
Coach: Ken Elie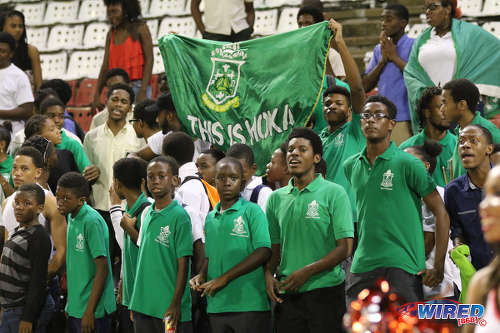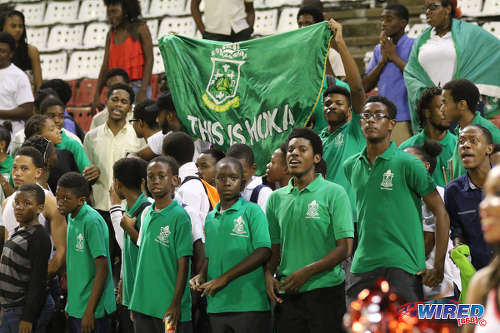 (Teams)
Malick Secondary (4-4-1-1): 1.Jaydon Taylor (GK); 15.Amir Simmons, 3.Kieron Sealey, 4.Kyreil Dickson, 6.Terique Reid; 7.Kemo Charles (13.Andre Marshall 61), 16.John-Mark Morris, 8.Krystean Morris, 19.Zion Carpet; 10.Nicholas Roach (captain) (9.Danté Murrien 76); 11.Denelson Kennedy (2.Jahmari Toppin 66).
Unused Substitutes: 27.Shakeel Bowens (GK), 12.Jahmarley Alfonso, 14.Isiah Haywood, 33.Shaquim Gooding.
Coach: Anthony Bartholomew
East Mucurapo Secondary (4-2-3-1): 35.Jahmal Bowen (GK); 12.Elijah Joseph, 5.Aaron Roberts, 2.Jamali Alexis, 24.Jeremiah Vidale; 9.Jelani Ferary, 6.Sowande Prieto (17.Gabriel Charles 46); 11.Zion McLeod (captain), 15.Shakime Wickham (16.Dishon Awai 76) 13.Daniel David; 10.Kidane Lewis (23.Malachi Celestine 61)
Unused Substitutes: 1.Jamali Blackman (GK), 3.Diarra Fraser, 7.Jaheim Patrick, 25.Cecil Young.
Coach: Dale Saunders
Referee: Nicholas Murray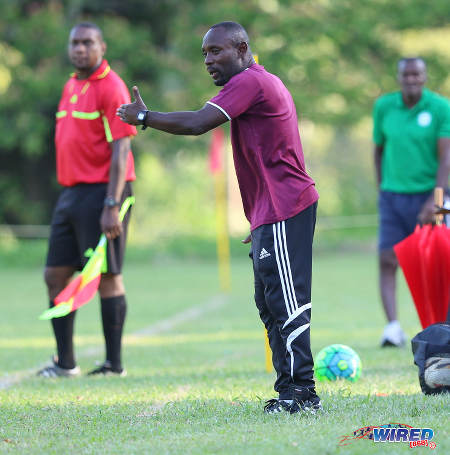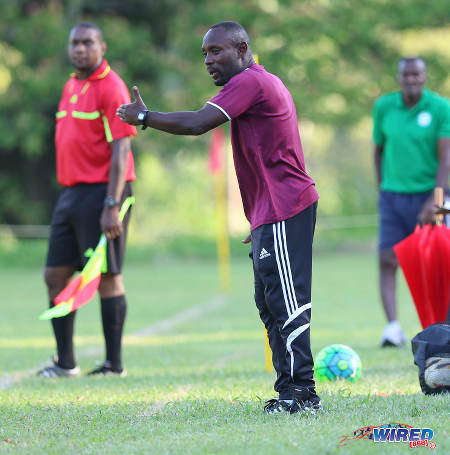 Intercol results
(Wednesday 14 November)
East Mucurapo 7 (Daniel David 7, 62, Krystean Morris OG 27, Terique Reid OG 69, Zion McLeod 75, Malachi Celestine 77, 86), Malick Secondary 0, Quarterfinals G, Hasely Crawford;
Trinity (Moka) 4 (Mulik Duke 9, Kai Phillip 22, 87, Elisha Taylor OG 35), Fatima College 1 (Luke Darwent 67), Quarterfinals H, Hasely Crawford;
St Benedict's College 9, Fyzabad Anglican 0, Quarterfinals E, Mannie Ramjohn;
Presentation (San F'do) 4 (Jordan Riley [2], Justin Cornwall, Jerrin Jackie), Pt Fortin East 0, Quarterfinals D, Mannie Ramjohn;
(Tuesday 13 November)
Speyside Secondary 4, Roxborough Secondary 0, Quarterfinals C, Goodwood;
Mason Hall Secondary 2 (Omar Daniel, Jeovanni Gardiner), Scarborough Secondary 4 (Jahiem Harry [4]), Quarterfinals D, 3:30pm, River Bank, Mt George;
San Juan North 6 (Renaldo Boyce [2], Malik Farrier [2], Tyrell Cameron, Elisha Garcia), Arima North Secondary 0, Quarterfinals B, Larry Gomes Stadium;
Trinity College East 4, Malabar Secondary 1, Quarterfinals E, Larry Gomes.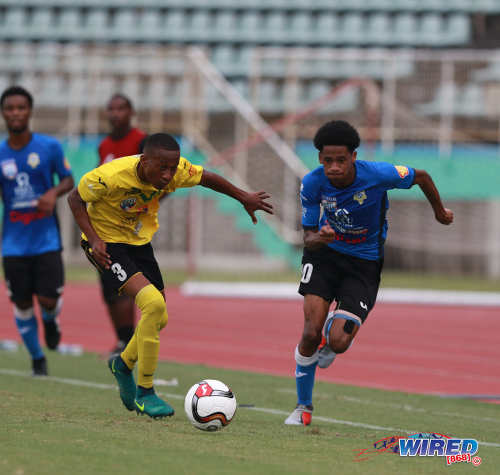 Upcoming fixtures
(Thursday 15 November)
Chaguanas North Secondary vs Presentation College (Chaguanas), Semifinals D, 3pm, Ato Boldon;
Carapichaima East vs Couva East Secondary, Semifinals E, 5pm, Ato Boldon;
(Friday 16 November)
San Juan North vs Valencia Secondary, Semifinals G, 3pm, Marvin Lee Stadium;
Trinity East vs St Augustine Secondary, Semifinals H, 5pm, Marvin Lee Stadium;
Bishop's High vs Signal Hill Secondary, Semifinals E, 3:30pm, TBA;
Speyside High vs Scarborough Secondary, Semifinals F, 3:30pm, TBA.