San Juan North joined the summit of the Secondary Schools Football League (SSFL) Premier Division standings today after a nervy 1-nil victory against Queen's Royal College (QRC) in Bourg Mulatresse.
Today, league leaders and defending champions Presentation College (San Fernando) were inactive due to a bye, and San Juan took full advantage to draw level on points as they fought their way to a victory against the visiting "Royalians", who were without their suspended star player John-Paul Rochford. Both teams have 25 points, although the "Pres Lions" have a superior goal difference.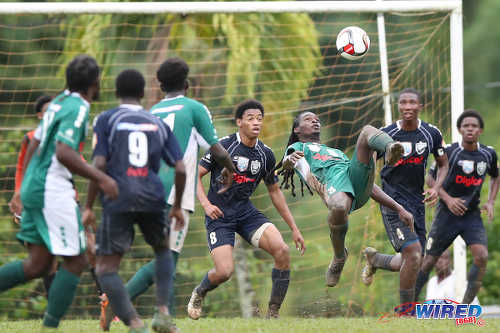 San Juan, Presentation and third place Naparima College are the Premier Division's remaining unbeaten teams—an honour that "Naps" salvaged with virtually the last kick of the game today, as they drew 1-1 with newly promoted Valencia Secondary to move to 22 points.
Despite the point, Valencia slipped into the relegation zone as Fatima College jumped into 12th spot on the15-team table with a 2-1 victory over Carapichaima East Secondary on Mucurapo Road. Both Fatima and Valencia are on seven points but the boys from Mucurapo Road have a superior goal difference.
The other two teams in the relegation positions are St Mary's College (five points) and Bishop's High School Tobago (one point).

[dfp-ad]
On a gloomy and sluggish afternoon in Bourg Mulatresse, coach Jerry Moe's charges just about got the better of their guests. It was not a world-beating display from San Juan by any stretch of the imagination; but, yet again, coach Kenwyne Jones and the QRC faithful were left cursing their luck.
In their previous three matches, the Royalians played to stalemates against Presentation, St Mary's College and Trinity East. And today, with an inspired Jacques Poon-Lewis between the uprights, Jones and company were dreaming of better things.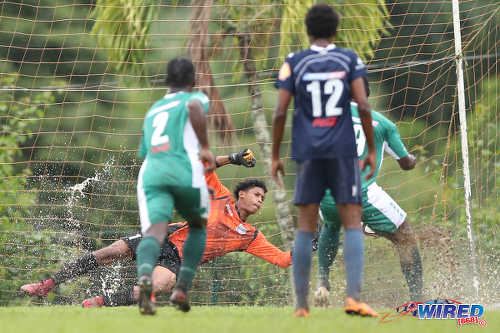 However, despite having the lion's share of the possession and playing the more attractive football on the day, the North zone school had nothing to show for their efforts.
Jacques, much like his elder brother Jadel, loves to employ the "sweeper keeper" style. And today, he made a number of timely saves as San Juan tried to kill the game off.
San Juan skipper Renaldo Boyce watched on in despair as Poon-Lewis sprawled to the left to stop an 11th minute penalty. Incidentally, Boyce had a penalty saved in that same corner against East Mucurapo last week; but he converted on the second attempt after referee Rashby McPhie ordered a retake.
However, four minutes later, Boyce redeemed himself in a big way when he chased his own clearance—following a set piece—and ran the length of the field to fire past the QRC custodian to cap off a fine solo item.
Thereafter, QRC huffed and puffed but could not blow San Juan's house down, as Moe's charges defended like their lives depended on it.
San Juan's warrior-like centre back Kyle Thomas marked his return to action with a goal against Mucurapo last week. And today, he and left back Kareem John marshalled the uncompromising San Juan rearguard. Even captain Boyce dropped deep into midfield to support the cause.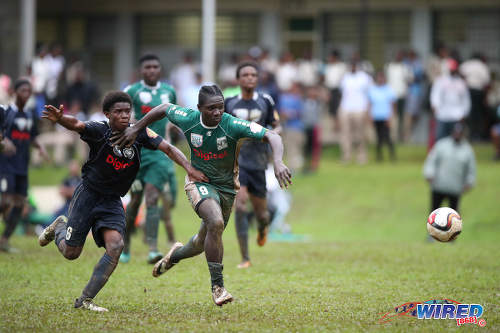 In first half stoppage time, John put in a crucial last-ditch tackle to thwart QRC midfielder Kalev Kiel, who looked to be through on goal. If John had misjudged his challenge he would have been off for an early bath; but his timing was immense.
"It was a tough victory. QRC is a well coached team and I think they worked hard," Moe told Wired868. "Even though they had some quality we limited them to a few clear cut chances."
Last Wednesday, the woodwork seemed to be QRC's nemesis as they struck the frame three times against north rivals CIC. Today, when the Royalians breached their opponent's defences, it was a puddle of water in the San Juan goal mouth that proved to be their undoing.
"We have to talk about the luck we've been having, hitting the post so many times last week," said Jones, who steadied the ship in place of the absent Nigel Grosvenor. "Today it was a puddle of water. We did ask the officials to at least try and scoop the water out of the areas like the penalty spot and by the goal line."
In the first half, Poon-Lewis stopped Boyce's penalty effort despite having to stand in the puddle of water. And, after the interval, the naughty puddle denied QRC a leveller.
The crucial moment for QRC came in the 58th minute mark, as lively winger Darian Bradshaw stabbed a loose ball past opposing goalkeeper Emmanuel Clarke, only for the ball to stick in the water right before it reached the goal line.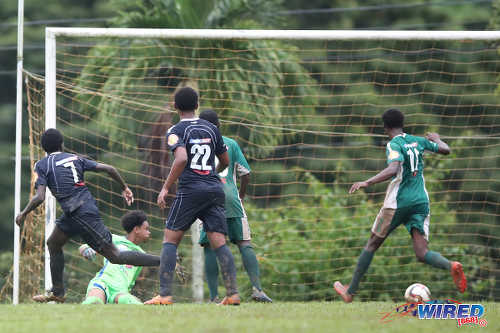 "Apart from the instance where the ball stuck in the water I can't remember them having any clear cut chances," Moe said. "I think we played well. We defended well. We scored our chance, although we missed a penalty."
Ten minutes after Bradshaw's cruel incident, the visitors failed to make the most of another presentable opportunity, as attacker Randy Harris shot tamely towards goal despite receiving a botched San Juan clearance in the area.
"Football is like this. Sometimes you have luck and sometimes you don't. We'll pick up and go again because we have points to get," said Jones, who was without suspended playmaker John-Paul Rochford. "The team put forward the effort today. Unfortunately again for us—like we keep saying—we are not having that luck in front of goal. I don't think there has been any team miles better than us in any given game this season."
Maybe Jones and his charges will need bush baths before their next game against Carapichaima East Secondary on Saturday.
For San Juan though, they will be looking to defy the defending champions and League leaders on Saturday, as they host Presentation.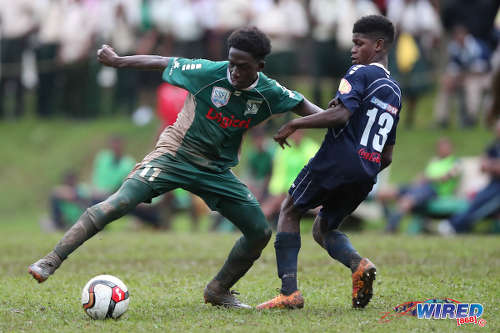 "All games are important […] fortunately for us we're playing at home and we will be looking to defend home turf," said Moe. "We are not going to take them lightly. They are the defending champs and they are well coached. We will give them the respect they deserve but we are going to compete."
The veteran coach stopped short of saying that the direction of the Premier Division title hinges on Saturday's outcome though.
"I still don't think we have a team to win the League as yet," Moe said. "We just have to take it game by game. We still have crucial games to play after Presentation."
(Teams)
San Juan North (4-4-2): 1.Emmanuel Clarke (GK); 16.Obadele Dickson (4.Elisha Garcia 88), 14.Darion Warner, 22.Kyle Thomas, 17.Kareem John; 2.Tyrell Cameron, 18.Malik Farrier, 3.Elair Brewster, 11.Isaiah Chase; 10.Jerry Morris (6.Jordan Britto 80), 9.Renaldo Boyce (captain).
Unused Substitutes: 30.Kareem Rodriguez (GK), 7.Josiah Phillip, 12.Kendo Matthias, 13.Christon Mitchell, 21.Pharez Sutherland.
Coach: Jerry Moe
QRC (4-2-3-1): 1.Jacques Poon-Lewis (GK); 12.Jabari Mickell, 17.Donnell Claxton, 4.Anfernee Stokes (captain) (11.Renaldo Mullings 61), 6.Rawle Felix; 3.Darlon Guppy, 20.Marc Robertson; 9.Randy Harris (13.Nathaniel James 85), 8.Kalev Kiel, 7.Darian Bradshaw; 22.Jakeem McNeil (19.Darius Dickson 77).
Unused Substitutes: 30.Jumaane McNeil (GK), 10.Naeem Bisnath, 16.Nathaniel Brown, 25.Jaheim Granderson.
Coach: Kenwyne Jones
Referee: Kwinsi Williams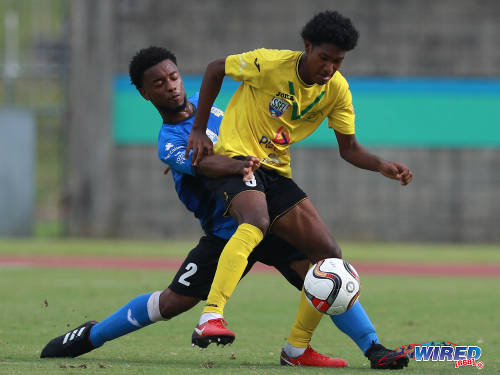 SSFL Premier Division results
(Wednesday 17 October)
San Juan North 1 (Renaldo Boyce 15), QRC 0 at Bourg Mulatresse;
Fatima College 2 (Mikhail McComie 37, 75), Carapichaima East 1 (Luke Charles 1) at Mucurapo Road;
Naparima College 1 (Seon Shippley), Valencia Secondary 1 (Dwight Yorke pen) at Lewis Street;
St Benedict's College 2 (Keon Boney 55, 78), East Mucurapo 0 at St Benedict's;
Bishop's High (T'go) 0, Trinity College East 2 (Jaden McKree 46, Kerdell Sween 57) at Tobago;
St Anthony's College 2 (Zion Williams 34, Jordan Barclay 90), Trinity College (Moka) 3 (Anfernee Bascombe 56, 78, Temesgn Tezera 55) at Westmoorings;
St Augustine Secondary vs St Mary's College at St Augustine;
*—postponed due to a waterlogged field
Presentation College (San F'do) are on a bye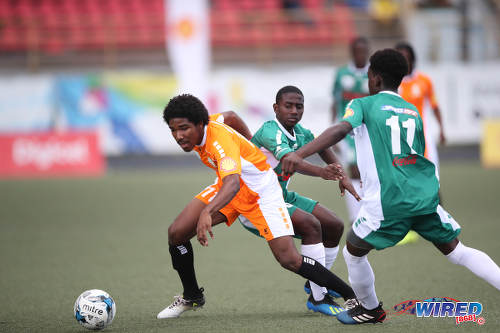 Upcoming fixtures
(Saturday 20 October)
Bishop's High School vs St Benedict's College, 3:45pm, Tobago;
East Mucurapo vs St Anthony's College, 3:45pm, Mucurapo Road;
QRC vs Carapichaima East Secondary, 3:45pm, QRC;
San Juan North vs Presentation College (San F'do), 3:45pm, San Juan;
St Mary's College vs Trinity College East, 3:45pm, Serpentine Road;
Trinity College (Moka) vs Naparima College, 3:45pm, Moka;
Valencia Secondary vs Fatima College, 3:45pm, Larry Gomes Stadium, Malabar;
St Augustine Secondary are on a bye
2018 SSFL Premier Division
| Pos | Club | P | W | D | L | F | A | GD | Pts |
| --- | --- | --- | --- | --- | --- | --- | --- | --- | --- |
| 1 | Naparima | 14 | 10 | 4 | 0 | 27 | 9 | 18 | 34 |
| 2 | Presentation | 14 | 10 | 3 | 1 | 30 | 12 | 18 | 33 |
| 3 | San Juan | 14 | 9 | 3 | 2 | 25 | 15 | 10 | 30 |
| 4 | Carapichaima | 14 | 7 | 3 | 4 | 25 | 22 | 3 | 24 |
| 5 | St Benedict's | 14 | 6 | 3 | 5 | 22 | 21 | 1 | 21 |
| 6 | QRC | 14 | 5 | 5 | 4 | 19 | 12 | 7 | 20 |