The Trinidad and Tobago Women's National Senior Team will have to dig deep tomorrow to offset more shambolic preparations, as they get ready for their opening Concacaf Women's Championship fixture against Panama with five absentees from their 20-member squad, including star forward Kayla Taylor.
Taylor, versatile defender Rhea Belgrave, and veteran Ayana Russell received visas from the US Embassy only today and are scheduled to depart from Piarco International Airport tonight.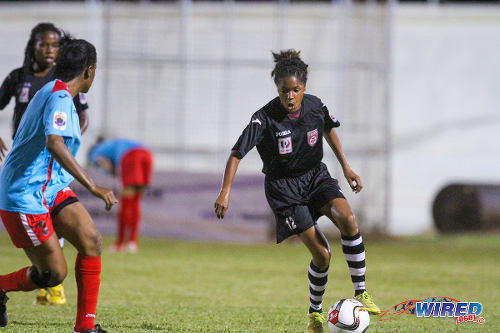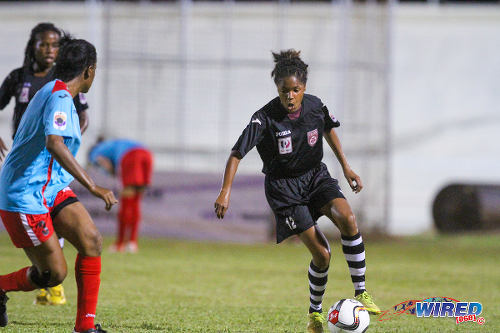 The trio should arrive in North Carolina just after 1:30pm tomorrow, which should be enough time to suit up to face Panama from 5pm at the Sahlen's Stadium in Cary, North Carolina. But it hardly ideal preparation for the Women Warriors, who trained with 15 players this week.
It is the second successive competition in which the team, steered by head coach Shawn Cooper and technical director Anton Corneal, suffered from farcical travel arrangements. At the 2018 Caribbean Championship in Jamaica, the Women Warriors were again shorthanded for their opening affair while Taylor only landed in Kingston on match day.
[dfp-ad]
Taylor dusted off her farcical travel itinerary then and scored a hattrick, as Trinidad and Tobago edged Cuba 3-2.  The former Wiley College student found the net seven times in four matches in Jamaica and her form is essential to the Women Warriors' chances of advancing from Group A.

Hosts United States and Mexico, who play from 7:30pm tomorrow, await Trinidad and Tobago in their closing group matches; and only the top two nations progress.
Whether Taylor, Belgrave and Russell get to Cary in time or not, the Women Warriors are definitely without combative midfielder Naomie Guerra and teenaged full back Shadi Stoute, who were not given permission to join the team by their respective United States universities.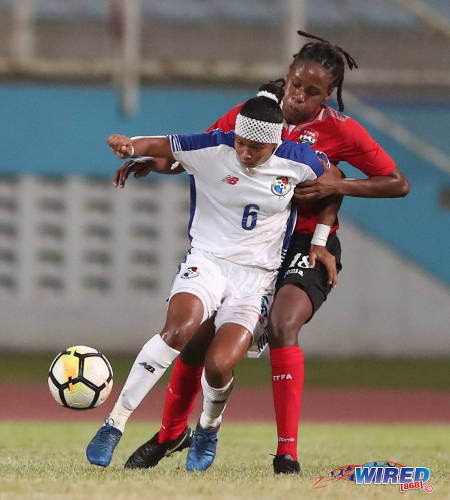 Guerra and Stoute, whose absences were known in advance by the technical staff, are expected to be available for the latter group matches against the United States and Mexico.
The disruptions meant Cooper and Corneal prepared for tomorrow's fixture with just 13 outfield players, which includes midfielder Shenelle Henry and attacker Natasha St Louis who are untested at this level. Cooper opted to travel without former team captain and midfielder Maylee Attin-Johnson, who was available for selection.
The issues surrounding the current team have been well documented. Cooper is the Women Warriors' fourth head coach in 15 months while their preparation occurred amidst public squabbles between TTFA president David John-Williams and a combination of James (manager), Corneal (technical director), players and the board.
In between the rancour, the Women's Team failed to make it to a pre-tournament camp despite receiving TT$429,626 from the Ministry of Sport and Youth Affairs for that purpose.
This evening, the Women Warriors, who are led by veteran playmaker Tasha St Louis—sister of Natasha St Louis—must find a way to put their botched preparations behind them and snatch three points from a tough but beatable Central American opponent.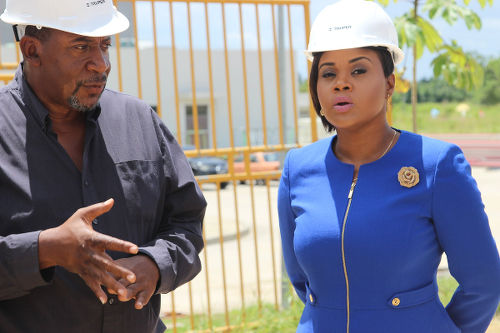 St Louis (T) apart, Cooper still has a strong core with Norway-based forward Kennya "Yaya" Cordner, central defender Arin King, utility player Liana Hinds and the Forbes sisters—goalkeeper Kimika and midfielder Karyn.
Bustling forward Mariah Shade, who is just returning from injury, may be pressed into action as well to strengthen a threadbare attack.
James said the squad remains positive and in relatively good spirits, despite the setbacks.
"The ladies have shown a strong front thus far, although they are concerned about not having the entire team together [for] their game against Panama," said James. "The had a solid training field sessions yesterday and a blackboard session last night."
Four years ago, the Trinidad and Tobago Women's Team got to the semifinals of the Concacaf Championship and were one result away from the Canada 2015 World Cup.
However, they lost on kicks from the penalty mark against Costa Rica and in extra time against Mexico, before succumbing 1-0 in a two-legged FIFA Play Off against Ecuador.
Tomorrow evening, against considerable odds, they will try to improve on those returns.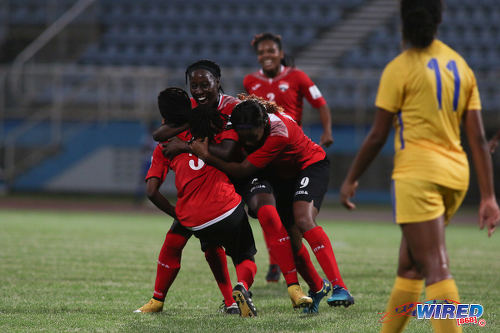 Team Trinidad and Tobago:
Goalkeepers: Kimika Forbes, Saundra Baron;
Defenders: Arin King, Jenelle Cunningham, Jonelle Cato, Lauryn Hutchinson, Rhea Belgrave, Ayana Russell, Shadi Stoute, Patrice Superville;
Midfielders: Janine Francois, Karyn Forbes, Liana Hinds, Natasha St Louis, Tasha St Louis, Shenelle Henry, Naomie Guerra;
Forwards: Kennya Cordner, Mariah Shade, Kayla Taylor.
Staff: Shawn Cooper (head coach), Dernelle Mascall (assistant coach), Anton Corneal (technical director), Jason Sheppard (goalkeeper coach), Jinelle James (manager), Jo-Ellen Redhead (trainer), Roger Ryan (physiotherapist), Steve Frederick (equipment manager), Jelani Robertson (sport psychologist), Dr Joshua Berkowitz (team doctor).