The second edition of the Big 5 concert, comprising prime bands in prime time, took place on the eve of Republic Day. This column is about what such an event demonstrates regarding leadership, management, positive development and self esteem.
The event was promoted as We Comin' Again. The Big 5 bands came again and conquered the notion that hearing the best of pan must be a feat of endurance, marked—even in a final—by an excessive field of contestants, boring lulls, speeches, plaques and presentations.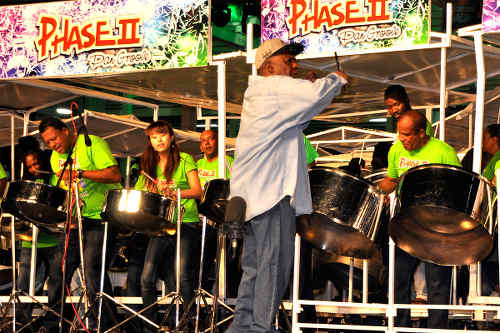 There was no exclusive reliance on dependency funds. Hopefully the Big 5, in consultation with peer quality groups, will be considered to advise on a rescue of Panorama from currently bankrupt and toxic clutches.
Writing in the Newsday on Monday last, Joan Rampersad captured accurately, as she usually does, the musical highlights of what moved the audience to their feet. The extent of the repertoires, which she described, confirm that our pan musicians can play in any genre.
What I would like to add is that the concert presented a full collaboration of the steel orchestra with other musical instruments and singers—both soloists and groups. This is the new normal for quality pan concerts. I give a few examples drawn from merely one or two aspects of the performances of each band.
There were the children of Golden Hands singing and dancing with Phase II. Stay strong Boogsie, you introduced those children with a fetching affection.
Affection turned to the other side of our reality, "all the satan wickedness in poor man community." Marvin Lewis, known as Mr King, son of King Austin, adapted Borderline and performed it within Despers' set, with references relevant to our violent crime situation.
Our rich and varied musical talent and its committed leadership is pushing back against that reality; but doing so without the assistance of a cultural and tourism development policy not riddled with obsessive political control.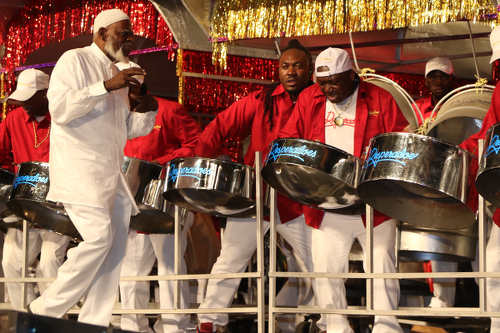 Despers also went with the mastery of Carlton "Zanda" Alexander on the keyboard, Maestro Jesus Acosta, conductor, and the skills of a clarinetist into Offenbach. Kay Alleyne sang with All Stars and mitigated the despair that we might feel about Whitney Houston's untimely death. Exodus had a particularly lively guest trombonist joining in support of duet performances.
Renegades sent a medley of the motivational melodies of Stalin soaring into the sky. The thing about Duvonne Stewart, Renegades arranger, is the apparent force of his leadership. While I was watching his control of the band as they moved seamlessly from one melody to another, I was thinking of what I had learned about the relationship of Neville Jules and All Stars.
Jules was at that moment, after decades, still unrecognised in the National Awards in the field of culture, the arts and community service. Next day we learned that the Jules omission was finally put right in the awards list for this year, which described him as "retired pan player/arranger." The citation should also recognise figures, like Jules, as "leaders."
I link the leadership of Stewart and Jules for this reason. There are arrangers who are able to gain command of the players on a wider plane of respect than appreciation of musical skill. When this occurs the band is usually better disciplined and, with or without the use of the legendary hammer in the mode of Rudolph Charles, it prospers beyond Panorama.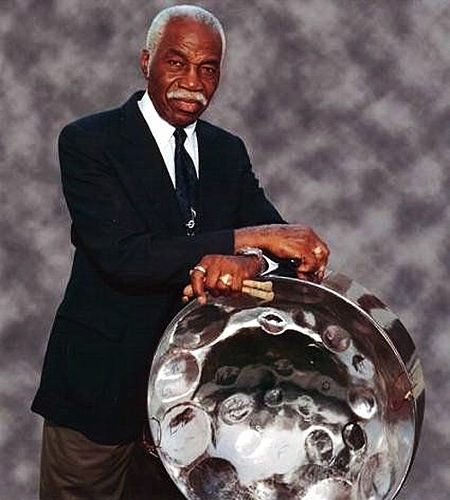 Stewart has taken Renegades by means of patience and discipline back to the pinnacle to which, for years, they yearned to return.
Leadership of communities is a complicated subject. However, from my research among those who know Jules—and from the benefit of a CD of a rich interview he once gave—it is clear that the leadership of Neville Jules put and kept Trinidad All Stars on a firm foundation. This was at a time beginning in the fifties when many of his peers went to greener pastures abroad.
If those in public office and those with scholarship funds to give, ever get around to noticing the wider accomplishments and progress of the steelband movement, then we will move to a better place more swiftly than the visionless can imagine.