On Sunday 19 August 2018, the Trinidad and Tobago Football Association (TTFA) began preparation for two functions at the Ato Boldon Stadium in Couva on the following day.
One event was a sit-down with TTFA technical director and caretaker Women's National Senior Team coach Anton Corneal and dealt with his 2018 Caribbean Championship preparations. The other was a site visit of the controversial Home of Football project by Veron Mosengo-Omba, the FIFA Director of Member Associations and Development for Africa and the Caribbean.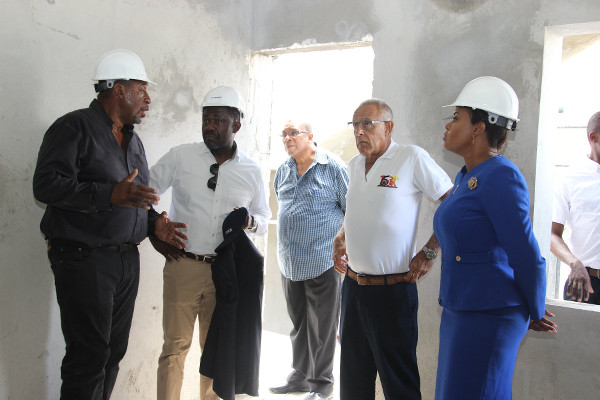 (FIFA's decision to lump the Caribbean and Africa together is a turn of direction by the international governing body and might speak to the marginalisation of Concacaf's most populous region by the confederation's Canadian president, Victor Montagliani).
However, while TTFA media officer Shaun Fuentes emailed all media houses on Sunday night to invite them to the 4pm media briefing with the Women's Team, the business of the Home of Football site visit and press gathering was done quite differently.
Trinidad Express sport editor Garth Wattley, Trinidad Newsday sport editor Stephon Nicholas, Trinidad Guardian sport editor Keith Clement and CNC3 sport editor Robert Dumas all confirmed that they, along with Wired868, were not invited to the latter event.

Yet, CNC3 reporter Ryan Bachoo and Newsday reporter Jelani Beckles received individual invitations by TTFA media officer Wayne Cunningham, which were not copied to their bosses.
TTFA press officer Wayne Cunningham insisted that the local football body was not trying to handpick journalists for the event. He also denied calling Bachoo while he suggested that Beckles might have confused the two press conferences on that day.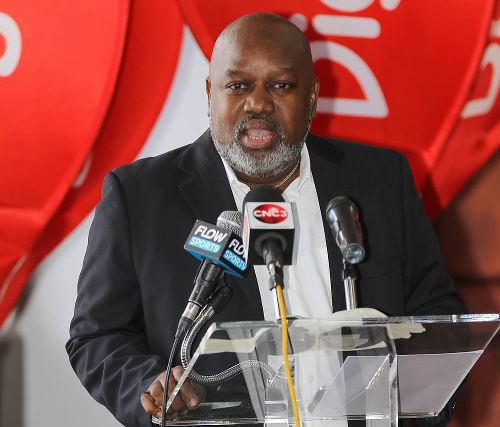 "What happened is Shaun [Fuentes] and myself made some calls to the media in the morning," Cunningham told Wired868. "It was a last minute thing and not really a big deal. If you didn't hear from me, it must be because Shaun was supposed to call you."
Dumas and Nicholas gave different accounts, after speaking to their respective reporters.
"I just spoke to Ryan [Bachoo] and he told Wayne [Cunningham] to message or call Gyasi [Merrique] or myself, which never happened," said Dumas, who explained that Bachoo was on vacation at the time.
"Jelani [Beckles] said [Cunningham] told him to come for 1:30pm but he was vague as to what it was [about]," said Nicholas.
Cunningham, when asked to explain the two overtures, said he "probably erred" in his handling of the event.
"I now remember what I [did], I did a feel out [of the aforementioned reporters] early in the morning and they told me they were not available," said Cunningham. "I don't know why [our failure to invite all media houses to] that press conference is a big problem. Probably I should have contacted everybody but I decided if I shoot and send [the video footage], it would have been no problem.
"There is another FIFA official coming to see the Home of Football soon and I will try to make up up for it then. Probably I erred."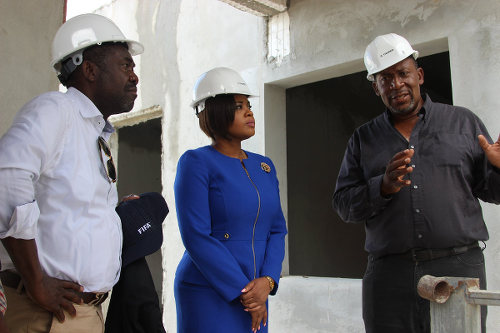 With Beckles, Bachoo and Trinidad Express reporter Ian Prescott—Wattley could not confirm whether Prescott got a personal invitation but was told that he did—unavailable for various reasons, Cunningham did not extend an invitation to other journalists; and instead delivered the only question of the press conference himself.
"I feel it is my duty to ask the question," Cunningham address the FIFA representative, last Monday, "is FIFA pleased with our accountability, with our schedule and spending and so forth?"
A beaming John-Williams pushed the microphone to Mosengo-Omba, for his response.
"Each year, FIFA conducts an audit through the 211 member associations," said the FIFA official. "If one penny [is] missing in this project, I will be the first to tell the president you have to go to the Ethics [Committee], because it is my job to do that.
"[…] Don't worry about that. This is the business of FIFA; to make sure that the money put for development."
The FBI might disagree with Mosengo-Omba on the quality of FIFA's oversight in such projects. And surely the burning questions about the Home of Football project would include: Which companies were selected to work on the project? How were they chosen? How much has been spent so far; and on what?
And why is John-Williams refusing to share financial information on the project with his own board?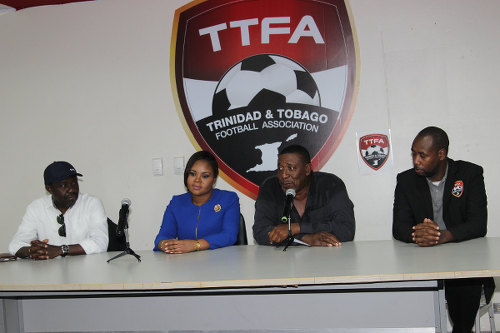 None of those queries were posed to the gathering on 20 August.
Cunningham, incidentally, is also a TTFA board member. On 31 March, the local football body's general membership ruled that WOLF president Sharon O'Brien and Cunningham must choose between their roles as employee and board members, due to a perceived conflict of interest.
"They have been told that they must relinquish their posts as board members or their employment [with the TTFA]," said NFA president Anthony Harford, at the time. "You can't be [TTFA general secretary] Justin [Latapy-George's] boss on some days and he is your boss on other days; that is crap."
O'Brien subsequently resigned from the board. But Cunningham continues to resist, on the grounds that he is not a full-time TTFA employee but a consultant.
"The general membership sent my status to the board to decide [and], at the board meeting, it was discussed at length and presentations were made to show I have no employment status at the TTFA," said Cunningham, who travels to the UAE with the Soca Warriors next month. "The board agreed that I am not an employee of the TTFA. [The matter] should have gone back to the general membership but they did not take it back yet…"
In fact, the general membership asked the board to ensure that Cunningham chose one role or the other, and not to explain why he should keep both.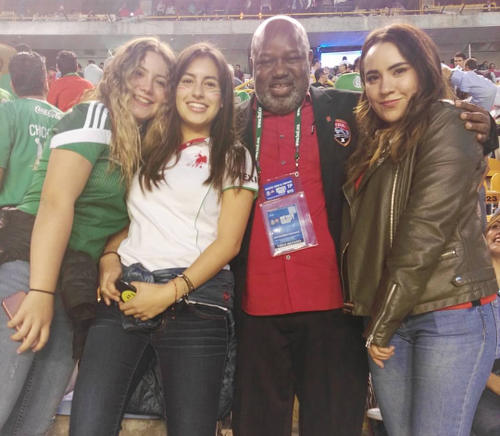 Last Monday, Cunningham appeared to be the only board member—outside of John-Williams and his vice-president Ewing Davis—with an invitation to meet Mosengo-Omba and be a party to the Home of Football discussion.
The following exchange of emails shows the concern by football stakeholders with regards to details on Mosengo-Omba's trip to Trinidad:
From TTFA general secretary Justin Latapy-George on Monday 20 August, 9:20am:
Dear Board of Directors,
Further to the subject, and on the President's advice, please note that Mr Veron Mosengo-Omba (FIFA Director of Member Associations and Development for Africa & the Caribbean) has a layover in Trinidad today (Mon Aug 20 2018) based on his related travel itinerary.
As such, the President (copied) has requested that the Board be informed that Mr Mosengo-Omba will be using some time of his layover to visit the "Home of Football" project in Balmain, Couva.
Please note this update.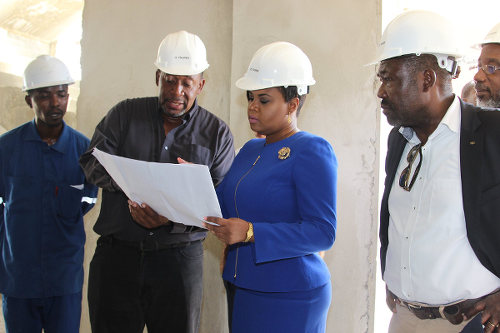 From TTFA board member Keith Look Loy on Monday 20 August, 10:33am:
GS,
The bankruptcy and cynicism of the TTFA administration never ceases to amaze me. Thank you for advising the Board TODAY that the FIFA official will be visiting TODAY—no time given.
From NFA president Anthony Harford on Monday 20 August, 7:33am:
Good Evening,
I was copied the note below by the NFA's TTFA board member and continue to be bewildered by "The Ride" the President has taken the board on. A few months ago, the same gentleman came into Trinidad in the dead of night, board members were given less than 20 hours to attend a meeting with him on progress on the home of football, which very few people were able to do, and now again, we find out on the day of his visit he is on a "layover" and is coming to the home of football. Could you provide the following:
Trinidad is not a traditional layover destination so where is he travelling from and to where?
Is it that FIFA did not inform of his "layover " until today. You would think as a courtesy, this information would have been relayed to the TTFA, after all it is a high level FIFA official we are talking about.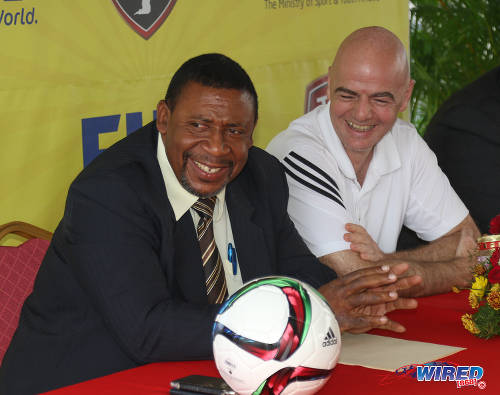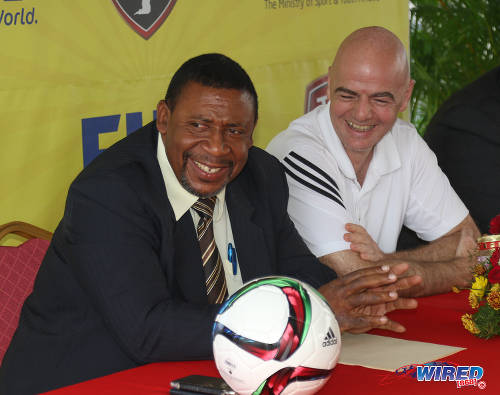 Board members, you have a serious responsibility to change football, not change ethics, you should have an unrelenting hunger for doing what is right and honourable and serving humanity through this great game.
You must stop David John-William's careening recklessness before it is too late. Think of our children, think of their future. I plead with you. You are worth a lot more than a few pieces of silver.
From NFA president Anthony Harford on Tuesday 21 August, 3:13pm:
Good Day Board members,
The newspaper today carried a story of the sports minister and SPORTT Chairman on the visit of the home of football with the President of the TTFA yesterday. I did a little investigating and found that Douglas Camacho was invited the evening before, while the Minister was invited yesterday.
However you, the board members, were told on the morning of the visit and no time was given except in the case of an acolyte or two. Why were you not given the same courtesy?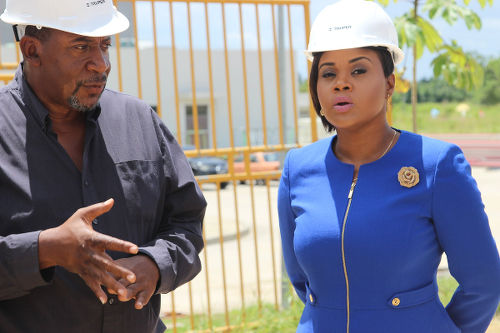 This should serve to remove the "cataracts" from your eyes and confirm the President is assiduously preventing you from full, free and unequivocal participation in the business of football.
Please do not allow yourselves to be so diminished by a single individual, please think of the young people you are supposed to be serving.
I thank you.
From TTFA president David John-Williams on Sunday 27 August, 11:22am:
Dear Mr Harford,
I am in receipt of your emails to the President and the TTFA Board expressing your views with respect to the impromptu visit by FIFA last Monday.
At the outset may I request that in future, you be so kind and channel these concerns through your duly appointed representative on the Board.
Nevertheless, you being also a stakeholder in the T&T football, I will be forwarding your mails to FIFA, to example the concern by some of the membership of their protocol or lack thereof, when notifying of impromptu visits. It also demonstrates the uncomfortable position it puts the office of the Presidency, as it is being used to sully my presidency.
I trust this demonstrates I have acted on you concerns and views, albeit the tone and content I found derogatory, excessive and at times very insulting to myself and the TTFA Board.
I have enclosed two video of the press conference from the visit which I trust will dispel the misinformed perception.
There is no obligation on your part to acknowledge or respond to this note.
Best Regards.