FC Santa Rosa edged their way to the top of the Trinidad and Tobago Super League (TTSL) standings last night after playing to an intriguing 1-1 draw with Cunupia FC at the Arima Velodrome.
Rosa, who are now on 28 points, are just one point ahead of second-placed Queen's Park Cricket Club (QPCC), who can overtake them with a win away to Club Sando this evening. Meanwhile, Cunupia are two points adrift of Rosa in third position.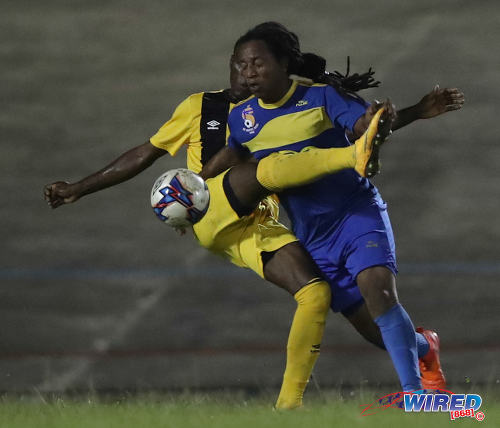 Elsewhere, 2017 TTSL champions Guaya United were unable to stake their own claim yesterday, as their clash with UTT in O'Meara was called off—after the match commissioner allegedly ruled that Guaya's uniform was too similar to that of the home team's. The fixture is now likely to be decided by the TTSL Disciplinary Committee.
Guaya, the defending champions, have already lost ground off the field of play in their title defence, as the TTSL made good on its promise to deduct three points from clubs who did not field teams in any youth competitions this season. It meant Guaya dropped from 25 to 22 points.
The other affected team is Metal X Erin FC, whose three point deduction leaves them rooted to the foot of the TTSL table on just three points. But Erin will have a chance to change their fortunes this evening when they face fellow strugglers San Fernando Giants (five points) on home soil.

Yesterday, the battle between Rosa and Cunupia was a heavyweight one though, and the Guaya players and staff added to the 500-strong crowd and the fine atmosphere in Arima.
[dfp-ad]
With a place atop the TTSL table at stake, Rosa and their visitors produced a high intensity battle which had a little bit of everything. There were bloody eyes, a left-footed peach, a nimble "Kitty" and a flashing red card which put an end to "Showtime" on the night.
In the 86th minute of play, Cunupia marksman and TTSL leading scorer Kevon "Showtime" Woodley received his marching orders from referee Gordon Maloney for an innocuous looking foul on Rosa right back Sheldon Nesbitt. Woodley's tackle on Nesbitt warranted a yellow card at best and it brought a bizarre end to the night for the lanky forward.
Although Woodley, went scoreless once more and his hold up play was indifferent, he was a key figure in much of Cunupia's good attacking play on the night. Twice, Showtime was stopped from point blank range by the legs of Rosa goalkeeper Kitwanna "Kitty" Manning. And despite being unable to find his golden touch in front of goal, Woodley set up an absolutely stunning left-footed effort from busy central midfielder Ricaldo Castellano in the 42nd minute with a deft pass from the edge of area.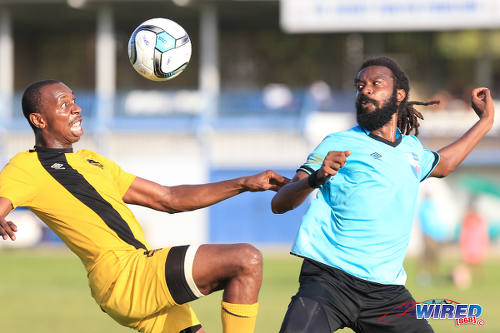 Castellano's cracker was Cunupia's swift response to the Rosa opener, which came two minutes earlier via a tap in by skipper Alfie James.
Cunupia's item was definitely something to behold but maybe the visitors should have been down to ten men as early as the 34th minute.
Already on a yellow card, Cunupia's combative midfielder Kristian Meloney swung an elbow into the face of Rosa winger Akeem Garcia after a tussle for possession near the halfway line. Meloney escaped unscathed but Garcia, a former National Under-20 standout under current Rosa coach Derek King, had to be whisked away to the hospital with a busted eye.
"I'm one who doesn't really like to talk about the refereeing but I think tonight could have been a little better," King told Wired868. "There were a few injuries that  took place and Akeem Garcia got an elbow and his eye burst."
Up to that point, Garcia had been a lively figure, although his former National Under-20 teammate, Kishun Seecharan, was the one who caused Cunupia the world of problems in the early stages. And Seecharan's mazy dribbling was just too much for left back Kerron St Cyr to contend with in the first half.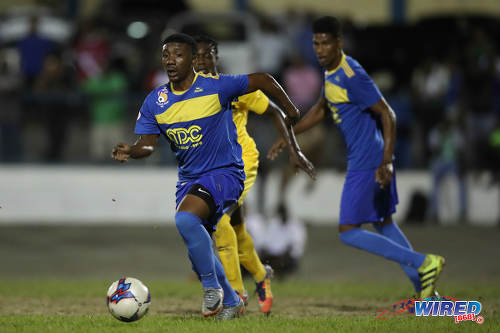 In fact, Seecharan's constant probing down Rosa's right flank caused Cunupia coach Michael De Four into a first half reshuffle, as winger Theon James made way for defender Kemron George, while right back Stephen Julien occupied St Cyr's left back spot.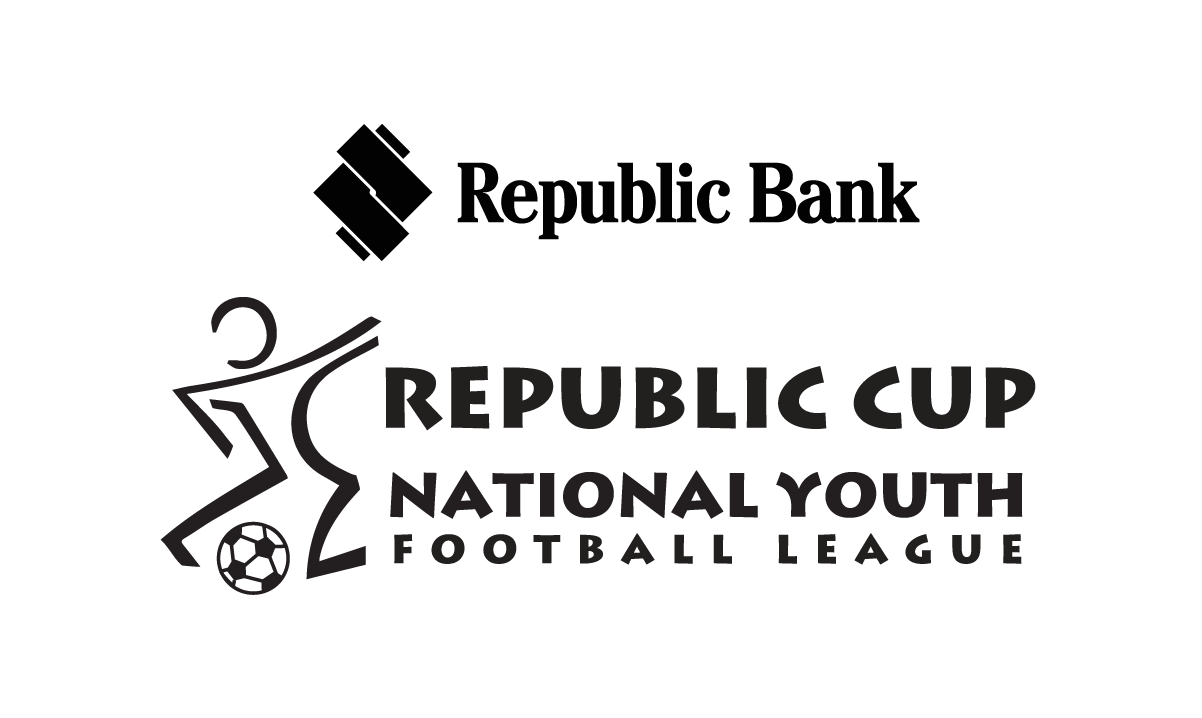 Perhaps, the only chink in Seecharan's armour in the first half, was his inability to find a killer final ball or decisive shot on goal. For all of his lovely skill, Seecharan only had a long range effort in the 24th minute to show for his efforts; and Cunupia goalkeeper Gimel Felix dealt with that easily enough.
Felix could not smother a deep Kevon Cornwall free kick in the 40th minute, though, which allowed James a facile opener.
St Cyr, in his new right midfield role, responded to Felix's blunder straight away, as he sauntered up the other end to pick out Woodley, who in turn fed Castellano on a platter. Talk about end product.
King would have rather seen that attacking quality from his own team.
"I am a bit disappointed with the way we played tonight, in the sense that we usually get the ball down and play," King said. "I think tonight we panicked a bit. I don't know if it's because we came up against Cunupia.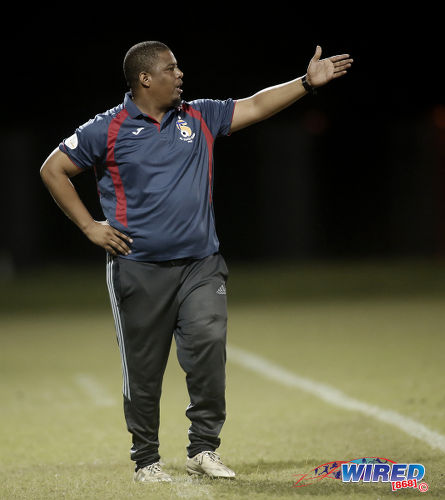 "[…] I think we must give Cunupia credit for a game well played. Both teams entertained the crowd and we just have to go from strength to strength from here."
In the second half, Rosa began feeling the absence of their injured playmaker and talisman Ryan "Fry" Stewart as they struggled to control the middle of the park, while Cunupia tried to leave their own imprints on the game.
And they did provide a few nerve-wracking moments for King and defender Jesse Reyes in particular. In the 55th minute, Reyes had the alert Manning to thank, after Woodley managed to get goal side and sweep a lovely Michael Darko cross on target.
Then, having redeemed himself with a wonderful last-ditch interception five minutes later, Reyes found himself at the mercy of the match officials, as Woodley went over the defenders' trailing leg in the penalty area after bullying his way past a few Rosa players.
It would have been a harsh penalty to give as Reyes was flat on his stomach when Woodley tripped over his leg. And fortunately for the hosts, referee Maloney saw it that way.
King was certainly pleased with the way his defenders dealt with the feared Tobago marksman.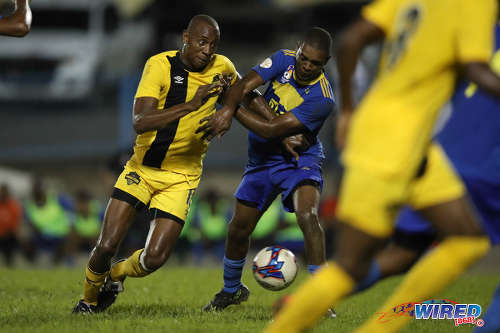 "I think Reyes and Durwin Ross did a tremendous job on Woodley," King said. "I think it's only one mistake [Reyes] made when he let him loose. He got an opportunity but Manning made a great save. I think defensively the showing was solid and as they say Showtime didn't show up today."
Showtime may beg to differ with King's assessment of the match but the Cunupia striker will have to watch from the sidelines for the next couple matches following his ejection yesterday.
As though the sending off was not peculiar enough, Woodley appeared to show Maloney what he thought of the decision by his actions, as he coolly strolled off the pitch as though he was taking a Sunday walk along Pirate's Bay beach in Charlottesville—stopping to remove his shin guards and strapping on his left leg no less than three times.
But, the show must go on.
"As I told the players, we have to take each game as a final and build on it," said King. "You can't afford to lose or stay far away from the pack. It will be a nice run to the finish line. I always look forward to challenges like these […] and hopefully we will finish the season as 2018 Super League champions."
(Teams)
FC Santa Rosa (4-2-3-1): 22.Kitwana Manning (GK); 6.Sheldon Nesbitt, 19.Jesse Reyes, 5.Alfie James (captain), 4.Noel Williams; 24.Andre Rampersad, 21.Durwin Ross; 12.Kishun Seecharan, 10.Akeem Garcia (14.Giovanni Abraham 39 [15.Osei Sandy 76]), 18.Kheelon Mitchell; 9.Kevon Cornwall.
Unused substitutes: 1.Jesse Peters (GK), 2.Quilon Dick, 16.Carlon Nicholas, 23.Stephen Bernard, 25.Stephen Johnson.
Coach: Derek King
Cunupia FC (4-2-3-1): 24.Gimel Felix (GK); 5.Stephen Julien, 12.Stefon Pierre, 18.Maestro Mensah (captain), 6.Kerron St Cyr (3.Hakeem Legall 53); 8.Kristian Meloney, 14.Ricaldo Castellano; 7.Theon James (4.Kemron George 34), 9.Isaiah Mejias, 10.Michael Darko; 19.Kevon Woodley [red card 86].
Unused substitutes: 1.Keston Malchan (GK), 11.Julio Noel, 15.Gerald Meloney, 16.Keron Edwards.
Coach: Michael De Four
Referee: Gordon Maloney
Wired868 Man of the Match: Ricaldo Castellano (Cunupia)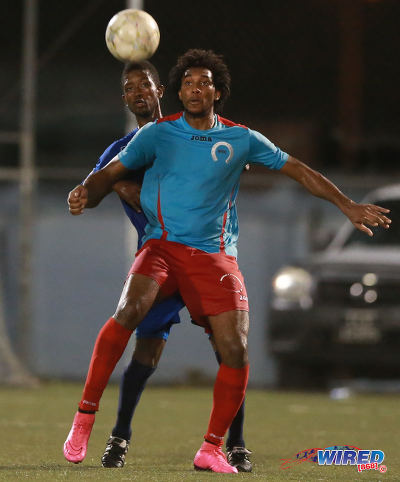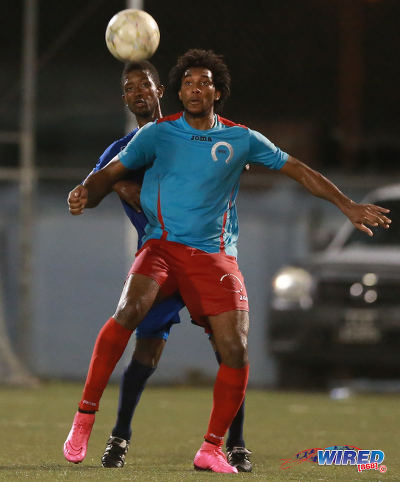 TTSL Results
(Friday 24 August)
FC Santa Rosa 1 (Alfie James 40), Cunupia FC 1 (Ricaldo Castellano 42) at Arima Velodrome;
UTT vs Guaya United, at, UTT, O'Meara Campus;
*—Game did not play.
(Saturday 25 August)
Club Sando 1 (Jamal Burke 76), QPCC 2 (Sean De Silva 33, Kern Gardiner 90+1) at Dibe Rec Grd, Long Circular;
Matura ReUnited 2 (Kenwin Matthew 11, Kendes Garcia 80), RSSR 2 (Hakim Gulston 47, Jovon Vincent 90+3) at Valencia Secondary School;
Metal X Erin FC 1 (Jason Gross 49), San F'do Giants 1 (Darron Alexis 90+2) at Erin Rec Grd.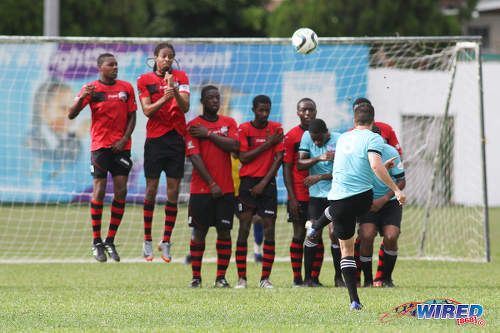 Upcoming Fixtures
(Sunday 26 August)
Prisons vs Bethel United, 3.30pm, YTC, Arouca;
Petit Valley/ Diego Martin United vs Police FC, 4pm, St Anthony's College.
Editor's Note: The TTSL score panel was updated after the weekend matches.