A pair of goals either side of halftime by attacker Kerin Vincent helped Matura ReUnited to a 3-1 win over Police FC in Trinidad and Tobago Super League (TTSL) action in Valencia yesterday.
With the win, Matura, who are coached by former former national midfielder Travis Mulraine, moved to within four points of leaders FC Santa Rosa who sit on 24 points.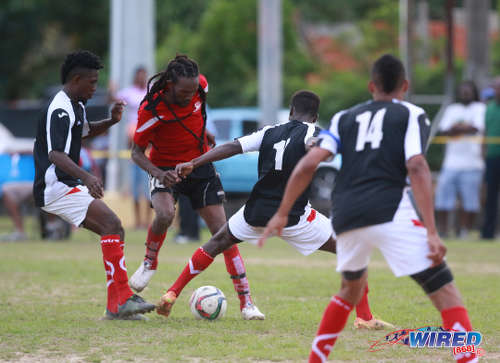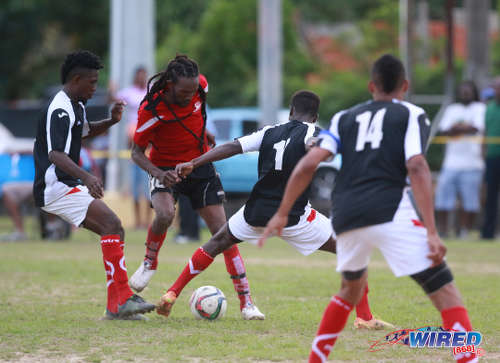 There is little breathing room atop the standings for the 2016 TTSL champions though, as defending champions Guaya United continued their ascent up the table and jumped to 22 points with a 2-0 win away to Club Sando.
And today, Cunupia FC and early pace setters Queen's Park Cricket Club (QPCC)—both of whom are on 21 points—can rejoin Rosa at the helm with victories over Petit Valley/Diego Martin United and RSSR respectively.
Mulraine and Matura are quite intent on being in the title conversation too, and yesterday the hosts showed that they had scant respect for the law as they gave Police the runaround.

[dfp-ad]
Vincent grabbed two close range items in the 20th and 58th minutes, while National Under-20 attacker Isaiah Lee added a facile effort in the 70th.
Momentarily, Police winger Kadeem Riley gave the Lawmen a glimmer of hope with a well-taken item from the edge of the box in the 62nd minute. But Lee—who was playing in his farewell match for Matura, as he is set to jet off on a scholarship to the US—had the last laugh.
The former Naparima College standout has been an absolute spark for Matura in the attacking third, and his willingness to work off the ball was as impressive as his predatory play.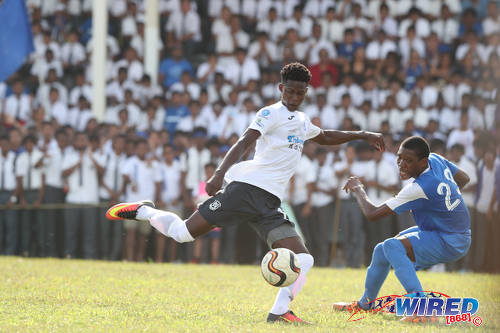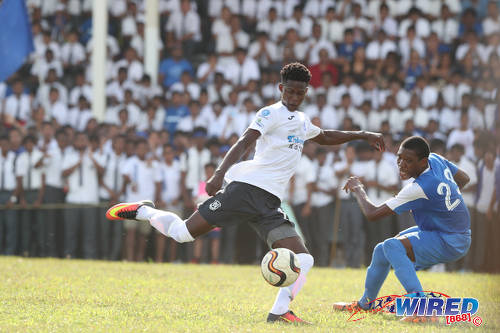 Mulraine, who has had his hands full trying to secure a permanent home ground for Matura this season, took some time off to credit young Lee.
"Lee's been excellent [for us]," Mulraine told Wired868. "I always like to give young players an opportunity to see what they can do and he grabbed it with both hands. I think he has a couple things to work on. Hopefully in the US, the coaches will polish him up and he will be able to come back and serve well at the international level."
Having had some measure of success with "Naps" in the Secondary Schools Football League (SSFL), Lee would now try to replicate form at the US Collegiate level.
"I always encourage young guys to get their education first and then they could pursue a career in professional football," Mulraine said. "He decided to go that route and I'm happy for him."
On the field of play yesterday, Lee was part of a front four that gave Police no end of problems. Whenever the hosts recovered possession, the transition was slick.
Lee and skipper Brendon Figuera provided the pace through the middle and the flanks respectively, while veteran playmaker Shervin Charles added the guile and Vincent brought the killer touch. Whether Figuera operated on the left or right, he was a nightmare for the opposing fullbacks yesterday and had a hand in all three items.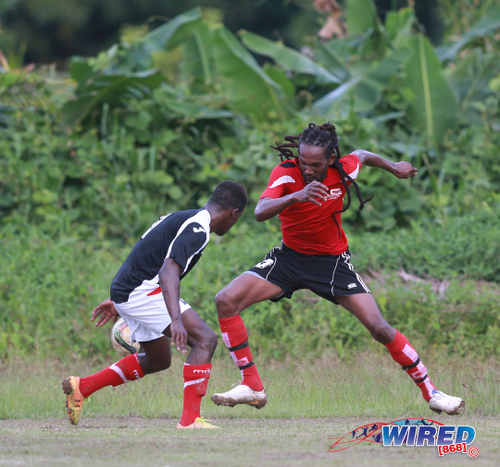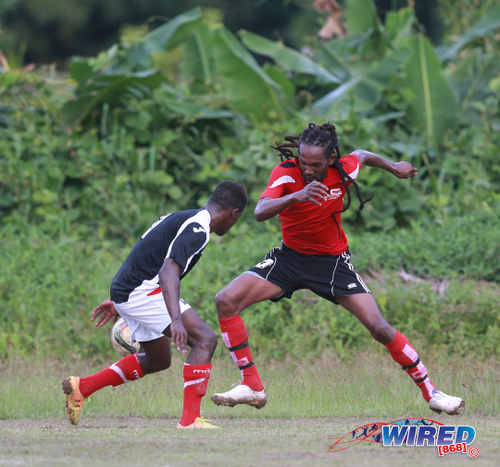 For Matura's opener, Police centre back Josimar Ashers was the one left chasing Figuera's shadow, as the speedy flanker latched on to an incisive Lee through pass down the left before squaring for Vincent to tap in from close quarters.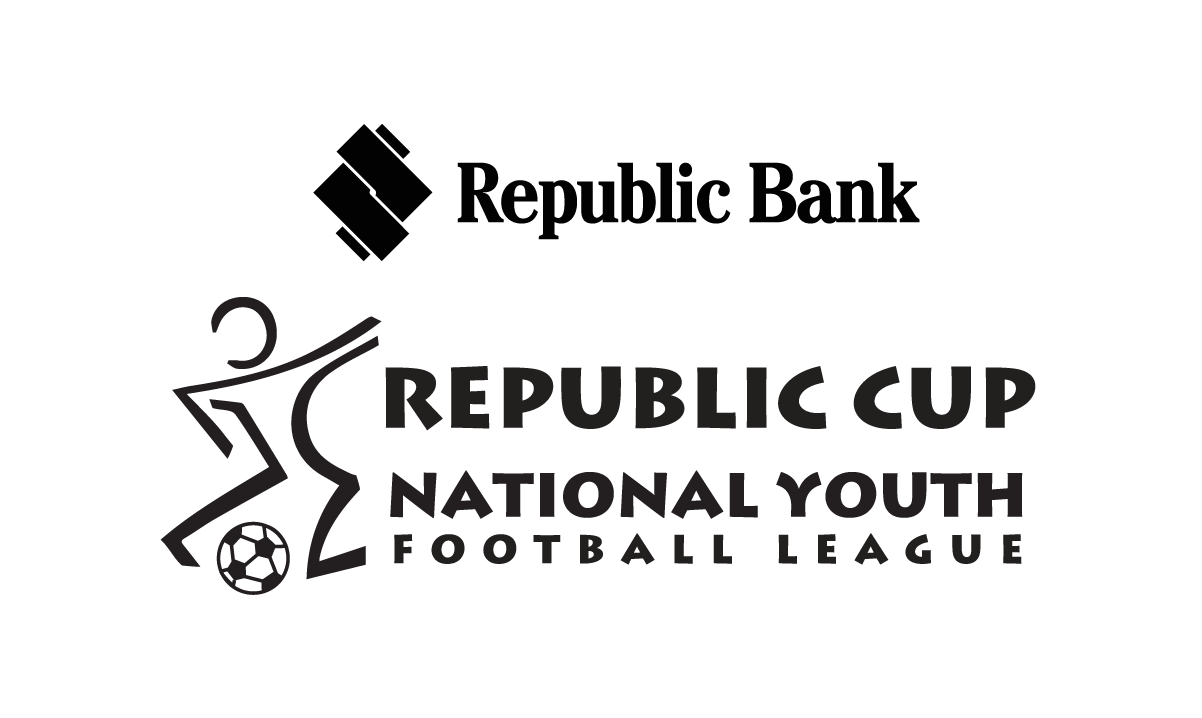 "So the keeper couldn't come for that ball?" pondered one spectator, as Police custodian Kelvin Charles was left stranded by Figuera's centre for a gleeful Vincent.
Soon enough though, Kelvin—a late replacement for regular goalkeeper Keston Mata, who was injured during the warm-up—showed his cat-like reflexes and fine awareness as he pulled of three impress saves within a five minute spell.
In the 26th minute, the Police custodian stopped Lee, after the national youth player combined brilliantly with Shervin. Then he stopped an inadvertent effort from his teammate seconds later, before stopping a stiff drive by Kareem Lewis on the half hour mark.
Sadly for Lewis, his wicked snapshot—which nearly crept inside the near post—will not be the memory left with spectators at the Valencia Secondary School yesterday, as referee CJ O' Brien ejected the industrious midfielder alongside Police midfielder Isaiah Pryce, after they were involved in an underwhelming shoving match in the 83rd minute.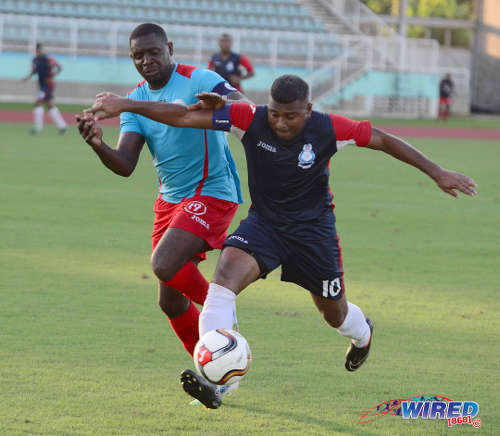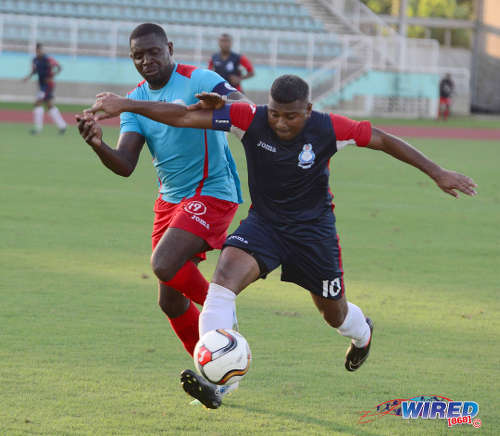 Kelvin apart, the Lawmen did not look sharp yesterday. Veteran forward Jason Boodram has nine goals so far in the 2018 TTSL season and trails only Cunupia's Kevon "Showtime" Woodley in the scoring charts. But he did not bring his scoring touch to Valencia, where he spurned a few chances in the first half.
Vincent had no such difficulty on the other end, as the perceptive striker grabbed his fourth goal of the season after Figuera sped past opposing left back Nykell James and squared from the right.
Only Santa Rosa have scored more than Matura's 23 goals this season, although the 22 items they conceded is the second worst defensive record in the TTSL.
So when Riley fired home a neat left-footed effort in the 62nd minute, after some delicate touches by skipper Kaaron Foster and veteran Trent Noel, Mulraine could be forgiven for feeling uneasy.
"Today's performance was much better defensively because that his been our Achilles heel for the past few games," Mulraine said. "For example, the last two games we scored six goals and we only came away with one point. So conceding only one goal today is a big improvement defensively."
Again, the willing Figuera was at the heart of Police's problems. And when he sprung the offside trap in the 70th minute, he played a dangerous looking low ball from the right in search of Lee.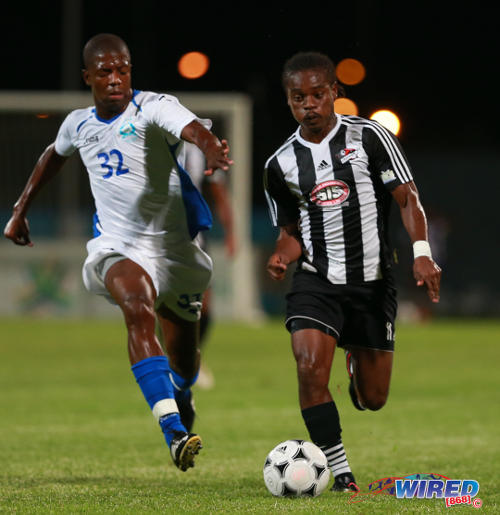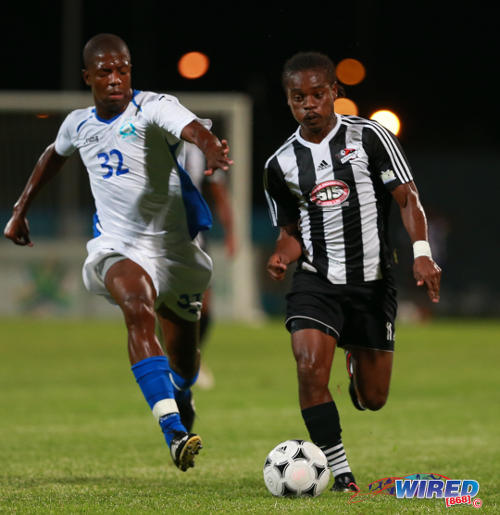 In truth, Lee had no right getting on to the Figuera cross, but right back Vernell Ramirez made a mockery of his clearance and presented the youngster with a lovely parting gift. Perhaps the only thing missing to top off the Matura performance was a Figuera goal. But Kelvin was not having it, and made a brilliant late stop with his legs to stop the Matura skipper.
Police finished with nine players, after Foster received a second yellow card after the final whistle for banging the ball into a Matura player.
"Matura had the right temperament for the game," said Police coach Marvin Small. "They kept their head. They came out rough; but some of our guys didn't hold their heads and they kinda lost the plot…
"[Matura] were connecting their passes well and when they lost the ball they recovered it really quickly as well."
Mulraine suggests that, when Matura tighten up defensively, they will be a force to be reckoned with for all comers.
"It's a very competitive League but I feel we could win this thing," said Mulraine. "I think once we tighten up defensively we'll be in good stead and be able to challenge for the title. If not the title, then certainly the top three."
Come Saturday afternoon, Guaya United's "Green Army" will be sure to test Matura's title credentials.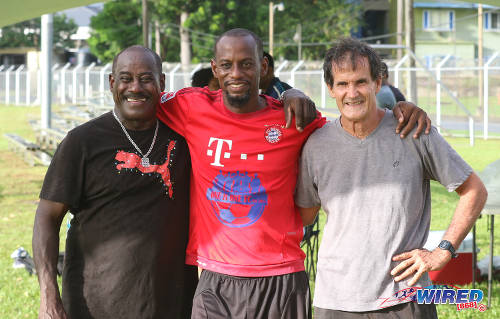 (Teams)
Matura ReUnited (4-2-3-1): 1.Kyle Ferreira (GK); 5.Patrick Parris, 23.Andron Casonova, 18.Timothy John (19.Keryl Garcia 67), 6.Joel Hoyte; 15.Kareem Lewis, 26.Isaiah Smith (20.Jade Allman 76); 10.Shervin Charles (17.Stevon Stoute 57), 27.Isaiah Lee, 7.Brendon Figuera (captain); 9.Kerin Vincent.
Unused Substitutes: 30.Erskine Johnson (GK), 11.Kendes Garcia, 12.Kitwana Abosi, 14.Kenwin Matthew.
Coach: Travis Mulraine
Police FC (4-3-3): 22.Kelvin Charles (GK); 17.Vernell Ramirez, 4.Real.Dedier, 26.Josimar Ashers, 2.Nykell James; 14.Kaaron Foster (captain), 13.Dwight Elliott (10.Trent Noel 37), 6.Isaiah Pryce; 7.Colin Williams (11.Dwayne Salazar 63), 9.Jason Boodram (28.Joshua Leach 63), 25.Kadeem Riley.
Unused Substitutes: 30.Keston Mata (GK), 8.Neil Marcano, 19.Dwayne Gonzales, 29.Akeem Marshall.
Coach: Marvin Small
Referee: CJ O'Brien
Wired868 Man of the Match: Brendon Figuera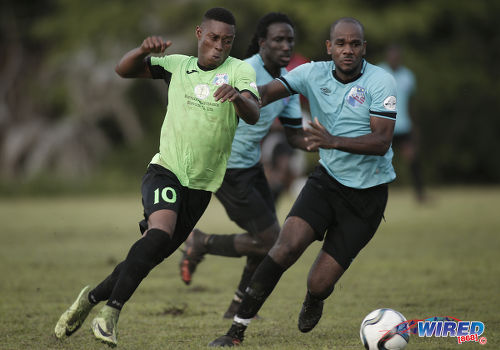 TTSL Results 
(Wednesday 8 August)
FC Santa Rosa 4 (Akeem Garcia 28, Kheelon Mitchell 50, Kishun Seecharan 76, 86), Metal X Erin FC 1 (Akinola Williams 70) at Arima Velodrome.
(Saturday 11 August)
Club Sando FC 0, Guaya United, 2 (Gary Glasgow 2, Keston Frontin 79) at Dibe, Long Circular;
Matura ReUnited 3 (Kerin Vincent 20, 58, Isaiah Lee 70), Police FC 1 (Kadeem Riley 62) at Valencia Secondary School;
UTT 3 (J'Deem Parris 41, 65, Shaquille Smith 90+4), Bethel United 0 at UTT, O'Meara Campus;
Prisons FC 1 (Nathan Julien 45), San Fernando Giants, 0 at YTC, Arouca.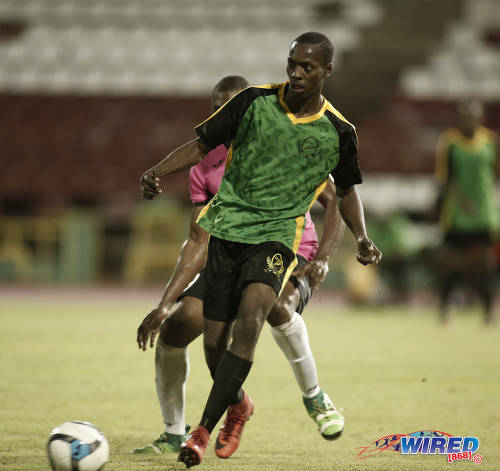 Upcoming fixtures
(Sunday 12 August)
QPCC vs RSSR FC, 4pm, St Mary's College ground, Serpentine Road;
Petit Valley/Diego Martin Utd vs Cunupia FC, 4pm, St Anthony's College.