The Trinidad Express probably thinks that the World Cup craze is so all-pervasive that they don't need to bother too much about the rest of the paper. Here is a sentence from last Friday's Editorial, headlined "Facts the antidote to fake news:"
"Evidently hot under the collar, he—the reference was to Attorney General Faris Al-Rawi—used adjectives such as "foolishness", "stupidness", "bogus nonsense", "false allegations", plus "fake" to repudiate the claims proferred by Senator Mark."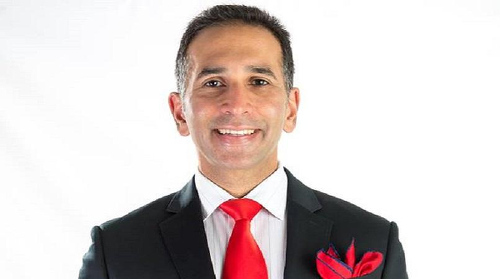 I am not certain that one can properly "proffer" claims but I am 100% certain that, although the adjective "fake" can sometimes be a noun—as in "That painting is not a genuine original; it's a fake"—the other four of the five "adjectives" above are indisputably nouns.
Shame on you, Express. Did you perhaps have a visiting editor from the other place last week?
Or maybe there's something going on with adjectives in the media. The i95.5fm newsreader on Monday morning talked about "heavy, torrential rain." I tried it without the comma but that did not really help me to understand why i95.5fm thought they needed both adjectives.
Anyway, it is a fact that, since June 14, football fans don't really want to hear about anything else but the 2018 World Cup. Which might explain why Tony Lee thought that the Dale and Tony Morning Show should get in on the act.
"Which do you prefer," he asked as yesterday's I poll question, "the result at the end of 90 minutes or the result after penalty kicks?"
Which would have been fine if he had stopped there. He did not.
"Yes," he added, "or no?"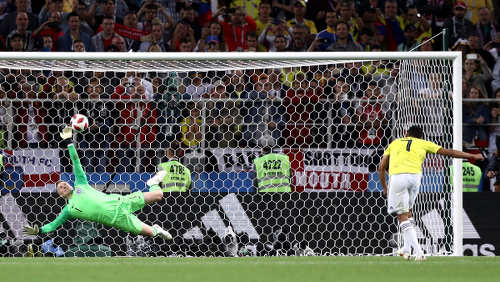 Maybe it makes sense to Tony Lee for the answer to a question beginning with "which" to have a yes or no answer; but it certainly does not make sense to normal speakers of English.
Not included in that number is another Lee, Don of i95.5fm fame. When a man pronounces his own three-letter name as if it were a four-letter word ("Dawn"), you really can't expect too much from him in terms of the pronunciation of other people's names. Or place names.
But after Croatia beat the Danes on kicks from the penalty spot in the Round of 16 on Sunday, it still came as a surprise to hear what, two weeks into the tournament, Dawn made of Ivan "Rakitic" and "Nizhny Novgorod."
And he reported that, in the course of that game, Croatia's Luca Modric—he got that name right—managed to "spun" a penalty.
Aite!
Thanks, Desha! Coming up in sport: Kyle Greaux upsets Jereem Richards in 200m at National Championships. Olivier Giroud doubtful for France's second round encounter.
Aite!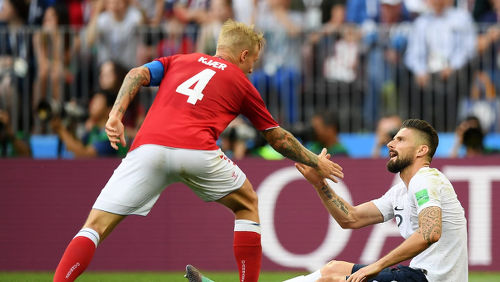 It's another evening in sloppiness paradise and so TV6's sports anchor Joel Villafana is in his element. Frankly, I can't remember being so grateful for the scheduling as when Russia eliminated Spain on a Sunday.
Igor Akinfeev, Sergei Ignasevich and Artem Dzyuba were names that had to come up in any report on that game. And it was entirely possible that the names of both current Spanish coach Fernando Hierro—not everyone apparently knows that all aitches are silent in Spanish—and his predecessor Julen Lopetegui would come up in the report.
Aite!
And there is no bigger blissful murderer of names in all local sport coverage than Villafana. I mean, "Greaux" and "Giroud" are homophones? "Lopetegui" becomes "Low-pay-guy"?
Who dares swear that poor Andre Boucaud did not deliberately underachieve for the Warriors because of the repeated butchery of his name by the local sporting media fraternity?
Aite!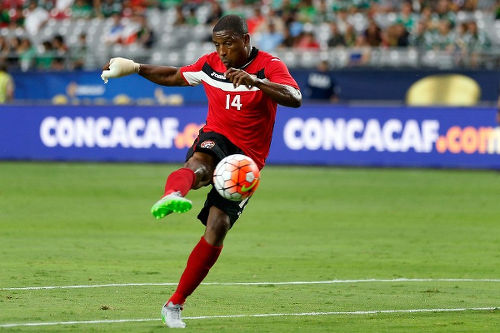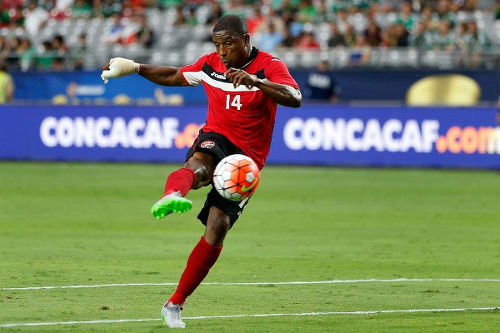 But Villafana, alas, has no monopoly on sloppiness. Have you or anyone you know had the stomach to watch CNC3's World Cup coverage? Congratulations. With that lead lining, you're guaranteed never to get food poisoning.
I mean, you spend tens of thousands of dollars to purchase the rights to broadcast the World Cup and then you leave the programming details in the hands of amateurs, who are very long on ignorance and short, pitifully short, on imagination.
My sense is that whoever came up with the format for CNC3's coverage was half-inspired by the Bible.
"Let there be light," one reads in Genesis, "and there was light."
"Let there be analysis," one hears on CNC3; we are still waiting for the second half.
"Russia," Robert Dumas informed televiewers on the day of the hosts' Round of 16 victory over Spain, "played in their lucky Stadium."
A friend of mine thinks he was trying to avoid pronouncing Luzhniki but that is not a view I share. Another friend who is a CNC3 regular and whose judgement I nonetheless trust is certain that Dumas' understanding of sport is deficient enough for him to genuinely believe in luck as a serious criterion for assessing outcomes.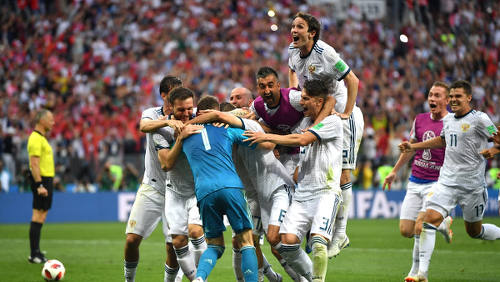 But forget the television, bad as it is; it's on the radio that World Cup fare hits its nadir. One half of the father and son team keeps identifying players as "the man" and the other half offers some of the emptiest, most nonsensical "analysis" imaginable.
The reason, it seems to me, has nothing to do with his lack of footballing knowledge but with his insistence on making comments when there is no incident or situation that requires comment.
Frankly, the attitude reminds me of columnists who are paid by the word and thus produce the fluffiest, most insubstantial, most inane copy so as to beef up their final earnings.
I have not so much as looked at a Guardian since Michelle-Lee Ahye and her partner were so gratuitously splashed all over the front page but I assume that you can still find a fine example of that in the Guardian's sports pages.
Radio listeners were informed that "It would have been a goal if it had gone in."
Oh really? Do tell!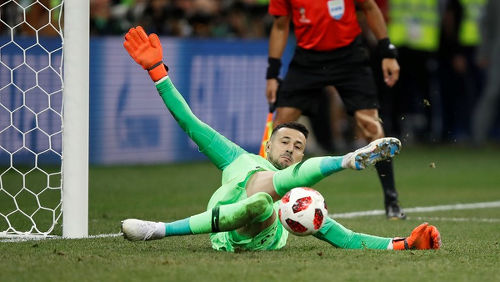 And although I have to confess that geography has never been my strong point—the GCE examiners of the 1960's were very clear on that—I was still surprised to learn from one of the radio commentators that "Switzerland is in Eastern Europe."
I concluded that there must have been a polar shift just before the start of the World Cup.
Another of the commentators shared this startling insight: "Uruguay will be playing to win rather than to lose."
I don't know if that also holds good for the quarterfinals, in which they take on France. But I shall be watching with great interest.
And the volume control still on zero.