"Power alone," the poet Syl Lowhar wrote in Tapia's "Black Power in Human Song" special somewhere in the 1970's, "will never make us strong. The heart must also sing the human song."
Almost half a century after Geddes Granger's NJAC empowered Black people in Trinidad and Tobago, the politically most powerful man in Trinidad and Tobago is also, in his own words, "probably the blackest man in Trinidad and Tobago."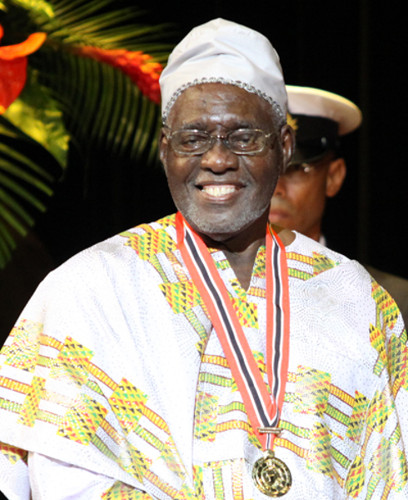 It is a matter of public record that Granger's overtures—ministrations?—planted a seed across the waters in Mason Hall and Bishop's High in Scarborough. But despite the graduation to White Hall, if political hearts are singing the human song, they're only doing so sotto voce. For the man who came to be known as Makandal Daaga, that would perhaps have been a cruel dagger through the heart, arguably the most unkindest cut of all.
That said, it is the name Granger that first comes to my mind when I think back 48 years to 21 April 1970. But it is not the only one. Half a dozen others follow it in quick succession: Lieutenants Raffique Shah, Rex Lassalle and Michael Barzey. Basil Davis, Jennifer Jones and Guy Harewood. And Randolph Burroughs.
Terrence Thornhill is another name that some may remember when they hear it. People at QRC, where Granger's gospel also found fertile ground, never forget it.
In the mid-to-late 1960's, Terrence had been a high-profile athlete at the College, where Guy was a regular, even frequent limer. Like Guy, Terrence would become a high-profile National Union of Freedom Fighters (NUFF) figure, fleeing across the foothills of the Northern Range ahead of Burroughs and his Flying Squad with their instructions to "don't take no prisoners and waste government money."
Guy was schooled at Woodbrook but educated at QRC. No other school in the country was capable of producing revolutionaries like CLR James, Peter Minshall and VS Naipaul as well as the revolutionaries of the sort the famed novelist brings to life in Guerrillas.
In 1974, I had a real-life experience with those T&T guerrillas that reads like fiction.
"Doh dig nutten, sister, all we want is the money."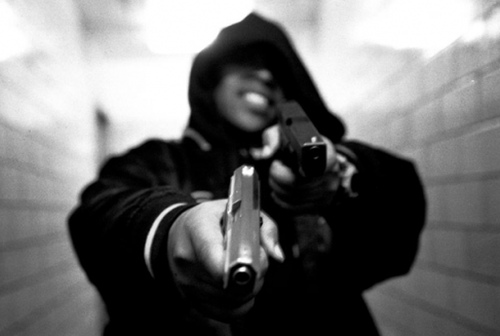 New Year 1974 was mere days old but the supermarket shelves were still well stocked. I imagine that the day's takings were still substantial because, unlike nowadays when there are mega-malls all over the place and large supermarkets dot the main roads, the Tunapuna of 1974 had only Hilo at its western end, literally a stone's throw away from the Tunapuna Police Station.
And to the east stood "The Co-op," as it was familiarly called, at the foot of Caura Road, which provided easy access to the Northern Range.
The robbery must have been a no-brainer.
There were four of them, four that I could see anyway, all with headwear on. The short, red-skinned one in front of us sported a fat cap. There was one guarding the entrance with what looked like a shotgun sticking out of a crocus bag. In each of the three check-out lanes leading up to the cashiers, one had taken up a strategic posting.
In our lane, the cashier, Ann, was what is kindly termed nowadays a "plus-size" young lady who lived on my street and who, like me, had been to Tunapuna EC.
You'd have to see it to believe it but when the bandit pointed the shiny gun at her and whispered his would be re-assuring "Doh dig nutten" line, her entire face was instantly covered in beads of perspiration; "cold sweat" is what it used to be called. And as Redman and his accomplices helped themselves to the contents of the cash registers, emptying the loot into cloth bags pulled out of nowhere, Ann froze, her red blouse suddenly wet through and through as she whimpered, "Don't shoot! Oh God, don't shoot!"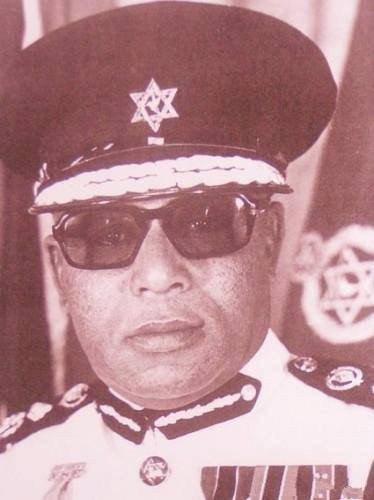 She was all jello after the bandits made good their escape, roaring off eastwards in a white Holden and, we subsequently discovered, racing up Caura Road. I don't know what eventually became of her but I know she didn't last long at the Co-op after that. And like my sisters and I who had been in the supermarket, she got a visit from Burroughs as he tried to piece together identikit photos of the guerrillas/bandits.
Although he was no bandit, another QRC name that comes back to me with the mention of 1970 is Patrick Lomond. Somewhere in the early 1970's, he was 18 or 19 years old, in the Sixth Form and the College's head prefect.
Presumably emboldened by the success of the Black Power Movement, Lomond summoned an unofficial College assembly in front of the canteen one lunchtime to discuss the situation in the country. He was still holding forth when the bell sounded to signal the end of the lunch break and the resumption of classes.
"Let them wait," Lomond announced. "We are not done here."
Nobody moved. The vice-principal arrived, striding militarily from the Main Building, to see what was going on and restore order. You would have expected Patrick to put his tail between his legs and meekly surrender.
He did no such thing.
What followed was a mega-confrontation between the student and the vice-principal whose first name was also Patrick but whose surname, ironically, was White. The multi-decibel shouting match ended in victory for the status quo; Napoleon triumphed over Toussaint.
It is, however, the teenaged Patrick and not the now octogenarian one that remains in my memory.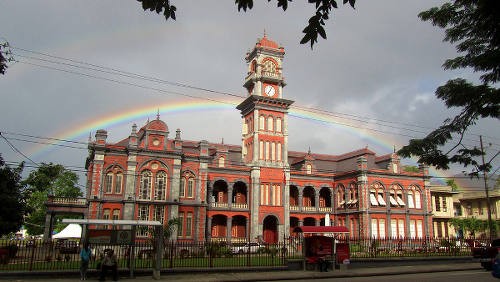 And there was another ex-head prefect who incurred the wrath of another White man in the same era and earned himself a letter of censure from the College Principal.
Sir Alan Reece, the neighbourhood peer (think verb!), stormed into a QRC classroom to demand that a boy who was standing on the bench be allowed to sit down.
"Do you know who I am?" he asked.
How could one not know? He had been a much lauded public servant and had retired as the Head of the Public Service a few years earlier.
"That's not relevant," came the retort, "Do you know who I am? I am Earl Best and this is my classroom."
And I showed him the door.
Might it be that it is the human song that every hour on the hour used to ring out from atop  the stately building at the southern end of the Magnificent Seven which has been standing there since 1904, full 66 years before 1970 when Granger and NJAC decided to paint the town black?