As the Guardian last week marched into April, something seemed to have been taking place behind the scenes. My suspicion is that, with Shelly Dass now officially fired, someone from the CCN group who knows English has crossed the floor and taken up new responsibilities in the print section of the ANSA McAL media empire, including copy editing.
In the three weeks beginning Sunday 11 March and ending Saturday 31 March, readers have encountered an itinerant editorial page; it turned up once as page 24, four times as page 20, and eight times each as page 16 and 18. And in those 15 days, the editorial has only on six occasions been the conventional full editorial on a single subject and full 15 times a three-part editorial with three different headings, including one in patois and one in Italian.

"THROWDOWN IN COUVA," blared last Saturday's back page headline.
Throwdown? To the dictionary I went.
"A performance by or competition between DJs, rappers, or similar artistes," says the Oxford Dictionary of English on Page 1840.
Some 200 pages earlier on Page 1637, I found "A final test or confrontation intended to settle a dispute," which is what, I suspect, was happening in Couva where the TTFA was having its oft-postponed AGM that evening.
Walter Alibey's story, on Page A54, was headlined, "Look Loy's appointment in fray at question." Uh? The problem not being lexical, I didn't bother my trusted dictionary for that one; there are some things in the Guardian that just cannot be explained.
"SHIPWRECKED," announced Thursday's front page below four pictures of the craft that are supposed to be servicing the Tobago seabridge now and in the future. Three of them—the T&T Express and the T&T Spirit and the water taxi, the Trini Flash—have OUT OF ORDER printed above them and the fourth, the Galleons (sic) Passage, is stamped ON ITS WAY.
Are you there, trusty ODE?
"The destruction of a ship at sea by sinking or breaking up," page 1631 defines 'shipwreck,' "for example in a storm or after striking a rock."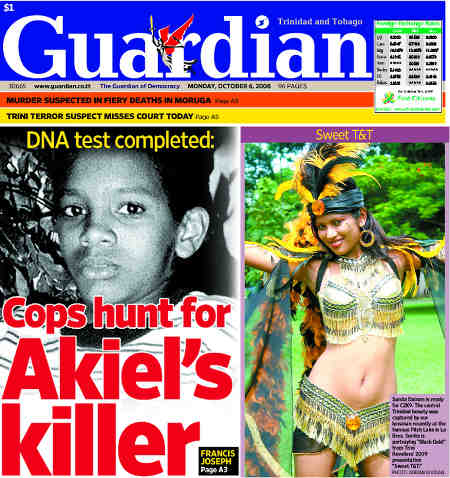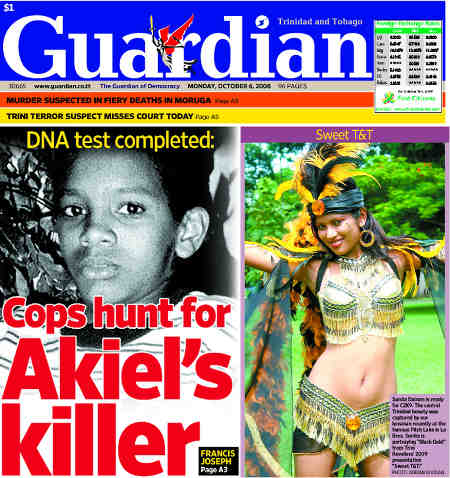 It must be that, like Dass and Orin Gordon and the dozens of other members of staff who were axed in the relatively recent Guardian load-shedding, dictionaries too are currently unemployed. Or, alternatively, someone has removed the relevant pages from all copies of any dictionaries that find themselves in the Guardian's newsroom.
Thursday's back page headline read, "Youth cricketers beat-up Bajans." Let's give the paper credit; they got three of the five words right. I conceded that it is possible that some dictionary somewhere does carry a hyphen between "beat" and "up," thus creating the infinitive "to beat-up." I, however, doubt it; I do not own a copy of Lise Winer's T&T English/Creole dictionary but I couldn't locate the verb in Cote ci Cote la.
I tried to get the Fearless One on the phone to check because he knows English but he must have been busy editing Friday's edition. The front page caption tells us that "Sheldon "Crazy Catholic" Narine […] is attended by Archbishop Jason Gordon…"
And on Page A23, the second paragraph of Alvin Corneal's column says, "The presence of a member of the appointed neutral witness could well have learnt more of what is transpiring within the corridors of the executive committee."
And after pointing out something about "persons illegible to vote at these extraordinary meetings," the writer treats us to this: "Meantime, there is that powerful whisper from tunnel vision folks, of the work been done around the Ato Boldon stadium controlled by the TTFA is well on the way for two training fields and a hotel."
I swear. Go check for yourself. In fact, try reading any "Corneal comments" over the last year and satisfy yourself that am not making it up.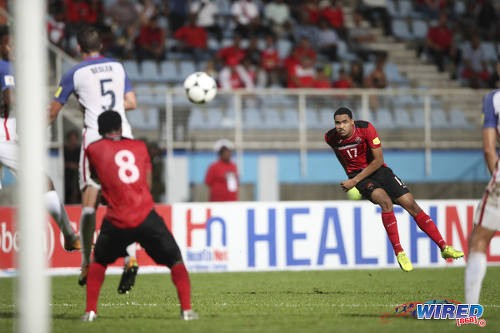 This, for instance, comes from "Cameron's prediction of ICC victory" on Friday 16 March: "Of Course, Mr. Cameron does not have the where it all in any area of their successful jaunts and by saying so I humbly whisper to him that money alone does not bring success."
That piss poor quality is par for the course in that oh so durable column. It has been that way for a long, long time now. So long, indeed, that were it not so, I would probably have remained a French and Spanish teacher at QRC, still learning English. But some 25-plus years ago, I discovered that the Guardian was willing to pay good money for that kind of stuff and I decided I too could effortlessly feed at that trough—even without knowing English!
And Corneal's "Our football is in ruins" of 23 March raced to this conclusion: "This quagmire has to stop and the clubs must make their presence felt in the midst of serious dialogue regarding the restructuring of all football in the country.  […] To return to a successful past is not unproductive, but rather more intelligent."
That's just Corneal, you say? Well, here is TTOC President Brian Lewis inviting us on 27 March on Page A27 to "talk sports law:"
"The future of our nation's future minds, hearts and souls are in the schools. […] So much has happened and there is still nine months of the year still to come."
It seems obvious that the paper's editors are in the job but not on the job, employed but not working.
A headline on Page A9 on March 28 says, "Man who survived gun attack, shot dead."
And in the Wednesday 14 March edition, one finds in headlines these three additional examples of the linguistic sloppiness that characterises operations at the Old Lady of St Vincent Street, now based off the Uriah Butler Highway in Chaguanas: Ex soldier to hear PATT (Pg A5), Misuse of antibiotics trigger health woes (A7) and Rise in pedestrian deaths worry cops (A8).
"Afganistan blasts Windies," says the back page of Friday 16 March, dropped aitches being very reminiscent of the fare to which we have become used on i95.5fm.
"Plucky Asians qualifies for 2019 Cricket World Cup," reads the strap on Page A46 of Saturday 24 March.
Although the Guardian's style rules require that teams be treated as singular, they arguably got it right two days later when the back page headline proclaimed: AFGHANS HUMBLE WINDIES AGAIN. But on page A44, the headline was "Athletics sweep 2017 awards."
I suppose that, like politics, sports news is oh so very hard to edit.
Both in the Guardian and on i95.5fm.