Trinity College (Moka), the 2016 North Zone Intercol champions, have axed football coach Marlon Minguel from the position which he held for the last six years. But Minguel's firing, Wired868 understands, has nothing to do with his team's performance on the field of play.
Instead, the coach was allegedly shown the door due to his failure to prevent two off-the-field incidents involving members of his family during the 2016 and 2017 Secondary Schools Football League (SSFL) seasons.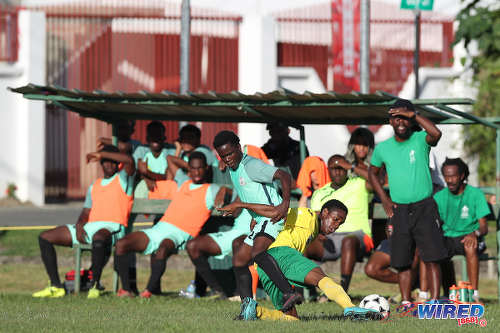 "This (decision) has nothing to do with football," Minguel told Wired868. "(Principal) Mr Carl Tang said there were a few incidents between myself and family, which put the footballers—and, by extension, the school—at risk. And the image for the school was not a good one."
In the 2016 incident, one of Minguel's close relatives had to be banned from attending Trinity's home games for the remainder of the season after she was among the spectators who stormed on to the field during a Trinity home game which they lost to St Augustine Secondary in Moka. Spectators invaded the field of play—one of them even grabbed the match ball—and questioned the referee Sheldon Gomes' decision after he allowed a perceived dangerous tackle against Trinity's Saleem Henry to go unpunished.
Additionally, on 27 September, 2017, when Trinity fell to a 0-1 defeat to Fatima College on Mucurapo Road, another close Minguel relative and a former Trinity College player were involved in a heated argument with one Fatima College student during the course of the game. Some football banter turned sour when the Fatima student allegedly made a derogatory statement about the female relative and the ex-Trinity player jumped to the relative's defence.

Trinity vice-principal Michelle Huggins-Watts intervened to restore calm, pulling the relative away from the scene and the game continued uninterrupted.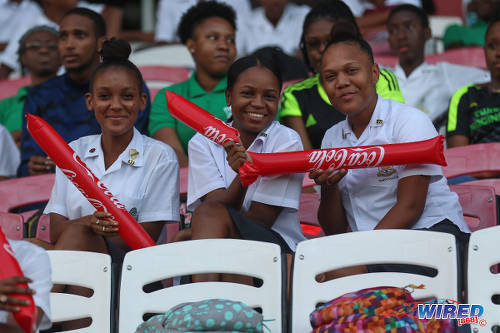 Minguel confirmed the occurrence of both incidents to Wired868 and said that, at a subsequent meeting between him and school officials, it was agreed that he could not be held responsible for actions which occurred on the sidelines while he was busy with his coaching activities.
Now, however, the man who brought Trinity their first North Zone Intercol trophy in 36 years has indeed faced repercussions for those actions.
Since January, Minguel had been trying to hold meetings with the school's hierarchy in a bid to map out pre-2018-season plans. The norm has been that the "Trinity Lions" would start their pre-season work shortly after the Carnival season and Minguel and his players were growing concerned at the absence of any positive communication from the school administration.
A meeting was finally arranged for the coach with school staff members on 19 March. Former team manager and SSFL 2nd vice-president Tevon La Rose and current manager Shawn Lindsay were in attendance along with Huggins-Watts and principal Tang.
The former national youth player conceded that he had suspected something was amiss when all previous requests for a meeting with school officials fell on deaf ears. But he genuinely expected a fruitful brainstorming session to take place with the school officials and was caught completely off-guard by Tang's announcement of his dismissal.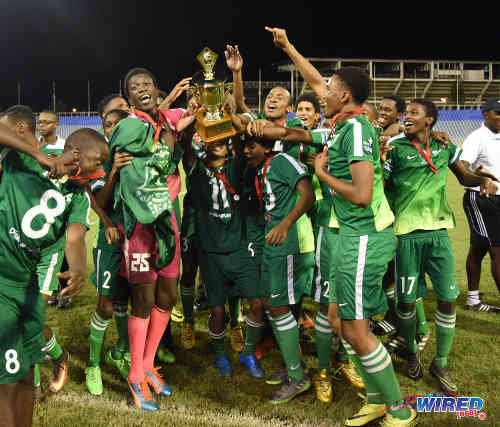 "As I walked into the meeting," Minguel revealed, "Mr Tang said, 'We're sorry to inform you that we would have to part ways mutually.' Why didn't they tell me something in January?
"They should have been a bit more truthful with me instead of being deceitful. […] They should have let me know that this was their position directly after the 2017 season instead of leading me on."
When the Trinity players got wind of the school's decision to part ways with Minguel, led by midfielder Temesgn Tezera, they tried to intervene on his behalf. Their action resulted in Minguel's getting a second 23 March meeting with the same school officials with the exception of La Rose. However, that meeting changed nothing since Minguel this week received a call from the school to the effect that it was not prepared to alter its original position nor was it prepared to meet the players again.
Contacted for clarification on the circumstances surrounding Minguel's dismissal, Lindsay referred Wired868 to the principal and vice-principal, suggesting that it was not within his remit to speak on the incident.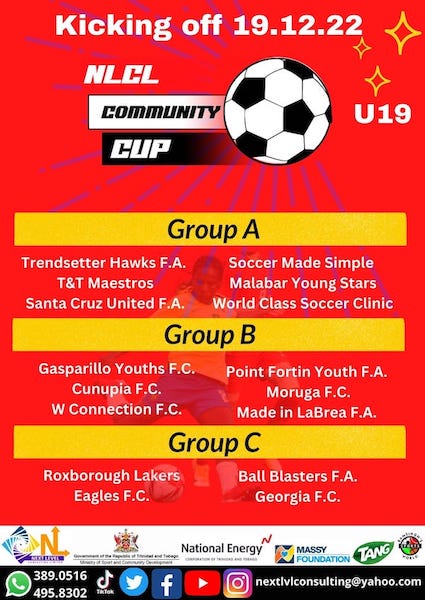 However, the Trinity manager did say that he admired Minguel's work ethic during the two years they had spent together with the team and he lauded him for his 2016 Intercol achievement as well.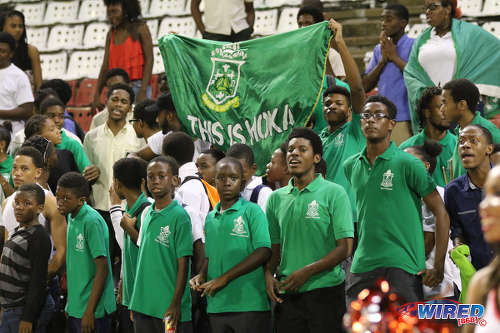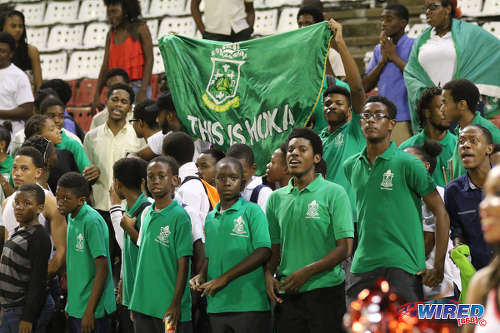 "[Mr Minguel] was an excellent coach in his tenure and he brought us our first trophy in 36 years," Lindsay said, "and for that he must be applauded."
Principal Tang is currently in Australia. Wired868 contacted vice-principal Huggins-Watts for a comment but the esteemed pan arranger declined to say anything in the principal's absence. La Rose also declined comment, opining that it would be a conflict of interest for him to speak on the matter.
Minguel expressed his gratitude for the efforts made by the players—in particular the Ethiopia-born Tezera—but he urged them to give their new coach the same respect they have given him over the years.
The former FC Santa Rosa youth coach hopes that the school will be fully aware of what football means to some of these youngsters.
"For some of these players," he told Wired868, "if it wasn't for football, I don't know what would have happened to them. Some of these players come from so-called hotspot areas and football is their way out.
"As I told one of the technical staff members last year, every minute they spend with us is another minute away from the block."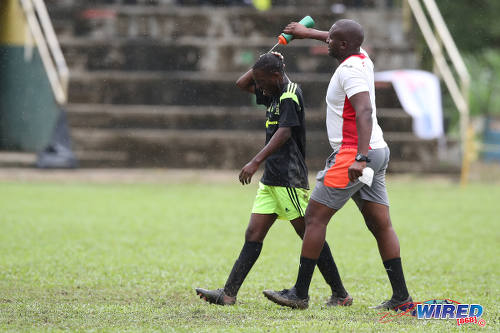 The holder of a Dutch KNVB/TTFA 'C' Coaching Licence, Minguel expressed disappointment that Trinity's—and his—2016 high has already evaporated. He suggested to Wired868 that the Trinity College administration may not hold football development in the high regard it deserve. Indeed, he says, the school officials have been treating the co-curricular activity as though it's a nuisance.
"I was thinking that after the 2016 season, we would make moves to improve the football programme," Minguel said. "I wanted to beat the iron while it was hot. We had more people interested in the football and there was a greater buzz […] but they were moving as though the football was becoming a burden."
He recalled that, during one pre-season double session last year, he had had a heart-to-heart with principal Tang on the subject of raising funds to get better equipment and provide proper meals—among other things—for the boys on training days.
"When we had a double session," Minguel explained, "I would have to pool money together and go and get either Chinese food or KFC for the boys and that is not adequate at all."
Minguel indicated that Tang did not seem to take his idea of initiating fundraisers on board because there had been no action on the suggestion up to this day. But, he added, he had been able to strike up a partnership with Trinity's Old Boys' Association and that body had helped to fund the team's training camp in August last year.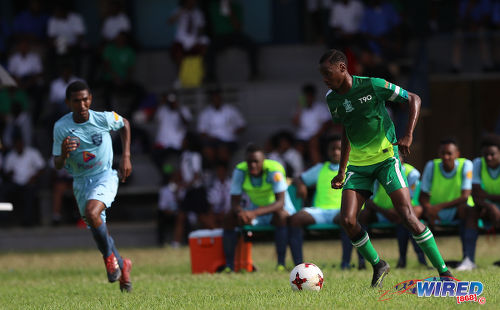 "Nobody was helping me get things for football," the former Trinity and St Augustine player lamented. "Often times, I had no assistant coach, trainer or doctor.
"We tried to set up a committee to try and raise funding. We were trying to link up a partnership with the alumni for the betterment of the boys and we eventually got a TT$9,000 donation […] for the camp last year."
And after a 2016 season which saw goalkeepers Desean Bowen and Caleb Moore inspire a penalty shootout win over the mighty St Anthony's in the North Intercol Final, the team had largely flattered to deceive during the 2017 season.
Although he had not been given a specific performance goal by the school administration for that season, Minguel told Wired868 in a pre-season interview that he wanted to see his team hit a level of consistency given their 2016 accomplishment.
Apart from diminutive striker and off-season transferee Kesean St Rose, Trinity struggled and finished 12th on the 15-team table. And in their North Zone Intercol title defence, the "Trinity Lions" could not roar past the quarterfinal round, where they fell 0-2 to QRC.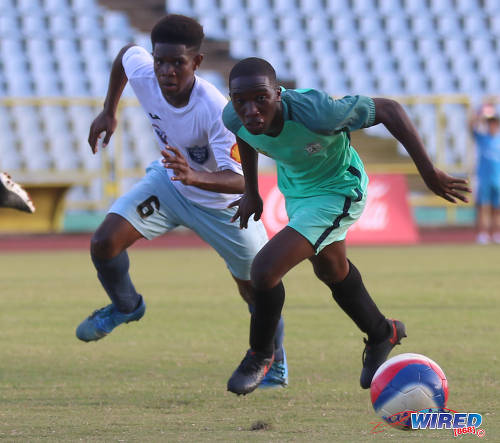 There had been ups and downs before then as well. In Minguel's debut season in 2012, prior to the formation of the Premier Division, Trinity were relegated in the North Zone. Starting a programme he dubbed "Work in Progress," the coach led Trinity to win everything on offer in the Championship Division in 2013 since when they have been pretty much rubbing shoulders with the SSFL big boys.
For now, however, barring a surprise last-minute reversal, Trinity and Minguel, who hinted at upgrading his 'C' Coaching Licence, will be going separate ways.