On Monday March 12, Quartz Media, a respectable, business-oriented, online publication carried an article by film critic, Echo Huang. It was headlined: "A torture for the eyes: Chinese moviegoers think Black Panther is just too black."
The punch line in Huang's story was provided by a "reviewer on Douban," which is one of China's most respected social networking sites. "Maybe the Chinese are still not used to a film full of black people," it read.
Huang reported that the "reviewer" had to keep pinching himself to stay awake during the film because, in the "reviewer's" words, "'Black Panther is black [what other colour could he be!], all the major characters are black, a lot of scenes are black, the car-chasing scene is black—the blackness has really made me drowsy.'"
Ultimately, the article provided no evidence of racism but it does reveal how Chinese artfully quibble to avoid directly addressing the issue of racism toward black people. Not surprisingly, the vast majority of the posted feedback to the article roundly condemned Huang's conclusion.
Incidentally, Black Panther grossed some US$66 million in China in its opening weekend. This was more than any other country outside the USA to date.
A similar story unfolded in South Korea. The film premiered on 1,242 screens and grossed almost US$6m, vastly outstripping Oscar's "Best Picture," "The Shape of Water" [Sonia Kil, "Korea Box Office: Black Panther Remains on Top", in www.variety.com].
In Japan, the film is making heavy inroads and is set for a huge market share of the industry.
Only in India did Black Panther pose a cultural problem to the national censorship board, resulting in the muting of the reference to the Hindu deity Hanuman, when M'Baku hailed him: "Glory to Hanuman." Hindu cinemagoers, however, felt cheated, not protected.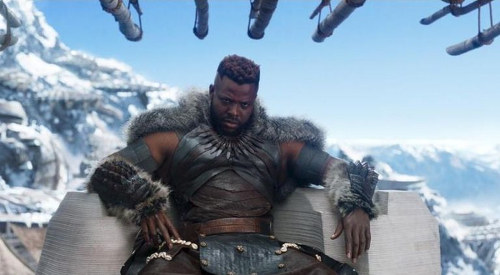 One feedback by "currydiaries" on Twitter reads, "My heart swole when I heard the reference to Hanuman in #BlackPanther. It's a shame Indians in India won't be able to hear it because of politics" [Nicole Drum, "Black Panther movie had a word censored in India," on www.comicbook.com].
Dr Roshan R expressed his regrets over the censoring in The Indian Express: "Ironic—it will be heard in every country except India (they silenced the name) thanks to our super-sensitive skin that can't handle anything except Aloe Vera these days."
Although never enshrined in law, racism against Africans remains a problem in all these countries. The following discussion, however, deals specifically with Chinese perceptions and relations with black people in China.
In recent times, black Chinese have been discovering their black identity when confronting overt racism in China. Because Chinese have had a long history of racial victimisation in the USA, the study of racism by Chinese scholars has usually focused on Chinese as victims. The increased visibility of Africans in Southeast Asia, however, has compelled more attention to the treatment of Africans in China and elsewhere in the region.
There were Africans in China before the arrival of the Europeans but no "negroes," despite transliterations in texts on the subject. Like India, black populations were common in ancient China. Citing French anthropologist, H. Imbert, eminent historian and Pan-Africanist, WEB Du Bois, states, "The Negroid races peopled at some time all the south of India, Indo-China, and China" [The World and Africa, 1947].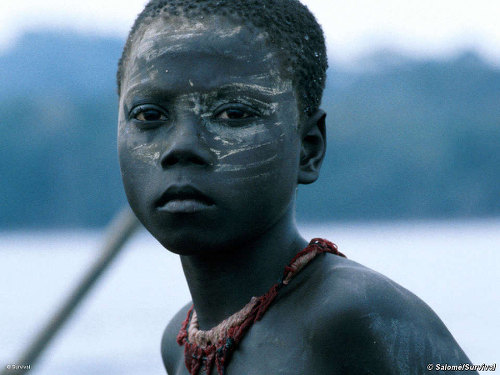 Ancient writers left graphic ethnographic descriptions, such as an excerpt from Book 197 of the Chiu T'ang Shu (Old Dynasty History of T'ang, 618-907 A.D.): "'The people living to the south of Lin-yi have woolly hair and black skin.'"
Another eminent historian of the global African diaspora, JA Rogers, also quotes Imbert in establishing the antiquity, distribution and status of native black Chinese: "The Prince Liu-Nan, who died in 122 BC, speaks of a kingdom of diminutive blacks in the southwest of China." Rogers affirms the continuity of this black Chinese demographic into the 20th Century: "Unmixed Negroes with no [historical] connection with Africa still live in Southern China" [Sex and Race: Negro-Caucasian Mixing in All Ages and All Lands, 1952].
The Chinese had also known Africans from East Africa as traders. Evidence of this relationship includes Chinese coins minted in the early 15th Century found in Manda Island off the Kenyan coast and Chinese porcelain at a site in Zimbabwe dating back to the 13th Century [www.livescience.com; Ann Hills, in History Today vol. 38, 1988].
According to Yu Hai, a sociologist at Fudan University, up to the early 20th century, some Chinese thinkers "ranked yellow race in juxtaposition with whites and superior to blacks and other colored races" ["Racism and Xenophobia in China," www.casaasia.es]. Yu, however, wrongly assumes that China had no contact with black Africans prior to the opening up of China in the 1980's. He asserts that it was from that time that "racism came to China. Therefore the history of Chinese racism against foreigners has spanned a short period of time."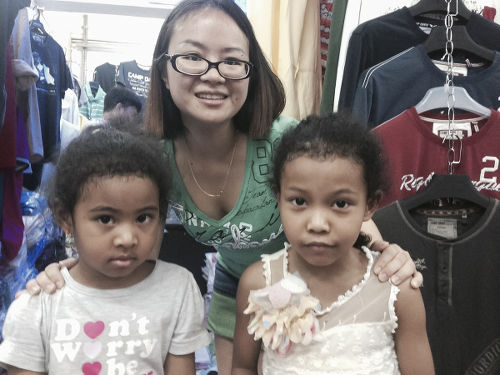 Nevertheless, Yu acknowledges that Chinese racism may have its roots in Confucius' attitude to non-Han peoples: "They do not share the same blood as we do, so they must be different from us in nature." Confucius was a Chinese sage of the 6th and early-5th centuries BC; his teachings are the foundation of Confucianism, the dominant cosmology of China. Despite the reference to innate differences, Yu claims that Confucianism led to "cultural superiority rather than biological superiority."
Is it possible that Confucianism is responsible for Chinese regarding "light skin" as "a sign of fortune, [while] darker skin is often associated with less desirable traits"? [www.internations.org]
In his article, "Critique in the Notion of Model Minority," political economist Chi-Chieh Chou, also invokes Confucius to support the phenomenon of "cultural racism" replacing "biological racism" but applies it to Asians as victims and white Americans as perpetrators [Asian Ethnicity, vol. 9, reproduced in www.research.ncku.edu 2009]. Chou explains that "cultural racism" manifests where "race is subsumed into a pure realm of cultural differences and race as a socio-historical category becomes obscure." He infers that cultural racism, deployed against "minority groups" in the USA, is an effective strategy "to fortify white supremacist ideology."
Notwithstanding the influence of Confucianism, I postulate that it was through their contacts with Europeans that the Chinese imbibed their contemporary racist stereotypes of Africans. Many Africans were to be found on European ships sailing to the Far East: they served as sailors as well as soldiers. Some Africans were permanent residents in the Portuguese colony of Macau.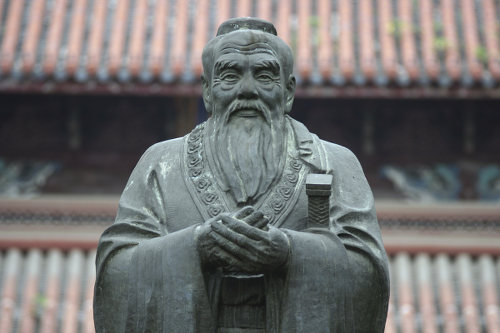 For self-edification on the Black Panther review (above), linguistics was an eye-opener for me. The colour "black" in Mandarin Chinese is rendered 黑色 (heise); "blackness" is rendered黑 (hei); standing alone, the latter character is the adjective "black," as in 黑人 (heiren), which is rendered "black man" as well as "negro" in the Cambridge English–Chinese (Traditional) Dictionary [online version]. Thus, Black Panther is rendered黑豹 [Hei Bao].
Interestingly, in a number of interviews of persons just emerging from a cinema where they had watched Black Panther, the overwhelming choice of expression for a black person was "nigger;" mentioned with less frequency were heiren and heise. [Wode Maya, "What Chinese Think of Black Panther" on Youtube]. "Nigger" was preferred to黑鬼 (hei gui), although the Cambridge English-Chinese Dictionary transliterates those Chinese characters as "nigger."
From these renderings, one is likely to conclude that the modern Chinese negative somatic norm image of the black man comes directly from their contacts with French and English racists from the 16th to the 19th centuries.
Europeans had been to China since the 13th Century. However, European cultural and economic imperialism in China paralleled their conquest and colonisation of the Americas from early 16th Century. The first to arrive were the Jesuits, beginning in 1552. The traders followed in quick time, first the Portuguese, then the French and the British. We should not forget that these nations were not only pioneers of overseas imperialism but also practitioners of modern racism.
Under Mao Tse-Tung, China was not very welcoming of foreigners. This changed slowly in the 1980's and dramatically from the 1990's, from which time, hundreds of thousands of continental Africans have flocked to China annually as tourists, entrepreneurs, traders and students mainly on scholarship.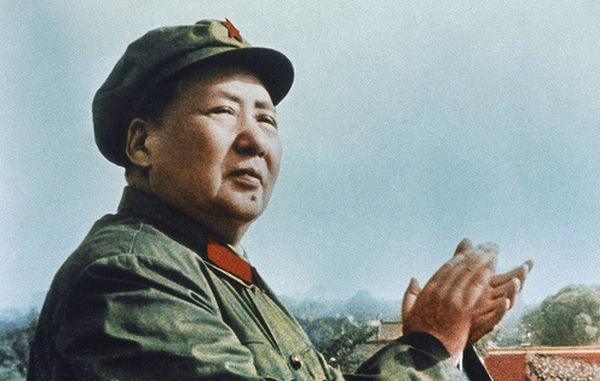 The largest national component is Nigerian, with Igbo by far the largest ethnic group. Although resident Africans are to be found in most Chinese cities, Guangzhou is the favourite. One estimate put the total number of Africans in that city alone at 20,000.
It is not certain why Guangzhou but that city is situated in southern China within the boundaries of the first African inhabitants and just 100km north of the ancient Portuguese stronghold of Macau. At any time, Africans could be seen in the streets of the city mingling with native Chinese and often wearing traditional African clothing.
In Guangzhou, scores of African men have married Chinese women and reside in the city with their families. These demographics probably play into the responses of Guangzhou Chinese to the Black Panther film and their perception of black men.
All interviews published by Ghanaian video blogger Wode Maya are in Chinese but sub-titled in English. A legitimate criticism in using this source is that one cannot vouch for the accuracy of the transcription; also, as with sub-titles in general, the responses are paraphrased and even scrubbed of every mention of the word "nigger." Nevertheless, I find the information quite revealing.
Contrary to the finding of Echo Huang, all responders in Maya's video had positive feedback on Black Panther. When asked to rate the film out of 10, one enthusiastic young lady said, "20!" then smilingly declared "10 out of 10." The ratings received ranged from 8 to 10.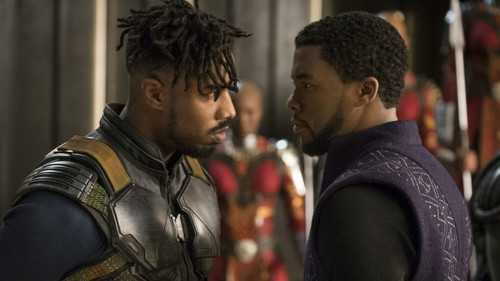 Answers to the question, "What do you think of black people before the movie?" were often coloured with political correctness. A rather interesting response was, "Previously, just Obama. And another person is Falcon of Captain America. He is so handsome." The word "person" was scripted to substitute the vocalised "nigger."
All respondents were quite young. The following four persons are representative of several respondents:
Male respondent: "Apart from their dark skin, I don't know anything else about them."
Male respondent: "I do not have the chance to contact with blacks [heiren], so I don't have any impression of them. Previously, because of the colour issue, we may think blacks [heiren] are inferior to us… I mean, in the old days, generally speaking. So many of us have misconceptions of blacks [nigger]. And this movie can correct such misconceptions."
Female respondent: "I think there is no difference between blacks and other race."
Female respondent: "There is no discrimination upon blacks in this movie, which gives us a great impression."
Despite the efforts at political correctness, a distillation of the responses reveals an underlying culture of xenophobia and "cultural racism" toward black people.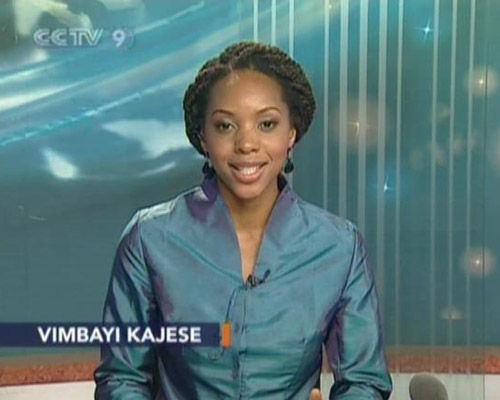 The first forthright response was from a male student from Shandong University. He said, the blacks students "are really kind" but "most Chinese people don't respect blacks. They always call them the N-word. But I will never do that because I call them friends. You should know that in English the N-word is impolite language." "N-word" was repeatedly substituted for "nigger;" however, to his credit, the interviewer mainly used the word heiren.
The most mature-looking respondent (male) revealed the influence of a black cultural foundation: hip-hop and rap music had infiltrated China before the great migration of the 1990's. As far as that interviewee's views on his pre-Black Panther experience of blacks goes: "Nothing changed…It's still the same. Their (sic) still living hip-hop style of life." But concluded with a smile: "The music in this movie is soo cool."
In many ways, China is more progressive in race relations than pre-1970 T&T, with its then majority black population. From 2009 to 2011, native Zimbabwean journalist Vimbayi Kajese was China Central Television's CCTV-9 news anchor.
Lou Jing's experience tells the other side of China's race relations with black people. Also in 2009, Lou, a "very attractive," 20-year-old black Chinese, emerged in the top five of the Shanghai preliminaries of Dragon TV's "Go Oriental Angel" contest and qualified for the national competitions. Notwithstanding Lou's popularity, the Chinese public reacted with a barrage of racist calls questioning her racial identity and, thus, her qualification to compete in the finals. Lou had a Chinese mother and African American father [Stephen Vines, "China's black pop idol exposes her nation's racism," The Guardian, UK, 2009].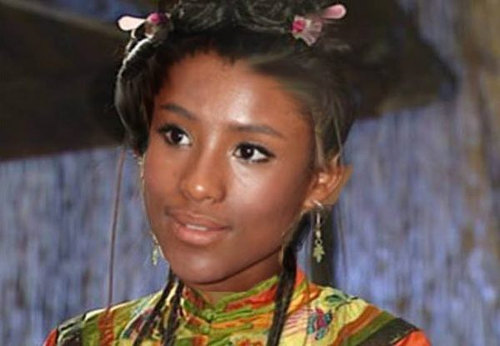 One post read: "Ugh. Yellow people and black people mixed together is very gross." We do not know what Chinese characters The Guardian transliterated into "black."
The hostile reception led Lou Jing to question her own identity. Prior to the exposure, she had always thought of herself as Shanghainese. After the racist objections that forced the organisers to eliminate her from further participation in the competition, however, she confessed, "I started to have doubts about who I really am." Lou sparked a national debate.
Vines argues, "The reason they are talking about Lou is because she is black."
Perhaps the powerful gender messages in Black Panther might begin to change this reaction. As one of Maya's interviewees acknowledged: "I love the role of the King's sister. I think she makes me break the traditional opinion on blacks." ["niggers"].
In my next column, I shall discuss the origin of the term "negro" in English and its French variant, "nègre," as an ethnic identity and product of the Atlantic slave trade and colonial slavery.