Germany-based wing-back Joevin Jones and Netherlands-based winger Levi Garcia were among nine overseas-based players selected in a 20-man Trinidad and Tobago National Senior Team squad today to face Guadeloupe and Martinique on 23 and 25 March respectively.
Jones moved to German Second Division club Darmstadt 98 in January while Garcia also recently swapped teams, joining Eredivisie club Excelsior Rotterdam on loan from fellow top-flight outfit AZ Alkmaar.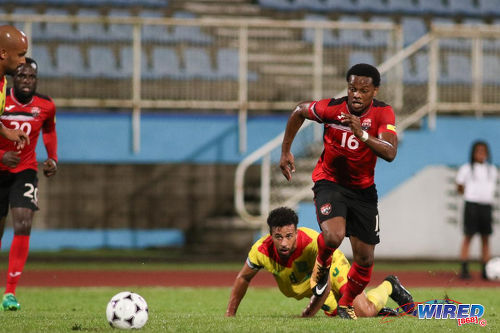 The other foreign-based talent summoned by head coach Dennis Lawrence looks like this: Khaleem Hyland (Al Faisaly FC—Saudi Arabia), Daneil Cyrus (Juticalpa FC—Honduras), Kevan George (Charlotte Independence—USA), Neveal Hackshaw (Charleston Battery—USA), Nathan Lewis (Indy Eleven FC—USA), Leston Paul (Pasaquina FC—El Salvador) and Mekeil Williams (Richmond Kickers—USA)
Lawrence did not have the option of using MLS attacking midfielder Kevin Molino, who was recently ruled out for the rest of the year with a torn ACL. And while noting that the loss of Molino is a big blow to the national set-up, Coach Lawrence also sees the positive side, stressing that it presents a perfect opportunity for another player to step up to the plate and show his class.
"It was a big blow for me," Lawrence told the media, following the team's training session at the Larry Gomes Stadium in Malabar earlier today. "First and foremost, I'm sorry for the boy because, for the time I have worked with him, he has been first class."

"He's always given me everything I have asked for and he has played a key role in the games in the past," Lawrence continued, pointing to Molino's two goals in the 2018 CONCACAF Hexagonal campaign and his solitary item in a friendly encounter against Grenada last November.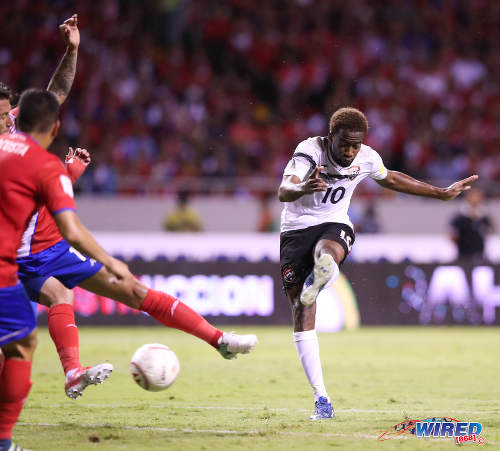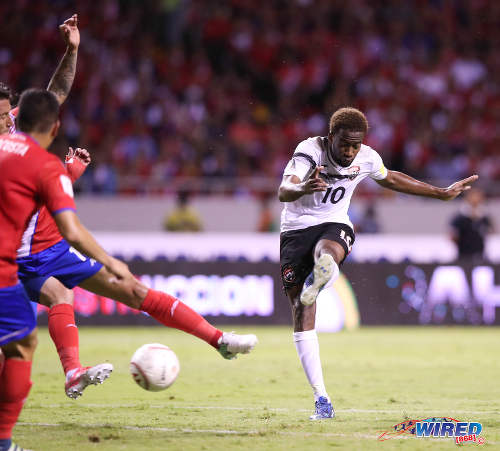 So who will be the player to fill the void left by Molino, who started the MLS campaign with a bang by bagging a double for his Minnesota United club?
Although Lawrence declined to single out a particular player, he seemed to suggest that Jones and Garcia will be expected to shoulder more responsibility, pointing to the need for more productivity in the wide areas of the pitch.
"I hope Molino has a really, really quick and healthy, speedy recovery [but] somebody needs to come in and say 'right! I'm going to make this position mine,'" Lawrence said. "And that's the idea. For me, we need to get the wingers involved a little bit more so we are going to try and rely on movement in terms of that instead of one particular player because we can't afford to just rely on one particular player."
Seemingly shy and self-effacing, newcomer Reon Moore seems ready to don the national colours and show óff his stuff on the flanks. The 21 year-old, still to make his national debut at any level, had a sparkling end to the 2017 TT Pro League season with Defence Force and beat out healthy competition from fellow wingers Quinn Rodney and Kathon St Hillside for a place among Lawrence's 20-man squad.
The Sangre Grande native, who is desirous of officially joining the Defence Force ranks very soon, firmly believes that his spot was earned.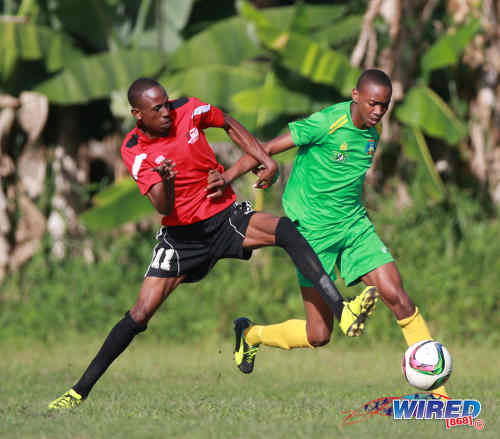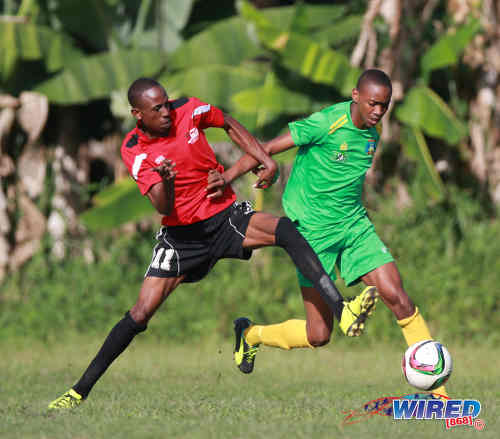 "It's a great feeling to be on the national team. It's a great [opportunity] for me to go out and show my talent and remain on the national team," Moore said. "No, I'm not surprised I made the national team, I know it was always going to happen. It was only a matter of time."
Slim-built, Moore is nimble, quick and direct. And Lawrence was impressed with his confidence and work rate as well.
"Reon has done well," Lawrence said. "He has shown a good attitude and sometimes things work in people's favour because it would have been a tight one between him and Kathon [St Hillaire]. But then Kathon [was getting] the opportunity to go to the Czech Republic, which didn't materialize for whatever reason. So squad selection was based around that."
Like St Hillaire, the Shiva Boys' Hindu College trio of Tyrel "Pappy" Emmanuel, Judah Garcia and Rodney did not make the final cut for the upcoming friendlies away to Guadeloupe and Martinique. However, Lawrence reiterated that the youngsters must keep their heads and continue to do the hard work, as he is likely to call on their services when Panama come visiting for a friendly encounter next month outside of the FIFA window.
"The boys who are not travelling are disappointed and I expect them to be disappointed," Lawrence said. "But now it's how they react to this disappointment to ensure they are in the next squad. Quinn and Judah were very good in the group and they integrated well.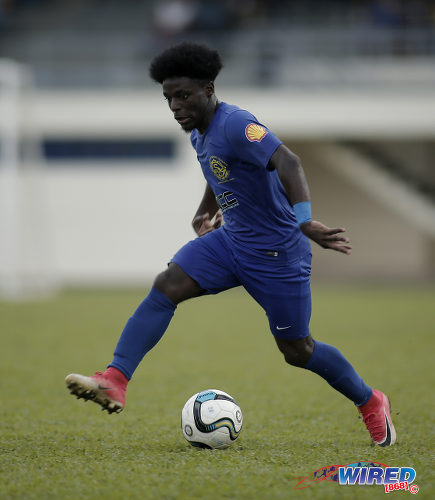 "I am looking forward to having them being part of the Panama game but I think [the games against Guadeloupe and Martinique] were a bit too soon for them."
In Emmanuel's case, the 2016 Secondary Schools Football League (SSFL) MVP would hope that he can recover from a niggling groin injury to quickly enough be considered for selection when the Panama engagement rolls around.
Although Lawrence noted that the majority of his overseas-based contingent should be touching down in Trinidad on 19 March, the day before the squad jets off to Guadeloupe, the former Everton and Swansea City assistant coach revealed himself  to have been pleased to have Saudi Arabia-based Hyland present for his local sessions.
The combative midfielder, who has been one of the senior players to skipper the "Soca Warriors" under Lawrence's flexible captaincy policy, is not understating the importance of the two upcoming matches.
"Every time you go into a game, you have to take it at a serious level," said Hyland, who has over 60 caps for this country's senior men's team. "It's important that we take every game seriously and we are disappointed, of course, that we did not make it to a World Cup. But that happens in life and we just have to keep moving on."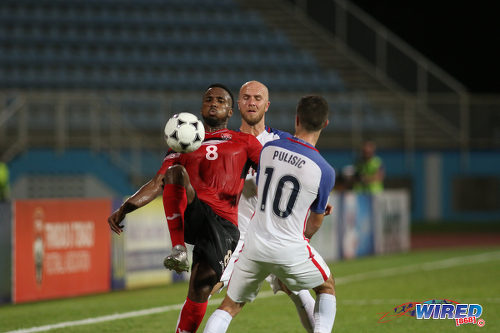 Hyland noted that the technical staff has not been pushing him beyond his limits in training, as he is nearing the end of his domestic season in Saudi Arabia. However, the former KRC Genk and KVC Westerlo man is sure to be aware of how important is his contribution in the midfield engine room on 23 March, when the Warriors strive to protect their 29-year unbeaten record against Guadeloupe at senior level.
"We are going into a rebuilding stage and hopefully we can get some positive results and gel going forward," Hyland told the media. "I have a big part to play […] and hopefully I can share my experience with them and we can gel together and make a good squad."
Alvin Jones' October thunderbolt which 'denied the USA a place at the Russia 2018 World Cup is unforgettable. But the spotty performances, inclusive of costly defensive lapses in concentration and poor finishing in front of goal, which doomed Trinidad and Tobago's own World Cup campaign are easy to forget either.
And Lawrence acknowledges that, before his team can look forward to next year's Gold Cup and the inaugural CONCACAF Nations League where await the Confederation's heavyweights, those key areas must be addressed.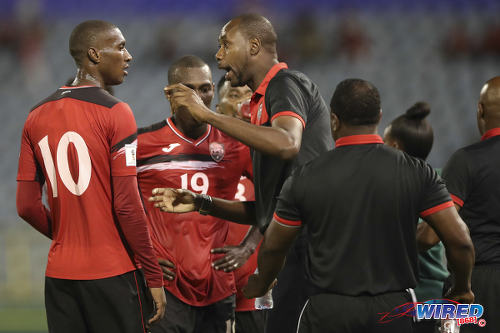 "First and foremost, we are looking for improvement [in those two areas] because that's where the work is needed," Lawrence said. "The idea is to keep clean sheets because, if you keep a clean sheet, you will be coming back out with what you came with. We are going to try and make sure we are solid defensively and organize.
"And then in the front line, it's a shame that Shahdon Winchester couldn't make it because he just signed for a club in Azerbaijan. I think it was important that we gave him time to go in and settle because we need them to be comfortable in their environment."
Lawrence will also be mindful that the Warriors were deprived of a qualifying spot at the 2017 Gold Cup after an extra time loss away to Martinique. It was arguably the final nail in Stephen Hart's coach coffin. And Hart's successor, Tom Saintfiet, subsequently failed to get Trinidad and Tobago past the Caribbean duo of Haiti and Suriname in play-off matches on home soil.
But there will be no such headaches for Lawrence and his staff; the six teams which reached the Hex in the 2018 World Cup qualifying campaign have got automatic spots at next year's Gold Cup.
So Lawrence has the luxury of using these games as mere stepping stones long the road to the region's showpiece event.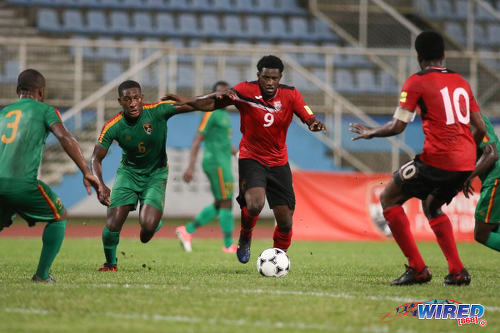 "All the preparations are geared towards going to this Gold Cup," he said. "All the preparations now are geared to being much more organised and competitive for [the] Qatar 2022 [World Cup]. We are going up the ladder.
"By the time we get to the Gold Cup, we should have already played some of the more illustrious countries like people have been asking for. I feel this is the right spot for us right now but the process continues."
The notables who will not be in the team which starts the early preparations for the 2019 Gold Cup and 2022 World Cup are Sheldon Bateau, Aubrey David, Jamille Boatswain, Jan-Michael Williams, Radanfah Abu Bakr, Kevon Villaroel, and Cordell Cato. The speedy Cato, who spent several seasons with MLS club San Jose Earthquakes, signed for United Soccer League (USL) outfit Charlotte Independence just last week. Lawrence, however, gave no reason for omitting these tried and tested Warriors.
Police FC custodian Adrian Foncette, who started in Trinidad and Tobago's surprise 2-1 win over USA last November, is in the squad along with defenders Curtis Gonzales (Defence Force) and Alvin Jones (W Connection). There was also a recall for W Connection forward Marcus Joseph.
TTFA Board member Wayne Cunningham will travel with the squad as media officer.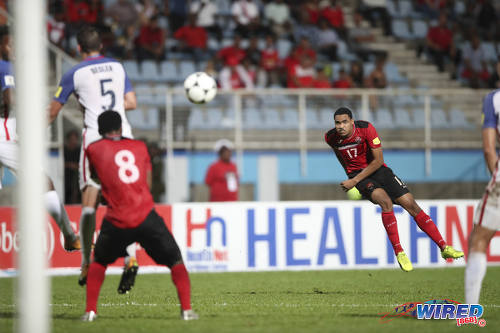 (Trinidad and Tobago 20-man squad)
Goalkeepers: Adrian Foncette (Police FC), Marvin Phillip (Point Fortin Civic);
Defenders: Daneil Cyrus (Juticalpa FC—Honduras), Mekeil Williams (Richmond Kickers—USA), Curtis Gonzales (Defence Force), Alvin Jones, Triston Hodge (both W Connection), Kareem Moses (Unattached);
Midfielders: Kevan George (Charlotte Independence—USA), Neveal Hackshaw (Charleston Battery—USA), Khaleem Hyland (Al Faisaly FC—Saudi Arabia), Leston Paul (Pasaquina FC—El Salvador), Nathaniel Garcia (Point Fortin Civic), Hashim Arcia (Defence Force),
Attacking midfielders: Levi Garcia (Excelsior Rotterdam—Netherlands), Joevin Jones (Darmstadt 98—Germany), Nathan Lewis (Indy Eleven FC—USA), Reon Moore (Defence Force);
Forwards: Akeem Roach (Unattached), Marcus Joseph (W Connection).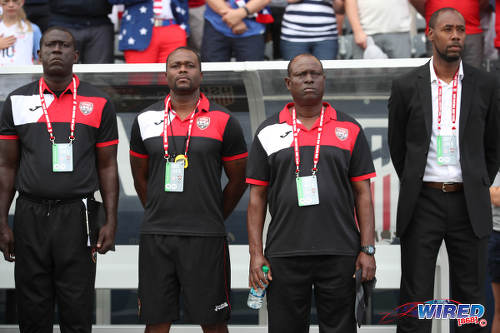 Staff: Dennis Lawrence (head coach), Stuart Charles-Fevrier (assistant coach), Stern John (assistant coach), Ross Russell (goalkeeper coach), Israel Dowlat (team doctor), Michael Taylor (medic), Saron Joseph (trainer), Joseph Rooplal (physio), Michael Williams (equipment manager), Paul Lawrence (match analyst), Wayne Cunningham (media officer), Richard Piper (manager).