With the future of the Pro League hanging in the balance, things are looking brown for football in Trinidad and Tobago. But if there is one issue that Yohance Marshall, Densill Theobald and the experienced national footballer dubbed JP are agreed on, it is that a properly functioning and well-run Pro League is essential for a healthy national team set-up.
At least one of them, however, is quite prepared for domestic football to back-back a little so that it can move forward smoothly in the near future.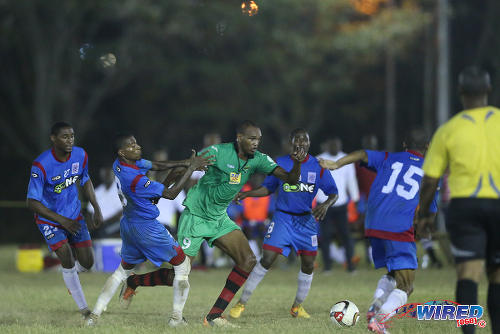 "It may be better if we take a backward step until things could get better," Theobald told Wired868. "Taking a step back may mean having no Pro League because it doesn't make sense having a Pro League when you are asking players to be professional but you are not operating from a professional standpoint."
Saying that you can't call yourself professional "with a TT$3,000 salary," he echoed an idea floated recently by St Ann's Rangers' boss Richard Fakoory.
"If that's what you could afford, maybe we should revert to a Super League situation, where players go to their respective jobs and be able to train on an inconsistent basis and play matches based on that."
When Wired868 floated TTSL President Keith Look Loy's idea of a temporary merger of the Super League and the Pro League, all three players immediately pointed to the difficulties playing in a non-professional league would pose in terms of getting scouted and, therefore, getting foreign contracts.
But, Theobald cautioned, even if it were possible to move forward without taking what he considers to be the necessary backward steps, it would be unfair for the Pro League to think about doing so without honouring the debts owed to Central FC and North East Stars for their League-conquering exploits over the last two years.
It would be to start off, he said, "on the wrong professional foot."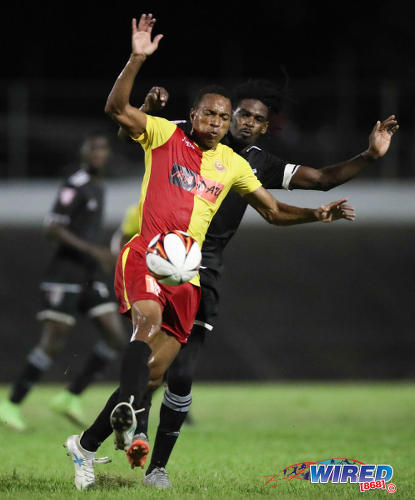 Marshall and Theobald suggested that, despite the unpaid debt and what has happened since the end of the season, North East Stars' 2017 League triumph last season was a fulfilling victory in more ways than one. Both players saw it as having forged a close-knit unit, with players trying to help each other out by supplying basic food products. According to Theobald, he even dipped into his own pockets to try and maintain a "professional" outlook at the club.
"I tried to help with my experience of playing with the national team and playing football abroad [but] I have had to help out financially as well," he said. "I was not even able to really share my knowledge and experience because most of the times players weren't able to attend training on a consistent basis because of what was being offered to them."
"Some players were making TT$1,200 and TT$1,500 per month and were asked to be professional with that. […] I could only feel the pain of a youngster who has aspirations of playing abroad and making his national team.
"I could only feel the pain because you're talking about a player who has that desire to really be somebody. And not having the proper infrastructure or foundation for him to realise these dreams… It makes you feel as though you could forget about it, pack up and everything will be okay. But you can't…"
Pointing out that, because he knows the financial constraints they are operating under, nowadays he does not seek excessive salaries from any club; he would be content, he said, with a salary in the TT$4,000 to TT$5,000 range. There is, however, a but: the former Caledonia standout insists that his teammates must be properly taken care of financially as well.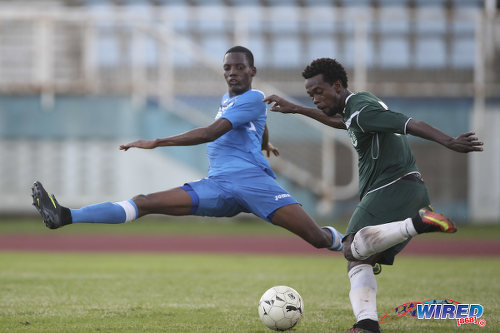 "If I'm at North East, Caledonia or Central FC, it overwhelms me to know that I could eat steak and my brother could barely have something to eat," Theobald told Wired868. "[The club must] make sure and treat the [other] players right too. But some clubs definitely take advantage of that."
But like a chain and its links, a league is only as strong as its weakest club. And although the Pro League "had a lot of money going around back in the day" when the Government subvention to clubs was TT$80,000 a month, the veterans agreed that the clubs have not really done very much to help the League.
"Before we reached in this scenario where we don't know the direction of the Pro League and the direction of clubs because of the financial situation," Theobald offered, "clubs were still in a better position financially. Some clubs were mismanaging their money. So where do you think all of this is trickling from?
"Some clubs are still mismanaging their money and it's coming back to haunt them now because now everybody crying…"
JP concurred, saying that clubs were really living above their financial means.
"I think if clubs were properly structured in terms of payment of salaries," he said, "something could work out. But I think teams are ending up in problems because they want to pay salaries with money which they don't have."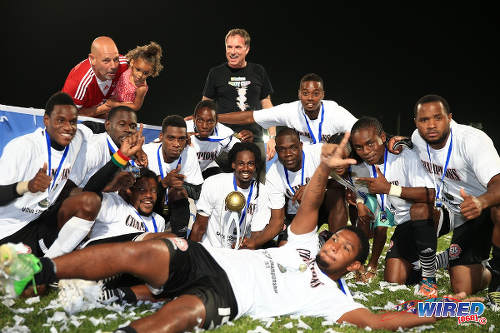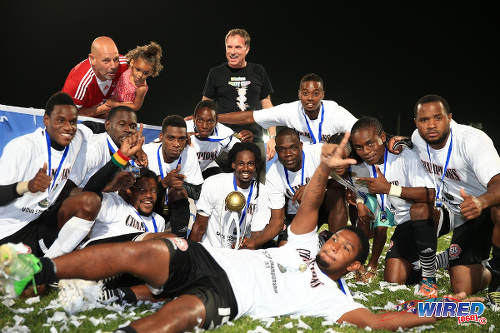 And why do the clubs have no money? The players blame over-reliance on the government subvention over the years. Because there has been easy money coming their way, neither the League nor clubs have made any serious attempt to develop and market the products that might have given them financial self-sufficiency.
Saying that self-sufficiency was "just a matter of using your product and marketing it the right way," Marshall slammed the Pro League's administration.
"The Government has been putting money into the League since its inception and you are telling me after 14 to 15 years, you don't have a proper plan to be self-sufficient?" he asked Wired868 rhetorically. "That is madness! You're supposed to have a five-year plan so every five years you will be discussing something different.
"But five years pass, the League hasn't grown, ten years pass, the League hasn't grown. And after 15 years, it's the same thing?"
He suggested that the League and the individual clubs must do much better at promoting their players and promoting their product, including making the people within the surrounding communities aware of the proven homegrown talent as well as the rising stars who have emerged from the community itself.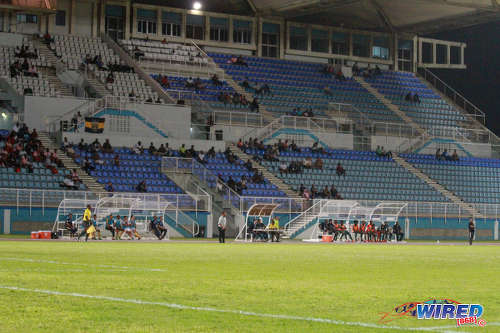 "The onus is on the clubs to promote their players and ensure that the community knows about the player," he said. "People will now be able to put a name to a face…"
And agreeing that the beautiful game really belongs to the community, the three players lamented that playing at the various national stadia has weakened the organic connection between players and supporters. They insisted that greater effort must be made by all football stakeholders to get community fields and facilities up to an acceptable standard because it is important to viability and financial success to have good playing surfaces and facilities.
"The stadia are good for the pitch and all that," Marshall went on, "but sometimes the location of the stadium could be out of the way; some people are deterred from going because of that."
On the issue of grounds, Theobald holds the view that the League would have been better off if the Government had given clubs full control over the community fields as opposed to giving them a monthly subvention. It's a view dear to Caledonia co-founder Jamaal Shabazz.
"What I would have liked to see is the Government trying to offer clubs their own grounds, even if it meant building a small facility," Theobald offered, "so a club could be self-sustainable with this kind of situation. You have San Juan Jabloteh, Caledonia and you have clubs from down South in Club Sando and W Connection."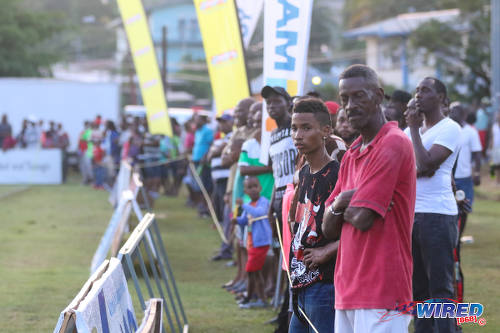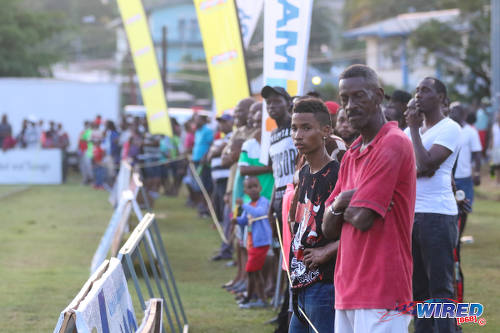 "Teach me how to fish and I won't have to beg for fish all the days of my life," Theobald continued, waxing philosophical. "Instead of the government giving clubs money in hand, they should have been showing the clubs how to fish.
"You give one community a ground for a club and you say that, instead of a subvention of TT$50,000, we are doing this for you and you have to bring in money to sustain your club."
The players, he affirms, would prefer the intimacy of a community ground with enthusiastic fans cheering them on from close up rather than stepping out for a League encounter at any one of the national stadia to play in front of thousands of empty seats.
"From a player's perspective, I love to play down in Mahaica Oval against Point Fortin Civic," Theobald said, "because I know once Civic are doing well, Point Fortin people will come out in their numbers and support their hometown club.
"And that's the atmosphere any player would like: to play in front of thousands of people. Any player would love that. That sends your adrenaline high; sometimes that gives you sleepless nights."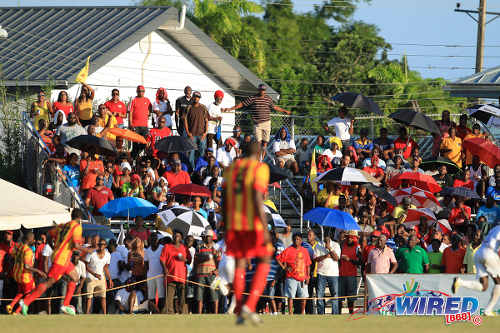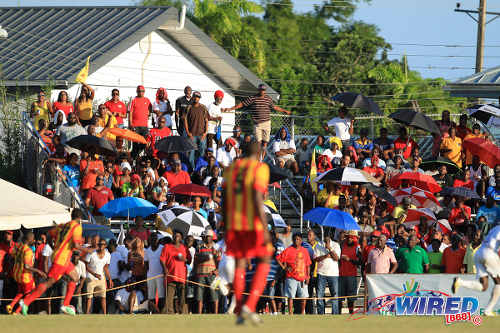 So what advice do the veterans have to offer to those players, actual and potential, who may be having sleepless nights now that the Pro League seems under a cloud?
For JP, the really important thing is to "get yourself a good agent," not some trickster looking to dig out your eye but one who will be able to set you up for a move abroad if the League remains at a standstill this season.
Marshall concurred and added an element of his own: a football scholarship.
"People don't look at a scholarship as a professional contract but […] your schooling is US$40,000 a semester and you have two semesters for the year. As a professional footballer now coming out of Trinidad, you are not going to make that money anywhere."
"And if you really push yourself," he ended, "in two to three years' time, you would have something to fall back on in the future as well."
Theobald's parting message for the young players echoed Barack Obama's 'Yes, we can!'
"I was faced with all the negativity you could be faced with but I never let that affect me because I wanted to be somebody," said Theobald. "I wanted to use my God-given ability and talent to help take me out of that. And they could do the same thing too. As much as we are faced with so much nonsense in Trinidad, at the end of the day, we have to know what we want out of the game too."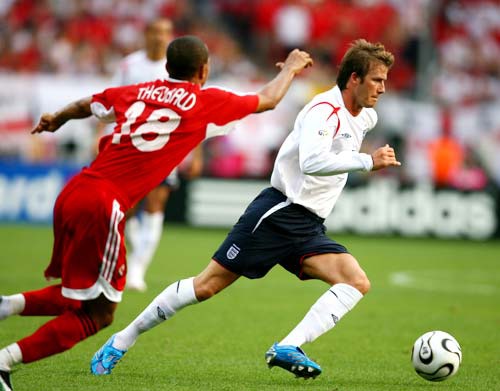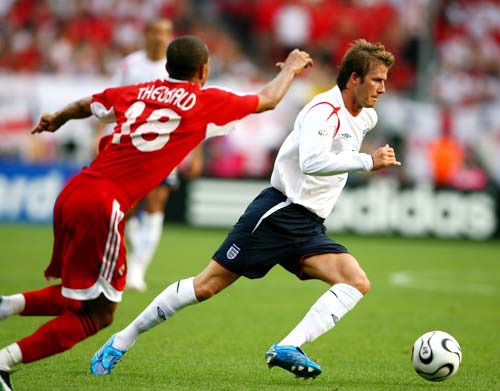 As things stand, it probably is no exaggeration to say that what the current pros and the would-be pros want is one simple thing: that there be a Pro League in 2018.
Truth be told, the prospects do not look all that rosy.
Editor's Note: Click HERE to read Part One as Pro League players discuss the state of panic within the fraternity at present. The interviews for this two-part story were conducted before CEO Dexter Skeene quit his post on Friday 2 March.