There was change at the top of the calypso pyramid last night as 24-year-old Helon Francis was crowned the 2018 Calypso Monarch with "Changes"—a powerful social commentary about Trinidad and Tobago's need for introspection and revolution of thought to address corruption and crime in the two-island republic.
Much of the pre-Dimanche Gras final hype focused on the entrance of now three-time International Soca Monarch Aaron "Voice" St Louis, who was attempting to become the first bard to win a soca and calypso title in the same season since David Rudder in 1986.
The 25-year-old Voice was expected to face his fiercest challenge from veteran calypsonians like Sandra "Singing Sandra" Des Vignes, Kurt "The Last Bardjohn of Calypso" Allen and reigning champion Hollis "Chalkdust" Liverpool.
In the end, it was Francis who blindsided him at the Queen's Park Savannah as judges gave the new monarch 442 points for his thought-provoking rendition and silken presentation.
Voice was second, scoring 433 points for his positive "Year for Love" while Rondell Donawa, singing "De Problem," was a surprise third with 427 points.
Performing in 17th position, former Calypso Monarch Duane O' Connor finished a creditable seventh with "Front Page." The 2012 Monarch was a late addition to the Finals line-up, a court having determined at the eleventh hour that he should be included after he protested that his Melody score had been unfairly changed in Saturday's semifinals.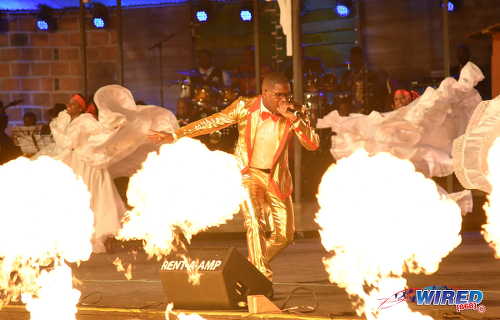 The full list of placings (points scored in brackets) is as follows:
1.Helon Francis (Changes) (442),
2.Aaron "Voice" St Louis (Year for Love) (433)
3.Rondell Donawa (De Problem) (427)
4.Michael "Protector" Legerton (We could do better than that) (421)
5.Myron "Myron B" Bruce (The Great Nation) and Joanne "Tigress" Rowley (Rowley to Rowley) (419),
7.Duane O'Connor (Front page) (415)
8.Dexter "Stinger" Parsons (Chinese Tuition) and Karene Asche (Song of Inspiration) (413)
10.Kurt "The Last Bardjohn of Calypso" Allen (Circle Square Science) (408)
11.Alana "Lady Watchman" Sinnette (Deadbeat) (404),
12.Selvon "Mistah Shak" Noel (Rebellion) (400)
13.Stacy Sobers (Calypso City) (399)
14.Sandra "Singing Sandra" Des Vignes (Power in Song) (397)
15.Michael "Sugar Aloes" Osouna (Finally) (389)
16. Carlos "Skatie" James (Ah Cutback) (387)
17.Hollis "Chalkdust" Liverpool (Eulogy) (385)