When Caribbean rivals Trinidad and Tobago and Haiti meet from 6.30pm today in a CONCACAF Under-20 Women's encounter, there will be, coach Jamaal Shabazz promises, fireworks.
Addressing the media at yesterday's press briefing at the Ato Boldon Stadium in Couva, Shabazz compared the match-up to what happens in the classic western, High Noon.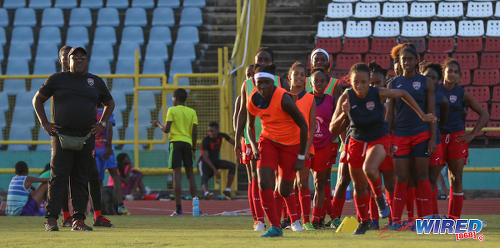 "For us in women's football, I think it's a gunslinger's game," he said. "We slug it out with them and they slug it out with us. We bring to the table what we bring and they bring to the table what they bring. [It's] that kinda showdown-at-high-noon kinda attitude."
On Tuesday, Shabazz had lauded the progress of Nathifa Hackshaw and Aaliyah Prince, the two youngest members of his 22-strong squad. But the coach made no reference to the events of two years ago when a Marlon Charles-coached team was outgunned 22-0 by the United States at the CONCACAF Under-15 Championships in Orlando. He made no mention of the possible after effects of that experience on the pair, who were members of that hapless Under-15 team.
Will they be gun shy? Shabazz reckons not. According to him, this "Young Women Warriors" squad are better equipped to deal with the rigours of international football. And he feels that they have what it takes to pass the stern test to which they are likely to be put by today's opponents, who are under the guidance of Marc Collat, a former youth team coach in France.

"We have seen two games with [Haiti] on tape and we know they are very skillful," Shabazz sought to reassure the media. "They have a couple players who we can consider outstanding. And technically and tactically they are at the same level as us.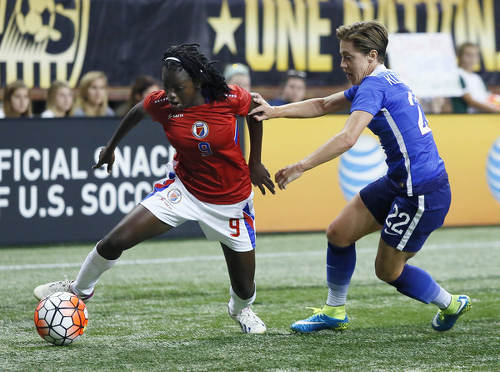 "We were in the same tournament with them a couple years ago so it's not like they will be strangers to us."
Haiti are skippered by Nerilia Mondésir, who plays for French club Montpellier, and is, along with US-based midfielder Danielle Étienne, one of only two overseas-based players in the Haiti squad.
Shabazz and his staff were denied any new insights into the strengths and weaknesses of the current squad by the absence of Haiti's liaison officer from yesterday's news conference. The absentee was supposed to act as interpreter at the briefing where Collat and Mondésir spoke.
The visitors were warned by Shabazz that they were in for a torrid time and that their hosts were expecting to get as good as they gave.
"There are two approaches in football," the coach said. "A coach can either try for his team to go and play the way they want to play. Or he can look at the opposing team and say this is how they play and we are going to play to suit."
He suggested that both teams were likely to choose the first option in today's game.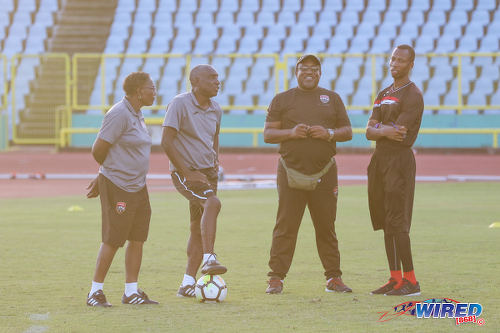 "Caribbean teams have the tendency to throw tactics out the door and go at each other. I think The Lord Maestro said, 'Savage, they know we West Indian savage' and I think this is what we will see a lot of in this game tomorrow (today) against Haiti."
If Prince might prove to be more than a little firecracker up top as was the case both at Under-15 and Under-17 level and skipper Natisha John will take no prisoners at the back, 'savage is certainly not a word one associates with Ranae Ward, who is a smooth operator in the middle of the park. But Shabazz is confident about how the girls will acquit themselves.
"The strength of our team going into the tournament is that these girls have played [at the] CONCACAF level before just like the other teams," he explained. "They know what to expect and they are not naive as the Under-17s were. They have played CONCACAF at Under-15 and Under-17 level so they understand the level to play at and they understand that the margin for error is very slim."
John certainly understands that she has "ecstatic and excited" bunch of players under her and she knows that her main leadership role will be to provide consistent motivation and a calming inside the dressing room and outside on the field.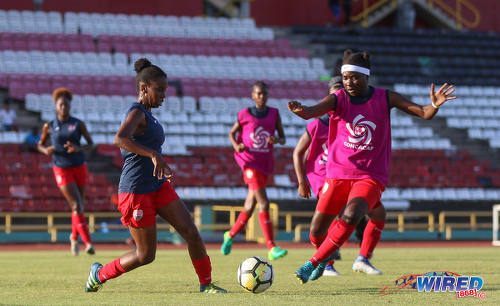 "We have to keep our heads on because we are on the verge of making history in Trinidad and Tobago," John said. "[I have] to calm their minds and get them well rested and prepared for tomorrow […] The score cannot be predicted but we are confident and we want to make everybody proud."
Whether the approach is savage or gentle, Shabazz made it clear that the most important thing is to come away from today's game with maximum points. Particularly as he has already been put on notice that the Canadians, T&T's opponents in the second round match-up on Saturday after taking on Costa Rica today, are not in the two-island republic on holiday.
Canadian skipper Gabrielle Carle, who won a bronze medal with her country's senior team at the 2016 Rio Olympic Games, was the one to deliver the warning.
"We are really excited as a team to be here but we are also here on business and we mean business. We definitely wanna qualify [for the World Cup]."
The Canadians were runners-up at the last CONCACAF Under-20 Championships and, although coach Beverly Priestman is expecting none of their opponents to clear a path for them, she is confident that her team can take the fight to any opposition.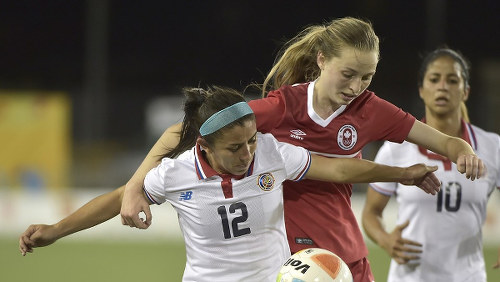 "These games cannot be taken lightly," Priestman said. "(…) there will be three different styles of play and we are comfortable that we understand what we need to do in all three games to win [the group]."
Seven of the Canadian players have already earned national senior team caps, and promising 16-year-old attacker Jordyn Huitema is expected to be a dangerous customer up top. On her senior team debut in June last year, Huitema bagged a brace in a 6-0 mauling of Costa Rica to become the second youngest goal-scorer in Canadian women's team history.
"Los Ticos," will be hoping that history doesn't repeat itself today. But Priestman, despite taking nothing for granted, remains fairly confident about the likely outcome.
"Costa Rica are quite different to the other two games we have and we know Costa Ricans are technical players who bring a bit of flair and individual surprise," she said. "But we do feel that we have enough to take the game to them."
After this afternoon, John, Shabazz and the rest of the T&T contingent may be doing some brainstorming on the threats of Carle and Huitema. But for now, the focus of the Young Women Warriors is on the immediate Haitian obstacle.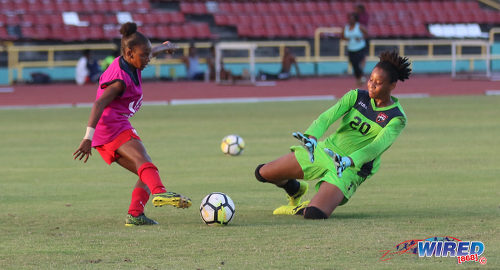 Shabazz has already pointed out that today's challenge is not quite like the life-and-death situations he has faced but he knows how critical today's three points are to his team's future welfare.
"I think this is the most important game for us," Shabazz said. "(In) this first game, it's important for us to try and get our noses in front, to start off on a good note and put ourselves in a good position.
"Playing at home, there is no other option for us but to be confident and courageous and go for the result."
"Each one teach one," Shabazz's young charges say. "All for one, one for all!"
Where they are enthusiastic, their coach is philosophical.
"The pens have been lifted and the inks have been dried. What has been written for us will come to pass," he ended. "What we have in our hands is the ability to work hard and get the result that we desire and to give everything we can give to bring success to the team."
But the time for talk is over. And six and a half hours past high noon today, T&T expects the young ladies to take the field at the Ato Boldon with all guns blazing.