With another Secondary Schools Football League (SSFL) season now in the books, two names seem likely to remain in the long-term memory.
Fyzabad and Shiva Boys, the dearly departed? Signal Hill and Speyside High, who struggled manfully but in vain? Che Benny and Judah St Louis, who lit up the season with their dead ball mastery? Tyrel Emmanuel and Judah Garcia, the two lookalikes who often put water in the opposition's eyes? Any two of Dez Jones and Maurice Dick or Kierron Mason and Matthew Beal, whose names kept coming bad like a bad dream all season long? Troy Jebodhsingh and Nigel Lakhan, who also kept making the news but not just in the sports sections?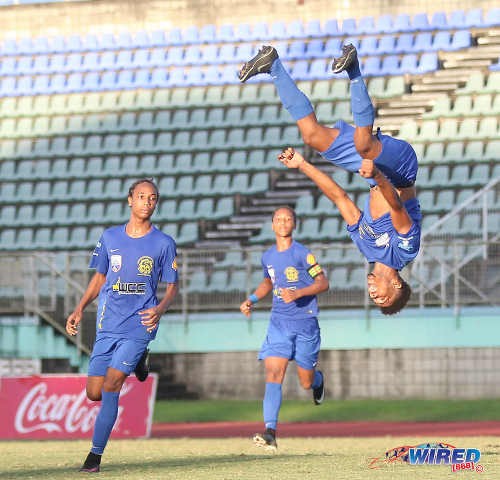 Aha! But enough said on that issue; their criminal matter being sub judice, Wired868 is probably already courting danger by mentioning 'long-term'—with or without hyphen—in the opening sentence.
To tell the whole truth, the SSFL 2017 season had good and bad and not so good and not so bad. But it will probably be remembered most for the ugly.
South once more was at the centre of the good. The southern schools continued their domination of the Premier Division, as Presentation College (San F'do) walked away with the title to follow in the footsteps of Naparima College (2014 and 2015) and Shiva Boys' Hindu College (2016). Meanwhile, Shiva Boys captured their maiden National Intercol title after beating 2016 Intercol victors San Juan North Secondary.
However, it wasn't all good for the southerners in 2017. Shiva Boys suffered as a result of the tardy registration of two players and Fyzabad Secondary were expelled from the League after it was discovered that there had been fraud in the registration of two of their players.
Despite all the thrilling encounters and healthy on-field battles, the unlawful registration of Dez Jones and Maurice Dick dealt a severe body blow to the SSFL, coming as it did after the 2016 season which had been plagued by player eligibility issues with East Mucurapo Secondary and Presentation.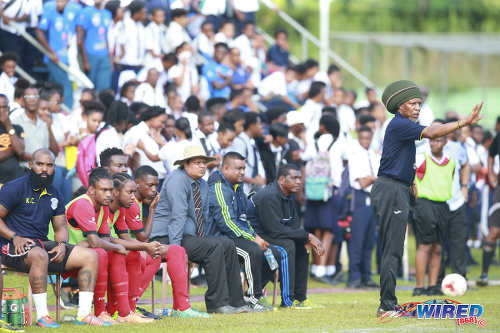 Shiva Boys, who engineered the demise of many SSFL opponents in their exciting Intercol run, saw to their own downfall in the league by playing the duo of Mason and Beal for extended periods without respecting he rules governing proper registration. And by the time the school had received proper clearance for the boys, the haemorrhaging of points in the SSFL boardroom landed Shiva Boys in the relegation zone with Tobago schools Signal Hill Secondary and Speyside High.
There is no shortage of talent in the SSFL and Shiva's trio of skipper Garcia, "Pappy" Emmanuel and, Quinn Rodney are among the most gifted. Pres' Jordan Riley and St Anthony's College's Tyrese Bailey seem to possess the balance of ballerinas when they glide down the flank with the ball at their feet.
Also, no opposition defender would want to be caught dead in a wall when St Anthony's Benny or Naparima's St Louis ominously line up a set piece. Even if your goalkeeper has more hands than a sousou—to quote spoken word poet Romero Gowrie—chances are that, with Benny and St Louis around, he will often be using them to retrieve the ball from the back of the net.
The League's abundance of talent notwithstanding, what happens on the field can have the lustre knocked off it by administrative issues, as happened with Shiva. And even if Shiva were able to achieve some measure of retribution by defeating San Juan 2-0 in the Intercol finale on Monday evening, the earlier off-the-field troubles sullied that achievement.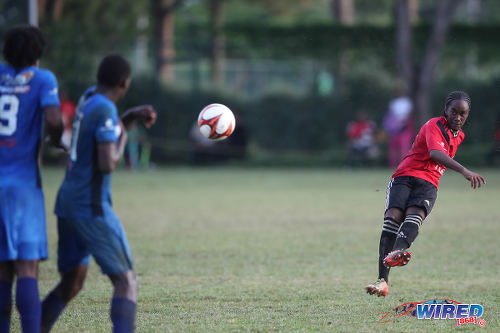 But SSFL president William Wallace was hopeful that the consequences of this season's transgressions would give the schools pause.
"There are some things we are going to be putting in place to make sure that things like these do not occur again," Wallace said, speaking on the eve of the National Intercol finale. "We are working closely with the Ministry of Education and I'm certain that, based on the action that was taken, I hope that it will be a deterrent anyway for persons who might want to go down that road."
The road travelled to reach the Premier Division title was not an easy one for Presentation, and, at the business end of the season, they found themselves wrestling for the top spot with Naparima and St Anthony's. Naparima even got one over the 2017 Premier Division champs when St Louis scored two splendid free kicks to down them 2-1 back in September.
But the race, as the adage says, is not for the swift and, by season's end, the roar of the "Pres Lions" drowned out all else after they edged out Fatima College 2-1 at Mucurapo Road on 4 November.
It provoked a feeling of both relief and satisfaction for Presentation coach Shawn Cooper, who paid special tribute to principal Dexter Mitchell. However, Cooper, Mitchell and the entire Presentation contingent were made to sweat that fateful day because both Fatima and second-placed Naparima made life extremely difficult.
Naparima, who could have captured their third Premier Division trophy in four years with a lop-sided win and a Presentation loss or defeat, clobbered Trinity College (Moka) 8-2 at Mahaica Oval in Point Fortin.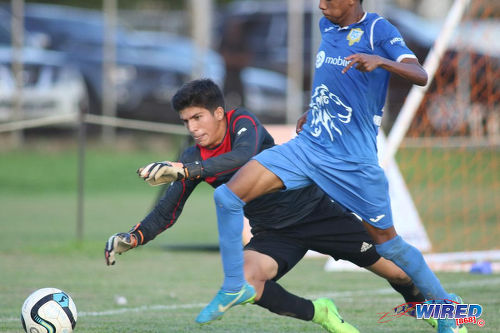 Meanwhile, Fatima went toe-to-toe with Cooper's charges and a moment of brilliance by Presentation sub Nathaniel Dyer and excellent shot-stopping by captain Jabari Gray eventually allowed Presentation to come away with a nervous win and their fans to belt out their favourite refrain:
"Ain't nobody, ain't nobody better than Pres!"
But in the South Zone Intercol semis, it was the fat lady who did the singing for Presentation supporters, who were stopped in their tracks by a wicked bolt. It was not a bolt of lightning, but a thunderbolt from Beal, whose right-footed effort from 35 metres out flew past Gray. Maybe it was a shot in anger from Beal.
And although it may not have bettered teammate Yohannes Richardson's wonder free kick against Presentation in the League on 14 October, the goal set up a South Intercol final with Naps, which wasn't going, the "Penal Princes" made sure, to be decided any boardroom. And taking matters into their own four feet, Richardson and Garcia produced two sterling strikes and earn Shiva their second South Intercol title.
In the North, the boys from St Mary's were working on their own payback plans, the memory of a 5-1 thumping handed them on their own turf in league play by Fatima seared into their psyches. In the North Intercol semis, skipper Gabriel Nanton and the tricky Tyrese Spicer provided just the spice—and the goals—they needed to exact their revenge.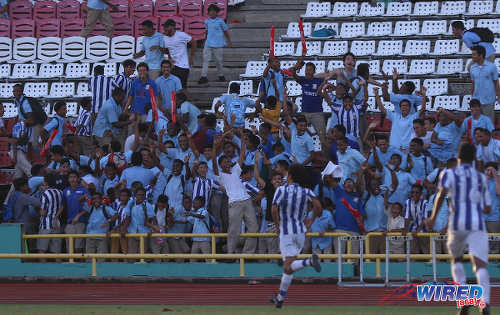 And Spicer showed that the semis goal was no fluke, banging in a sweet left-footer past St Anthony's goalkeeper Jabari Brice to give St Mary's victory in the "Battle of the Saints and their first North Intercol title in a decade.
But the Saints St Mary's were unable to go marching on, their "Raz" party ending in the National Intercol quarter-finals in Plymouth, Tobago. There, Signal Hill's diminutive Jalanie James used his forehead to score the game's solitary item and knock their halo off their heads.
With both Signal Hill and Speyside, relegated, James and other exciting Tobago prospects such as Akil Frank, Akiel Holdford and Kerri McDonald, are unlikely to turn out in the Premier Division next year. However, Tobago's Bishop's High School will hope to do the "Sister Isle" proud when they run out in the 2018 Premier Division season alongside fellow promoted schools Mucurapo and Valencia Secondary.
Signal Hill and Valencia shared a common antagonist this season, both succumbing to the rugged boys from Bourg Mulatresse in their Intercol foray.
For Valencia, their encounter with Renaldo Boyce and the San Juan team came in the East Intercol when they lost 2-0. However, their marquee win of the season had come days before in the East Intercol semis where they notched victory over a Trinity College (East) team has which has within its ranks at least four former National Under-17 players its ranks and is managed by veteran coach Michael Grayson.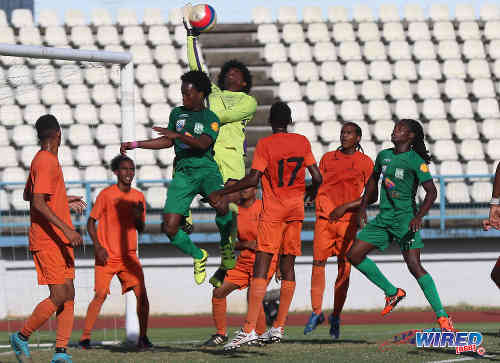 Talk about beating the odds.
Ten-man Signal Hill were unable to overcome the odds against San Juan in the National Intercol semis, and the man who grabbed the lone goal in that encounter was—you guessed it—Boyce.
The National Intercol finale turned out to be a battle between the unstoppable force of Shiva and the immovable object that was San Juan. First, however, Pappy and company had to deal with a slick, feisty Carapichaima East bunch in a pre-finale final. The players delivered a pretty good show in what was an electric atmosphere.
Shiva were always going to be up for the Carapichaima challenge, the Central Intercol champions having spanked them 4-1 in league play. The Intercol was a beast of a completely different colour, though, and it wasn't the "Caps" green and white but Shiva Boys' blue. A resolute Carapichaima led 1-0 up to the 84th minute but could not deny the southerners a late equaliser.
And then, having dug themselves out of that hole, the "Penal Princes" prevailed on penalty kicks, goalkeeper Denzil "Peng" Smith coming up trumps with three excellent saves during the shoot-out.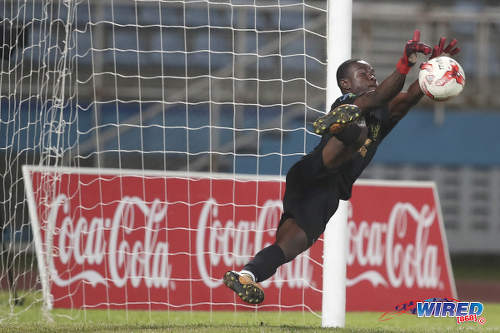 The National Intercol finale was a matchup you usually see at the start of the season in major leagues the world over, last season's League winners against last season's knockout winners. The 2017 finale was neither a timid charity shield nor a pappyshow.
Indeed, it turned out to be the "Pappy" show.
The gifted Shiva Boys playmaker, yet to don national colours at youth level, sent two neat, left-footed finishes past San Juan keeper Shawndell Byer and restored pride to a Penal community with a deserved 2-0 win.
Two relegation-bound teams—Mucurapo definitively in 2014, San Juan North reversibly last year—had already walked away with the National Intercol title. Definitely down—relegated to the Championship Division—Shiva showed that they were not out, making it the third time in four years that a side had returned from the Premier Division grave to successfully haunt the Intercol opposition.
It remains to be seen whether Shiva Boys will go quietly back into the Championship graveyard; the Shiva soldiers, says head coach Hayden Ryan, will be ready to do battle wherever they are called upon so to do.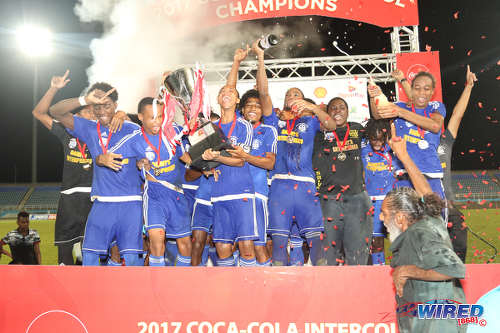 "Of course I'll be here. As long as they bring me back, I'll be here," said Ryan, after Shiva Boys' National Intercol triumph on Monday. "This is my team. I love it. I love to support the Penal-based grassroots teams […] "Anywhere this team goes, [the players] will go. This is their team."
Should Shiva's name really not be there when the roll is called for the 2018 Premier Division season, Ryan's sharp outfits and his witty jabs will certainly be missed.
It would come as a surprise if either the Lions or the Tigers or any of the other potential 2018 SSFL title contenders were able to manage a few crocodile tears.