A super double strike from Shiva Boys' Hindu College midfield general Tyrel "Pappy" Emmanuel settled the 2017 Coca Cola National Intercol final this evening, the "Penal Princes" downing defending champions San Juan North Secondary 2-0 at the Ato Boldon Stadium in Couva.
It meant a maiden National Intercol title for Shiva Boys, whose Premier Division title challenge was derailed by backroom mismanagement after errors in the registration of midfielder Kierron Mason and left-back Matthew Beal.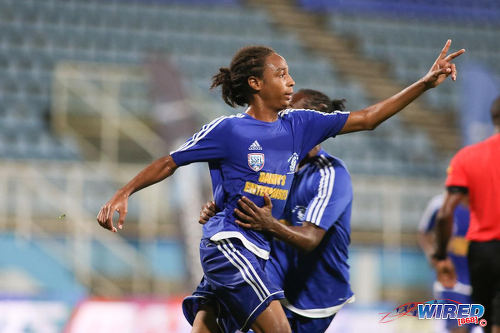 Shiva Boys will compete in the second tier Championship Division next season and, remarkably, this evening's contest was the third time in four years that a relegation-bound team lifted the Intercol trophy. Mucurapo East Secondary did it in 2014 and San Juan North in 2016—although the latter team managed to stay up thanks to boardroom manoeuvring.
Today, before another 3,000-strong crowd in Couva, San Juan rarely looked like repeating their feat from last year and mostly troubled Shiva from set pieces. Last year's National Intercol final match-winner Brandon Semper cut a frustrating figure for most of the contest, and time and time again, he and his attacking partner Renaldo Boyce were made to tough it out against the Shiva backline.
Although on Friday Boyce had emphatically stated that the National Intercol trophy would be heading to the East with the boys from Bourg Mulatresse, today proved to be Shiva's date with destiny.
Last Thursday, the Penal Princes took their fans through a rollercoaster of emotions when they battled back from a one-goal deficit to get past Carapichaima East Secondary on penalty kicks. And while some extra palpitations would have been caused by Quinn Rodney's dazzling runs down the left flank and a 38th minute Pappy effort that crashed off the bar after a fingertip save by San Juan keeper Shawndell Byer, today's contest was easier to stomach for the faint-hearted among the Shiva contingent.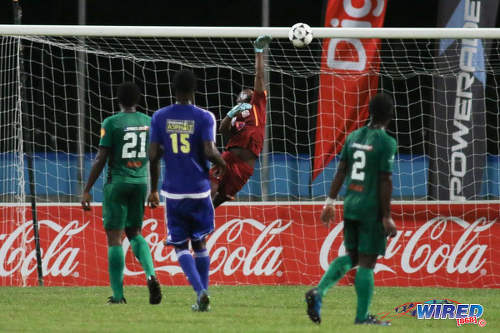 Pappy saw to that in the second half, producing two clinical left-footed strikes in the 68th and 79th minutes to settle the outcome.
Shiva coach Hayden Ryan could not be a happier man.
"It's a feeling of jubilation right now and I can't finish expressing that enough," Ryan said. "I told the boys in the room that one team will be crying after the last whistle and I knew that it would not be us because we were ready for this game and we showed Trinidad and Tobago and the world that we were ready for this game."
The first golden swing of Pappy's left boot came after substitute Tyrell Baptiste dispossessed a San Juan defender just outside the area before passing to the speedy Rodney. And while San Juan coach Jerry Moe suggested that his players shot themselves in the foot with the defensive error, a gleeful Pappy made no mistake, receiving Rodney's accurate square pass from the left before kissing his shot off the base of the post and into the back of the net.
"The first goal was as a result of a mistake and we were chasing the game for the second goal so that didn't really matter," Moe told Wired868. "But the first goal was the turning point in the game."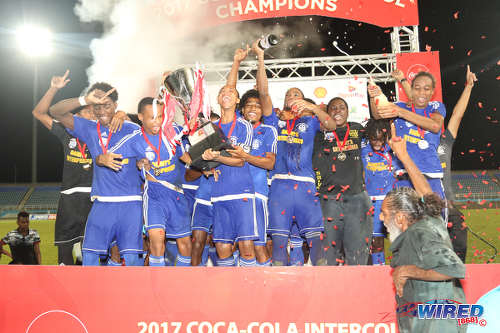 As Ryan put it, his gifted midfielder was able "to seize the moment" when two glorious opportunities came his way. San Juan, however, tellingly, were unable to capitalise on their half-chances.
"I think today we didn't do enough in their 18-yard box [to win the game]," Moe said. "That final pass was lacking and [we didn't get] those shots on target. Kudos to Shiva Boys' because they did better than us inside their 18-yard box."
With the game still goalless in the 43rd minute, Boyce, who had scored in every Intercol round up until today, sent a left-footed shot straight at Shiva goalie Denzil Smith—albeit from a tight—after skipping past a wild Ronald Charles challenge and initially rounding the custodian.
And after a goal-bound Boyce was stopped dead in his tracks by a brilliant Yohannes Richardson tackle in the 47th minute, Moe looked on in agony as, mere moments later, a sweet right-footed volley by midfielder Lukeman Brooks sailed just over the bar.
In a game where chances were few and far between for the defending National Intercol champions, chances like those had to count.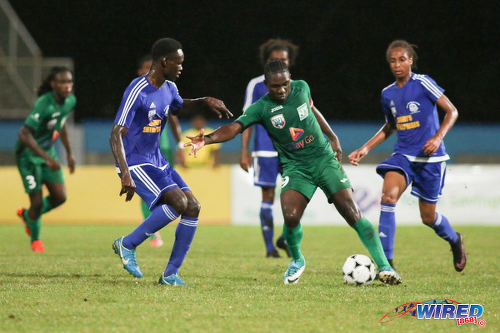 The 2016 Premier Division champions were intent on ensuring that their opponents could find no way back into the contest, though, and after Rodney sent a close-range volley well over the bar in the 57th minute, Pappy stepped up.
Not satisfied with his first item, Pappy notched his brace in the 79th minute after receiving a well-disguised pass from Mason. He checked inside defender Isaiah Chase and stylishly stroked past Byer.
It was all part of the plan for Ryan and Shiva.
"I think we made some adjustments at half-time that put the team in a stronger position to dominate the game," Ryan said. "I think one or two of the midfielders were going too high and we needed to bring them back to hold the midfield. And allowing those guys to play football and pushing Pappy higher up brought the result."
With no time to bother about having had to pick the ball out of his net, Byer saved brilliantly with his feet to deny Shiva striker Junior Asson in the 83rd minute. Meanwhile, Semper's search for a consolation item on the other end came up short when his 35-metre free kick just sailed over Smith's crossbar.
At the blast of referee Rodphin Harris' final whistle, some San Juan players sprawled out on the turf, left inconsolable by the final result.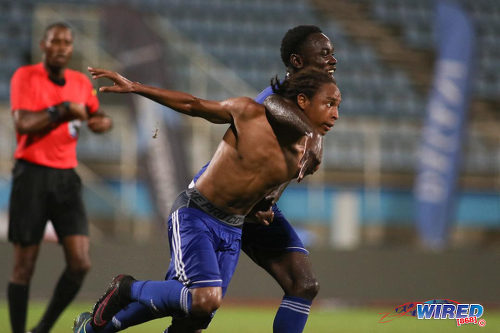 But Moe suggested that his charges should take this loss on the chin.
"When I win, I don't get carried away and when I lose I don't get carried away," Moe said. "This is just a football game; life goes on. We just have to wheel and come again. Basically, it's to let the players keep their heads up because there are more important things in life than football."
And while the truth of Moe's comments should not be underestimated, his message may resonate with Boyce and company this evening. They will be acutely aware that they made the trek from Bourg Mulatresse and played their part in an exciting final today but they had no answer for "Pappy" as his second-half goals allowed Shiva Boys to end 2017 with broad smiles and an even bigger trophy.
Ryan and his Shiva charges were able to pull off a major victory on the field of play and exorcise some demons which spawned by their own off-the-field mismanagement. The newly-crowned National Intercol champs are set for Championship action next year but Ryan is looking forward to the task with great zest.
"Of course I'll be here. As long as they bring me back, I'll be here," said Ryan. "This is my team. I love it. I love to support the Penal-based grassroots teams. The grassroots team arrived tonight."
Can fans expect players such as Pappy, Smith and skipper Judah Garcia to turn out in the Championship Division next year too?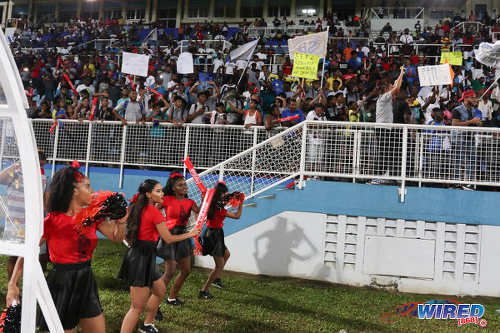 "The nucleus of the team will be back for next year," said a beaming Ryan. "Anywhere this team goes, they will go. This is their team."
In about ten months' time, the SSFL followers will see if Shiva really remains a potent force. For now, the Penal Princes will simply bask in the glory of winning their maiden National Intercol title.
(Teams)
Shiva Boys' Hindu College (4-3-3): 22.Denzil Smith (GK); 32.Ronald Charles, 19.Yohannes Richardson,3.Jabari Graham, 14.Matthew Beal; 15.Kierron Mason, 6.Tyrel Emmanuel, 10.Judah Garcia (captain); 17.Ronado Edwards (9.Tyrell Baptiste 63), 11.Junior Asson, 7.Quinn Rodney.
Unused Substitutes: 1.Jasse Aguillera (GK), 5.Anderson Peters, 8.Jude Phillip, 20.Adica Ash, 21.Aaron Rodney, 23.Jeremy Williams.
Coach: Hayden Ryan
San Juan North (4-4-1-1): 1.Shawndell Byer (GK); 20.Isaiah Chase, 7.Josiah Beard, 21.Kyle Thomas, 17.Kareem John; 8.Lukeman Brooks (16.Obadele Dickson 80), 22.Nathaniel Perouse, 3.Elair Brewster, 2.Tyrell Cameron (4.Kareem Grant 80); 6.Brandon Semper; 9.Renaldo Boyce (captain).
Unused Substitutes: 30.Emmanuel Clarke (GK), 5.Keon McPherson, 13.Marcus Berot, 15.Jordan Britto, 19.Sherwin Williams.
Coach: Jerry Moe
Referee: Rodphin Harris
Wired868 Man-of-the-Match: Tyrel "Pappy" Emmanuel
Coca Cola National Intercol final
(Monday 4 December)
Shiva Boys' Hindu College 2 (Tyrel Emmanuel 68, 79), San Juan North Secondary 0 at Ato Boldon Stadium.