San Juan North Secondary will have the opportunity to defend their Coca Cola National Intercol title on Monday evening after they edged Signal Hill Secondary 1-0 in semi-final action at the Ato Boldon Stadium in Couva today.
Captain Renaldo Boyce got the decisive goal for the Bourg Mulatresse boys with his sixth item of the competition. Remarkably, Boyce scored in all four Intercol rounds to keep San Juan North in with a chance of becoming the first school of the Premier Division era to win successive National Intercol crowns.
In the final, the boys from Bourg Mulatresse will be up against Shiva Boys' Hindu College, the South Zone giants having edged Carapichaima East Secondary 3-2 on kicks from the penalty spot after a thrilling 1-1 draw.
In their last meeting during the regular season, Carapichaima East had whipped Shiva Boys 4-1 and they went in at the interval with their noses in front, thanks to an item from Elijah King, scored, it has to be said, against the run of play. But the "Penal Princes" put virtually incessant pressure on their Central opponents and they deservedly drew level in the 84th minute through striker Junior "Barry" Asson.
And in the penalty shoot-out that followed, Trinidad and Tobago National Under-20 custodian Denzil Smith came up trumps, producing three telling saves to give the South Zone team that will not be competing in the SSFL Premier Division in 2018 a chance to end the season in a blaze of glory.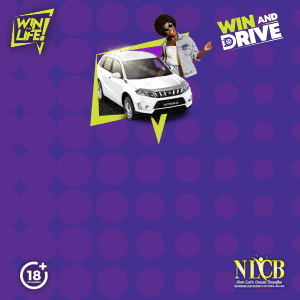 However, for long periods in Couva today, it appeared as though King's sweetly taken 24th minute item would see "Caps" through, as goalkeeper Aaron Best and his tireless defence saw off attack after attack.
But thanks to Asson's late item and Smith's heroics in a pressure-cooker situation, Shiva coach Hayden Ryan is a relieved and happy man.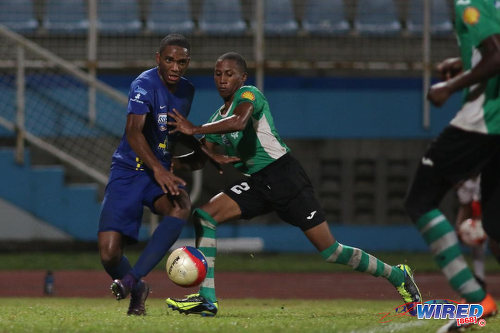 "I wanna thank God because he's a good God," Ryan told Wired868. "And these guys showed real heart because I think plenty teams would have given up under those circumstances because they kept fighting until we got the equaliser."
Indeed, Shiva had to fight tooth and nail for every inch of space they got today, with defenders Colin Wheeler and Brandon St Clair sticking to Asson like glue and skipper Mecaheil Alexander and Kirk Torres working overtime to cramp the style of Shiva's talented midfield trio.
It was a game plan which nearly worked perfectly; however, but unfortunately for coach Randolph Boyce and his staff, the Shiva pressure was too much for the Carapichaima pipes.
"Definitely the plan was to take away their midfield's ability to possess the ball and really play and move the ball because they have some quality players," Boyce (Randolph) said. "When we went on top, we wanted to keep the ball still and move the ball but Shiva came out and applied the same tactics against us."
Although Carapichaima were pinned back for much of the second half by the 2016 Premier Division champions, conceding over 15 corners in the process, the Central champs still looked menacing on the break.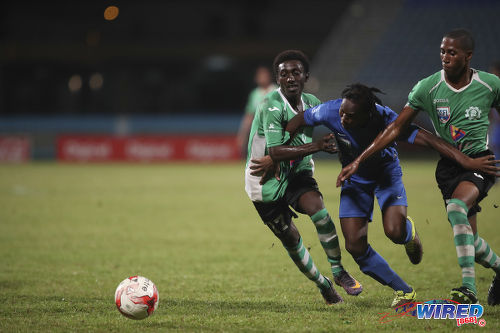 The strike pair of King and Theophilus Bourne were the perfect mixture of grit and guile while Alexander and Kevon Williams also supported from the midfield. It's almost mystifying that Carapichaima were unable to extend their 1-0 lead in the second half, lanky substitute Daniel Pascal were presented with two glorious opportunities on the break while Shiva were absolutely stretched.
First in the 67th minute, Pascal somehow left the ball behind after being played in behind. And in the 84th, when Carapichaima had a two-on-one breakaway, Pascal meekly gave away possession to Shiva defender Jabari Graham who, on another day, could have easily been a spectator in that scenario.
Of course, seconds later, Pascal and his teammates were made to bow their heads when Asson finally manoeuvred free of his markers and fired home after an advanced Yohannes Richardson took control of a diagonal pass from midfielder Kierron Mason.
But Randolph stated that his charges should keep their heads high.
"The guys really showed that they wanted to reach a final and they represented well," the Carapichaima coach said. "They did Central proud. And going forward I can only tell them hold their heads high and be proud of what they have achieved.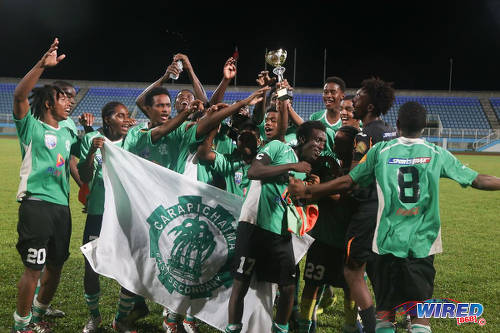 "One lapse in error in terms of losing a marker resulted in an equaliser and then the penalty shootout."
On another day, Wheeler would have been hailed as a hero for his masterful play at the back. In the first half, he produced a wonderful sliding tackle to stop the dangerous Quinn Rodney from a clear run on goal while, in the 66th minute, he stopped Asson with a goal-saving block from point-blank range.
And although Best was eventually bettered by Smith in the shootout, the Carapichaima goalkeeper did his bit to try and see his team through to the National Intercol final, twice producing impressive saves with his feet to stop lively Shiva substitute Tyrell "Sexyman" Baptiste from close range.
Smith, who has been battling injuries throughout the 2017 season, has showed his ability to save spot kicks before. However, Ryan still had to cross his fingers and toes once the dreaded penalty kicks arrived.
"You are never fully confident with penalty shootouts," he said, "and you are just hoping everything goes well."
However, Smith soon swatted all anxiety way as he calmly stopped penalties by Caps standouts Bourne and Alexander at the start of the shootout. And although Tyrel "Pappy" Emmanuel saw his meaty penalty palmed away by Best, another Smith save and conversions by Mason, Asson and sub Anderson Peters sent Shiva to the grand finale.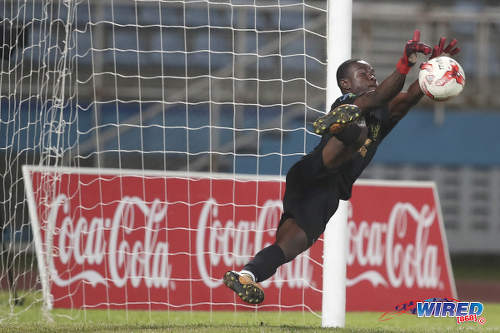 Boyce was disappointed that his charges were unable to replicate their penalty heroics from last week's Central Intercol final.
"Unfortunately, in the penalties, the guys had been scoring their penalties all season long," said Boyce, "but tonight it just didn't go in for them."
If the main course in Shiva vs Carapichaima left fans on the edge of their seats and wanting more, then the first game of the double-header left the 3,000-strong crowd on the edge of their seats and stamping their feet in frustration.
The 47th minute ejection of Signal Hill's powerhouse defender Jokiah Leacock effectively put the visitors on the back-foot in the scoreless encounter. However, the contest was a drab one before that, with both teams guilty of spraying misplaced passes and playing at a slow pace.
In the 54th minute, a gleeful Boyce was able to give the Bourg Mulatresse posse something to cheer about when he prodded home after defenders Giovani Sebro and Darion Stewart failed to deal with a long ball from San Juan stopper Kyle Thomas.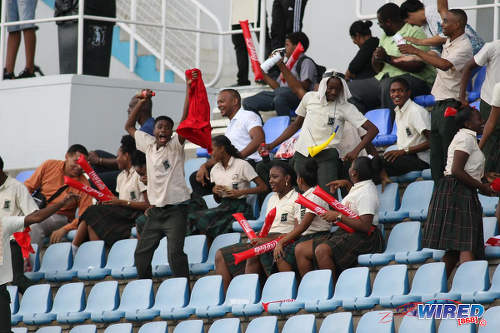 Both Thomas and former National Under-17 player Brandon Semper flirted with Duvaugn Daniel's goal frame on the day, and the duo saw a number of opportunities go agonisingly wide or saved from set piece situations. Thomas can certainly thank his lucky stars that he will be suiting up for the final, the robust defender having escaped a second booking in the 79th minute after chopping down Signal Hill skipper Akil Frank during a counter-attack.
Things may have been different if referee Nicholas Murray had shown Leacock such leniency.
As always, Frank and his midfield teammate Akiel Holdford were willing runners, and they sometimes tried to use a two-man or three-man-game to break down San Juan. However, the final ball was woefully lacking from Signal Hill and even Daniel's prayers could not help a stoppage time free kick from Frank over the Bourg wall.
The ten men from Signal Hill fought the good fight and were all embraced by Leacock after the final whistle. However, they lacked real bite and will now bow out at the National Intercol semi-final stage.
Coaches Jerry Moe and Hayden Ryan can look forward to grander things, though, when San Juan aim for back-to-back National Intercol titles on Monday.
But Ryan and his "Penal Princes" will not stand idly by and watch that happen.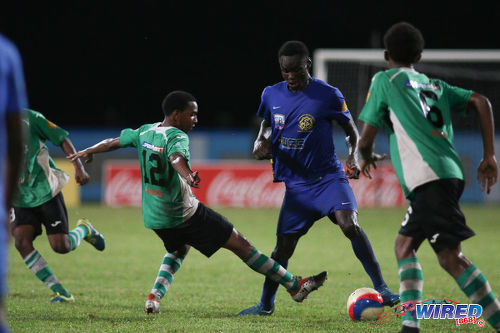 "We are going to give all our heart; everything we have," Ryan said. "That's how we are going to play on Monday. We are looking forward to the final."
Come Monday, an unstoppable force will come up against an immovable object.
Which will triumph in this battle of the Titans? What is certain is that the winners will be crowned 2017 National Intercol kings?
(Teams) 
Shiva Boys' Hindu College (4-3-3): 22.Denzil Smith (GK); 32.Ronald Charles (5.Anderson Peters 79), 19.Yohannes Richardson, 3.Jabari Graham, 14.Matthew Beal;  15.Kierron Mason, 6.Tyrel Emmanuel, 10.Judah Garcia (captain); 17.Ronado Edwards (9.Tyrell Baptiste 54), 11.Junior Asson, 7.Quinn Rodney.
Unused Substitutes: 24.Dejon Blondell (GK), 8.Jude Phillip, 20.Adica Ash, 21.Aaron Rodney, 23.Jeremy Williams.
Coach: Hayden Ryan
Carapichaima East Secondary (1-4-3-2): 1.Aaron Best (GK); 4.Brandon St Clair; 6.Josiah King, 2.Colin Wheeler, 18.Akeil Vesprey, 3.Symron Wiseman; 9.Kevon Williams (22.Luke Charles), 12.Kirk Torres, 17.Mecaheil Alexander (captain); 8.Theophilus Bourne, 20.Elijah King (10.Daniel Pascal 65).
Unused Substitutes: 25.Aarion St Clair (GK), 7.Yohance Brereton,  11.Keilon Burnett, 16.Liju James, 23.Ivan Santos.
Coach: Randolph Boyce
Referee: Nicholai Nyron
Wired868 Man-of-the-Match: Denzil Smith (Shiva Boys' Hindu College)
San Juan North (4-4-2): 1.Shawndell Byer (GK); 20.Isaiah Chase, 7.Josiah Beard, 21.Kyle Thomas, 17.Kareem John; 8.Lukeman Brooks (19.Sherwin Williams 75), 22.Nathaniel Perouse, 3.Elair Brewster, 2.Tyrell Cameron; 6.Brandon Semper (4.Kareem Grant 90), 9.Renaldo Boyce (captain).
Unused Substitutes: 30.Emmanuel Clarke (GK), 5.Keon McPherson, 15.Jordan Britto, 16.Obadele Dickson, 26.Kellon Murrien.
Coach: Jerry Moe
Signal Hill (4-2-3-1): 25.Duvaugn Daniel (GK); 13.Giovani Sebro (19.Omari Edwards 86), 15.Darion Stewart, 6.Jokiah Leacock [red card 47], 20.Jabari George; 22.Jabarry Francis, 7.Akiel Holdford; 10.Akil Frank (captain), 5.Tareek Richards (4.Jabari McMillan 70), 8.Jalanie James; 9.Ronaldo Samuel (11.Kedar Combie 65).
Unused Substitutes: 1.Isaiah Campbell (GK), 12.Dexter Cossou.
Coach: Nigel De Souza
Referee: Nicholas Murray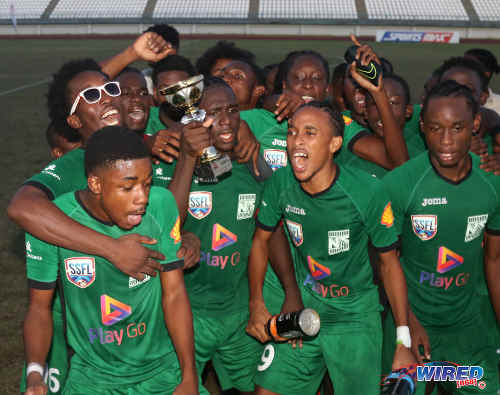 Coca Cola Intercol results
(Thursday 30 November)
San Juan North Secondary 1 (Renaldo Boyce 54), Signal Hill Secondary 0 at Ato Boldon Stadium;
Shiva Boys' Hindu College 1 (Junior Asson 84), Carapichaima East Secondary 1 (Elijah King 23) at Ato Boldon Stadium;
*—Shiva Boys won 3-2 on kicks from the penalty spot
Bishop Anstey East 0, Bishop Anstey (POS) 1 (Kiana Alexander 67) at St Augustine Secondary.
Upcoming fixtures
(Monday 4 December)
Pleasantville Secondary v Bishop Anstey (POS), 3pm, National Girls Intercol final, Ato Boldon Stadium;
San Juan North v Shiva Boys' Hindu College, National Boys Intercol final, 5pm, Ato Boldon Stadium.