Carapichaima East retained their Central Zone Coca Cola Intercol title this evening after a 4-2 penalty shootout win in a pulsating final against Chaguanas North at the Ato Boldon Stadium in Couva.
After regulation time expired with both schools tied at 2-2, "Caps" custodian Aaron Best produced the necessary heroics between the sticks to send the title back to what is its familiar resting place in the Carapichaima East trophy cabinet.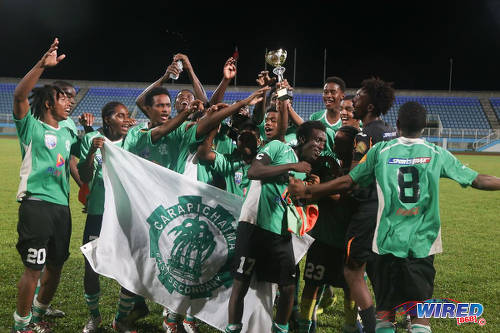 However, their victory seemed far from assured as the clock wound down on a cool rainy night in Couva. Chaguanas North had a 2-1 lead and were playing the role of giant-killers up until the 90th minute when a headed item from Caps attacker Theophilus Bourne sent the final into penalties.
Carapichaima coach Randolph Boyce expected no less from his talisman.
"Bourne is a game changer!" Boyce told Wired868. "Sometimes, out of nothing he creates something. I think it was part of their plan to actually shut him out tonight and I think they did well…

"But they couldn't keep him quiet in the end!"
It was truly a testament to Chaguanas North's discipline that Bourne, who notched a hat-trick in the zonal semi-final against Presentation College (Chaguanas), was kept at bay for 89 minutes.
From the first whistle, the boys in orange maintained their solidity and defended deep within their own half, allowing their more illustrious counterparts to hog the ball. It took more than a bit of fortune for their wall to finally be breached.
Given space at the edge of the area, left wing-back Josiah King hit a speculative drive that slipped out of the grasp of Chaguanas goalkeeper Jon-Pierre David and nestled in the back of the net. It was a nightmarish moment for the young custodian but one he was not allowed to dwell on for long as his opponents pushed to extend their lead.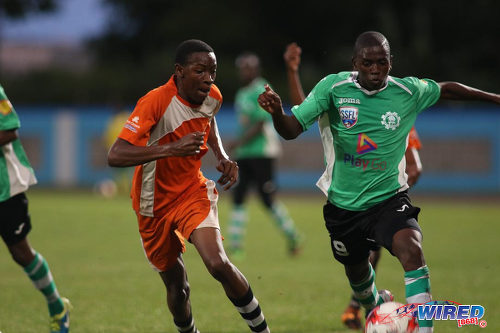 Powering towards a Kevon Williams corner, Brandon St Clair stole a march on his marker and flicked the ball towards goal. There was an air of panache about the move but this time David was equal to the task and he held on firmly.
On the half-hour mark, the exciting Bourne finally got into the act.
Unleashing a crack from just outside the area, he had the Chaguanas fans holding their breath as the ball passed just wide.
On the stroke of half-time, though, captain Mecaheil Alexander almost produced one better.
With a wall of orange between him and the goal, Alexander rifled a dipping shot from distance that an alert David got down well to keep out. He may have blundered for the opening goal but he was evidently warming to the task and growing into the game.
On the balance of play, the neat team in green had a deserved lead but their solitary goal had come through a lucky break.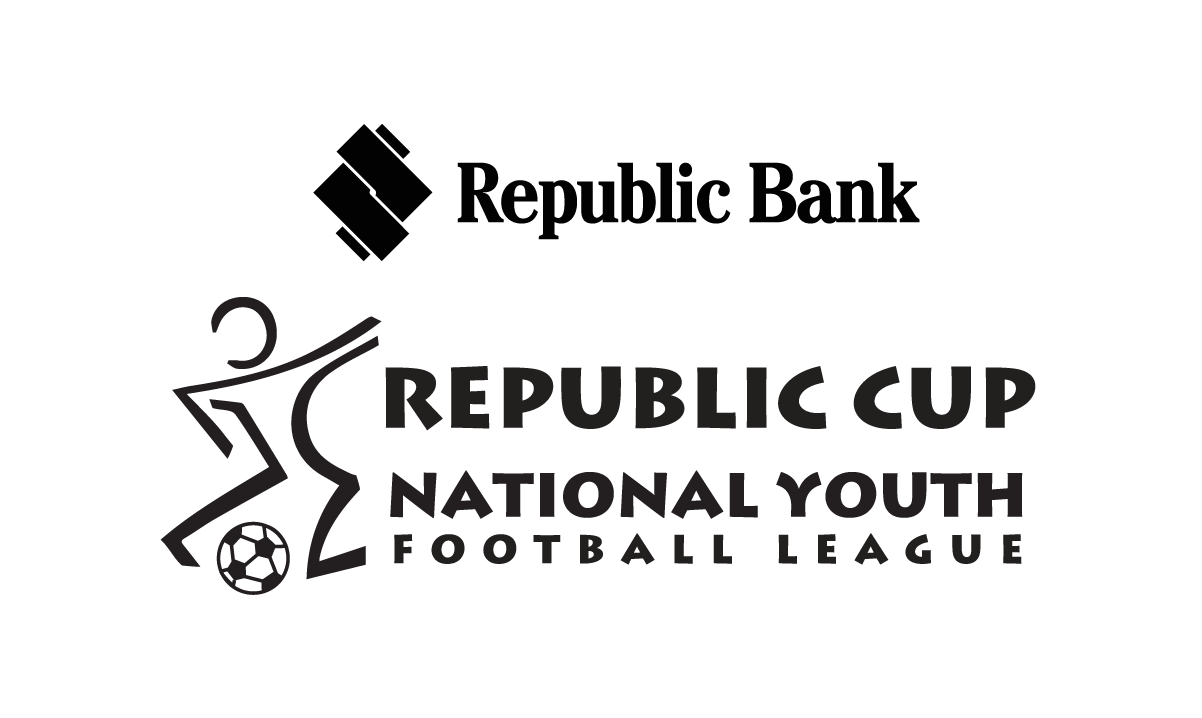 Caps continually threatened to break down the Chaguanas door but the team that had squeezed past Gasparillo Secondary 1-0 in the previous round, got to the interval without any more costly blunders.
The second half, though, was in complete contrast to the first. Almost immediately after the restart, a piece of brilliance by the electric Zidan Martin earned the equaliser for Chaguanas.
Channelling the magic of his French namesake, Martin danced past one defender down the left channel, hurdled another and, spotting a gap at the near post, placed the ball perfectly past the Carapichaima goalkeeper. Game on!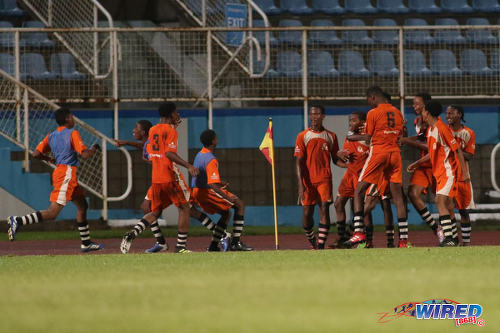 Caps continued their patient approach and interplay and would have regained the lead were it not for the feline reflexes of the resurgent David in goal.
Connecting with a ball that bobbled up from a cross, Elijah King glanced his header goalwards from two metres out; however, David produced a spectacular save to push the ball over the bar.
At the other end, it was Martin who would once again produce a decisive intervention.
His direct, pacy running earned his team a free kick at the edge of the area. And while he received treatment on the sidelines, his diminutive teammate Malik Robinson found a gap in Carapichaima's defensive wall and, unerringly exploited it to score the go-ahead goal for the unlikely title contenders.
Things then got worse for the defending champions when defender Andre St Clair was issued a second yellow card and given his marching orders for up-ending, you guessed it, Zidan.
In the driver's seat, Chaguanas now seemed content to simply see out the match.
However, Bourne was not prepared to accept that script and he showed his true mettle at the death.
With the title seemingly out of his team's grasp, Bourne lost all his markers to meet a left-side cross with an excellent glancing header at the near post. Carapichaima were back on terms.
And, with the momentum now on their side, Boyce's team rallied to finish the job in the subsequent shootout.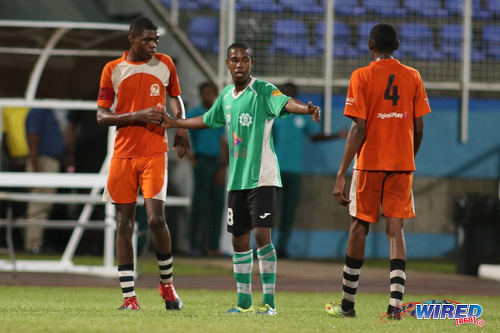 Sensing history, coach Boyce shuffled his goalkeepers, replacing Aarion St Clair with Aaron Best.
"We know we were coming down to penalties and we know the qualities of the two keepers that we have," Boyce explained in his post-match interview. "They are both good at penalties but St Clair was making a few errors during the game so we said let's put on the other one (Best) as its coming down closer to penalties and he could get the job done for us."
And it was Best who made the crucial difference in the eventual shootout.
After his teammates all recorded perfect kicks from the penalty spot, Best denied Chaguanas North's third kicker before sealing the title with a brilliant left-handed save off Darren McIntosh. In the process, Carapichaima became the first zonal champions of the 2017 Intercol competition.
They now have 10 days to prepare for their next assignment, which is the National Intercol semifinals. It promises to be no less a toughie than was today's since their opponents will be whichever of Naparima College and Shiva Boys Hindu College comes away victorious in Thursday's South Zone final.
Carapichaima East (3-4-3): 25.Aarion St Clair (1.Aaron Best); 22.Luke Charles, 4.Brandon St Clair, 5.Andre St Clair; 3.Symron Wiseman,12.Kirk Torres, 17.Mecaheil Alexander (C), 6.Josiah King; 20.Elijah King (10.Daniel Pascall), 8. Theophilus Bourne, 9.Kevon Williams
Unused Substitutes:7.Yohance Brereton, 15.Jeremy Lara, 16.Liju James, 18.Akiel Vesprey, 23.Ivan Dos Santos
Coach: Randolph Boyce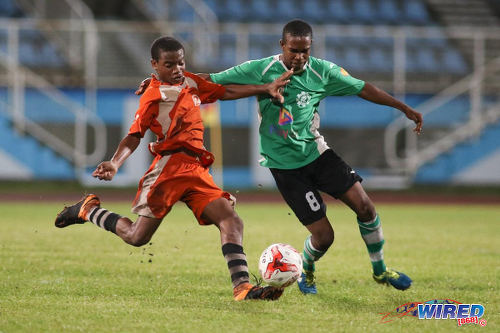 Chaguanas North (5-4-1): 2.Jon-Pierre David; 4.Micah Howard, 12.Darren Mc Intosh, 6.Erin Steeple, 21.Drei Guisseppi, 13.Annaletus Raphael; 3.Shay Wiltshire, 7.Malik Robinson, 10.Isaiah Samuel, 17.Zidan Martin (15.Roberto Lambert); 20.Emmanuel Corriea
Unused Substitutes: 9.Leevan David, 11.Anderson Gibson, 14.Josiah Bobb, 22.Syrron De La Rosa, Hassn Habib
Coach: Germaine Raymond
Wired868 Man-of-the-Match: Zidan Martin
Coca Cola Central Intercol finals
(Monday 20 November)
Carapichaima East 2 (Josiah King 19, Theophilus Bourne 90), Chaguanas North 2 (Zidan Martin 49, Malik Robinson 76), Central Zone finals at Ato Boldon Stadium;
*—Carapichaima East won 4-2 via kicks from the penalty spot.
Upcoming fixtures
(Tuesday 21 November)
St Mary's College v St Anthony's College, North Zone finals, 3.30pm, Hasely Crawford Stadium;
Signal Hill v Speyside High, Tobago Zone finals, TBA;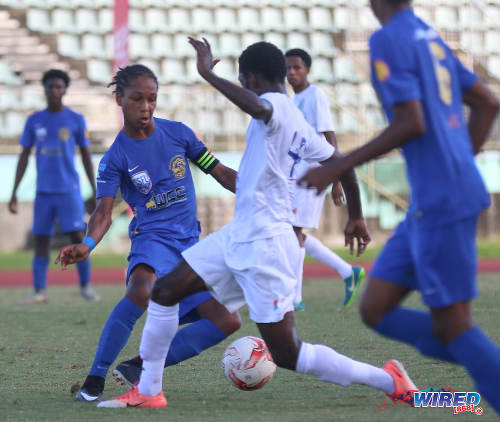 (Wednesday 22 November)
San Juan North v Valencia Secondary, East Zone finals, 3.30pm, Larry Gomes Stadium;
(Thursday 23 November)
Naparima College v Shiva Boys HC, South Zone finals, 3.30pm, Mannie Ramjohn Stadium;
(Monday 27 November)
Tobago v St Mary's/St Anthony's, National quarterfinals, TBA;
(Thursday 30 November)
San Juan/Valencia v Tobago/North, 3.30pm, National semifinals, Ato Boldon Stadium;
Naparima/Shiva Boys v Carapichaima East, 5.30pm, National semifinals, Ato Boldon Stadium;
South v Central, National Girls Semifinals, TBA;
East v North/Tobago, National Girls Semifinals, TBA;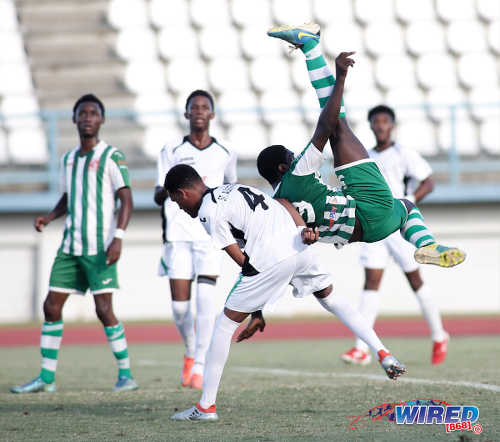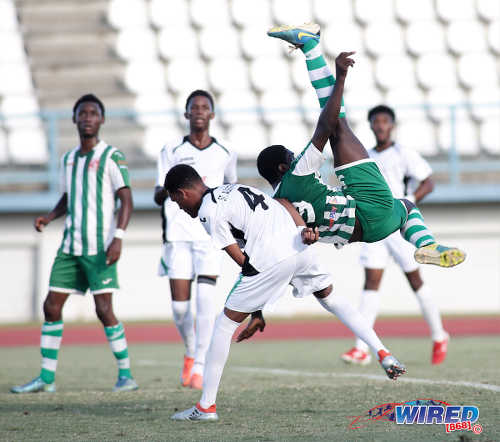 (Monday 4 December)
National Girls Intercol finals, 3pm, Ato Boldon Stadium;
National Boys Intercol Finals, 5pm, Ato Boldon Stadium.