Carapichaima East Secondary will defend their Coca Cola Intercol Central Zone trophy in the 2017 finals next Monday, as the "Caps" cruised through the semifinal stage today with a 5-0 win over Presentation College (Chaguanas) at the Ato Boldon Stadium in Couva.
Caps will square off against Chaguanas North Secondary at the same venue next week after the latter school edged Gasparillo Secondary 1-0 in the opening game of today's semifinal double-header.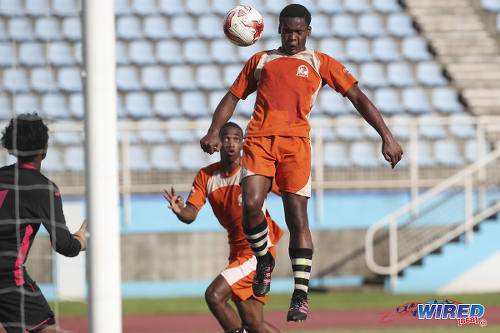 Zidan Martin got the decisive item for Chaguanas North, who recently parted ways with head coach and Women Soca Warriors icon Ahkeela Mollon. It was an unhappy end for Mollon, who led the school to the Central Zone Championship title this season and just missed out on promotion to the Premier Division.
A new coach is likely to be hired next year but today, in Mollon's absence, Chaguanas North teacher and team manager Germaine Raymond doubled up as coach.
"We had some differences and we couldn't see eye-to-eye," Raymond told Wired868, "so we decided to part ways."

It is not the end of the road for Chaguanas North in the 2017 competition just yet, though, as the "Orange Boys" enjoyed a cold plate of revenge while booking their place in the zonal Intercol final.
"We looked forward to this game because last year Gasparillo beat us 4-0 at this same stage of the competition," said Raymond. "So for the boys, it was payback; even though we would have preferred to win by a larger result."
There can be no illusions about the task ahead of Chaguanas North. After all, they are coming up against a team that beat Shiva Boys Hindu College and St Anthony's College en route to a respectable sixth place finish in the recently concluded Premier Division season.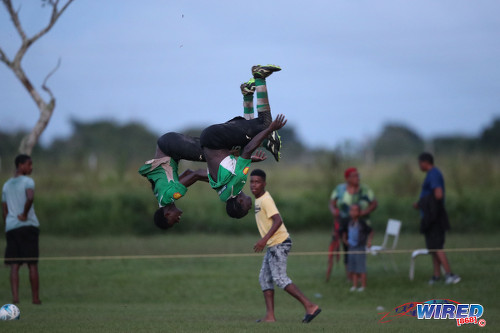 "Last year, [Carapichaima East] beat us convincingly 7-0 and 6-0," said Raymond. "So we have those wounds going in to the final…"
Judging from this evening's affairs, Caps have not lost their hunger for lopsided scorelines either.
Carapichaima led 4-0 at the half and Presentation might thank their lucky stars that the top-flight school only bothered to make one addition to the score summary after the break. Talented winger Theophilus Bourne completed his hat-trick in the 68th minute,  dancing around an opponent before belting past goalkeeper Darius Gopaul and into the top right-hand corner.
Presentation coach Kurt Cruickshank conceded that his boys had met a superior outfit and he could not have asked for much more from them.
"We did a lot of work [in the build-up to the semi-final] knowing who we were playing and with the understanding that they are a Premiership team," said Cruickshank. "But [Presentation] never got to the pace of the game [and] just didn't come up to scratch. But I am still proud of them. The challenge [was just too much]."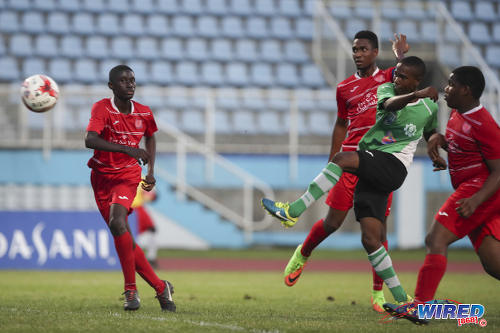 A fluent passing team at their best, Carapichaima, who employed a 3-4-3 formation, pinned Presentation back for long periods as they moved the ball around and constantly probed for openings.
More often than not, captain Mecaheil Alexander was the instigator from central midfield while Bourne, who popped up on either side of the opposing central defensive pair, was the punisher.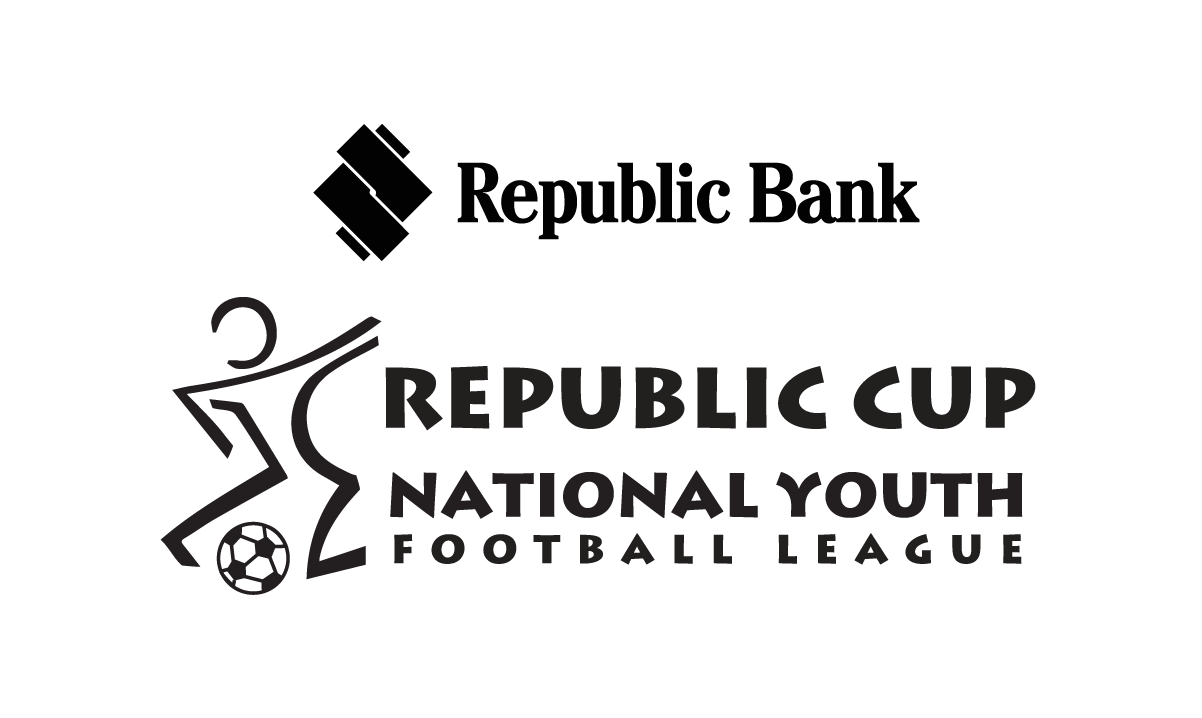 It was far from flawless as concentration did stray at times but the scoreline did not flatter Carapichaima in the end.
"We played a little slower than how we usually play when we are competing in the Prem," said Carapichaima coach Randolph Boyce. "But we had a good game in terms of keeping [and] moving the ball and scoring our chances. We didn't underestimate the opposition because they played a good defensive game [by] compacting their team defensively.
"So it took some patience to break them down. But all in all, we got the victory and we look to see what the next step is."
The season has been a mixed bag for Caps, who rattled the big boys only to lose at home to strugglers like Signal Hill Secondary and St Benedict's College. But the Intercol means a final chance at glory.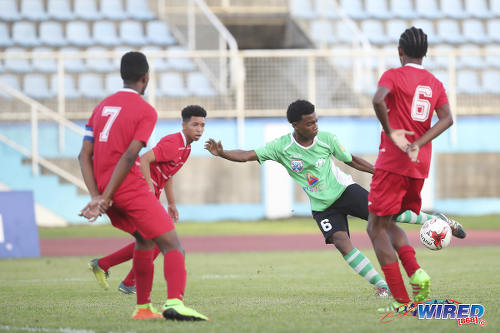 "We think for a newly promoted team, finishing mid-table was a lot higher than what many people looking from the outside expected from us," said Boyce. "Now they know what Caps bring to the Premier Division, [which is] quality, composed football."
It was all too much for Presentation (Chaguanas).
"We haven't played a team like this whole season," said Cruickshank. "We haven't been exposed to this kind of football so it was kinda difficult for us to match up.
"From here on, our younger players have some Under-16 games still to play. But for our older boys, they will be looking towards [inter-class competition] next week, which is really serious stuff in the school.
"And, of course, they go back to studies because many of our boys in [Form] Six two are future doctors and stuff."
Carapichaima East's attention will remain fixed on the football field for the foreseeable future as they look to defend their crown and then hunt another big scalp or two.
"The Intercol is a tricky tournament but we are here to compete and push all the so-called big-name teams," said Boyce. "Caps is here to play football and we are not afraid of anyone. We respect everyone but we are here to push down to the end and we want to reach the final."
Standing in their way at present are Chaguanas North.
(Teams)
Carapichaima East (3-4-3): 25.Aaron St Clair (GK); 4.Brandon St Clair, 5.Andre St Clair, 22.Luke Charles, 3.Symron Wiseman, 12.Kirk Torres, 17.Mecaheil Alexander (captain), 9.Kevon Williams (7.Yohance Brereton 77), 8.Theophilus Bourne (15.Jeremy Lara 83), 10.Daniel Pascal (23.Ivan Dos Santos 61), 6.Josiah King,
Unused substitutes: 2.Colin Wheeler, 16.Liju James, 18.Akeil Vesprey, 20.Elijah King.
Coach: Randolph Boyce
Presentation (Chaguanas) (4-3-3): 1.Darius Gopaul (GK); 5.Veron Aqui, 6.Myles McEachrane, 7.Frantz Abdullah, 2.Hakeem Davis; 16.Antonio Roberts (20.Matthias Sudwah 80), 23.Rajean Morris, 14.Christian Singh (21.Randy Jawahir 66); 11.Nathaniel Ferret, 24.Andrew Fernandes (10.Joshua Bobb 55), 22.Kemuel Hagley.
Unused substitutes: 17.Stephan Allong, 16.Jonathan McEachrane, 15.Nathaniel Benny, 19.Shemar Maundy.
Coach: Kurt Cruickshank
Referee: Joel Cox
Man-of-the-Match: Theophilus Bourne (Carapichaima East)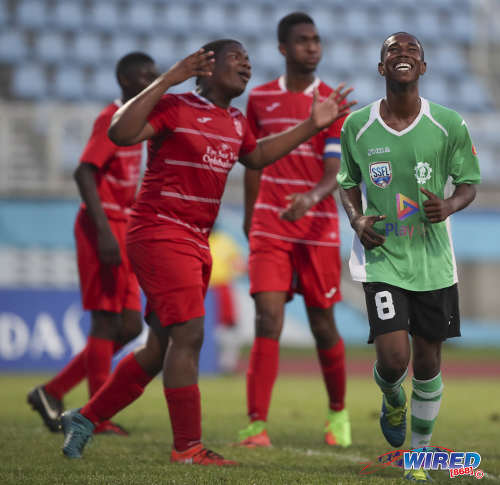 Today's Coca Cola Intercol results
(Wednesday 15 November)
Chaguanas North 1 (Zidan Martin), Gasparillo Secondary 0 at Ato Boldon Stadium;
Carapichaima East 5 (Theophilus Bourne 25, 39, 68, Kevon Williams 28, Daniel Pascal 43 pen), Presentation (Chaguanas) 0 at Ato Boldon Stadium.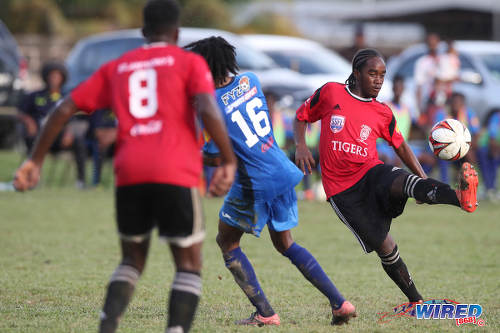 Upcoming Intercol fixtures
(Thursday 16 November)
Valencia High v Trinity College East, 1.30pm, East semis, Larry Gomes Stadium;
San Juan North v St Augustine, 3.30pm, East semis, Larry Gomes Stadium;
Bishop's High School v Signal Hill, 3pm, Tobago semis, Plymouth;
Goodwood Secondary v Speyside High, 5pm, Tobago semis, Plymouth;
St Mary's College v Fatima College, North semis, 3.30pm, Hasely Crawford Stadium;
QRC v St Anthony's College, North semis, 3.30pm, St Mary's College.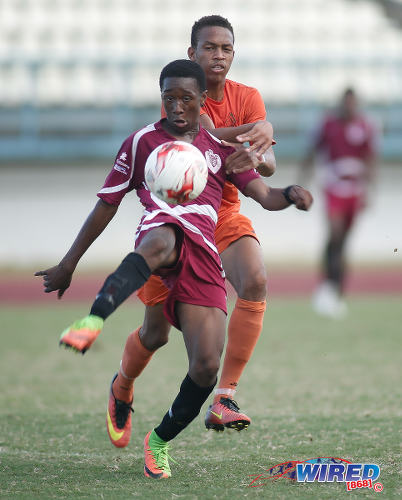 (Friday 17 November)
St Benedict's College v Naparima College, 1.30pm, South semis, Mannie Ramjohn Stadium;
Shiva Boys HC v Presentation (San F'do), 3.30pm, South semis, Mannie Ramjohn Stadium;
(Monday 20 November)
Carapichaima East v Chaguanas North, Central Zone finals, 4pm, Ato Boldon Stadium;
(Tuesday 21 November)
St Mary's/Fatima v QRC/St Anthony's, North Zone finals, 3.30pm, Hasely Crawford Stadium;
Tobago Zone finals, TBA;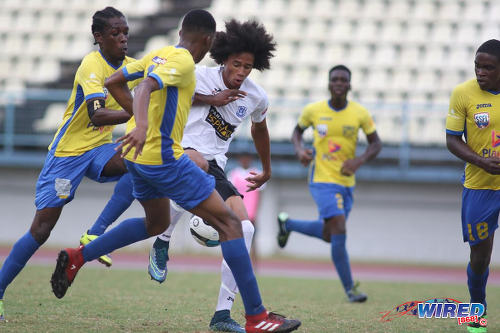 (Wednesday 22 November)
East Zone finals, 5pm, Marvin Lee Stadium;
(Thursday 23 November)
South Zone finals, 3.30pm, Mannie Ramjohn Stadium;
(Monday 27 November)
Tobago v North, National quarterfinals, TBA;
(Thursday 30 November)
East v Tobago/North, 3.30pm, National semifinals, Ato Boldon Stadium;
South v Central, 5.30pm, National semifinals, Ato Boldon Stadium;
South v Central, National Girls Semifinals, TBA;
East v North/Tobago, National Girls Semifinals, TBA;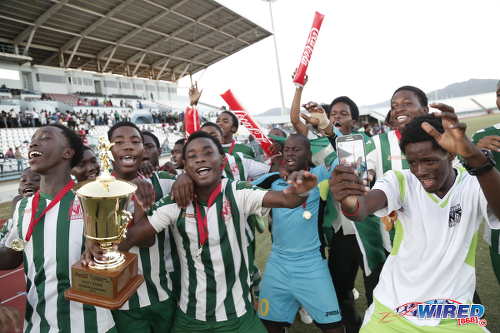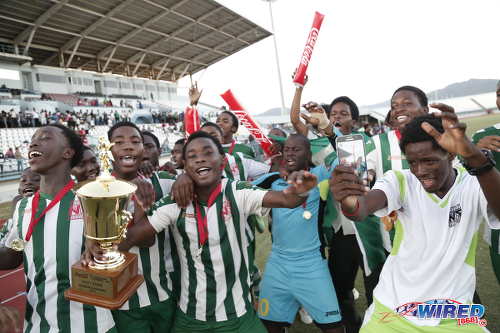 (Monday 4 December)
National Girls Intercol finals, 3pm, Ato Boldon Stadium;
National Boys Intercol Finals, 5pm, Ato Boldon Stadium.