Trinidad and Tobago Men's National Senior Team coach Dennis Lawrence lauded the character of his team after they overturned a two-goal deficit to hold Grenada 2-2 in last night's international friendly at the Ato Boldon Stadium in Couva.
Several times prior to yesterday's game, Lawrence had warned the media that no Caribbean opponents will be pushovers for his charges, even though the Soca Warriors were the only regional team to make it to the final round of CONCACAF's qualification series for the 2018 World Cup and are ranked 74 places higher than the 157th-placed Grenada.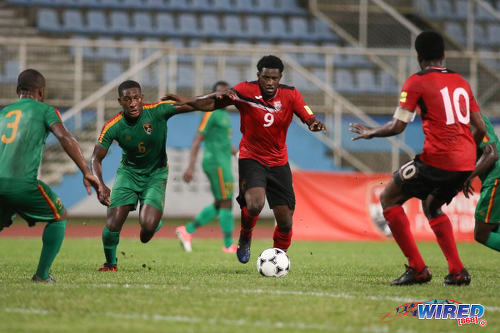 And with only two minutes of regular time remaining in the encounter, it looked as though the "Spice Islanders," then leading the Warriors 2-0, were the ones coming off an upset victory over the USA in World Cup Qualifying last month.
However, the hosts contrived to spare themselves the blushes in the dying moments of the game, earning a 2-2 draw on the back of neatly taken goals by substitute Jamille Boatswain and stand-in captain Kevin Molino. It was a sweet end to what could have been a bitter night for Trinidad and Tobago supporters.
"I want to compliment the players for the character they showed to get back into the game," Lawrence told the assembled media. "I thought Grenada were very well organised and they made it extremely difficult for us and they worked extremely hard."

"I think we had to dig deep tonight because these games are never easy. Grenada is one of the countries in the Caribbean where you can see the progress they are trying to make," Lawrence continued. "They are trying to build on something so I think it was a very good test for us tonight."
Lawrence felt that, despite being erratic with their passes at times, his team had had control of the contest before Shandon Baptiste's opener.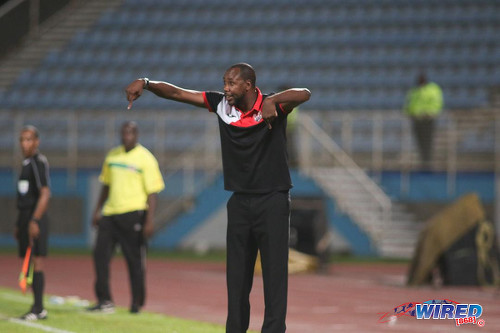 "In the first half, I thought we did that quite well," said the former World Cup 2006 defender, who was always mindful of Grenada's pace on the counter-attack. "We were trying to manage the game and take control of the game and be patient with the ball.
"What I think we did in the second half was that we allowed ourselves to be exposed. […] At half-time, we spoke about the counter-attack by Grenada, which we had to be very careful of. Obviously, we conceded from it so that means the information didn't stick."
In retrospect, Lawrence may not have had the best midfield duo to implement his would-be possession-based game because central midfielders Kevan George and Jared London never looked convincing on the ball. George, a disrupter in midfield, was perhaps guilty of taking too long in possession while London made quite a few errant passes.
"As I said before, it's not an easy thing when you've got eleven bodies behind the ball," Lawrence said. "A perfect example is what happened to us in Mexico because that's what top teams do. They keep possession, they keep probing until they find the avenue they are looking for."
The Warriors may have been looking for an inspirational figure to galvanise them with some incisiveness, though. And while there was no net-bursting thunderbolt from W Connection defender Alvin Jones last night, fellow defender Curtis "Boyo" Gonzales provided the much-needed lift with two lovely passes from deep to set up both of the Warriors' eleventh-hour items.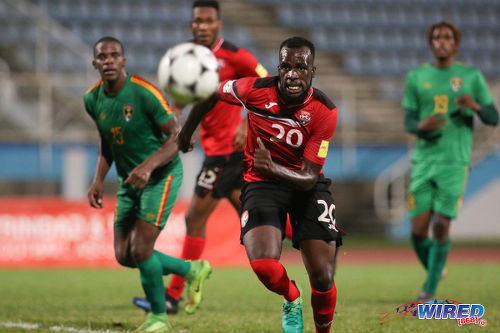 "Just give the ball to Boyo, nah, man!" one spectator shouted, his voice piercing the airwaves like a bullet.
After Boatswain's clinical finish from a tight angle in the 88th minute, stand-in skipper Molino was certainly gleeful to pounce on Boyo's stoppage time through-ball. The Minnesota United playmaker displayed some aplomb in guiding his left-footer past opposing captain Jason Belfon.
For a team which had flown into Piarco mere hours before the start of the clash, Belfon's side packed a better-than-decent punch. Grenada coach Anthony Modeste told Wired868 that his squad was supposed to be in Trinidad by Friday night. However, a strike by LIAT workers had forced them to overnight in Grenada and they subsequently arrived in Trinidad around 4pm yesterday.
By midday today, Modeste expects his contingent to be flying back to their homeland. And the return home could have been a whole lot merrier for T&T neighbours to the North if substitute Kwazim Theodore had been able to steer his 84th minute right-footed shot on target after springing the hosts' offside trap from a set piece.
"We had a difficult two days and I must give high marks to the team. I thought we did extremely well, given the situation," Modeste said. "We are disappointed with the draw. But, with that said, we are extremely happy with the performance and display of the team."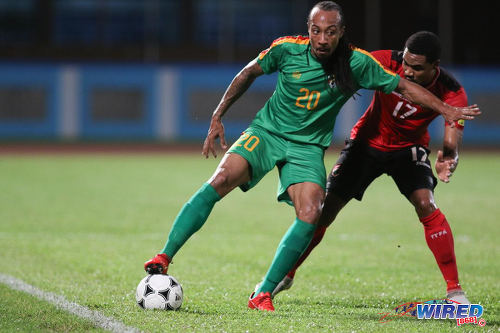 Modeste explained that his team had roughly an hour to eat and to prepare themselves once they had arrived at their Trinidad hotel. However, during the forced delay in Grenada, he revealed, the Spice Men were already sharpening their chops for a Trinidad and Tobago meal.
"For some reason, whenever Grenada plays Jamaica or Trinidad and Tobago, our wings go up," Modeste said.  "We are always confident we can get a result. […] I told the players whenever we go to play Jamaica or T&T, we have a different vibe, a different team.
"Although we had our problems, the players were very focused because they were all saying that we are going to win this game."
The Grenadians now want to use this result as a stepping-stone to bigger and better things.
"It's a great result going forward," Modeste explained. "We are in the rebuilding stage more or less and we have been feeling out players in the national games we have played and we are looking for the right blend."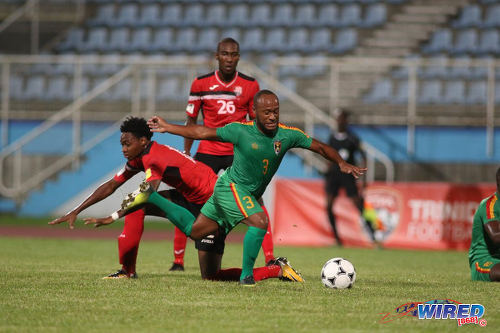 Back in April, the Warriors' last meeting with Grenada had ended with a similar 2-2 scoreline and Lawrence suggested that his team had to play the patience game yesterday because, as he saw it, Grenada were solid at the back.
Definitely, Grenada midfielder Shandon Baptiste did a good job of shielding the backline too, and his opening item was reward for the bullish and on the whole excellent work he did in the midfield to try and contain the fleet-footed, skilful Molino.
At the start of the CONCACAF Hex campaign, the talented midfielder had divided public opinion after being given an internal suspension by then coach Stephen Hart for breaking camp to party. Now, bygones seem to be bygones.
"Me [sic] and the coach talked and he thinks I'm one of the more senior players on the team and I should lead by example," said Molino, who showed a decent understanding with striker Akeem Roach and even pinged a close-range effort off the bar near the hour mark before getting the eventual game leveller.
"So I took up the opportunity to captain the team and I think I led well but I'm disappointed we didn't get a win.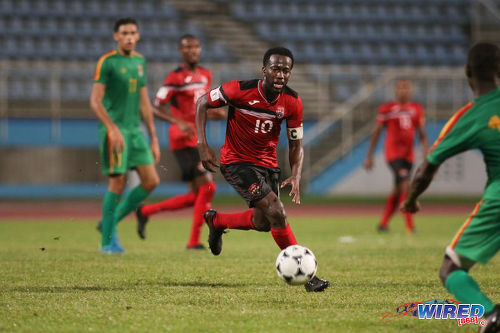 "I think you can't fault the effort we had together as a team. I'm disappointed we didn't get the result but it's a learning process."
Both skipper and coach are intent on righting the wrongs that surfaced in last night's performance and Lawrence suggested that the starting team to face Guyana on Tuesday will see wholesale changes.
"The idea is to use the entire squad for the two games, which we are going to do," Lawrence said. "We also wanted to leave players on the pitch for as long as possible because mentally I had to push the players as well."
The Grenadian performance last night may have encouraged the Warriors' next opponents, Guyana. With Morvant Caledonia United's Sheldon Holder and former Joe Public stand-out Gregory "Jackie Chan" Richardson in their ranks, the "Golden Jaguars" will look to spring another surprise.
Local fans will not have forgotten how, under the astute management of current Trinidad and Tobago Women's team coach Jamaal Shabazz, famously knocked the Soca Warriors out of contention for the 2014 World Cup in 2011.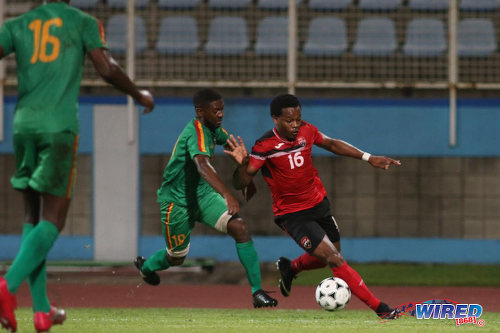 Lawrence and the Trinidad and Tobago public, however, are unlikely to be too interested in any stunts from Richardson and company once action commences at the Ato Boldon Stadium venue from 7.30pm on Tuesday.
"I think it's a great place to start [following the Hex]," Lawrence offered, as a final judgement on yesterday's game. "So now, we move on to Guyana. And hopefully we can improve, not only with the performance but also the result."