"We are coming off a hard loss against Carapichaima [East]," Shiva Boys Hindu College head coach Hayden Ryan told Wired868. "The guys are mentally beaten [right now]… They were not at 100 today but we still pulled off a victory."
A late goal from 'super sub' Tyrell "Sexyman" Baptiste was the difference at the Morne Diablo Recreation Ground this evening as Shiva Boys overcame stubborn guests, St Mary's College, 1-0 in their penultimate 2017 Secondary Schools Football League (SSFL) Premier Division fixture.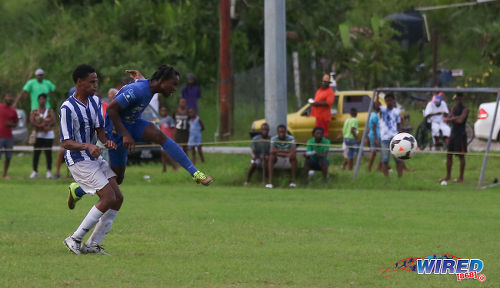 The result pushed the "Penal Princes" to fourth in the standings while CIC stayed in ninth place, well clear of the relegation drama.
Of course, the biggest issue for Shiva Boys these days is that their results seem to be written in pencil—always ready to be erased as the SSFL boardroom hears one complaint after another about their playing squad.
Should Fatima College's protest against the registration of 19-year-old midfielder Kierron Mason prove successful, Shiva Boys would immediately lose 13 points and plunge to 12th in the standings—just one point clear of relegation.

If so, Sexyman might just have preserved his team's place in next season's Premier Division.
Shiva Boys principal Dexter Sakal admitted that, of late, there has been much tension and anxiety at the Penal school.
Sakal and team manager Sheldon Maharaj share the administrative responsibilities for the outfit and, although there might be mitigating circumstances, they got it wrong with Mason—as they failed to get the appropriate clearance for the former Trinidad and Tobago National Under-20 Team player until midway through the season.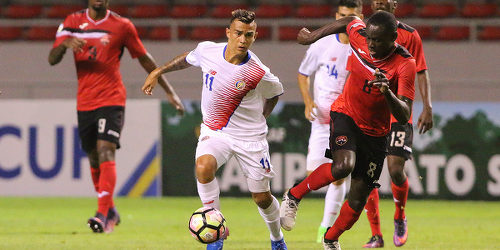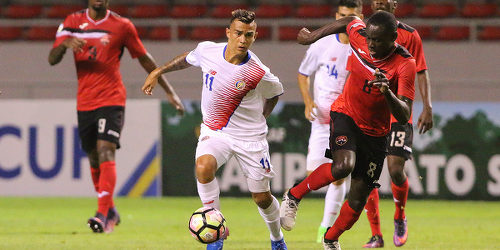 "I wouldn't make [any] excuse for losing on the field but I know the boys look at the standings and sometimes we were unsure of even where we [are]," said Sakal. "It put a lot of uncertainty into the boys and they started to lose a lot of confidence in the management. I had told them things will be alright and things did not turn out alright.
"They normally have a lot of faith in me and I think this [shook] it up a bit…"
Elsewhere in the Premier Division, Fatima edged Trinity College East 2-1 in a mid-table clash while St Augustine Secondary assured their survival in the top flight with a come-from-behind 2-1 win over Trinity College Moka. Moka now need results away to Signal Hill Secondary and Naparima College to avoid demotion to the zonal divisions. Worth noting is that Moka are on a five-game winless streak at present.
It says plenty that, if things go against them in the boardroom, Shiva Boys would be just one point ahead of Moka—despite losing only two games on the field this season.
"This season started really well but then it didn't go well," said Sakal. "We really stumbled this season [with] our off-field challenges, which were more than our on-field challenges…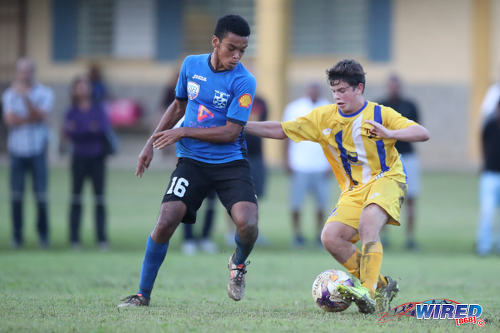 "At the beginning of the season, I said we have such a good team that the only ones who can beat us is ourselves and it turned out so true—not for the boys but the management, who made a couple of errors [that] cost us dearly."
At times this afternoon, Shiva Boys looked a shadow of themselves—as though the players were wallowing in self-pity on the field.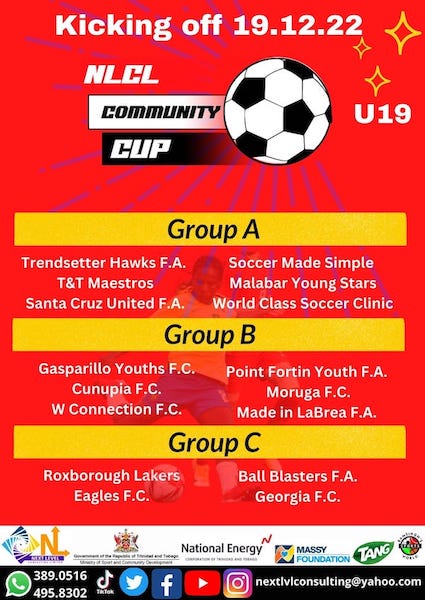 "Shiva Boys, allyuh tired?!" asked one supporter. "Or allyuh tired win?!?"
Neither option was really acceptable to the school's vociferous and colourful band of supporters.
"If Fatima could hit [St Mary's] five, allyuh supposed to hit them 11!" shouted another fan.
Winger Quinn Rodney seemed to have similar ideas. In the sixth minute, he forced St Mary's custodian Regaleo Holder into a sharp save before he struck the bar with a header from the resulting corner kick by Ronaldo Edwards.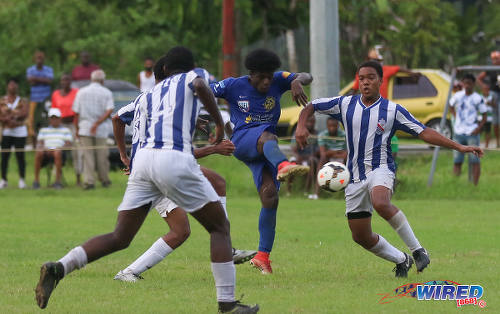 St Mary's, though, put the nervy start behind them and soon rose to the challenge. The Morne Diablo ground might seem so very far from Port-of- Spain but the surface is better and the rope around the field looked to be about ten feet away from the sidelines, which ensured plenty room for the linesmen and minimised any chance a supporter had to so much as glare at a player.
In short, it is a far more accommodating venue for visitors than the Lachoos Road "Dogpatch"—or, more formally, the David Williams Recreation Ground—that Shiva Boys were forced to abandon owing to safety concerns by the SSFL executive.
The "Dogpatch" is five minutes walk away from the school while the Morne Diablo ground is a half-hour's drive away.
It is one of several executive decisions that left the team from deep south feeling as though they were sinned against this season; and, although there was a good turnout today, few students made the trek to support their school.
Shiva Boys needed the help too. There were times in the first half that St Mary's midfielder Matthaeus Granger looked the most effective player on the field while flying winger Trevor Spicer often made opposing right-back Ronald Charles look as though he was standing in quicksand.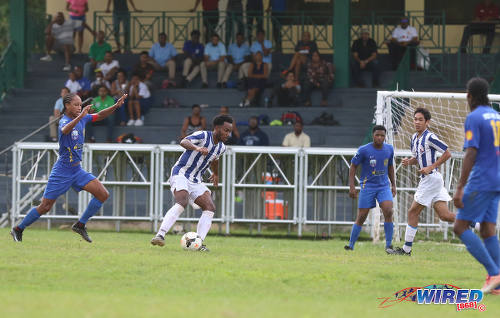 St Mary's captain Gabriel Nanton, a clever offensive midfielder with a fierce left-foot shot, was having a stinker, though.
"We played [Nanton] a bit higher up the park and I think he suffered for lack of space," said St Mary's coach Ryan Shim. "Yohannes [Richardson] was up against him and didn't give him much room. I don't think he won too many of those battles."
Indeed. Richardson—who was pushed into central midfield to cover for the ill Mason—bossed Nanton so emphatically that the latter player might have asked his permission to board the St Mary's bus after the game.
With Nanton a non-factor, Shiva Boys captain Judah Garcia and Tyrel "Pappy" Emmanuel combined to overrun Granger in central midfield and push the visitors farther and farther back into their own half of the field.
Not that Shiva Boys always seemed to know what they wanted to do with the ball, an odd observation for a team with such a gifted midfield trio.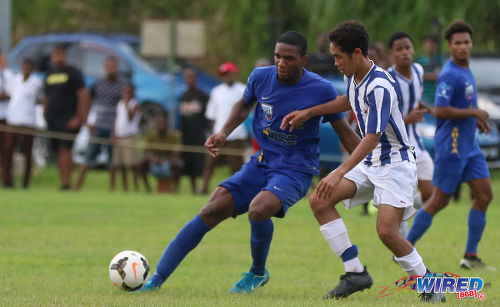 Emmanuel, haunted by injury, has not been himself this year and showed only fleeting glimpses of his ability.
And Garcia? The Shiva Boys captain can be as frustrating as he is fun to watch. His balance is remarkable—just call him the Shiva Buoy. With his eye-catching feints and dancing feet, Garcia seems capable of moving anywhere within the entire 360-degree circle in the blink of an eye.
But the problem is the talented playmaker doesn't spend enough time driving into areas that can hurt the opposition and sometimes comes off as a tad self-indulgent.
Upfront, nippy attacker Junior "Barry" Asson looked like a cardboard cut-out of himself.
On the sidelines, the debate was not about when the Shiva Boys stars would come good but who should make way to give someone else a chance. Pappy headed the poll with Rodney a surprise runner-up.
Ryan, as patient as Job with his more illustrious names, opted to replace Edwards instead. But what really mattered was who was entering the game.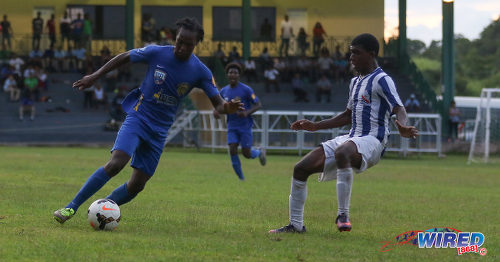 "I not calling him that," said one young male supporter.
"Who?" inquired another.
"Sexyman," replied the first supporter.
"Well, what is his name then?" came the retort.
"I don't know… But I'm not calling no man 'Sexyman'!" he insisted.
In these parts, though, that is a rare position. Sexyman seems to equal goals and just the sight of him gives a lift to supporters, which inevitably rubs off on the team.
It is hard to quantify what makes Sexyman so effective. His touch is not as clean as most of his attacking teammates while he lacks a trick and is not particularly powerful. But he is mobile and keen and can sniff a goal.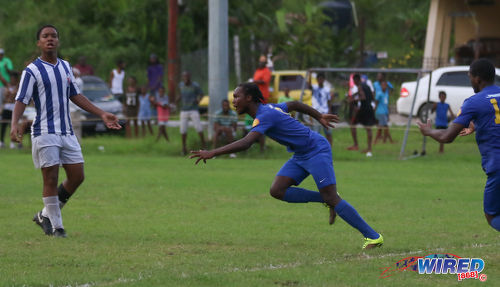 In the 79th minute, Richardson delivered an incisive diagonal ball into the penalty area and Sexyman cut across St Mary's right-back Jed Rigsby to take. One touch to control and the second—bang!—flew past Holder at his near post.
It was not easy, but he made it look so.
"Shiva is a very, very tough team," said Shim. "They have quality and strength all over the park so it was very difficult for us today. But I think my boys did well under the circumstances."
St Mary's play St Anthony's College next in a match that can decide the 2017 season; if St Anthony's win, they will be crowned Premier Division champions for the first time.
Last season, St Mary's—with no chance of relegation—played a reserve team for their final match and were massacred by Presentation College (San Fernando). Shim insisted there would be no repeat of that stunt this weekend.
"We don't want St Anthony's to come and celebrate a title on our grounds so we are going to try our best to stop that," said Shim. "St Anthony's boast of a lot of quality players so it will be difficult. But we will try our best."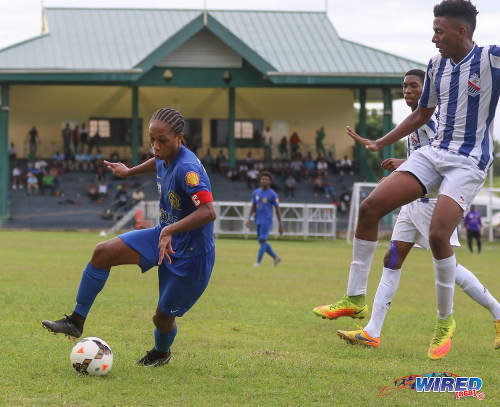 In Penal, Shiva Boys are just waiting on the SSFL Executive to make their final ruling—they hope!—so they can exhale and turn their sights towards the Coca Cola National Intercol competition.
"The administration this year is the worse I ever see," said one supporter, during the halftime break. "After this season, they have to ban all of them. Don't even let them go in a sports store because I don't want them to even touch a football!
"Let them watch it on tv!"
Ryan noted that even on SportsMax the defending champions don't seem to be in favour; Shiva Boys have not had a live game, he claimed, since their opener against Naparima College.
"We wasn't looking for the type of fight we get this year and where they bring the fight," said Ryan. "[…] But we will learn. We will learn."
Last week, Shiva Boys tried their hand in the boardroom too with a protest against 19-year-old Naparima College midfielder Rushawn Murphy, who is in his sixth year and third high school since sitting SEA—he previously attended East Mucurapo and then Malick Secondary—but is yet to take his CXC exam.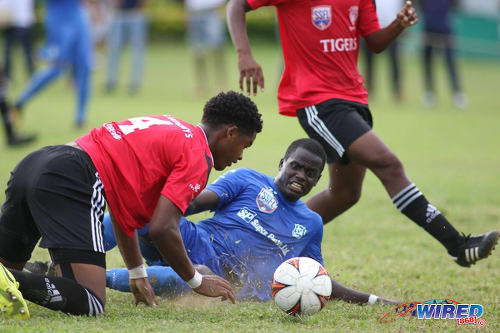 If the SSFL ruled against Naparima—and it is worth noting that 'Naps' manager Percy Samlalsingh was confident—the second-placed team might have been relegated but it would not have affected Shiva Boys' own points total.
This morning, Sakal withdrew their protest.
"I thought that it would have been pointless for me to continue the protest," he told Wired868. "I had nothing to benefit from it and it is a [fellow] south school… But it wasn't that alone.
"I know I had a very valid case but my boys were put through a lot of torture because of what was going on in the boardroom; boys play hard and sometimes there are bad fouls [during the game] and they say 'small thing' and shake each other's hands and go on.
"And I thought even if Naparima [hurt] me, I wouldn't go tit-for-tat. So I said let me leave that alone… My management team wasn't too happy [with my decision] but I decided to leave that and move on."
Emmanuel and Garcia will be back next season, according to Sakal, while Asson will also have another year if he can add to his two O' level passes and get into sixth form.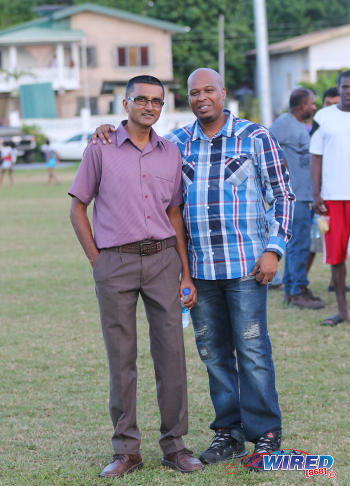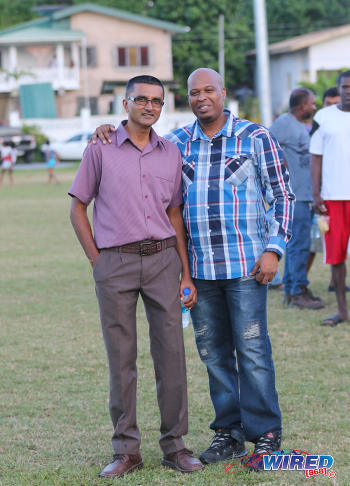 "After this football, he has to really work hard to get his subjects," said Sakal. "I feel if I have to teach him myself, I will do it [Laughs] because he is such a talent."
Richardson and Quinn are definitely in their last season and there should be a fresh look about Shiva Boys next year. But they aren't quite done with 2017 yet.
"The league is over but it will be good to win something else," said Ryan, "so we are going at something else."
Sakal was more specific.
"We really want to win the Intercol," he said. "We want to salvage some pride this year."
Whether the Shiva Boys players can recover their swagger in time is another story. Their pummelling from the SSFL boardroom might not be over yet either.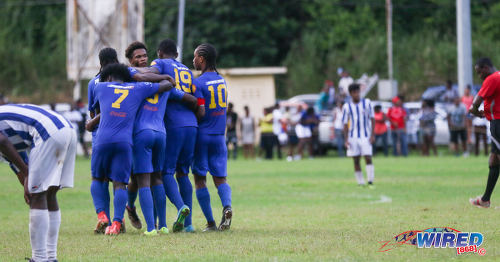 (Teams)
Shiva Boys Hindu College (4-1-2-3): 24.De-jon Blondell (GK); 32.Ronald Charles,16.Simeon De Bourgh, 3.Jabari Graham, 14.Matthew Beal; 19.Yohannes Richardson; 10.Judah Garcia (captain) (8.Jude Phillip 80), 6.Tyrel Emmanuel; 17.Ronaldo Edwards (9.Tyrell Baptiste 54), 11.Junior Asson, 7.Quinn Rodney.
Unused substitutes: 1.Jesse Aguilera (GK), 2.Atiba Lewis, 20.Tyrique Joseph, 21.Aaron Rodney, 23.Jeremy Williams.
Coach: Hayden Ryan
St Mary's College (4-2-3-1): 24.Regaleo Holder (GK); 26.Jed Rigsby, 21.Justin Gibbon, 4.Schileon Phillip, 12.Kevon Alonzo; 6.Justin Keith, 8.Matthaeus Granger; 7.Terran Winner, 11.Gabriel Nanton (captain) (10.Michel Poon-Angeron 77), 16.Tyrese Spicer (27.Devon Charles 70); 19.Trey La Motte (9.Justin Mohammed 81)
Unused substitutes: 1.Jordan Bidaisee (GK), 14.Elijah Bain Hares, 18.Kyle Carrington, 23.Brendon Lewis.
Coach: Ryan Shim
Referee: Cleavon Joseph
Wired868 Man-of-the-Match: Yohannes Richardson (Shiva Boys)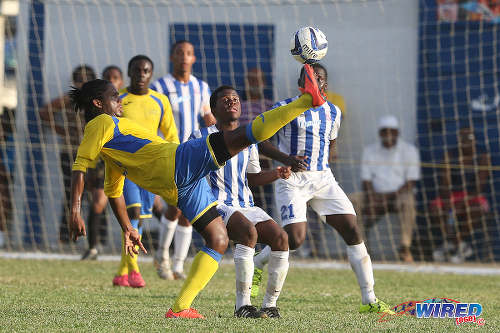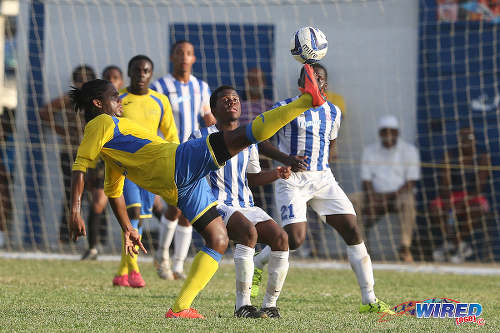 SSFL results
(Monday 30 October)
Shiva Boys HC 1 (Tyrell Baptiste 79), St Mary's College 0 at Morne Diablo;
Trinity College East 1, Fatima College 2 (Luke Boucaud, Zach Welch) at Trincity;
St Augustine 2 (Jeremiah Vidale 57, Zion Holder 70), Trinity College Moka 1 (Kesean St Rose 42) at St Augustine.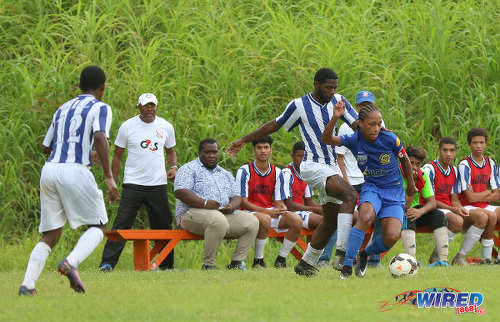 Upcoming fixtures
(Thursday 2 November)
Signal Hill v Trinity College Moka, 3.40pm, Canaan;
Presentation College v Trinity College East, 3.40pm, Mannie Ramjohn Stadium;
(Saturday 4 November)
Fatima College v Presentation College, 3.40pm, Fatima;
St Benedict's College v Shiva Boys HC, 3.40pm, Barrackpore;
St Mary's College v St Anthony's College, 3.40pm, St Mary's;
Naparima College v Trinity College Moka, 3.40pm, Mahaica Oval.
SSFL Standings
(Played-Won-Drew-Lost-Goals For-Goals Against-Points)
St Anthony's       13-9-3-1-42-20-30
Naparima            13-9-3-1-30-13-30
Presentation        12-8-2-2-28-14-26
Shiva Boys HC    13-8-1-4-30-18-25
San Juan N          14-6-6-2-35-16–24
Fatima                 13-7-1-5-19-18-22
Trinity East          13-5-3-5-22-15-18
Carapichaima E  14-5-3-5-23-21-18
St Mary's             13-4-4-5-27-27-16
St Augustine       14-5-1-8-26-32-16
QRC                     14-4-3-7-23-30-15
St Benedict's      13-3-4-6-19-27-13
Signal Hill           13-2-3-8-13-27-9
Trinity Moka        12-2-2-8-14-32-8
Speyside High     14-2-1-11-8–49–7