East Mucurapo Secondary today took a big step towards promotion to the Secondary Schools Football League (SSFL) Premier Division, defeating Valencia Secondary by a 1-0 margin at Fatima Grounds.
In a largely scrappy affair between the two Championship Big 5 opponents, a 21st-minute item from Mucurapo skipper Kevon Edwards was enough to give the hosts three points and propel them to the top of the standings.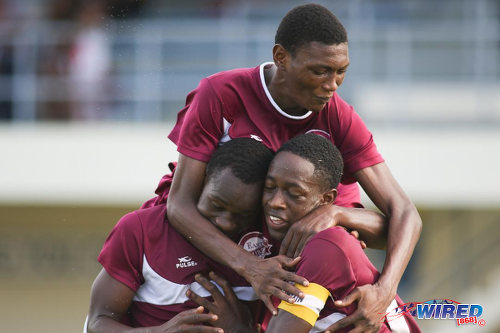 The top three teams in the Big 5 will be promoted to the Premier Division next season. Mucurapo currently lead the race with six points while Bishop's High School and Valencia follow with four points apiece.
In Marabella today, cellar-placed Moruga Secondary got their first point of the Big 5 playoffs as they eked out a 1-1 draw with the visiting Bishop's team on the Mannie Ramjohn Stadium training field.
Moruga and Chaguanas North bring up the rear with a point each. Chaguanas still have an outside chance of making it out of the Big 5 playoffs, as they host Mucurapo on Tuesday before heading to Moruga on Friday in a do-or-die encounter.

At Mucurapo Road, coach Dale Saunders was a pleased man as the hosts took a giant step towards reintroducing themselves to the SSFL big boys.
"I must give credit to the guys today because they gave their all," Saunders told Wired868. "It's a young bunch but they are following instructions and they are willing to learn and you are seeing the improvements."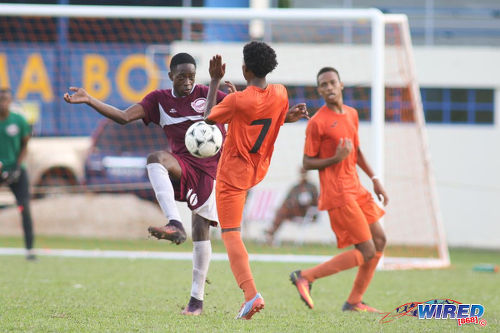 Last season, Mucurapo were relegated after a crippling point deduction for their use of an ineligible player. Now, Saunders, a two-time Pro League title winner as coach with Central FC, is looking to get back to the Promised Land.
After a decent start by Valencia—attacker Remy Butler forced Mucurapo custodian Joshua Davis forced into a fingertip save in the 14th minute—Mucurapo skipper Kevon Edwards settled a few nerves in the 21st minute, stabbing home a right-footer from close range following a dangerous Zion McLeod free kick.
"It was a little hard getting leadership after last season," Saunders said, "but we groomed Kevon and now he's scoring in every game."
Edwards' finish was one rare moment of quality in front of goal and the Mucurapo faithful may have had a calmer afternoon if attacker Jaheim Patrick had brought his scoring boots to Fatima Grounds today.
McLeod's left foot constantly unsettled Valencia goalkeeper Hezron D'Abreau and his defence today but his inviting crosses were repeatedly spurned—and Patrick was guilty of wastefulness on several occasions.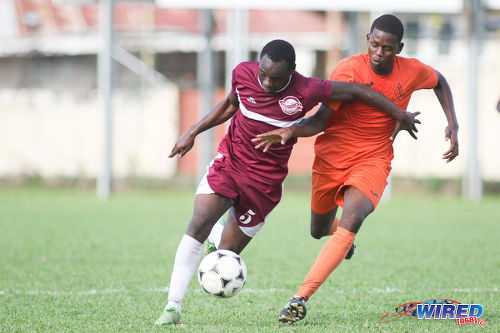 In the 24th minute, Patrick, unmarked at the back stick, inexplicably headed straight at a relieved D'Abreau. And, 10 minutes later, hevolleyed overbars from close range after a sweet move involving McLeod and his strike partner Kidane Lewis.
"Oh gosh, that man could throw away!" exclaimed an exasperated Mucurapo substitute.
While Patrick was wasteful on one end, Butler was extremely unlucky on the other where Davis used his fingertips to repel yet another effort from the Valencia attacker—who created the attempt himself by knocking the ball around an opposing defender before letting fly at the near post.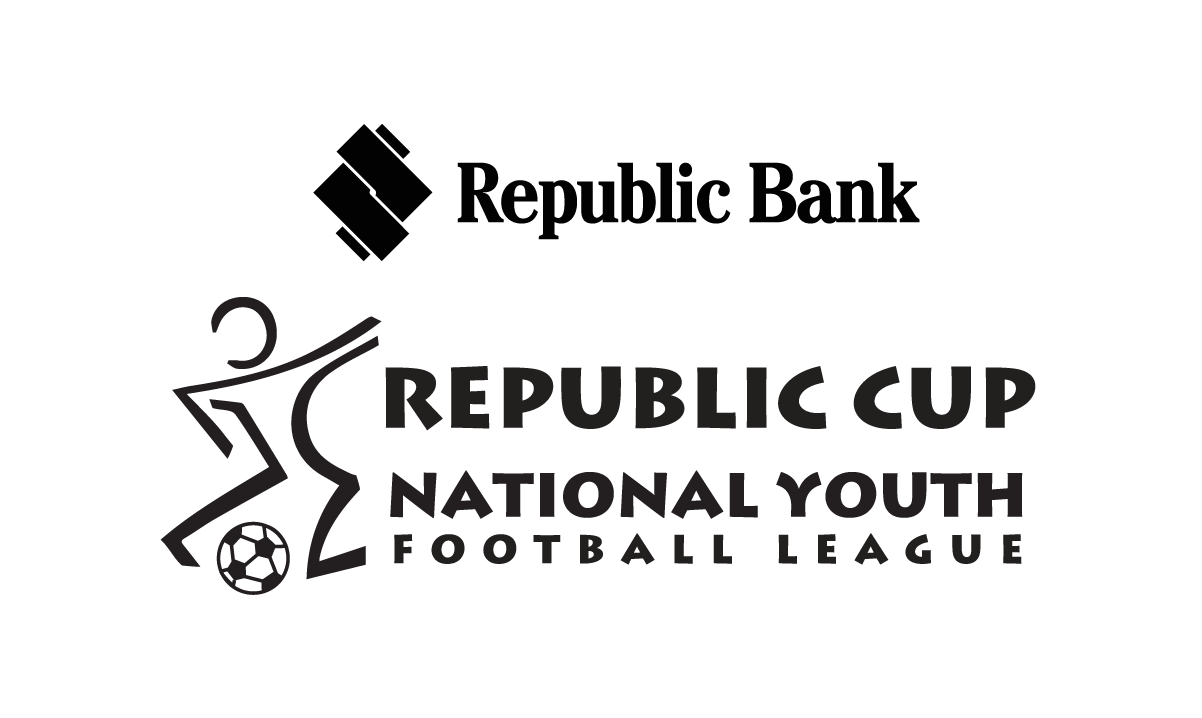 A poor clearance from D'Abreau almost saw Mucurapo double their lead and, this time, Valencia defender Jerome Arrindell put his family jewels on the line to stop a stiff drive by Lewis.
"Move over Valencia and let Compre pass!" the Mucurapo posse chanted from the pavilion.
By the second half, the visitors seemed to have heard that battle cry and complied. Or maybe coach Roland Clarke's charges were simply tired after a third game in six days.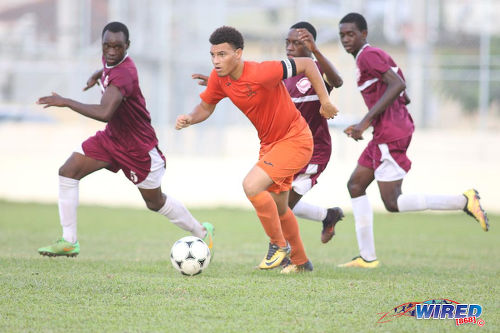 Butler's threat dissipated while Valencia skipper Daniel La Croix seemed to be battling the Mucurapo trio of Shakime Wickham, Elijah Joseph and opposing skipper Edwards all by himself.
Lewis and McLeod were still up to their old tricks for Mucurapo and, in the 56th minute, the latter sent a left-footed volley wide of the mark after Lewis pinged a beautiful diagonal pass behind Valencia right-back Kerron Kelly.
There was a late scare in the 88th minute when Davis and the Mucurapo defence seemed all at sea during a goalmouth scramble. Unfortunately for  Valencia, however, midfielder Andre Robinson  stabbed his effort straight at the goalkeeper.
The final whistle left Valencia needing a result on Tuesday when they host Bishop's at the Larry Gomes Stadium. A win will almost certainly prove enough to ensure Valencia's first ever appearance in the SSFL top flight but a draw will put Moruga completely out of the picture and might also prove to be just enough to stave off Chaguanas North.
For Saunders and company, they are nearly home; one point from their next two matches should seal the deal.
"At the end of the day, we always believe that winning is an attitude here," Saunders said. "Despite some of them being tired today after our game on Friday, they stuck it out and we got the important three points."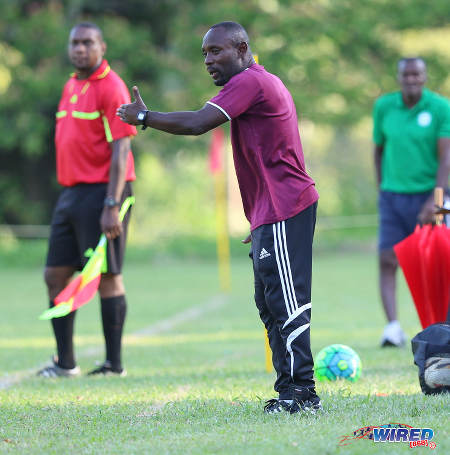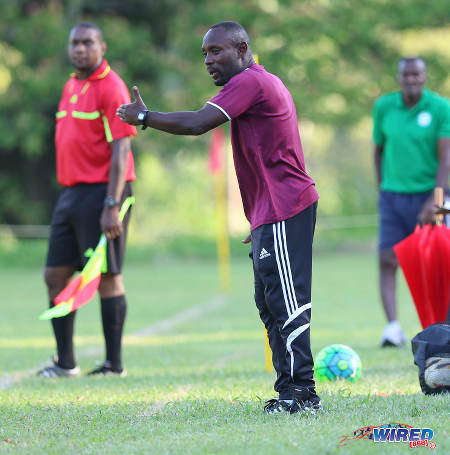 Mucurapo travel to Chaguanas on Tuesday afternoon. They will hope to return with a ticket booked for the 2018 Premier Division party.
(Teams)
East Mucurapo Secondary (4-2-3-1): 1.Joshua Davis (GK); 3.Diarra Fraser, 6.Rondell Roberts, 4.Shane Moses, 8.Aaron Roberts; 12.Elijah Joseph, 15.Shakime Wickham (14.Daniel David 75); 5.Jaheim Patrick (9.Jelani Ferary 64), 16.Kevon Edwards (captain), 11.Zion McLeod; 10.Kidane Lewis.
Unused Substitutes: 23.Jahmal Bowens (GK), 17.Gabriel Charles, 19.Hassanni Sulieman, 20.Omar Morgan.
Coach: Dale Saunders
Valencia Secondary (4-4-2): 1.Hezron D'Abreau (GK); 9.Kerron Kelly, 6.Jerome Arrindell, 4.Jacob Wilson, 3.Giovanni Lewis; 7.Andre Robinson, 8.Daniel La Croix (captain), 11.Kerdel De Verteuil, 17.Jeremy Adolphus (19.Akil Skeete 71); 14.Remy Butler, 10.Keegan Faria (2.Arkim Phillip 86).
Unused Substitutes: 5.Tyshad Ashton, 13.Kerwin De Verteuil, 15.Nathaniel De Silva, 16.Jaylon Mark, 22.Keiyon Henry.
Coach: Roland Clarke
Referee: Justin Koo
Wired868 Man-of-the-Match: Zion McLeod (East Mucurapo Secondary)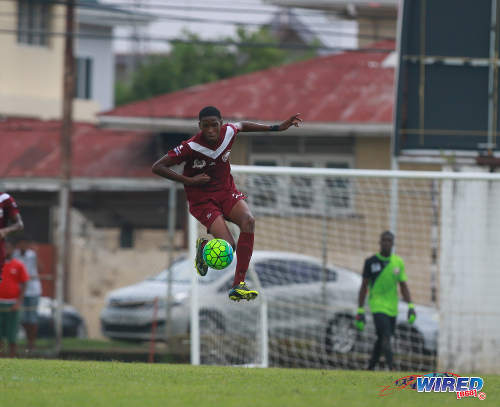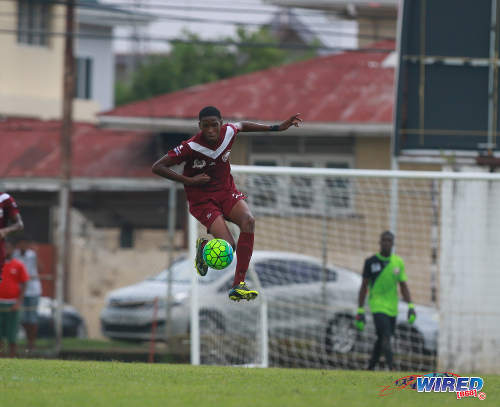 Championship Big 5
(Sunday 29 October)
Moruga Secondary 1 (Shakeem Joseph), Bishop's High School 1 (Christian Baumgartner) at Mannie Ramjohn Stadium training ground;
East Mucurapo Secondary 1 (Kevon Edwards 21), Valencia Secondary 0 at Fatima ground;
Chaguanas North on a bye.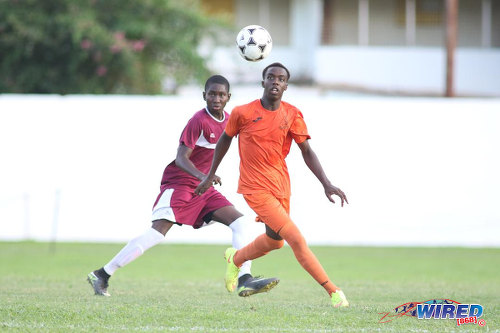 Upcoming matches
(Tuesday 31 October)
Valencia Secondary vs Bishop's High School, 3.30pm, Larry Gomes Stadium;
Chaguanas North vs East Mucurapo, 3.30pm, Ato Boldon Stadium;
Moruga Secondary on a bye
(Friday 3 November)
Moruga Secondary vs Chaguanas North, 3.30pm, Moruga;
Bishop's High School vs East Mucurapo Secondary, 3.30pm, Black Rock;
Valencia Secondary on a bye.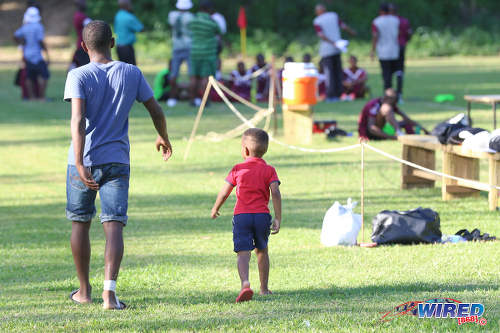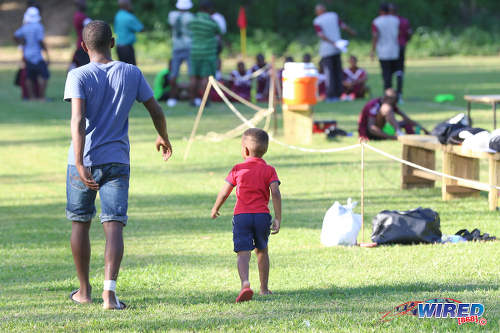 Big 5 Standings
(Played-Won-Drew-Lost-Goals For-Goals Against-Points)
East Mucurapo           2-2-0-0-3-0-6
Bishop's High School 2-1-1-0-3-1-4
Valencia Secondary    3-1-1-1-5-4-4
Chaguanas North       2-0-1-1-1-3-1
Moruga Secondary     3-0-1-2-3-7-1