At times it was scrappy and sluggish, at times it was riveting and, right at the very end, it nearly turned into a boxing match as three players were sent off.
But, at the final whistle today, St Anthony's College were able to eke out a 3-2 victory against San Juan North Secondary in Secondary Schools Football League (SSFL) Premier Division action and pull within two points of the leaders, Naparima College.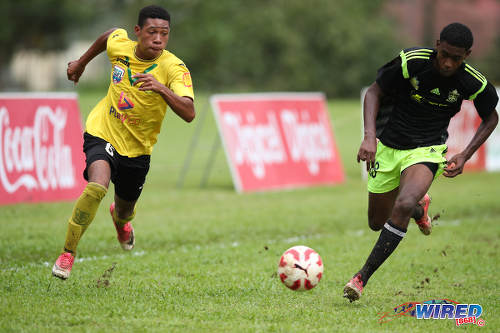 Elsewhere, with just a week and a half to go in the 2017 league season, Queen's Royal College (QRC) and St Benedict's College gave themselves an excellent chance of survival after vital wins.
St Benedict's secured all three points on the road although they endured a nervous finish, holding on for a 3-2-win despite being three goals ahead by the 85th minute. And the Royalians whipped Signal Hill Secondary 4-2 in St Clair to move out of the relegation zone.
QRC are 11th in the standings at present while Benedict's are just beneath them in 12th.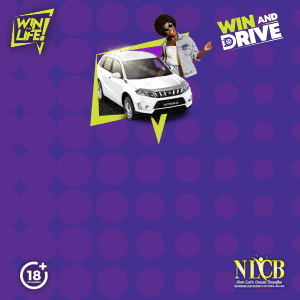 Today's SSFL's decision today to suspend Fyzabad Secondary means that just three more schools will be demoted from the top flight.
Speyside High, who have seven points and just two games left this season, sank to the bottom of the table after falling 3-0 at home to Carapichaima East Secondary. They are now odds-on to stay there and join the "Fyzo Tigers" on the Premier Division sidelines next year.
Signal Hill and Trinity Moka, who are currently 13th and 14th respectively, will be playing for all the marbles when they square off this Saturday from 3.40pm in Tobago.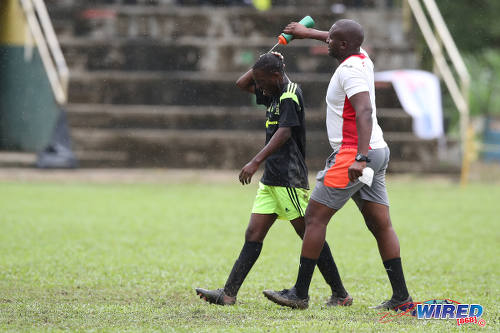 Today in Bourg Mulatresse, where San Juan North and St Anthony's squared off, the consequences of a defeat were not as dire but emotions still ran high.
A trip to "Book" is always a challenge for visiting teams as the San Juan fans are among the most raucous in the league and the playing surface takes some getting used to.
And so it proved once more today. Not for the first time, however, a touch of Che Benny magic earned the "Westmoorings Tigers" the vital three points in an almighty dogfight. The former National Under-17 midfielder had a hand in all three goals, his teasing free kicks creating the first two and his 63rd minute penalty proving to be the game winner.
"Given the climate, we knew how the game would have been," St Anthony's coach Ronald Daniel toldWired868, "and we adjusted to this. I think the boys gave a great performance and that's why we came out victorious.
"No matter what, it's always a tough time coming up to San Juan in any game you have to play because they have the backing of the crowd which [has] a big influence on the game."
Daniel's gritty Tigers never trailed in the contest and took a 2-1 lead into the half, courtesy goals by ex-National Under-17 striker Jaydon Prowell and defender Nkosi Salandy.
And when, just past the hour mark, referee Hasely Collette spotted a hand ball in the San Juan area, many felt Benny's spot kick would take the bite out of San Juan.
However, rugged defender Kyle Thomas gave San Juan a lifeline with a goal in the 65th minute following a goalmouth scramble. That cut the deficit to a single goal at 3-2.
The hosts, who had not lost a 2017 Premier Division game before their 1-0 away loss to Naparima College last weekend, fell short in their attempted fightback, though.
Some San Juan fans were already heading for the exit when Collette awarded a second penalty to St Anthony's, only for goalkeeper Shawndell Byer to prompt a quick U-turn with a dramatic save against Benny.
In the end, though, the passion of the contest got the better of a few players as San Juan defender Kareem John reacted angrily to a foul near the sideline by opposing utility player Jesse Williams. A mini dust-up ensued as John sought immediate retribution.
By the time the matter was settled, Williams had been given his marching orders along with the San Juan duo of John and Thomas.
The tension in the game had always looked like it had the potential to reach boiling point, as the inconsistent Collette showed yellow for some soft fouls while harsher challenges went unsanctioned. The home fans may feel aggrieved by key calls that did not go their way but none of them seem to have a stronger case than St Anthony's attacker Haile Beckles, the youngster getting some unkind treatment from the Bourg boys.
Seconds into the second half, Beckles received a body check from John which left him sprawled out near the sideline. John's frame is only slightly bigger than Beckles but it sounded as though the latter had run ran into a two-ton truck.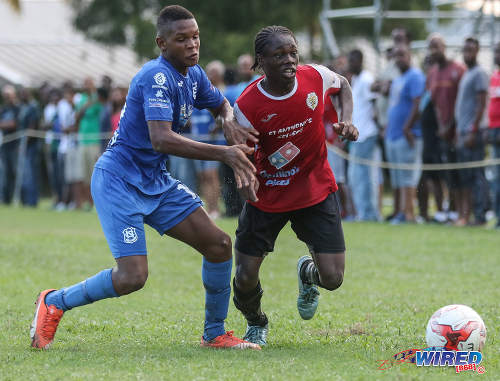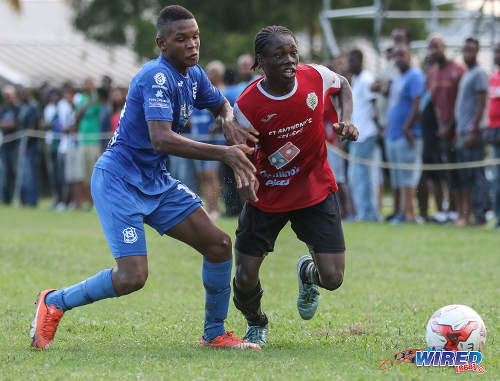 It was not the speedy Beckles who proved the thorn in the San Juan side today, though, as the hosts just could not live with the set pieces from the left boot of Che Benny. San Juan's needless concession of fouls in their half played right into the Tigers' paws and, although many of the set pieces were out of range for Benny to test Byer directly, his consistent services provided meat and drink for his advanced teammates.
On the half-hour mark, Prowell tapped in from close range after Byer had flapped at a left-side Benny free kick. And in the 41st minute, Salandy scored in a similar scenario as the San Juan defence failed to deal with another Benny set piece.
While the Tigers may be far from finished in their quest for Premier Division honours, Moe was far from impressed with his team's work on set pieces at both ends of the field.
"We didn't defend well on set pieces at all and they also got a [couple] penalties," Moe told Wired868. "The set pieces were our downfall today. I don't think we got enough value from the set piece deliveries in good areas. We didn't capitalise on ours and they capitalised on theirs."
It is certainly an area where Brandon Semper, scorer of eight San Juan goals so far this season, was missed, the quality of his dead ball service having been often out of the top drawer.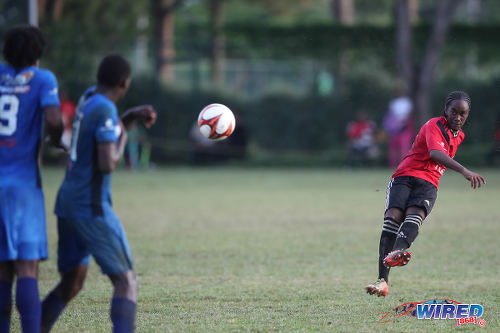 But Moe and company might find solace in the fact that it was their side that notched the goal of the game. In the 35th minute, flanker Tyrell Cameron received a sweet pass from the dreadlocked midfielder Elair Brewster. Checking inside on his right foot, he spanked a low shot past former National Under-20 goalkeeper Jabari Brice.
Brice's own participation in the contest ended almost exactly 35 minutes later when he was carted off after taking a knock in the back during the mad scramble for San Juan's second goal. However, in the 49th minute, the burly goalkeeper had done his bit to ensure Bourg tasted home defeat for the first time since 22 October 2016, pulling off a splendid save down to his left from point-blank range to stop what looked a certain goal for San Juan captain Renaldo Boyce.
A satisfied Daniel was thrilled with his team's all-round combative effort.
"My team was able to withstand [the pressure]," he told Wired868, "and it's the second consecutive win we've got over San Juan on their home turf.  I think we will continue giving good performances."
With three fixtures remaining, two against middle-of-the-table teams St Augustine and St Mary's College plus a mouth-watering clash against Presentation College, Daniel feels confident that his team can produce the goods.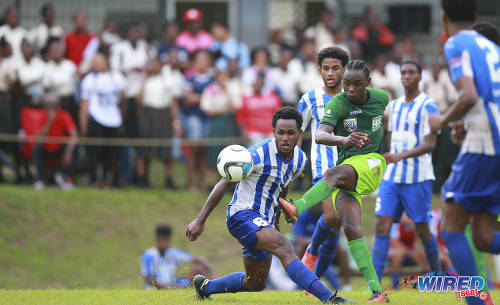 "We just have to keep the boys focused," he said. "and that's the most important thing."
Unless more off-the-field events affect matters on the field, Moe and San Juan, meanwhile, seem to be steering clear of relegation drama this season.
The Tigers, however, understandably have loftier aspirations, keeping current table-toppers Naparima in their sights as they march, they hope, to their maiden Premier Division title.
(Teams) 
San Juan North (4-4-1-1): 1.Shawndell Byer (GK); 16.Obadele Dickson (19.Sherwin Williams 88), 21.Kyle Thomas [red card 94], 7.Josiah Beard, 17.Kareem John [red card 94]; 20.Isaiah Chase (10.Josiah Phillip 76), 8.Lukeman Brooks (11.Miguel Garraway 82), 22.Nathaniel Perouse, 2.Tyrell Cameron; 3.Elair Brewster; 9.Renaldo Boyce (captain).
Unused Substitutes: 30.Jushwar Wong (GK), 5.Keon McPherson, 15.Jordan Britto, 18.Tigana O'Brien.
Coach: Jerry Moe
St Anthony's College (4-3-3): 1.Jabari Brice (GK) (22.Oba Augustin [GK] 69); 6.Khiesa Granger 4.Nkosi Salandy, 5.Jesse Williams [red card 94], 27.Derron John (captain); 23.Sowande Prieto, 13.Quinn Frederick (7.Krishon Alexander 50), 9.Che Benny; 11.Haile Beckles, 19.Jaydon Prowell, 8.Jodel Brown.
Unused Substitutes: 12.Mikail Prescod, 17.Jameiq Pierre, 24.Omari Wiltshire, 30.Shurland Augustine.
Coach: Ronald Daniel
Referee: Hasely Collette
Wired868 Man-of-the-Match: Che Benny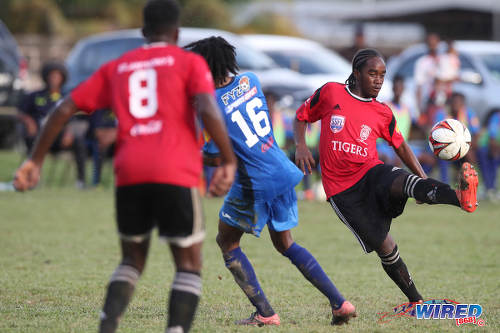 SSFL results
(Thursday 19 October)
San Juan North 2 (Tyrell Cameron 35, Kyle Thomas 65), St Anthony's College 3 (Jaydon Prowell 30, Nkosi Salandy 41, Che Benny 63 pen) at San Juan;
Trinity College Moka 2 (Joshua Fraser 86, Saleem Henry 90+4 pen), St Benedict's College 3 (Zion Broadbelt 16, Reuel Tyson 60, Jabari Jones 77) at Moka;
Trinity College East 3 (Romario Williams 47, 82, Jarved Elcock 71), St Augustine Secondary 0 at Trincity;
Speyside High 0, Carapichaima East 3 (Elijah King 60, Macaheil Alexander 73, Theophilus Bourne 89) at Speyside;
QRC 4 (Kaliv Kiel [2], Miguel Williams, Randy Harris), Signal Hill 2 at QRC.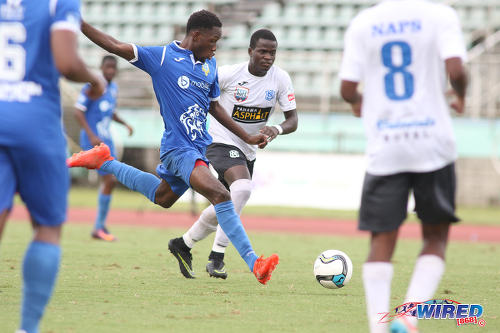 Matches to be rescheduled
Fatima College v Presentation College at Fatima;
St Augustine v Trinity College Moka at St Augustine;
Shiva Boys HC v St Mary's College at Morne Diablo;
Trinity College East v Fatima College at Trincity.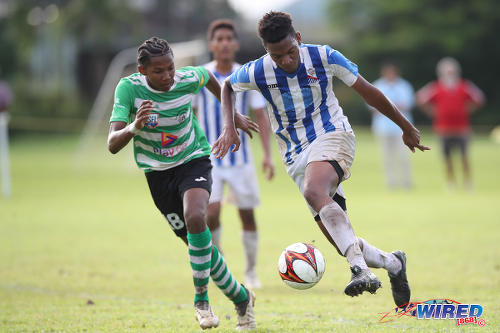 Upcoming SSFL fixtures
(Saturday 21 October)
St Augustine Secondary v St Anthony's College, 3.40pm, St Augustine;
Naparima College v Speyside High, 3.40pm, Lewis Street;
Presentation College v Trinity College East, 3.40pm, Mannie Ramjohn Stadium;
Carapichaima East v QRC, 3.40pm, Carapichaima;
St Mary's College v Fatima College, 3.40pm, St Mary's;
Signal Hill v Trinity College Moka, 3.40pm, Signal Hill;
St Benedict's College v Shiva Boys HC, 3.40pm, Barrackpore;
Fyzabad Secondary v San Juan North, 3.40pm, Fyzabad.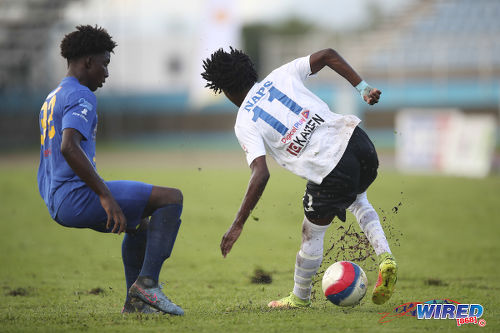 SSFL Standings
(Played-Won-Drew-Lost-Goals For-Goals Against-Points)
Naparima              11-8-2-1-23-11–26
St Anthony's         11-7-3-1-35-18-24
Presentation         10-7-1-2-22-11–22
Shiva Boys HC      10-6-2-2-26-13-20
San Juan N            12-4-6-2-25-13-18
Trinity East            10-5-1-4-19-11–16
St Mary's               10-4-3-3-25-20-15
Fatima                     9-5-0-4-9-12-15
Carapichaima E     11-4-2-5-18-18-14
St Augustine         10-4-1-5-20-20-13
QRC                       12-3-2-7-19-27-11
St Benedict's         11-2-3-6-16-25-9
Signal Hill             11-2-2-7-11-21-8
Trinity Moka         10-2-1-7-13-30-7
Speyside High       12-2-1-9-7–38–7