"Everybody knows we lost a few games and we took a few punches," said Trinidad and Tobago coach Dennis Lawrence after his team's 2-1 World Cup qualifying victory over USA at the Ato Boldon Stadium in Couva last night. "Tonight, we punched back. I thought we punched back against Mexico and we punched back again tonight."
On Monday, as much was made of the state of the flooded mundo track and corner areas at the Ato Boldon Stadium, Lawrence said that he and his team were ready to do battle once there was grass, a ball and three fair officials.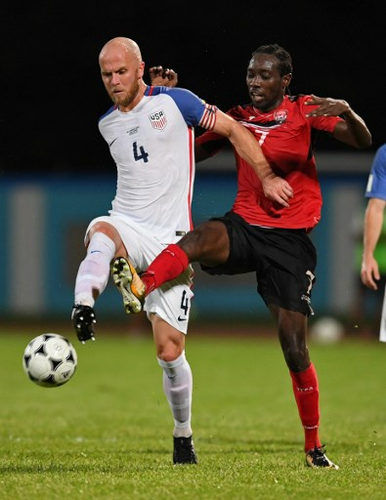 And last night, the Soca Warriors showed that they meant business as they dealt the United States' 2018 World Cup dreams a deadly blow, thanks to an Alvin Jones thunderbolt.
The visitors were coming off a 4-nil hammering of Panama on Friday and had racked up six goals against the Warriors in their previous two encounters.
Only on Monday, USA head coach Bruce Arena warned reporters about the quality and unpredictability of the CONCACAF region. However, with his team sitting in third spot with 12 points to their name before the Couva clash, the veteran coach did not envisage missing out on next year's showpiece event in Russia.

"It's disappointing and it's a blemish for us," said Arena, at the post-game briefing. "We should not have been staying home for this World Cup and I take full responsibility for it.
"We had everything we asked for today[…]. We must give our opponents credit because they played well and they played hard on the day and they won a lot of individual battles against us and they deserve all the credit for their win.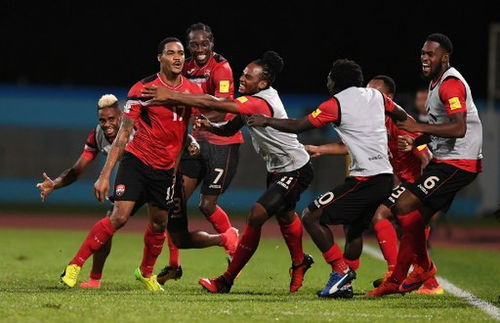 "This game, in my view, was perfectly positioned for the US team and we failed on the day… We have no excuses. We failed today and we should have walked away with at least a point."
Lawrence, who famously headed Trinidad and Tobago to their lone World Cup appearance in 2006, chose not to revel in his opponents' hardships. However, "Tallest" suggested that T&T had finally got the remedy to move beyond 1989 as a footballing nation.
"I said this is not about us versus USA, this is about us versus us—and we had a rough time," Lawrence said. "The boys got their reward tonight and I'm happy for them. Unfortunately for the USA they have to fall victim but that's not my concern […]. Everything was at stake for the US and I think 1989 is now behind us so we can move forward."
Last night's victory saw the Warriors stop a seven-game losing skid. Lawrence could not pinpoint when next his team would be active but he suggested that they now have a good platform to start the building process for Qatar 2022.
"I just want everybody to look at tonight and understand that it's the beginning of a new era," said Lawrence, when asked about his team's future schedule. "We must continue in that form and there must be discipline, structure, organisation and pride for Trinidad and Tobago.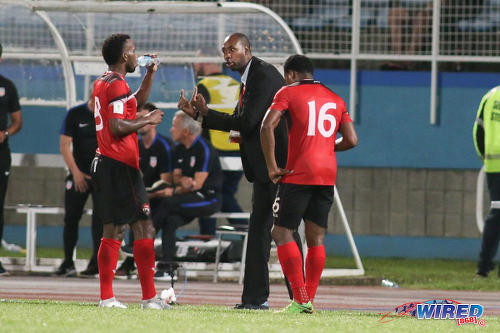 "[I would like for us to be active] as soon as possible. I need to sit down and speak with the president. We must have an international friendly on every FIFA international match day."
Lawrence said his assistant coach and former Arsenal and England legend Sol Campbell is also set to discuss his immediate future with Trinidad and Tobago Football Association (TTFA) president David John-Williams.
"I've had discussions with the president on certain ideas we want to work on and I'd like to have more contact time with the players," said Lawrence. "[…] We will be sitting down and putting things together and hopefully we can have some good news in the next couple days or weeks."
While the Trinidad and Tobago coach was confident about taking the two-island republic back to Caribbean dominance, Arena was coy about his own future.
"What does my future look like? I think I have a good future," Arena said. "I don't know what I'll be doing but whatever it is, it's going to be good… There's nothing wrong with what we are doing [as a soccer federation]. Certainly, as our league continues to grow and benefits the national team programme.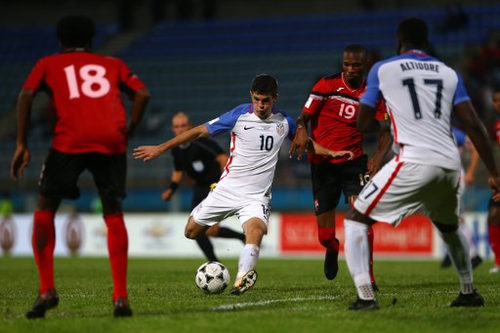 "We have some good, young players coming up and nothing has to change. To make any kinda crazy changes will be foolish."
Talented USA attacker Christian Pulisic, who gave his country a fighting chance with an effort from the edge of the area seconds into the second half, will now have to wait another four years for a chance to wet his feet at a World Cup. Meanwhile, former Premier League stars Clint Dempsey and Tim Howard will not be able to bow out on world football's biggest stage.
Lawrence will have his own brainstorming to do as far as concerns the roles his senior players take in the foreseeable future, as the likes of Radanfah Abu Bakr, Kenwyne Jones and Jan-Michael Williams were all overlooked for the closing qualifying games.
Can they be expected to feature heavily for the Warriors from here on in?
"These players are very experienced and they need to start handing that experience over to the younger group. They have got massive roles," stated Lawrence, who has called up youngsters Isaiah Hudson, Duane Muckette, Julio Noel, Kathon St Hillaire and Josiah Trimmingham in recent times—although none of those players has so far seen on-field action.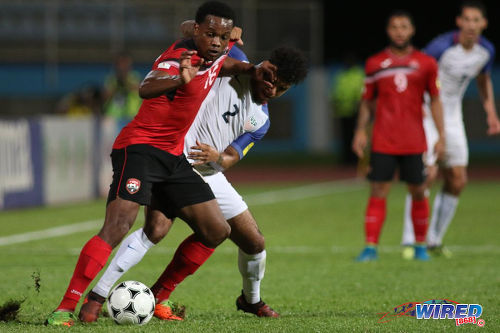 The T&T coach praised the performances of Kevan George, Triston Hodge, skipper Khaleem Hyland, Shahdon Winchester and Jones. And the once towering centre-half stated that senior players should pattern their efforts on Hyland's determined and passionate play in the last two qualifiers.
Hyland, together with central midfield partners George and Leston Paul, made countless interceptions and timely tackles while Winchester worked his socks off as a lone striker, much to the annoyance of opposing centre-backs Omar Gonzalez and Matt Besler.
It was this fighting spirit which seemed to spur on the small Couva crowd. Unfortunately, the goodwill did not extend to the TTFA's relief effort for Caribbean neighbours affected by Hurricanes Irma and Maria. The TTFA partnered with the local Lions in this venture but, at kick-off, Lion's representative Jacqueline Newallo-Christian said the donations received up to that point were underwhelming.
"A lack of advertising and marketing really hampered the initiative because we had catered for a lot more persons," said Newallo-Christian, who pointed to the number of empty boxes in the collection tents.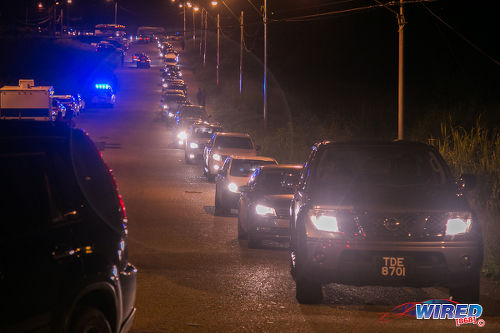 Newallo-Christian said an alternative drop-off point before game day—as suggested by Wired868, two weeks ago—would have been more beneficial for the venture as there would have been less hassle for patrons.
One spectator suggested that when it all boils down, fans wanted one thing on game day—and that was to see football!
The visitors certainly did not get much relief from the Warriors either, as their World Cup hopes crashed in dramatic fashion.
"We have been trying to work on the belief […] that we are as good as anyone," Lawrence said. "The difference between us and some of those other teams is that they apply themselves in the right way[…] My job is to educate them and help them to become professionals and that stems from us, the coaching staff, the TTFA and, most importantly, the players."
As Lawrence and his team look to write the next chapter in Trinidad and Tobago football, the former Everton assistant coach and Belgium scout urged fans to jump on the gravy train early.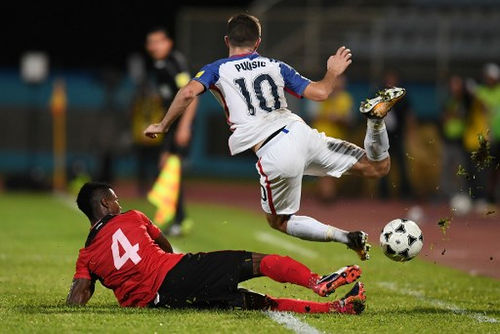 "I understand our people and they normally like to be involved when everything is going well," said Lawrence. "I've got a responsibility and every time we take the pitch we must deliver for these people. I would like to hope that once we go forward they will jump on board with us. I'm looking forward to seeing them and I hope they can take pride from tonight."
Trinidad and Tobago will not be at the 2018 World Cup in Russia. However, as one popular nuts vendor rightfully predicted, "[America] not going neither!"