All 22 players on the field at Westmoorings bore illustrations of ferocious tigers on their shirts; but it didn't take long to spot the pussycat.
If today's clash between the "Westmoorings Tigers" and the "Fyzo Tigers" was a boxing match, then Fyzabad Secondary's technical staff would have been obliged to throw in the towel by halftime.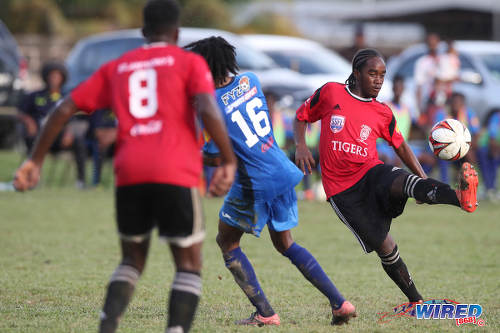 The final score read 4-1 to St Anthony's College but it could easily have been twice as emphatic as, inspired by the creative midfield pairing of Che Benny and Jodel Brown, the hosts were never really troubled today.
It was a good day for North Zone schools as St Mary's College snapped a two-game losing run with an emphatic 4-1 win over St Augustine Secondary in another rescheduled SSFL Premier Division fixture at Serpentine Road in St Clair.
Two goals in either half, including another long-distance strike from captain Gabriel Nanton, did the trick for St Mary's, who climbed one spot to 11th in the 16-team standings but are still just three points clear of the relegation zone.

The "Green Machine", who pummelled Speyside High 5-1 on the weekend, slipped one spot from fourth to fifth.
The Westmoorings Tigers now stand in their place, just two points below the southern trio of Shiva Boys Hindu College, Presentation College (San Fernando) and Naparima College.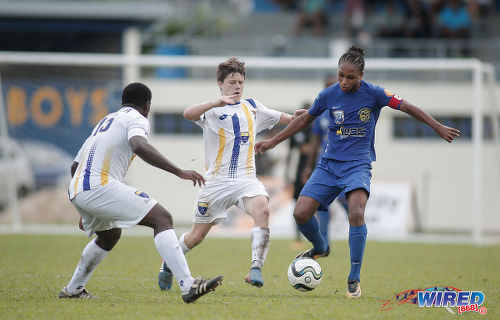 But then, perhaps the real talking point should be why St Anthony's were not rubbing shoulders with the Premier Division bigwigs in the first place.
Coach Ronald Daniel has eight players with national youth team experience within his ranks and had the luxury today of using attacker Tyrese "Boy Boy" Bailey off the substitutes' bench.
In the other technical area, Fyzabad coach Brian Williams, who steered the National Under-20 Team at the 2017 CONCACAF Championships this February, said he has at best 12 players who are capable of performing at this level.
Faced with injury to Ken Bhola and suspension to Maurice Dick—Fyzabad's central midfield pairing at the start of the season—Williams tried to snap his own run of defeats at two games with a shuffle of his pack.
Most noticeably, Williams used Fyzabad's leading scorer and attacking midfielder, Sharkeel Louison, in central defence while regular centre-forward Natinni Jones began on the bench.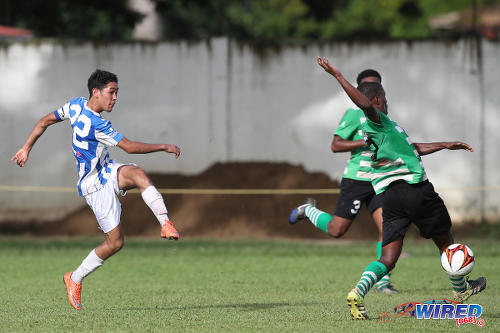 "We have been conceding goals coming from the side of the park," Williams told Wired868, "so, [as] the midfielders [Bhola and Dick] were out, I tried to strengthen the back with Louison, who is a utility player…
"I wanted to be a bit safer in the back."
The illusion of safety for the visiting team lasted barely 16 minutes before Benny put the hosts ahead with a trademark free kick that swerved and dipped to beat Fyzabad goalkeeper Jamaal Sinclair.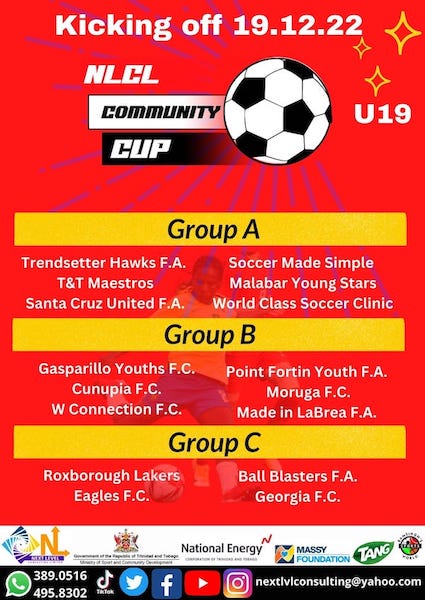 Fyzabad sat deep and tried to squeeze the space for their opponents. But with St Anthony's street-smart front four of Jayden Prowell, Haile Beckles, Benny and Brown constantly interchanging—all four players are competent with the ball at their feet and capable of finding running lanes—the task of frustrating them with a mass of bodies quickly looked futile.
Within the first half-hour, Williams had already gone to Plan B as he pulled off debutant midfielder Isaiah Joseph while Jones replaced burly forward Tyrece Pierre at halftime.
"I am personally disappointed with the tactical discipline in the way some of the guys played," said Williams. "It was important for our players to stay behind the ball and mark properly…"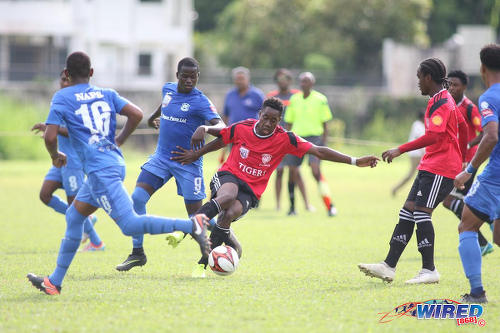 By then, the Westmoorings Tigers were already two goals clear as Prowell had got the second in the 37th minute with a header off a Brown cross. Benny rapped another set piece off the bar too while Sinclair was forced into some impressive saves to keep out overlapping defender and captain Derron John, Beckles and Benny from open play while Brown missed a gilt-edged chance from inside the opposing area.
"Allyuh will bring this side back in the game, yuh know!" a St Anthony's supporter warned from the touchlines.
Brown pulled a face and, with his palms down, made a pumping motion.
"Just now, just now," he said, "this side not going nowhere!"
Two mintes after the interval, Kyron Williams got a rare sight at goal for Fyzabad but could not beat Augustin with his angled effort. And normal service soon resumed at the other end as Benny struck the bar again while Sinclair kept him out with acrobatic saves on at least three occasions.
Not one of Benny's set pieces missed the target.
Wired868: "Who is the free kick king, you or [Naparima College midfielder] Judah St Louis?"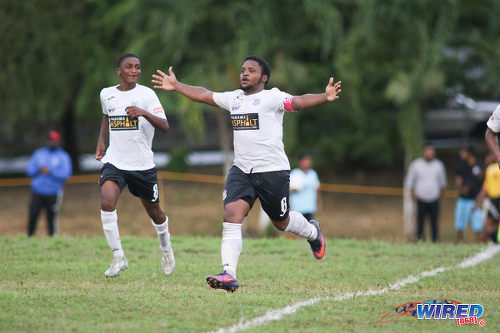 Benny (after a thoughtful pause): "Well, who has more goals?"
At present, Benny and St Louis have scored three free kicks each this season while the 'Naps' player has also converted three penalties. Let's just say defenders need to be on their best behaviour when facing either side.
Fyzabad played higher up the field in the second half but just could not keep possession of the ball well enough and the third item finally came in the 72nd minute. St Anthony's portly substitute Yevan Rajpaul released Prowell, who squeezed a shot below the Fyzabad goalkeeper and, as the ball rolled towards the goal, Brown out-sprinted a recovering defender to stab it into the back of the net.
"I think it was a little bit easier than I expected," Daniel admitted, "but you could never take anything for granted because, in two minutes, a game can just turn around. You just have to keep concentrating…"
The hosts finally faltered in the 85th minute and the Fyzo Tigers bit back. Louison had been redeployed in central midfield and threaded a pass perfectly into the path of his skipper, Dez Jones, whose shot spun off Augustin and into the far corner.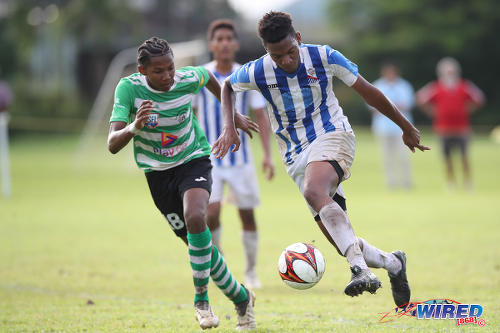 It was too little, too late though.
"I think my team lost their rhythm about two matches ago with some of the key [absences through injury]," said Williams, who is still targeting a top-four finish. "Spirits seem to be down a little bit because of expectations [at the start of the season] but all we can do is try to fix that…
"Teams like St Anthony's have better technical players than us. We play with a good spirit and, if we don't have that, we will struggle."
St Anthony's got the final word in stoppage time as Benny dribbled down the byline and picked out midfielder Jordan Barclay, who finished with a stooping header from close range.
"The result speaks for itself," said Daniel. "The guys were more organised today. You saw more constructive play and we got the goals when we needed them."
St Anthony's travel to Moka on Wednesday to face Trinity College before they host Shiva Boys in Westmoorings on Sunday. By this time next week, we will know how seriously to take their title charge.
(Teams)
St Anthony's College (4-1-4-1): 22.Oba Augustin (GK); 18.Shakir Clapham, 5.Jesse Williams, 27.Derron John (captain), 6.Shurland Augustine; 23.Sowande Prieto (20.Yevan Rajpaul 62); 11.Haile Beckles (10.Tyres Bailey 62), 16.Jordan Barclay, 9.Che Benny, 8.Jodell Brown (13.Quinn Frederick); 19.Jaydon Powell.
Unused substitutes: 25.Elijah Shade (GK), 14.Jahi Solomon, 21.Jameiq Pierre, 30.Shurland Augustine.
Coach: Ronald Daniel
Fyzabad Secondary (4-2-3-1): 1.Jamaal Sinclair (GK); 2.Aaron Jordan, 3.Dez Jones (captain), 8.Sharkeel Louison, 18.Gregory Charles; 16.Shamor Mahabir, 21.Isaiah Joseph (10.Nicholas Blake); 13.Jeremy Duntin, 11.Tyrese Reefer, 17.Kyron Williams; 24.Tyrece Pierre (9.Natinni Jones 46).
Unused substitutes: 4.Malik Williams, 5.Marvin Edmund, 14.Nkosi Charles, 20.Dean Moore, 22.Shaundel Young.
Coach: Brian Williams
Wired868 Man-of-the-Match: Che Benny (St Anthony's College)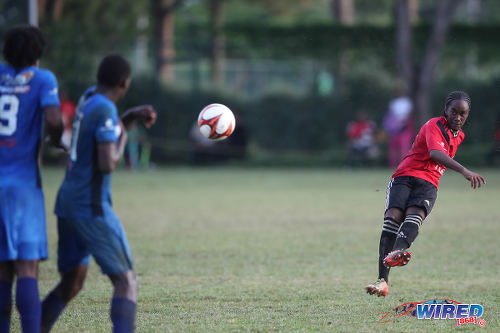 SSFL Premier Division results
(Monday 2 October)
St Mary's College 4 (Trey La Motte 21, Tyrese Spicer 38, Gabriel Nanton 64, Kevon Alonzo 82), St Augustine Secondary 1 (Ethan Bonaparte 53) at Serpentine Road;
St Anthony's College 4 (Che Benny 16, Jaydon Prowell 37, Jodel Brown 72, Jordan Barclay 85), Fyzabad Secondary 1 (Des Jones 85) at Westmoorings;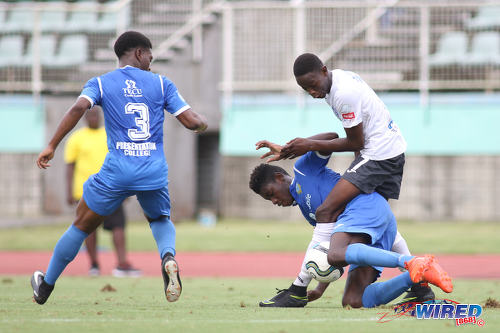 Upcoming fixtures
(Wednesday 4 October)
Carapichaima East v Signal Hill, 3.40pm, Carapichaima;
QRC v St Augustine Secondary, 3.40pm, QRC;
Speyside High v Presentation College, 3.40pm, Speyside;
Fyzabad Secondary v St Mary's College, 3.40pm, Fyzabad;
Trinity College Moka v St Anthony's College, 3.40pm, Moka;
Naparima College v St Benedict's College, 3.40pm, Lewis Street;
Shiva Boys HC v Trinity College East, 3.40pm, Penal;
San Juan North v Fatima College, 3.40pm, San Juan.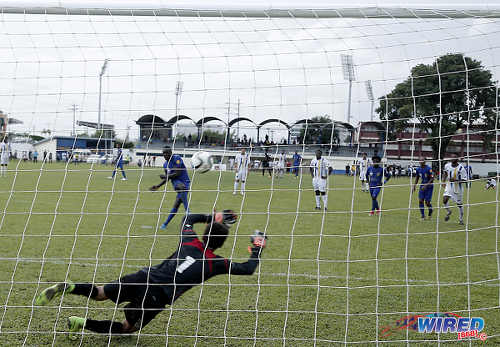 SSFL Standings
(Played-Won-Drew-Lost-Goals For-Goals Against-Points)
Shiva Boys HC    7-5-1-1-18-5–16
Presentation       7-5-1-1-17-8-16
Naparima            7-5-1-1-15-7-16
St Anthony's       7-4-2-1-23-10-14
St Augustine       7-4-1-2-17-12-13
Fatima                 7-4-0-3-7-8-12
San Juan N          7-2-5-0-16-6-11
Trinity East          7-3-1-3-12-8-10
Carapichaima E  7-3-1-3-11-11-10
Fyzabad Sec        7-3-0-4-10-14-9
St Mary's             7-2-2-3-13-16-8
Trinity Moka        7-2-0-5-6-18-6
St Benedict's       7-1-2-4-9-15-5
QRC                     7-1-2-4-8-16-5
Signal Hill            7-1-1-5-5-13-4
Speyside High     7-1-0-6-4–24–3