Defending Secondary Schools Football League (SSFL) Premier Division champions Shiva Boys Hindu College got back to winning ways today, defeating a dogged Fatima College team 4-1 at Mucurapo Road.
At kick-off, just one point separated table-toppers Shiva from fourth-placed Fatima. And at the halfway stage, coach Hayden Ryan's charges knew they were in a game as Fatima forward Justin Araujo-Wilson—one of three National Under-15 players in their line-up along with Jean-Heim McFee and Zach Welch—cancelled out a Quinn Rodney opener to send a well-organised home side into the break on level terms.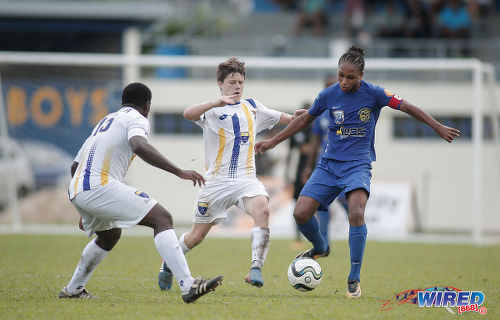 However, the defending champions, who used a talented midfield trio of Tyrel "Pappy" Emmanuel, Judah Garcia and Kierron Mason, showed their experience in the second half to decisively swing the game, according to Wayne Sheppard. The Fatima coach declared himself very pleased [with] and proud of his team's effort.
"For most of the game, when we had the ball, we tried to play. Unfortunately, Shiva were a bit stronger than us and Shiva had a little more belief in the final third than we did," Sheppard told Wired868. "And I don't think the score is a true reflection of the game."
Elsewhere, Presentation College (San Fernando) and Naparima College remained within a whisker of the front-runners after wins over Fyzabad Secondary and St Mary's College respectively. Only goal difference separates Shiva Boys, 'Pres' and 'Naps,' who all have 16 points from seven outings.
There were changes at the other end of the table, though, as Trinity College Moka and St Benedict's College pulled themselves out of the relegation zone for the first time this season after wins over Trinity College East and Carapichaima East respectively.
They were replaced in the bottom three by Signal Hill Secondary and QRC. Signal Hill were whipped 3-0 at home by San Juan North Secondary while the Royalians lost ground despite a high-scoring 3-3 draw with St Anthony's College.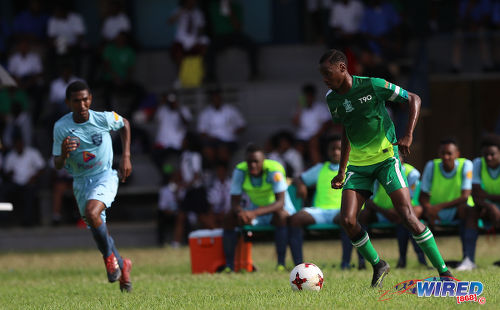 At St Augustine, Speyside High dropped to the bottom of the table after a 5-1 loss to the "Green Machine."
The final result was almost as emphatic at Mucurapo Road, despite a spirited effort by Fatima.
"Pappy," voted the 2016 SSFL Player of the Season, had a lot to do with it and his clinical item in the 68th minute—at the end of a beautiful team move—gave the visitors control of the contest when it mattered.
Sheppard felt as though his charges were always in the hunt and, were it not for the referee's assistant's flag which denied Justin his double in the 80th minute, they might have had a second equaliser.
The "Penal Princes" then drilled the final nail into the home team's coffin with stoppage-time goals from substitute Ronaldo Edwards and Mason—via the penalty spot—which sealed a well-deserved three points.
In the past week, Shiva have lost a total of five points as they were held to a goalless draw by a stingy San Juan outfit in Bourg Mulatresse on Wednesday and also saw three points deducted from their Premier Division tally for fielding an as-yet-unqualified Mason in their opening game against "Naps." Notwithstanding these setbacks, still on his way into the Mucurapo Road compound.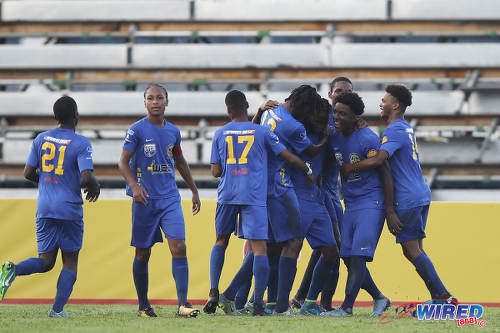 One visiting supporter showed that his confidence in the team's ability remained undiminished.
"Who against South!?" the middle-aged gentleman asked loudly as he neared the pavilion. "I have $200 on Shiva"
No Fatima fan appeared brave enough to take the bold, bald-headed Shiva supporter on his challenge. On the field, however, skipper Joshua Araujo-Wilson—elder brother of Justin—and his Fatima teammates refused to let Shiva smell any fear, which would have been a signal to Ryan's free-flowing troopers to attack like sharks that get a taste of blood in the water or a whiff of it in their nostrils.
But before Garcia and "Pappy" could work their midfield magic or before Justin could send the home crowd into ecstasy, the players and match officials paid homage to the late Clive Pantin, a former Fatima principal, minister of education and Trinidad and Tobago footballer.
The early minutes of this Mucurapo Road contest almost replicated Shiva's clash with San Juan on Wednesday, with Fatima looking intent on hitting the defending champions on the break. The hosts declined to opt for the direct approach adopted by the boys from Bourg perhaps because Sheppard knew that the key to any success for his team was nullifying Shiva's cohesive midfield trio.
The close attention paid to Garcia, Mason and "Pappy" meant that the tricky Quinn Rodney saw a great deal of action down the left flank. The speedy Shiva winger was pitted against wing-back Stephon Marcano and the hosts did not seem to have an answer for him in the first period.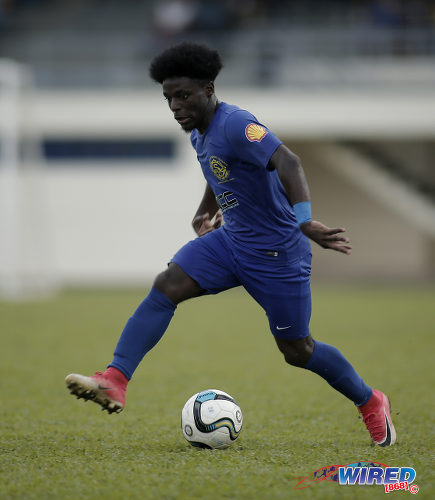 In the 22nd minute, Rodney gave those in attendance a glimpse of his electric pace, bursting past a clutch of Fatima defenders only to be thwarted, with the goal at his mercy, by a last-ditch tackle.
Three minutes later, there was no eleventh-hour intervention to save goalkeeper Jacob Camacho and his defenders; after working a sweet one-two with Tyrell "Sexyman" Baptiste, Rodney finished smartly from close range.
But Fatima always looked lively on the break, with McFee and Justin active on the wings and Marcano bursting forward from right wing-back.
The reward came in the 40th minute, when "Pappy" was the intended target of a sloppy pass from Yohannes Richardson. The usually assured, reliable defender casually tried to play his way out of the back on this occasion and midfielder Luke Darwent capitalized.
The Shiva playmaker's meek attempt to retrieve possession proved futile and Darwent fed Justin, who slid a left-footed shot into the far corner.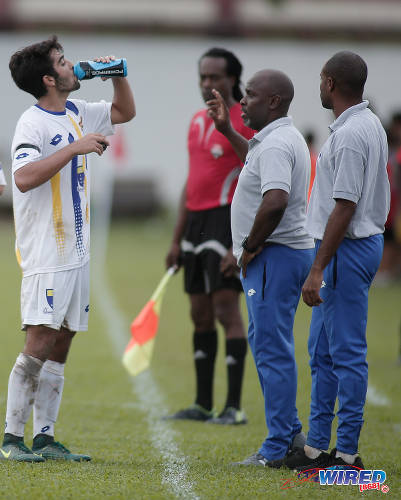 Richardson's intensity and work-rate arguably benefitted measurably from the mistake and he hardly put a foot wrong in the second period.
"I think we needed to be a little more aggressive offensively. We were kinda going with the flow," Ryan told Wired868. "We needed to initiate the game and take it to them and obviously it worked because they backed off and we controlled the game and we had almost 65% of the possession…"
Ryan had specific instructions for his two stylish playmakers in "Pappy" and his skipper Garcia as he wanted both players to reduce the time and space Fatima had to operate in.
"I never see a coach make that kinda sign before," one bemused Fatima supporter said as Ryan gestured to his two midfielders.
The playing styles of Garcia and "Pappy" are so similar that home supporters could not differentiate between the two. One thing is for certain, though: both were a handful.
A few seconds into second-half action, Pappy skied a close-range effort after more speedy wing play by Rodney while, near the hour mark, Garcia spanked a dangerous left-footer just over the bar after a sweet dummy move.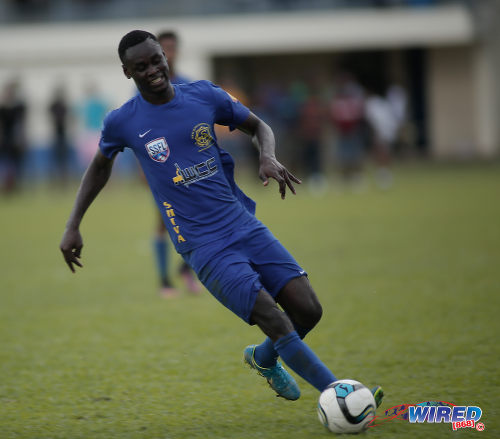 Ryan's team is never short on style and the lads from Penal underlined that with their second item. It came in the 68th minute when "Pappy" produced a sweet right-footed finish to top off some dancing moves in the box from "Sexyman" and a Rodney dummy.
"We had them under a lot of pressure," said Ryan, with a cheeky smile. "And certainly, pressure will buss pipe eventually,"
"[Shiva] showed their class and experience I should say by holding on to the ball and still trying to penetrate through the middle," Sheppard said. "As my team got a little more tired, it was a bit easier to penetrate there. But we came out here to win this game…"
A win for Fatima was always going to be a tall order. And when assistant referee Sheldon Gomes waved off an 80th minute set piece combination item by the two Araujo-Wilsons, the writing was large on the Fatima wall.
And Shiva made it in bold and an extra-large font, netting twice in stoppage time. First, Edwards tapped home off a lovely feed from "Pappy." Mason then hammered a penalty into the top corner after "Sexyman" was upended in the area by the burly Elisha Taylor.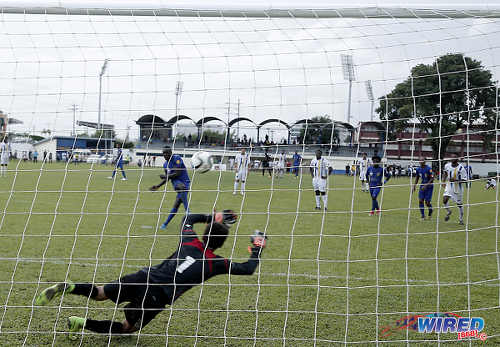 There is no disputing Mason's on-the-field value for Shiva. The lanky midfielder has already netted six league goals and is obviously a force to be reckoned in his own right. However, when his talents are added to those of the other two operating around him, it is clear that the total Shiva midfielder is greater than the sum of its parts.
The question on many lips, however, remains this: if it is true that the former Naparima student's eligibility remains an issue, are Shiva flying too close to the sun?
(Teams) 
Fatima (5-4-1): 1.Jacob Camacho (GK); 7.Stephon Marcano, 15.Elisha Taylor, 8.Isaiah Lamont, 3.Joshua Evans, 4.Joshua Araujo-Wilson (captain); 13.Zachary Welch (37.Azahrias Ali 78), 10.Andrew Abraham, 17.Luke Darwent, 11.Justin Araujo-Wilson; 20.Jean-Heim McFee.
Unused Substitutes: 2.Christopher Serrant, 5.Jordan Romany, 14.Luke Boucaud, 21.Luke Gooding, 22.Jahein Aguilleria, 38.Jabari Dennis.
Coach: Wayne Sheppard
Shiva Boys (4-3-3): 22.Denzil Smith (GK); 16.Simeon De Bourgh, 19.Yohannes Richardson, 5.Anderson Peters, 14.Matthew Beal; 10.Judah Garcia (captain), 15.Kierron Mason, 6.Tyrel Emmanuel; 8.Jude Phillip (17.Ronaldo Edwards 69), 9.Tyrel Baptiste, 7.Quinn Rodney.
Unused Substitutes: 24.De-Jon Blondell (GK); 2.Atiba Lewis, 21.Aaron Rodney, 23.Jeremy Williams, 32.Ronald Charles, 33.Ryan Davis.
Coach: Hayden Ryan
Referee: Justin Koo
Wired868 Man-of-the-Match: Tyrel Emmanuel (Shiva Boys)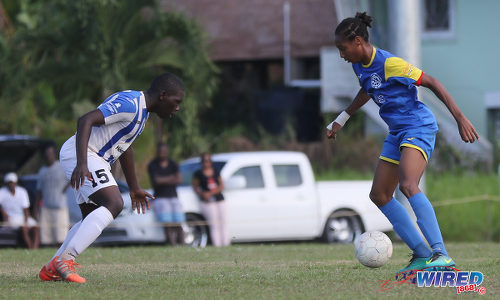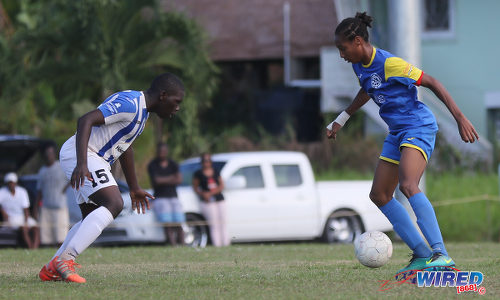 SSFL Premier Division results
(Saturday 30 September)
Fatima College 1 (Justin Araujo-Wilson 40), Shiva Boys 4 (Quinn Rodney 25, Tyrel Emmanuel 68, Ronaldo Edwards 90+1, Kierron Mason 90+3 pen) at Fatima;
Fyzabad Secondary 2 (Maurice Dick 21, Tyrese Reifer 55), Presentation College 3 (Jordan Riley 13, Jaiye Sheppard 61, 72) at Fyzabad;
Signal Hill 0, San Juan North 3 (Isaiah Chase 55, Renaldo Boyce 60, Nathaniel Perouse 87) at Signal Hill;
Naparima College 2 (Ronaldo McIntosh, Judah St Louis pen), St Mary's College 0 at Lewis Street;
QRC 3 (Anfernee Stokes 16, 84, Randy Harris 64), St Anthony's College 3 (Tyrese Bailey 29, Che Benny 32, 90+7) at QRC;
Carapichaima East 1 (Kevon Williams 77), St Benedict's College 3 (Ruel Tyson 19, Jaycee Paras 70, Keon Boney 90+1) at Carapichaima;
Trinity College Moka 2 (Kai Phillip 49, Kesean St Rose 88), Trinity College East 1 (Nickel Orr 90+3) at Moka;
St Augustine Secondary 5, Speyside High 1 (S'el Toppin) at St Augustine.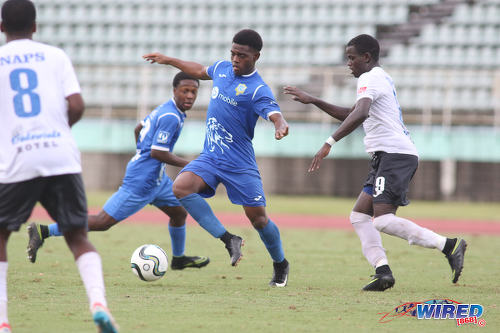 Upcoming fixtures
(Monday 2 October)
St Mary's College v St Augustine Secondary, 3.40pm, Serpentine Road;
St Anthony's College v Fyzabad Secondary, 3.40pm, Westmoorings;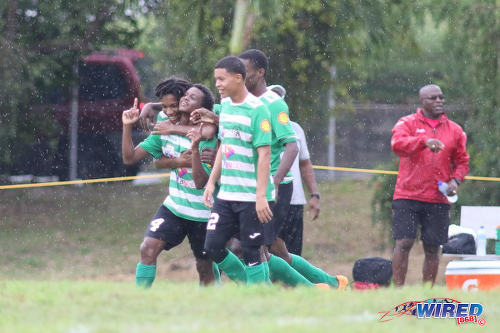 (Wednesday 4 October)
Carapichaima East v Signal Hill, 3.40pm, Carapichaima;
QRC v St Augustine Secondary, 3.40pm, QRC;
Speyside High v Presentation College, 3.40pm, Speyside;
Fyzabad Secondary v St Mary's College, 3.40pm, Fyzabad;
Trinity College Moka v St Anthony's College, 3.40pm, Moka;
Naparima College v St Benedict's College, 3.40pm, Lewis Street;
Shiva Boys HC v Trinity College East, 3.40pm, Penal;
San Juan North v Fatima College, 3.40pm, San Juan.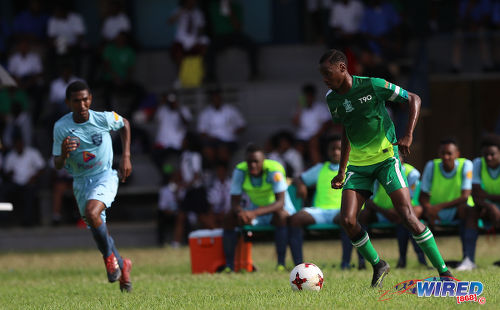 SSFL Premier Division Standings
(Played-Won-Drew-Lost-Goals For-Goals Against-Points)
Shiva Boys HC     7-5-1-1-18-5–16
Presentation        7-5-1-1-17-8-16
Naparima             7-5-1-1-15-7-16
St Augustine        6-4-1-1-16-8-13
Fatima                  7-4-0-3-7-8-12
St Anthony's        6-3-2-1-19-9-11
San Juan N          7-2-5-0-16-6-11
Trinity East          7-3-1-3-12-8-10
Carapichaima E  7-3-1-3-11-11-10
Fyzabad Sec        6-3-0-3-9-10-9
Trinity Moka         7-2-0-5-6-18-6
St Benedict's       7-1-2-4-9-15-5
St Mary's             6-1-2-3-9-15-5
QRC                     7-1-2-4-8-16-5
Signal Hill            7-1-1-5-5-13-4
Speyside High     7-1-0-6-4–24–3