St Augustine Secondary maintained their 100% record to start the 2017 Secondary Schools Football League (SSFL) season, defeating St Benedict's College 4-2 in a thrilling encounter in St Augustine this afternoon.
It was a tale of two halves for coach Adrian Romain and his "Green Machine" team, who stormed to a 3-0 lead by the 41st minute, but had to survive a nervy end to the encounter as Benedict's scored two goals in quick time in the second half.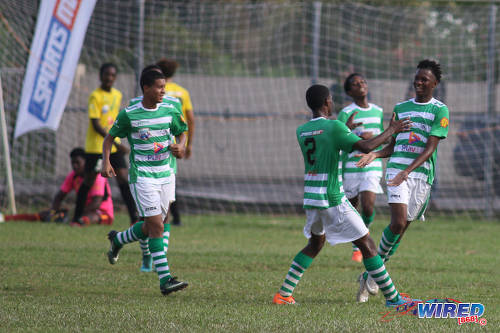 An 87th minute free kick by Rivaldo Coryot was the decisive item as the hard-working midfielder saw his left-footed effort bounce and turn past goalie Shakir Merrique and a retreating defender to seal three points for his team.
Despite getting past the tricky Signal Hill during the week and topping Benedict's today, coach Romain was far from pleased with his team's second-half showing.
"Overall, we played average and I'm not happy with what I saw from my defence in the second half," Romain told Wired868. "I think we lacked the passion And the information I gave them in the halftime talk, I don't think they went out and executed it at all. We allowed Benedict's to come back in the game and they even had an opportunity to equalise."

On Wednesday afternoon, the Green Machine made good on their trip to Tobago as an 88th minute Akeem Hosten item saw the visitors making the now challenging inter-island trek with a haul of the maximum three points. Today, the diminutive and tricky Hosten continued where he left off on Wednesday, opening the scoring from close range in the sixth minute.
The Benedict's defence made a mockery of a right-side corner-kick and Hosten just couldn't believe his luck when the ball fell invitingly for him after Merrique hadsaved a point-blank effort by Allan Hogan.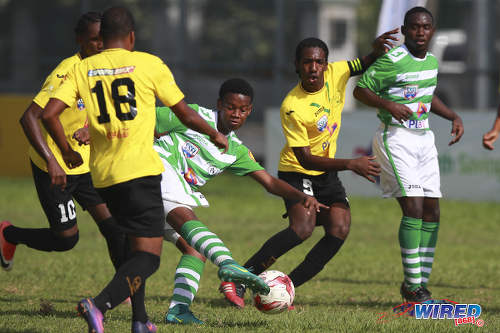 Merrique's performance was peculiar all game long. Despite the odd save here and there, the custodian looked like a fish out of water and he twice  saw his goal frame rocked without even attempting a save—although it was not clear that he knew the trajectory of the ball.
In the 20th minute, another Merrique error of judgment cost his team dearly. When St Augustine centre-back Jamal Meloney floated a lovely ball over the top aiming to find Hogan at the end of his run, the custodian shouted "Keeper!"
Suffice it to say that both the indecisive Merrique, left in  no man's land, and his defence were left with mud on their faces as Hogan applied a neat, first-time, lobbed, half-volley finish.
"My baby!" shouted a female spectator in the stands, jumping in elation. "That's my little brother!"
St Augustine skipper Anthony Samuel was winning fans of his own with his display on the wing although some muttered that he should pass the ball more. Two years ago, Samuel saw his activity in this very fixture prematurely halted as he had to be substituted with a suspected concussion.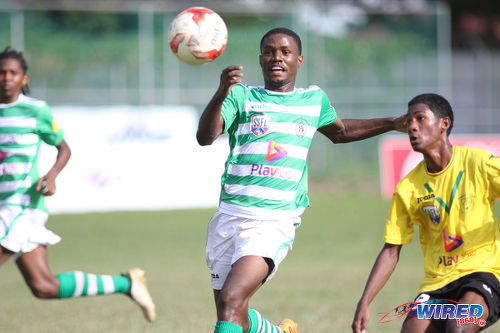 Today, Samuel was perpetrator rather than victim, terrorising Yahtham Henry down the left flank with his pace and neat footwork and giving St Benedict's coach Leonson Lewis a major headache.
"He beat them fellahs again. Nah man!" Some amused spectators said out loud as Samuel toyed with two defenders in the area before putting in a dangerous cross in one first-half sequence.
At the end of the 90 minutes, Samuel had an assist and the 'Man-of-the-Match' award to show for his efforts while Henry had a double-yellow red card-and an early shower!—as his reward.  Coach Lewis walked away with a severe migraine.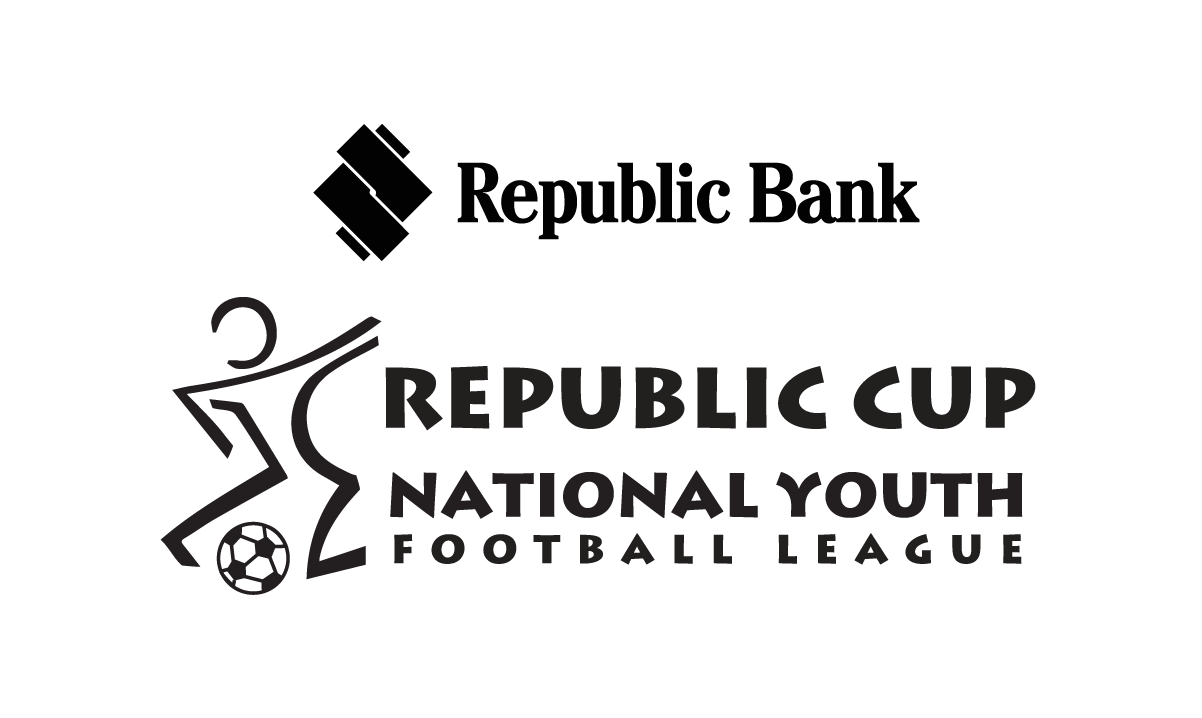 Unsurprisingly, Henry's first yellow card had come after a cynical tackle on Samuel near St Augustine's technical area in the 64th minute.
At the half, St Augustine were 3-0 up at the half after midfielder Ethan Bonaparte neatly slotted home from close range in the 41st minute following a Samuel centre.
The first period did not go without alarms for the hosts, though, as lively attacker Jaycee Paras saw a 25th minute lob bounce agonisingly over the bar while midfielder Kyjuan Sampson kept custodian Yannick Gamaldo honest with a meaty, long-range drive.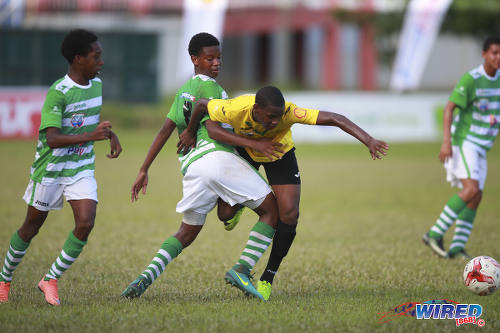 A complacent second-half showing was not something Romain wanted to see from his charges at all.
"I told them the reality is that,  if we give the opposition a lift, they will try to get another and that's exactly what we did," said Romain, perhaps mindful of the resolution which Lewis' team possess following their great escape from relegation last year. "We didn't stand our ground and defend like we were supposed to."
After Merrique watched on as a ball thudded against a goalkeeper's best friend for the second time, he and his teammates were able to find a footing in the contest,  Keon Boney applying a smart finish from close range in the 56th minute following a left-side cross from Mickel Ravello.
This time, Gamaldo was the custodian whose concentration let him dow. He made a meal of a back pass and gifted the ball to the opposition.
"Yes,  they did [come out relaxed]," Romain responded in the affirmative to Wired868's question, "and that was the disappointing factor."
Gamaldo had little time to erase the error from his memory before  he was picking the ball out of the back of the net for the second time. Just five minutes later, on the hour mark, Caleb Gaspar slotted in a left-footed effort after some smooth, final-third link-up play by Benedict's.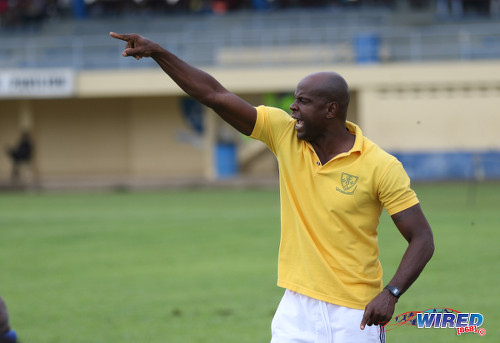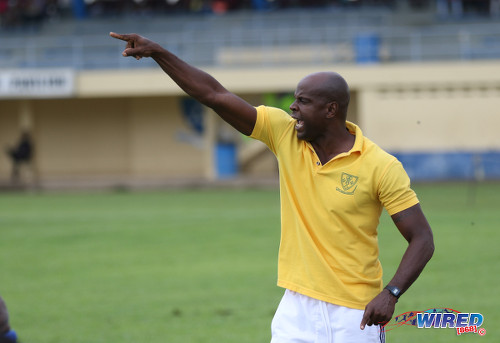 Suddenly, the pendulum was swinging in Benedict's favour and the home crowd's excitement was slowly mutating into anxiety. Meanwhile, on the sidelines, Lewis was living every moment to the fullest, the impossible suddenly looking possible to his optimistic eyes.
The home side, however, had a different perspective, Gamaldo pulling off a fine save in the 69th minute to deny Boney and then one of his defenders coming up with a key block in the 80th minute to thwart a close-range effort by Tarik Eastman.
There would be no comeback for Lewis' side today.
In fact, the home side would stretch their lead and put the game to bed. In the 87th minute, Coryot, a feisty but tidy midfielder, stepped up for a long-range set piece and produced a decent but not unstoppable effort—not for Merrique, however!  The hapless custodian had opted to station a defender alongside him on the goal-line and Coryot far-from-fearsome shot picked the gap between goalkeeper and defender and ended up in the net for the Green Machine to make it four.
With three more points in the bag for the boys from St Augustine, only Shiva Boys and Presentation College (San Fernando) are, for the moment, the Green Machine's supporters will feel, above them in the standings.
(Teams)
St Augustine (4-2-3-1): 1.Yannick Gamaldo (GK); 3.Zion Holder, 18.Jamal Meloney, 2.Nykoaba James, 4.Stephon Eallie; 12.Rivaldo Coryot, 8.Jeremiah Vidale (23.Kendell Hitlal 76); 11.Akeem Hosten, 10.Ethan Bonaparte (13.Daniel Rahaman 86), 7.Anthony Samuel (captain); 17.Allan Hogan (14.Jalani Agustus 66).
Unused Substitutes: 5.Darian Parks, 6.Terron Luke, 9.Emmanuel Cumberbatch, 19.Dorian Simpson.
Coach: Adrian Romain
St Benedict's (4-2-3-1): 1.Shakir Merrique (GK); 13. Yahtham Henry (red card 90+2), 5.Daquon Foster (captain), 16.Detori Boucher, 12.Mickel Ravello; 6.Darnell Charles (23.Tarik Eastman 31), 18.Kristoff Burkett; 20.Keon Boney, 10.Kyjuan Sampson, 32.Caleb Gaspar (15.Zion Broadbelt 86); 9.Jaycee Paras (21.Jabari Jones 89).
Unused Substitutes: 22.Leonard Richardson (GK), 4.Kent Hamilton, 11.Reuel Tyson, 17.Claign Harewood.
Coach: Leonson Lewis
Referee: Joel Cox
Man-of-the-Match: Anthony Samuel (St Augustine)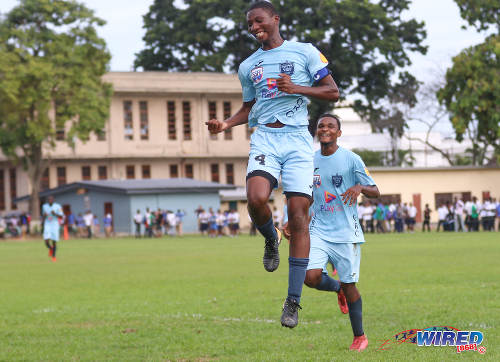 SSFL Premier Division results
(Saturday 16th September 2017)
St Augustine 4 (Akeem Hosten 6, Allan Hogan 17, Ethan Bonaparte 41, Rivaldo Coryot 87), St Benedict's College 2 (Keon Boney 56, Caleb Gaspar 60) at St Augustine;
Trinity College East 3 (OG 24, Nickel Orr 46, Tyrese Williams 86), Carapichaima East 0 at Trincity;
Presentation College 4 (Ackeel Jacob [3], Jaiye Sheppard [1]) St Mary's College 1 (Devon Charles [1]) at Mannie Ramjohn Stadium;
Shiva Boys HC 2 (Kierron Mason [2 pen]), Fyzabad Secondary 0 at Penal;
Trinity College Moka 2 (Kesean St Rose [2]), Speyside High 1 (Kerri McDonald) at Moka;
Fatima College 2 (Mikheil McCommie 24, Justin Araujo-Wilson 84) Naparima College 1 (Renaldo McIntosh 38) at Fatima;
Signal Hill 0, St Anthony's College 1 (Krishon Alexander) at Signal Hill;
QRC 0, San Juan North 0 at QRC.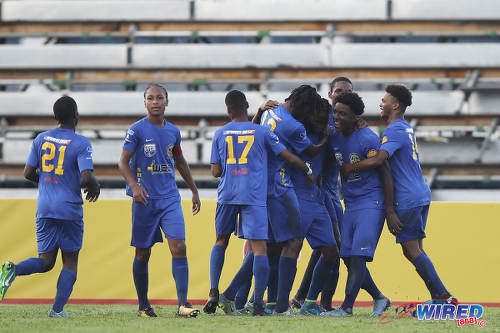 Upcoming fixtures
(Wednesday 20 September)
Trinity College East v Fyzabad Secondary, 3.40pm, Trincity;
St Mary's College v St Benedict's College, 3.40pm, St Mary's;
Shiva Boys HC v QRC, 3.40pm, Penal;
Presentation (San F'do) v Signal Hill, 3.40pm, Guaracara Park;
Fatima College v Speyside High, 3.40pm, Fatima;
St Augustine Secondary v Carapichaima East, 3.40pm, St Augustine;
St Anthony's College v Naparima College, 3.40pm, St Anthony's;
San Juan North v Trinity College Moka, 3.40pm, San Juan.