"Aye, Cooper, ah love yuh," he shouted (Yes, he! No mistake! An older, balding gentleman whose gait suggested a certain unsteadiness that was perhaps liquid-provoked). "TKR is the greatest side in the world."
He was dressed in a Trinbago Knight Riders tee-shirt and waving a red bandanna energetically to and fro.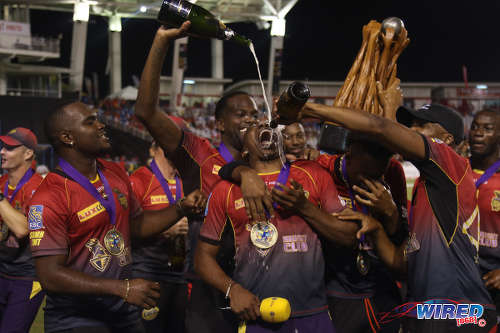 "We bardder than dem by far," he continued, "bardder than them by name!"
It was a night like that. The exciting three-wicket victory by the home side had freed up the native population and the prospect of a free soca concert from superstar and multiple Road March and Soca Monarch winner Machel Montano was pushing freedom into license.
Montano was patiently waiting on the stage at the Brian Lara Stadium in Tarouba but this elated TKR fan had his own audience and was not prepared to wait to have a time with his "friend and dem."

The St Kitts and Nevis Patriots had threatened to spoil the Machel after-party or any after-party, making a modest 135 and putting up a fight to defend it instead of behaving themselves and lying down and letting captain DJ Bravo and his TKR team walk all over them.
Damn ungrateful! After all we do fuh dem…
Dem think what-the-Afghan-name could get 21 runs off Bravo just so. Is a plan, of course, Bravo gih dem dat! He want a challenge. But Wayne L was not a happy camper; he didn't understand that.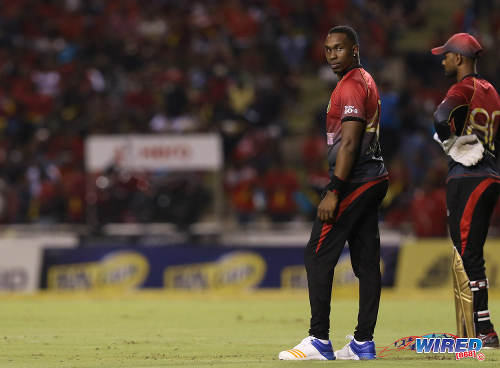 "Bravo always doing that crap at the end of the innings," he exclaimed, steupsing loudly in disgust. "Why he always have to bowl the last over? Dammit, man!"
"If it eh tight, it eh right," palancing emcees JW and Blaze had been warning all evening, from the time the TKR bowlers put a stranglehold on the Patriots following the removal of the dangerous duo of Chris "Universe Boss" Gayle and Evin Lewis. They must have got a tip-off, an ess from somebody inside; it certainly sounded that way.
"Last year [Carlos] Brathwaite make them fellahs mash up all the furniture by me for the World T20 final," Ronique joked. "But we go mash up dem Patriots tonight because half the side done down already."
As if in response, JW announced, "This game is going down to the wire."
"And we wire strong," CNC3's Rundown host shot back.
In the North Stand, folks didn't want to hear anything about going down to the wire; they were only interested in one thing, a TKR win. And there were times when it was not easy to keep the faith; on this night, in this enthralling CPL final, the pendulum swung first one way and then the next.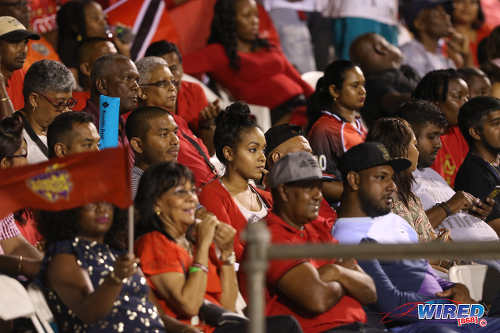 At the start of TKR's run chase, the supporters inside the packed Tarouba venue were in buoyant, boisterous mood and the noise was deafening.
Wayne L was working his vuvuzela and he unleashed a broadside on Patriots speedster Sheldon Cottrell.
"Soldier boy, yuh see that setta style yuh wanted to cut on Tuesday night," he shouted above the din, serious like a judge, "it not happening tonight. Yuh eh have nutten to salute tonight!"
But when, as the innings progressed, things got dicey, they boil down like bhaji.
First, Cottrell dismissed Sunil Narine for three, only to be dismissed in turn by Wayne L who was in good form on the night.
"We gee yuh dat," he declared after the shock of seeing the opener walking back to the pavilion for yet another low score. "Allyuh cyar come from quite wayever allyuh come from and eh get a lil ting. Eh eh!"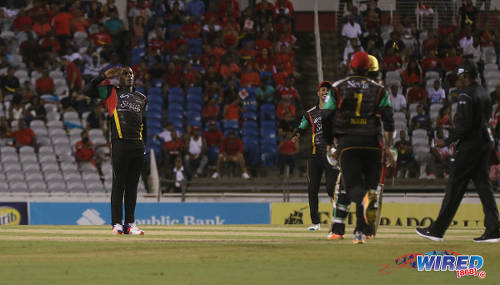 But when the saluting sargeant nearly took DJ Bravo's dancing shoes off with a wicked delivery which crashed into his leg-stump, the unsweet-to-TKR-ears sound of timber wiped the smile clean off Wayne L's face. You would have thought you were in a funeral as Bravo made his way slowly, dejectedly back to the pavilion with a golden duck.
"Aye," Wayne L eventually found his voice again, "way allyuh worried bout? I hear Bravo say yesterday is no big ting if man out early as long as dey doh use up too much ball. Is only a few balls gone!"
The logic didn't win him any friends, at least, not among the patrons that were in my line of vision.
When the younger of the Bravos strolled out into the middle, some of those around me perked up. Maybe it was the fact that Darren's batting style is glaringly similar to the man the Tarouba venue is named after. Or maybe it was the memory of the innings he had played on Thursday to get his team into the final.
"Yuh does walk just like the Prince of Port of Spain," Reddo advised as the young left-hander was taking his guard. "Time to bat like him because you can't afford to get quack quack like your brother."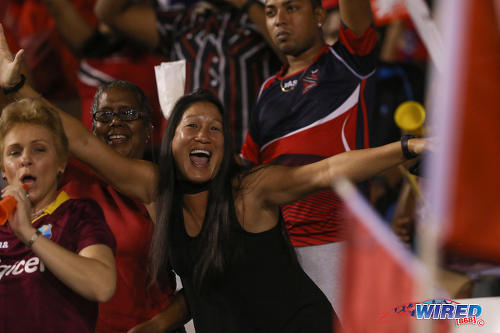 And when a little later in the eighth over, Mohammad Hafeez aborted his run-up as he approached the wicket, another spectator a few rows behind Reddo taunted the Pakistani all-rounder, saying, "Yuh right to fraid him, Hafeez. Run for yuh &$&@&$&@ life."
One ball later, the score was 53 for 4 and Lil B was back in the dugout, trapped dead in front.
"Oh gosh, ah sorry, boy!" said Glad Man to Hafeez, climbing off his high horse.
The bhaji boil-down was well and truly on the way as Hamza Tariq (18), Dan Christian (8) and Javon Searles (2) all perished. A few of the "red, white and black" supporters were sounding as though they needed Limacol, others, like Junior J just in front of me, as though they needed Advil.
"This game starting to give me a headache, oui," he commented.
A short guy clad in a "Soca Warriors" jersey held his head in agony a few rows down from me as Brandon King took an absolute blinder to dismiss Tariq with the score on 67.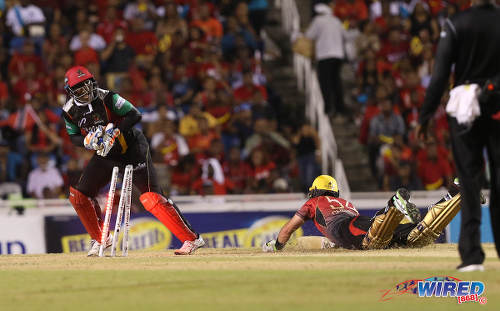 "Jeezanages," he screeched as he saw the replay of King's one-handed dandy. "How he ketch dat?"
The steady flow of wickets had considerably reduced the noise level in the North Stand and I could hear an interesting exchange behind me without turning around.
"Ramdin is we last batsman, inno. He hadda come good for us tonight…," one older gentleman told a younger one—I'm guessing from the voices; I didn't want to look.
"Otherwise," the younger man completed the thought, "we ass is grass."
Out in the middle, South African spinner Tabraiz Shamsi nearly had a fit when an LBW appeal against Searles was turned down in the 13th over by Umpire Gregory Brathwaite. Shamsi did not have to wait long for his reward, though, as in his next over Searles was caught in the deep by homeboy Evin Lewis, who had earlier bagged the award for striking the most sixes in the tournament.
Shamsi celebrated by sparring with his teammate Carlos Brathwaite before eventually knocking him to the floor with a straight left jab.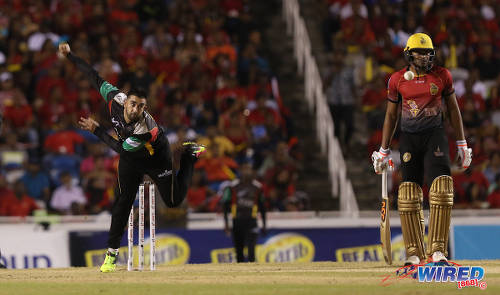 "Is not that Brathwaite yuh really want to lick down, ent?" Wayne L asked, finding his voice again. "Gorehead, nah, gorehead!"
Ramdin and Kevon Cooper were at the wicket now and not taking any chances.
"Once this pair could stay at the wicket for a little while," Junior J suggested, still struggling to overcome his TKR-inflicted headache, "they could do something."
Soon, headache completely forgotten, Junior J was in party mode. So too Wayne L, Reddo, Glad Man and the thousands of other TKR supporters. Cooper took 21 off a Bravo over—sorry, a Ben Hilfenhaus over. Same difference!—and TKR were home.
"So wait nah, Gayle and dem had all that big meeting and he bowl that shit?" Wayne L asked scornfully, as I tried to decide whether to wait for the after-party.
"We ain't care bout dat, brother," someone responded. "Right now we eh mind at all."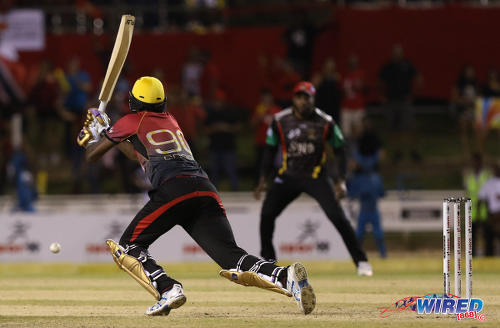 As I waited to get a taste of Machel, the group around me were already looking ahead to the future and the possibility of a stronger TKR team next year.
"They mash up we Red Force team and they still can't touch we," the conversation went. "We get back Narine and Ramdin already; next year, we going fuh Pollard."
"Dem Bajans eh like he at all," the response came. "But we ain't getting him just so."
"Me eh sure if I want back Pollard, nah, brother," a female in the group retorted. "I go take Evin, yes. Leave Pollard. Ah cyar take the no balls!"