Boasting a spin attack that would be the envy of many teams in world cricket, Trinbago Knight Riders lost only two matches on their way to ending the round robin phase of this year's Hero CPL T20 comfortably at the top of the table.
But as they prepare to meet St Kitts and Nevis Patriots in this evening's play-off at the Brian Lara Stadium in Tarouba, they aren't exactly wearing broad smiles.
According to captain Dwayne Bravo, things aren't all that peachy.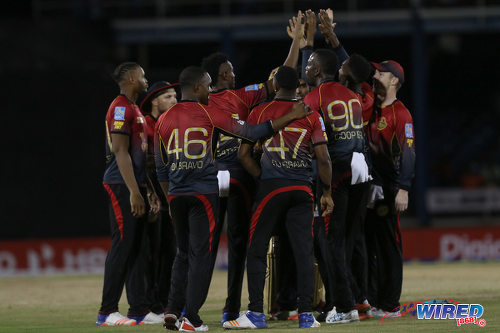 With 335 runs to his name at a strike rate of just under 166, swashbuckling TKR batsman Brendon McCullum has bid farewell to CPL 2017 and that's a sad reality for Bravo and his troops.
After an injury-plagued debut season last year, the Kiwi has stood out with the bat in his second season with the TKR.

"It's a big loss for us," Bravo told the assembled media at the Hyatt Regency Hotel yesterday, adding that the New Zealander "is one of the main reasons we got this far."
"Brendon (McCullum) has been good and not only with the bat but [in] the way he carries himself. His leadership skills definitely will be missed. The team will miss him for sure. The tournament will miss him."
He may no longer be with his teammates on the field but McCullum's bond with and influence on the Knight Riders players has led them to give themselves a mandate to win the tournament in his honour.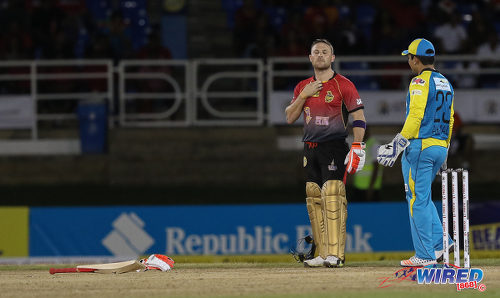 "The team made a pledge to try and go on and win the tournament for him," said Bravo. "We call ourselves a family so basically it was sad to leave your family but he encouraged us to try and win the tournament.
"He (McCullum) just said, these things happen in cricket and [there's] no need to be sorry for him. Just go ahead and continue to play the way we've been playing."
In light of the blistering form of their play-off opponents, more specifically, their opening batsman Evin Lewis, that may take some doing. While injury has sidelined the TKR's reliable opener, the left-handed Patriots opener is seemingly in the form of his life. It doesn't augur well for the home side.
Displaying a combination of savage power and immaculate timing, Lewis single-handedly saw off the challenge of Kieron Pollard's Barbados Tridents at Kensington Oval on Sunday evening.
Chasing 129, the Patriots got there without losing a wicket—with an incredible 13 overs to spare. "Universe Boss" Chris Gayle, whose 30-ball century is currently T20's fastest, contributed just 22 off 14 balls, Lewis battering 97 off a mere 33 balls.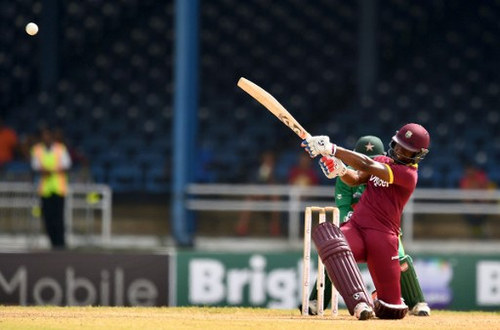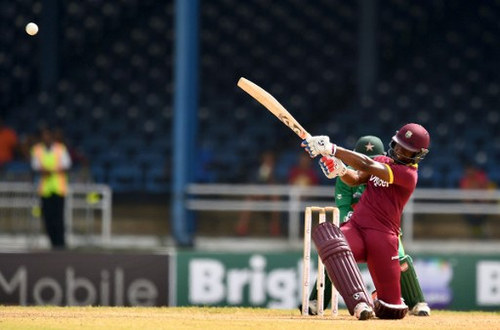 If either of this pair is on song in Tarouba this evening, motorists along the Solomon Hochoy Highway will have to be on the lookout for UFOs, unusual flying objects.
The good news for the Knight Riders is that McCullum's replacement was expected to arrive in the country yesterday afternoon. He is Australian Dan Christian, a more-than-handy middle-order batsman and right-arm medium-pace bowler who has made a name for himself over the last 12 months as a consistent and reliable cricketer.
Just before he flew out of England for his maiden CPL adventure, Christian captained Nottinghamshire to victory in the Nat West T20 Blast title. Bravo will be hoping that, with the Aussie in the squad, he can do the same today but he does not at the moment see Christian as a starter.
"Dan Christian comes in as a background player," he explained. "We need a replacement player [because] there is a possibility that we might play three games, you never know. So now we have got someone there for back-up."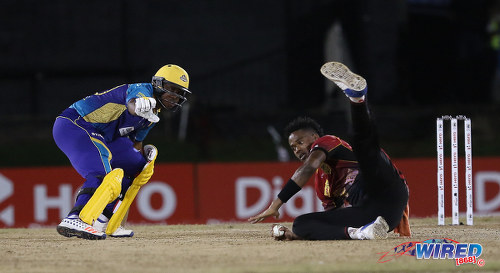 McCullum's replacement in the starting XI will be William Perkins, who will also take his place at the top of the order.
The aggressive wicketkeeper/batsman has been in the squad for a few seasons now but he will have to raise his game quite some distance if he is to have any chance of filling McCullum's big boots.
Bravo believes that he can.
"He (Perkins) is going to get his opportunity," the TKR skipper announced. "We know that he has the potential so now is the time for him to step up."
Knight Riders fans know a thing or two about replacements who fail to step up. Robert Frylinck, the mountain of a South African who came into the squad for fan favorite Hashim Amla, has so far made no impression with bat or ball. Maybe he too will choose the final phase to show off his wares.
A late flight and traffic robbed the assembled media of the presence of Patriots skipper Gayle. But had the Jamaican been present, he would almost certainly have been wearing the same smile—or perhaps a smirk—as he was wearing after his team's dismantling of the Tridents on Sunday.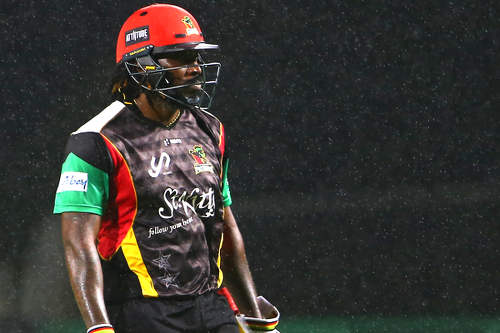 His team seems to be peaking at just the right time so he is almost certainly fancying their chances of finally claiming some measure of revenge on his former West Indies teammate and friend Bravo and his TKR.
However, Bravo tried, none too successfully, to put a brave spin on things.
"Not because it's a play-off situation means that preparation has changed or guys need to get prepared differently," he said, "It's just a normal cricket game. We have the same attitude, the same energy.
"Once we approach it the same way, hopefully we'll get the result that we're looking for. We're playing good cricket, yes, but having said that, we respect the opposition."
"Yes, St Kitts is a good team so let's see how it goes."
Should TKR somehow get past the explosive but admittedly top-heavy St Kitts and Nevis outfit this evening, they go straight into Saturday's final.
If the Patriots come out on top, they sit and wait for the final while the home side gets a second bite at the cherry on Thursday when today's losers meet the winners of tomorrow's clash between the Jamaica Tallawahs and the Guyana Amazon Warriors.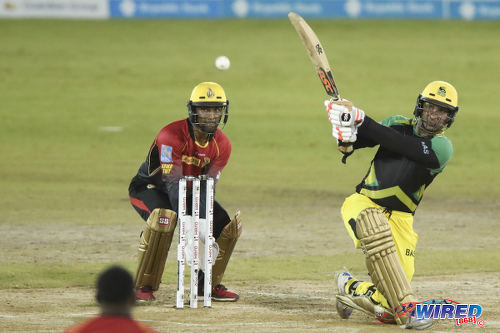 CPL organisers probably are banking on today's results going with the form book. The local fans, who are again expected to fill the arena for today's mega-clash, will be hoping to see the home side continue their triumphant march in the competition so far.
But will they be willing to put their money where their hearts and their mouths will be?
Only a very brave man would bet on it.