Even if you had no idea who he was, Keron "Ball Pest" Cummings would have caught your eye on Saturday afternoon at the Diego Martin North Secondary School ground.
With the Trinidad and Tobago Super League (TTSL) Two game seemingly headed for a goalless draw, the former Soca Warriors midfield ace ran onto a long-range lobbed pass in the 84th minute and finally broke the deadlock with a powerful header.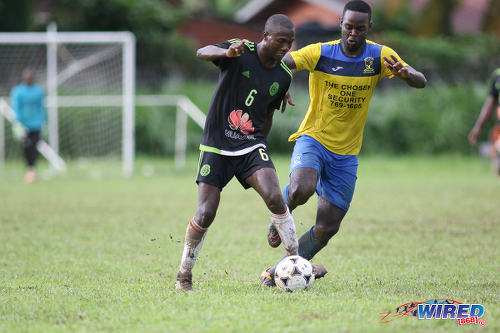 It was Ball Pest's maiden goal for Petit Valley/Diego Martin United and gave his new club a short-lived lead in their contest with Central 500 Spartans. But, just before the end of regulation time, Spartans' Keith Williams leapt high to put a well-placed header off a corner into the net and deny PVDM United their second win of the season.
The Spartans remain unbeaten and lead the TTSL Two table—effectively, Trinidad and Tobago's third division—while PVDM are fifth in the seven team standings.
"It feels great to have scored but I would have really liked the win," Cummings told Wired868, "but that is how it goes sometimes. So now we've played three games: we won one, lost one and now today we drew one.

"It's tough but that's football."
Shot in the leg near his Petit Valley home on 27 December 2015, the 29-year-old Cummings is still working his way back to full fitness. And, he hopes, back to a level that will see him regain a place on the National Senior Team.
That process started last year when Cummings swapped North East Stars for Central FC and was on board as the club copped an unprecedented third successive Pro League title.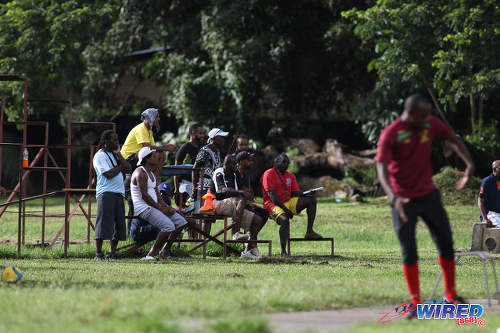 But a lack of fitness derailed Cummings' plans for a comparatively rapid return to the top level and he had an eminently forgettable season with the "Couva Sharks."
So, time for Plan B. As the transfer window opened and his contract expired, Ball Pest decided to pull in his wings and make a new start.
He said goodbye to the high-flying Couva-based unit and lowered his sights to the village club where he had cut his footballing teeth: Petit Valley/Diego Martin United.
It's going to take some adjusting. But Cummings has company in former Central teammate and defender Keino Goodridge who also left the three-time champs to throw his lot in with PVDM United.
A third player on PVDM's books, Kadeem Corbin, was trialling with top flight European clubs—just over a year ago—and helped San Juan Jabloteh to a runners-up medal at the 2017 Caribbean Club Championship. Corbin, who is also a former international player at youth and senior level, was not in the squad for Saturday's game.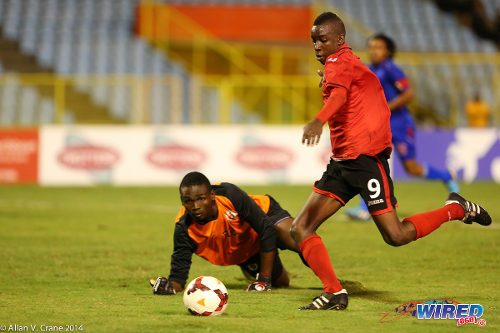 The crowd at the Diego Martin school ground on Saturday was, at best, modest, the surface was certainly not first-rate and the opposition was not the sort that you would expect to bring the best out of a class player.
And the pay? Cummings preferred not to discuss that. But he is keeping the positives firmly in his sights.
"When I played in the Pro League, the fitness demand was high [and] I was straining myself trying to compete with the other members of the team," said Cummings. "So when my contract expired, I decided to make the switch. In this league, it is not that demanding [and] I have the opportunity to continue physiotherapy and get regular game time at the same time."
Cummings suggested that the emotional lure of representing his hometown team was also a factor.
"[This] gives me the opportunity to give back to my community and village team," he said. "I love Petit Valley and I hope playing for this team will show them that I do. This is full-time for me [and] it's just football alone. But sometimes I have to do some odd side jobs to make do because as footballers we are not getting the money [owed to us].
"At the same time, this is only for a period as being here just allows me to regain my fitness and, as an added bonus, I have the opportunity to be close to my family and loved ones."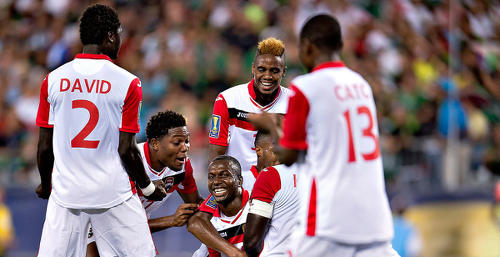 Let it not be forgotten that, before his injury, Cummings was at the pinnacle of his career. He was a regular under then Warriors head coach Stephen Hart and his double strike in a thrilling 4-4 tie with Mexico at the 2015 Gold Cup propelled him into the spotlight.
He was set to join Orlando City early in the new year when disaster struck. Asked about that setback, more than a year after the fact, Cummings could still hardly disguise his anguish.
"It was so disappointing; I can't even put it into words," he said. "To have the opportunity to play with the likes of Kaka in Orlando would have been great."
But, he says, he is willing to start at the bottom and work his way back to the top.
"This, now, is my road to redemption," he says, covering the entire field with a sweep of his hand. "It is football and only football for me. That's why I'm here! I'm willing to play here so that in January one of the Pro League teams could bring me back."
He pauses, staring presumably into a future that he thinks he can see.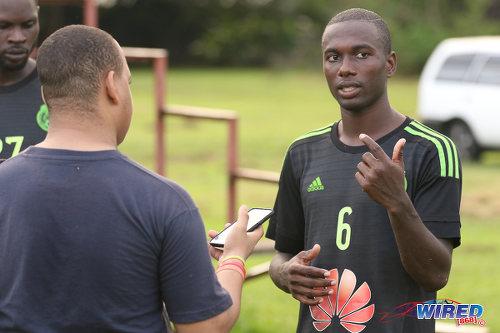 "Once I'm back in the Pro League, national selection is my next goal. Everything else will fall into place."
In the pre-match warm-up on Saturday, as some players appeared reluctant to warm up in accordance with the instructions of coach Gordon Pierre, "Pest" led by example and repeatedly encouraged his team-mates to comply.
Once the game begun, Cummings, who played as a central attacking midfielder, tracked back on a number of occasions, put in solid tackles to regain possession for and putting on a show for the modest crowd with some deft dribbling and accurate passing.
He created the first clear chance of the game, just after the half-hour mark, with a well-struck long-range shot that went just past the upper left corner of the Spartans citadel.
At the back, Goodridge was a solid, commanding presence.
He declined to elaborate on his reasons for leaving Central and would only say that he "didn't really agree with some things at the club."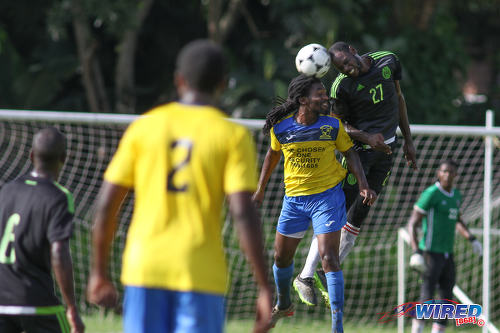 "Firstly, I love Central FC," Goodridge told Wired868. "The club has given me a lot during my time there. But in terms of why I actually left the club, I don't want to get into it really."
He did not say what the terms of his contract with his PVDM were either but conceded that he sometimes has difficulty making ends meet. He is still owed substantial bonus money by the Sharks.
"Right now I don't know what the story is and when they're going to play players," said Goodridge, "but to survive right now I am driving taxi with my car. It's truly a sad situation.
"In years to come, I would love to one day return and play for the club. But, as for right now, I just don't see that happening."
Despite his present playing stage, the left-sided defender still has not given up hope on representing Trinidad and Tobago.
"It feels like I've been constantly overlooked," said Goodridge. "I'm someone who gives 110% on the field and I will always play like that. I'm never going to give up on one day making the national team."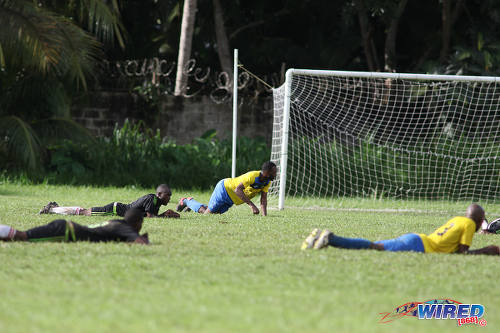 Pierre believes his newly signed trio can make a critical difference to his club's future and he suggested that his team has what it takes to win the league. However, he made no attempt to disguise his frustration with the way things have gone for his side so far this season.
"We have a good squad, a great squad with some quality players," said Pierre. "But the discipline and intensity is severely lacking."
Cummings and Goodridge hope to leave a positive impact on the squad for however long they stay in the TTSL's second rung.
TTSL One results
(Sunday 16 July)
WASA FC 4 (Nkosi David 29, Dillon Peterson 40, Dwight Critchlow 72, 78), Club Sando Moruga 3 (Nigel John 20, Akeil London 85, Kareem Gill 90+3);
UTT 6 (Isaiah Mejias 13, Dillon Bartholomew 21, 57, J'deem Parris 32, 37, 61), Police FC 0;
1976 Phoenix 0, FC Santa Rosa 0;
Cunupia FC 0, Siparia Spurs 1 (Marlon Phillip);
Defence Force 1 (Stephen Antoine 24), QPCC 3 (Nasyir Rodriguez 66, Devon Modeste 69 pen, Anton Hall 77);
Bethel United 0, Guaya United 3 (Carlon Hughes 26, Kevin Jagdeosingh 43, Kendes Garcia 66);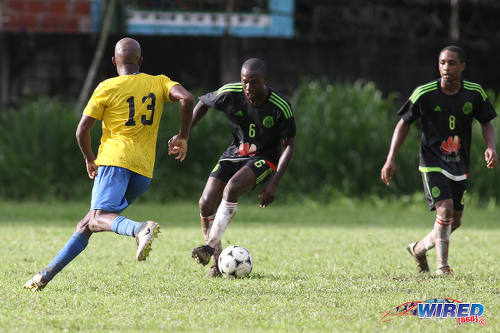 TTSL Two
(Saturday 15 July)
Youth Stars 4 (Ackeel Sterling 15, Kevon Woodley 45, Hakeem Regal 50, Duran Dilworth 90), Marabella FCC 1 (Shemar Ravello 12);
Harlem Strikers 1 (Wendell Archibald 36), Perseverance Ball Runners 3 (Garvin Abraham 25, Rick Lyder 45, Jamal Lucas 57);
Petit Valley/Diego Utd 1 (Keron Cummings 86), Central 500 Spartans 1 (Keith Williams 88).