A pair of second-half penalties by bustling attacker Keron Clarke helped defending Trinidad and Tobago Super League (TTSL) champions FC Santa Rosa to a 3-0 win over WASA FC in top flight action in St Joseph yesterday.
Rosa, who pounded out a thumping 7-0 victory over Club Sando Moruga at the Arima Velodrome in their last outing, were not quite as fluent at WASA's head office ground yesterday. However, the Keith Look Loy-coached team did enough to down their aggressive opponents and thus maintain second spot on the 12-team table.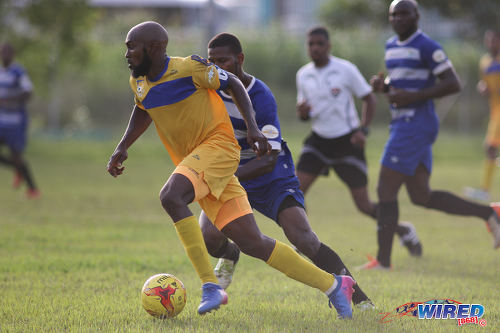 But it was in the second half that they really showed the fighting qualities that are needed to come out on top in a pitched battle.
In the first half, WASA were first to almost every loose ball and appeared to be bullying the Santa Rosa players off the park. True, their robust play earned the hosts no concrete rewards but their greater hunger and speed was a big enough worry for Look Loy.
"WASA were very aggressive, particularly from behind, and they were beating us to the ball," Look Loy told Wired868. "Frankly, they were intimidating our forwards."

"When they started to apply physical pressure from behind, our forwards disappeared," he went on. "They weren't holding the ball and they weren't giving the rest of the team a chance to recover physically."
However, WASA striker Glen Walker and midfielder Christopher Young both pulled up with injuries inside the first 25 minutes and that made it harder for them to sustain their early aggression. WASA coach Shurland David expressed the view that Walker's injury was particularly harmful to his team's fortunes.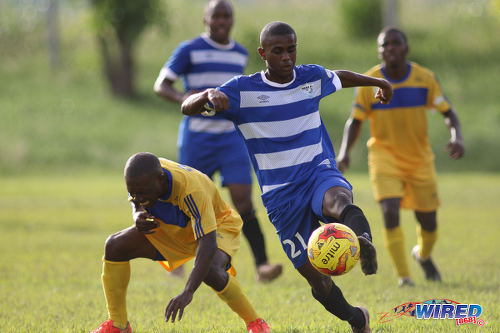 "That was a change I wish I didn't have to make because Glen Walker is one of the better finishers on the park," David told Wired868, "and he would take care of the ball so other players would join in.
"He's a tidy player and that's the type of player we needed for this game especially because plenty of the guys didn't turn up in training for whatever reason."
Even without Walker, however, David's charges were able to cause a few scares. Santa Rosa defender Jesse Reyes had already had to make a goal-line clearance in the 14th minute after some enterprising play down the WASA left by midfielder Dillon Peterson. And with Walker gone, Shem Clauzel, a diminutive, teenager who had come on as a substitute, showed a clean pair of heels in midfield but shot agonisingly wide from a tight angle in the 39th.
The first half seemed headed towards a goalless finish when the hosts gift-wrapped a golden chance and presented it to their visitors. "Rosa Nation's" 18-year-old midfielder Saleem Henry gleefully accepted the chance on behalf of the TTSL champions, tapping home from close range after WASA goalkeeper Denzil Carabon failed to take his initial left-footed effort cleanly.
His first crack had looked to be a regulation take for Carabon but the custodian was somehow left with egg on his face as he made a complete mess of it to send the guests away with the narrow first-half lead.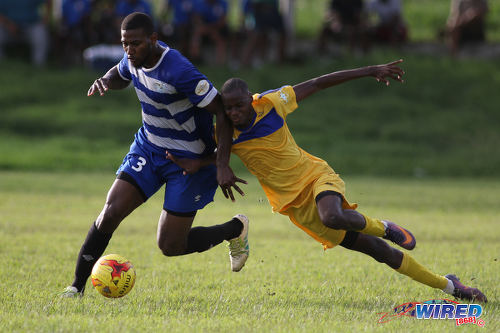 "We gave up an easy goal," a dumbfounded David declared, "in good terms, a real nonsense goal. The goal was a real brain-teaser. […] It was very soft, […] a goal that no team would like to concede."
Maybe it was Carabon's gaffe lingering on their minds or some other ghost haunting them but the WASA outfit was a visibly flat and almost dis-spirited side at the start of the second half.
Rosa, on the other hand, quickly hit their stride, playing with much more intensity and purpose and maintaining it throughout the second half. And as Look Loy pointed out, danger-man Clarke was able to get the ball at his feet more often.
Largely missing in action in the first half, according to the Rosa coach, the forwards repeatedly made their presence felt in the second. In the 53rd minute, Clarke received a clever pass from lanky midfielder Jesse Rampersad and his snappy effort forced Carabon into a sharp save. On the hour mark, attacker Nathan Julien also had a near miss after being released by a long clearance from Reyes.
Rosa is a team that is built on defensive solidity, Look Loy's forte as a player. So unsurprisingly, Reyes and his central defensive partner Alfie James dealt with WASA's diagonal and long balls quite comfortably. Full-back Joel Dufeal also put in a solid shift in defence in the second period.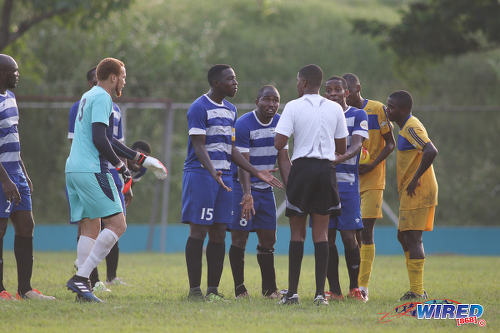 For the WASA defenders, though, the sailing wasn't quite as smooth. Centre-back Damien Pompey got his team in dangerous waters when he hauled Clarke down in the area in the 72nd minute.
The feeling in the WASA camp was that referee CJ O'Brien had awarded the visitors a soft penalty but that was clearly nowhere in Clarke's thoughts as he stepped up to the spot and beat Carabon with a crisp right-footed drive into the bottom-left corner.
Pompey decided that he had seen enough of Clarke's show and he chopped him down outside the area in the 82nd minute to earn a second yellow.
But Clarke was not finished. In the fourth minute of second-half stoppage time, the Rosa captain, having kept the WASA defenders honest throughout the second half with determined runs into the channels, put the icing on the cake for his team with another penalty conversion. This time, he targeted the 'jep nest' and, finding his mark with some aplomb, he thumped his chest à la Tarzan.
Although Look Loy acknowledged that Santa Rosa did not play their best football on the day, he suggested that the hallmark of champions is to come out on top even on a bad day.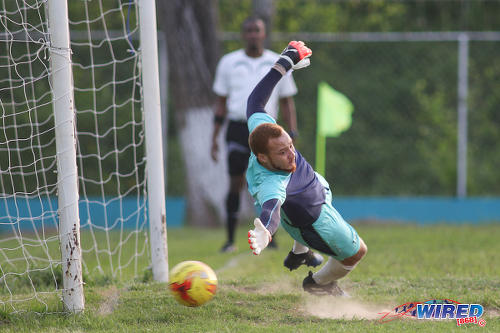 "All in all, we are satisfied with the fact that-in true Santa Rosa style-we maintained a clean sheet," Look Loy said. "You can't play your best every day; and, if you want to be a champion, you take it as it comes."
At the other end of the spectrum, David, whose team currently sits eighth on the 12-team table, says that WASA are currently trying to deal with some off-the-field challenges.
"The results aren't going our way," David told Wired868. "I wouldn't say it's the football [but] I would say it's something other than football because something is bothering this team and we have to get to the bottom of it."
He then went on to highlight the challenges which come with overseeing a company-based team.
"There are plenty registered players who could help the team and they haven't been showing up for training," he explained. "We have 13 guys missing. [And that is] real talk […] one day you will see one set of men come to train and another day you will see another set of men."
If their situation is to improve, David's charges will need to improve their attitude this week. Their next assignment is on 16 July when they host Sando in St Joseph.
The bad news for David is that Sando yesterday bounced back from the 7-0 thrashing they suffered at the feet of Rosa Nation with a 7-1 blowout of their own against Police FC in Moruga.
(Teams)
WASA FC (3-4-2-1): 13.Denzil Carabon (GK); 5.Akil Harley, 2.Damien Pompey, 3.Phillip Nelson; 27.Kerron St Cyr, 8.Kevon Henry, 6.Christopher Young (21.Shem Clauzel 21), 15.Cleveland Cambridge (captain); 23.Ché Doyle, 17.Dillon Peterson (22.Kearn Noel 75); 26.Glen Walker (10.Michael Lee Celestine 13).
Unused Substitutes: 16.Anthony Alleyne (GK), 20.Delroy Eastman, 24.Omari Babb.
Coach: Shurland David
FC Santa Rosa (4-2-3-1): 22.Kitwana Manning (GK); 3.Joel Dufeal, 20.Jesse Reyes, 5.Alfie James, 4.Stefan Chang (23.Marc Leslie 85); 28.Keron Bethelmy, 21.Durwin Ross; 14.Saleem Henry (19.Gary Bart 72), 26.Jesse Rampersad, 9.Nathan Julien (24.Brendon Figuera 62); 11.Keron Clarke (captain).
Unused Substitutes: 30.Daren Shah (GK), 6.Ricardo Cornwall, 12.Mikheil Peters, 18.Stephen Johnson.
Coach: Keith Look Loy
Referee: CJ O'Brien
Wired868 Man of the Match: Keron Clarke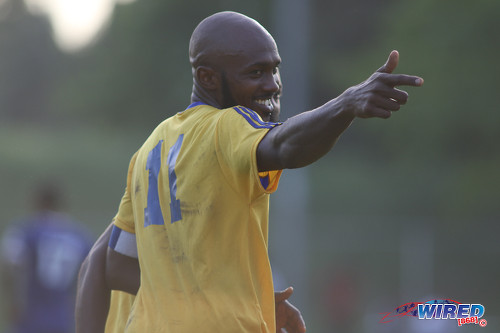 TTSL One Results
(Sunday 9 July)
Club Sando Moruga 7 (Anderson Toussaint, Nigel John, Akeil London, Jessie Edwards [4]), Police FC 1 (Isaiah Pryce) at Grand Chemin Rec Grd, Moruga;
WASA FC 0, FC Santa Rosa 3 (Saleem Henry 45+3, Keron Clarke 72 'p', 90+4 'p') at WASA, St Joseph;
Siparia Spurs 1 (Kevon Bascombe 63), UTT 2 (Isaiah Mejias 70, Andy London [own goal] 73) at Fyzabad Petrotrin Sports Club Grd;
QPCC 2 (Devon Modeste 17, Kevaughn John 90+3), 1976 Phoenix FC 1 (Shelton Williams 42) at QRC Grd;
Guaya United 6 (Shaquille Ferrier 2, Carlon Hughes 33, 39, 75, 80, Kevin Jagdeosingh 64), Cunupia FC 2 (Torian Sobers 60, Jamal Spencer 82) at Guayaguayare Rec Grd;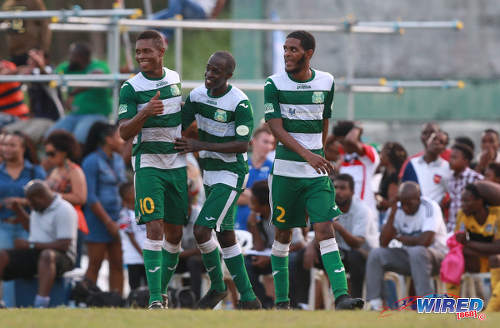 TTSL Two Results
(Saturday 8 July)
Marabella FCC 1 (Jaycee Paras 14), Petit Valley/ Diego Martin United 0 at Guaracara Park;
Central 500 Spartans 2 (Donovan Derrick 63, Keith Williams 88), Harlem Strikers 2 (Neon O'Garro 5, Wendell Archibald 90+5) at Edinburgh 500 Rec Grd;
Perseverance Ball Runners 2 (Kiedel Glasgow 20 'p', Deon O'Garro 24), Prisons FC 4 (Anthony Parris 55 'p', 69, Brandon Calliste 56, 81) at New Settlement Rec Grd, Caroni Savannah Rd;
Youth Stars were on a bye.