The finalists of the 2017 Republic Bank National Youth League (RBNYL) have been decided and the "Big Cannons" of FC Santa Rosa will be gunning for a double after they qualified for the Under-13 and Under-15 finals after some intense action at the Queen's Park Savannah today.
There were no victories by technical knockout for Santa Rosa today, as the youngsters got the opportunity to show their mettle; and that they did. The young Rosa teams took some pattern from their seniors, who are currently the reigning Super League champions, as they marched on to the finals without conceding a goal in either semifinal matchup.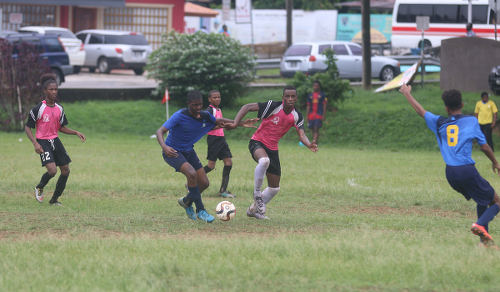 In the Under-13 semifinals, Rosa edged the dogged Cunupia Extreme unit by a 1-nil margin. Meanwhile, the Under-15s added a bit more gloss to their score line as they turned back Police FC 2-0.
In the 10th minute of the Under-13 semis, Santa Rosa showed their intentions, as Kosi Charles sent a free kick just over bar from the edge of the area. Charles was lively in the early stages, and he should have put his team in the lead on the quarter hour mark. However, left unmarked in the area, Charles missed his kick after trying to latch on to a left side cross from danger man Ja-Shawn Thomas.
Cunupia coach Dave Quamina, who may have a panic attack if his lips are glued together, was already frustrated with a few of his defenders. The passionate coach—to put it mildly—made an example of one member of his back line.

"Aye you come off. Yuh not listening!"
Cunupia, who usually pose a threat from set pieces when the likes of Jaylon Clarke and Emmanuel Hunt get on the ball, got a taste of their own medicine yesterday as Santa Rosa tried to exploit some cracks. However, the Big Cannons failed to capitalise as Thomas wasted a presentable opportunity following a dead ball situation in the 17th minute.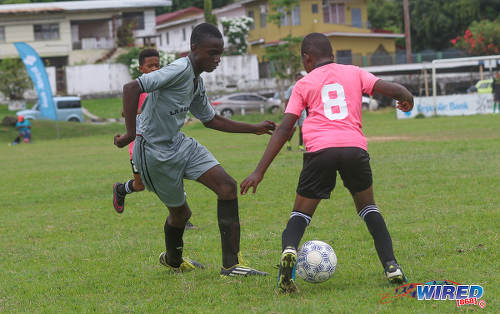 The tall and rangy Thomas, who played as a lone striker, was quite a handful for the Cunupia defence. And Rosa coach Justin De Freitas felt the striker should have been rewarded with a penalty after taking a tumble in the area on the half hour mark.
"If the defender ent touch the ball that have [sic] to be a penalty ref."
Video replays may suggest that Thomas was feeling to take a dip; but his best moment was yet to come.
Early in the second half, Rosa goalkeeper Joshua Charlerie received a scare as a deep, left-footed free kick by Jevon Thomas swerved right into his side netting. However, Cunupia's Kaleem Pereira was always the busier of the two net minders.
In the 48th minute, Pereira watched on nervously as a close range volley by Zen-Isaac Reymo was struck wide. Five minutes later, Pereira had the dreaded job of taking the ball from the back of his net after Thomas scored from close range following yet another free kick that the Cunupia defence failed to clear.
Cunupia nearly managed a swift response in the 56th minute as Clarke went on a bulldozing run before being thwarted at the final hurdle. Seconds later, Charlerie was nearly left with egg on his face as a long punt upfield by Thomas bounced over him and landed on the roof of his net.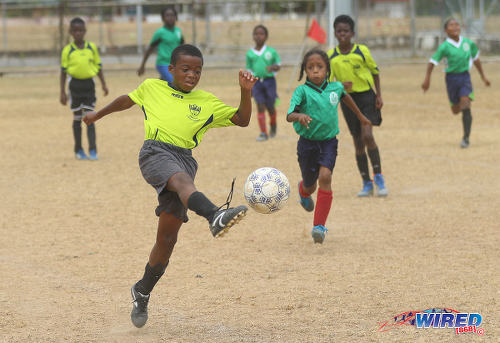 No harm was done though, and De Freitas' charges slid into the Under-13 final.
The Santa Rosa coach stated that his midfielders were prepared to be gritty in the middle of the park, while they looked for magic from their big man up top.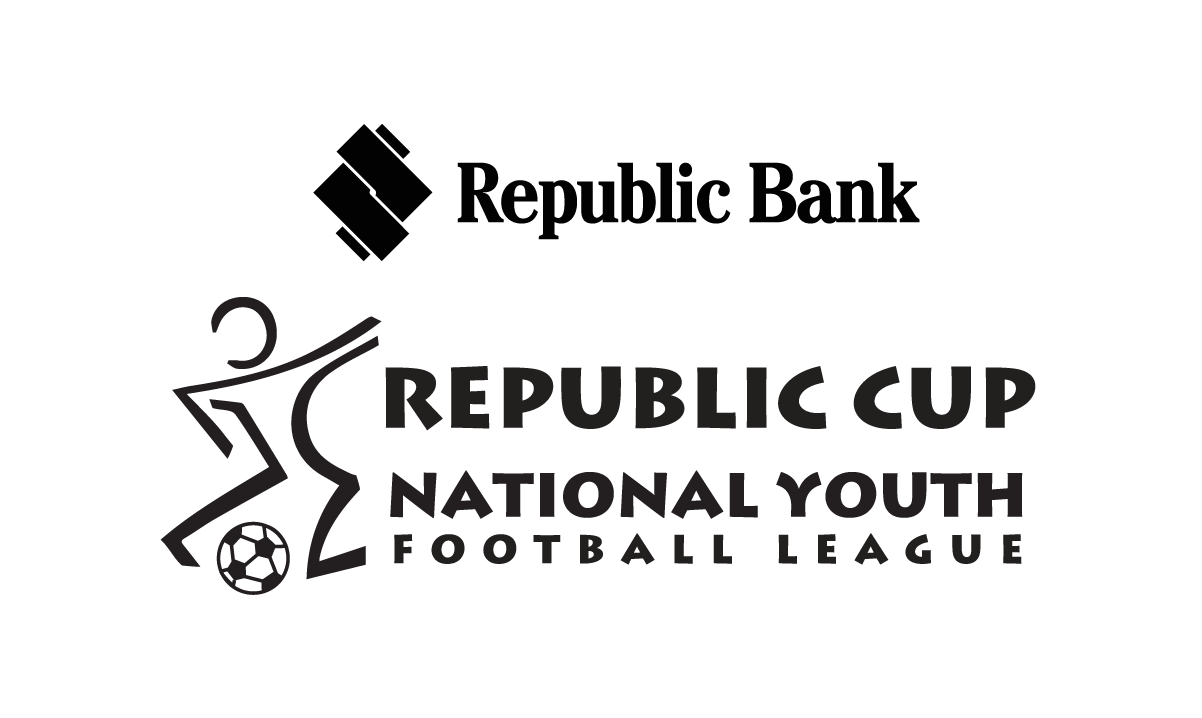 "As you would realise, Ja-Shawn is a towering figure so we don't need more than one forward. Our objective is to fight for the ball, win it and get it to Jashawn," De Freitas told Wired868. "Jashawn is twelve years old eh and he's learning the game. I predict by the time Jashawn reaches 17 years he will be playing for Trinidad and Tobago."
It will be De Freitas vs De Freitas in the Under-13 final, as coach Sheldon De Freitas led Central FC to a penalty shootout victory over Trendsetter Hawks in a feisty encounter.
Central prevailed 3-1 from the spot after duelling to a 3-3 stalemate with the Hawks. However, the undercard of the Central FC coaching staff against the match officials was equally intriguing. At the end of regulation time, the Central staff bombarded the officiating crew as they felt aggrieved by several decisions.
"The officiating, I think as usual—and it's sad for me to say this—left a lot to be desired," De Freitas (S) told Wired868. "Today was one of the worst displays in officiating I've seen in my life."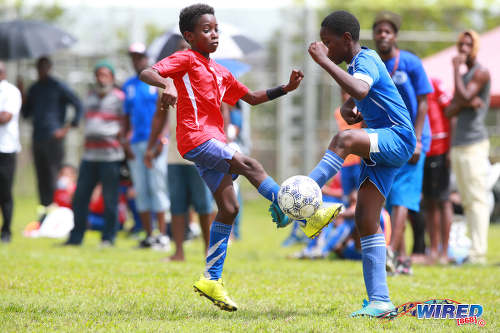 Central led 2-1 at the half courtesy of goals by Daylon Riley and Kyle Ramdoo. And the young "Sharks" went further ahead in the 43rd minute as skipper Giovanni Warner nodded in a beautiful right side cross from Christian Bailey.
It was Bailey's second delightful assist of the game, and the youngster would walk into any youth team on the basis of his crossing alone.
However, contention would soon creep into the semifinal match as Trendsetter clawed themselves back into the game. Akil Auguste, the tiniest player on the field, dispatched a penalty with authority in the 45th minute before Jardell Graham equalised for Hawks in the dying moments of regulation time. with a close range tap in following a deep free kick.
De Freitas (S) was far from pleased with Trendsetter's third item.
"Four of the players went offside and they got a goal to equalise. It was clearly offside and they were trying to attract the intention of the referee's assistant," De Freitas said.
According to the Central contingent, justice was done in the shootout as Zaid Lewis made two big saves to help his team earn the vital win. Former Trendsetter player Abdul-Quddoos Hypolite helped Central get past his former teammates and left coaches Anthony "Dada" Wickham and Travis Mulraine trying to console some sulky Trendsetter lads.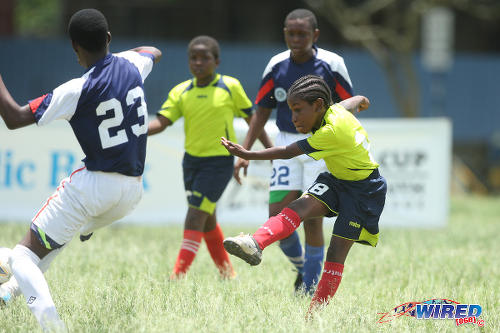 "There is no need to be disappointed," Dada told his players. "After the game y'all just played there is no need to be disappointed."
Trendsetter found themselves on the losing end in their Under-11 semis too, as Jabloteh defeated them 3-1. The opening goal of the game would have been an ominous sign for the Hawks as goalkeeper Malachi Woodley helped the ball into his own net.
Hawks equalised six minutes later through Russell Francois, only to concede immediately from the Jabloteh kickoff. And in the 57th minute, Jabloteh's Raheim Mohan sealed Trendsetter's dreaded fate as he went on a lovely solo run before tucking away his right-footed shot.
On Saturday, Mohan cut a lone figure in Constantine Park, Macoya as he showed up for the semi final clash which had been cancelled earlier in the morning. Today, in Port of Spain, Mohan showed that he could do it on his own there too.
Jabloteh will meet Queen's Park Cricket Club (QPCC) in the Under-11 final as the "Parkites" defeated Defence Force by a 2-1 margin. Michael Chaves and Thomas Deccle got on the scoresheet for QPCC as they cancelled out a ninth minute item by Armani Rowe.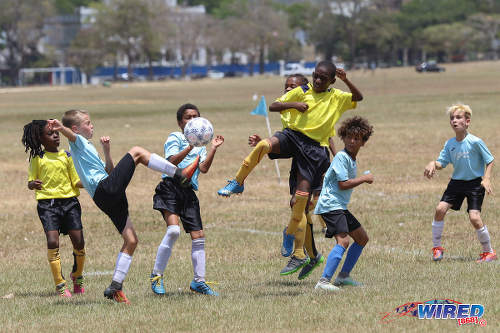 QPCC's Under-15 team will not be suiting up for Saturday's final though, as they lost out to RSSR on penalties after a 2-2 stalemate. QPCC's brand was neat and intricate, while RSSR were more individualistic and allowed the likes of Mamade Guerra and Saeed Pompey Charles to put their dancing skills on display. Guerra made the most of the freedom as he grabbed a double.
RSSR, who topped Crown Trace 7-6 from the penalty spot in the previous round, showed their prowess from the spot once more as they went perfect to come out 5-4 victors. Their penalties were all struck with aplomb but the clincher from Jaheim Seales took the cake, as he dispatched the ball into the jep nest after showing the goalkeeper exactly where he was going to put the ball. Talk about confidence.
Seales and his teammates will need that bravado to overcome Santa Rosa in the Under-15 final, as the young lads from "Rosa Nation" got past Police FC 2-0. Mekhi Robinson got the opener in the 49th minute before Jevon Benjamin sealed the game in the 78th minute with a looping effort over the head of goalkeeper Meshac Carrington.
The RBNYL finals have now been set. Will we see a Santa Rosa double or will they walk away empty-handed?
We will soon find out.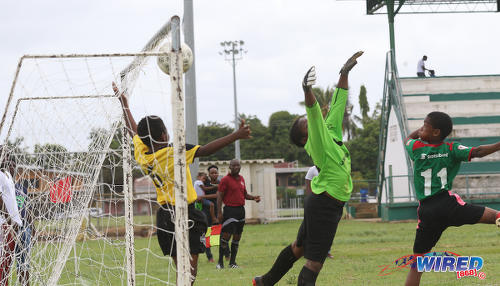 RBNYL Semifinal Results
(Monday 26 June)
[All games at Queen's Park Savannah]
Under-11 Division
Defence Force 1 (Armani Rowe 9), QPCC 'A' 2 (Michael Chaves 21, Thomas Deccle 28);
Trendsetter Hawks 1 (Russell Francois 13), San Juan Jabloteh 3 (Malachi Woodley OG 7, Lindell Sween 14, Raheim Mohan 57);
Under-13 Division
FC Santa Rosa 1 (Ja-Shawn Thomas 53), Cunupia Extreme 0;
Trendsetter Hawks 3 (Theo Crovador 5, Akil Auguste 45, Jardell Graham 67), Central FC 3 (Daylon Riley 8, Kyle Ramdoo 20, Giovanni Warner 43).
*—Central won 3-1 on penalties;
Under-15 Division
RSSR 2 (Mamade Guerra 25, 61), QPCC 2 (Zachary Welch 8, Jake Bernard 51).
*—RSSR won 5-4 on penalties;
Police FC 0, FC Santa Rosa 2 (Mekhi Robinson 49, Jevon Benjamin 78).