Trinidad and Tobago international striker Jamille "Balo" Boatswain has agreed a two-year deal with Costa Rica top flight club, LD Alajuelense, and hopes to fly to San José on Monday night to meet his new teammates for the first time.
The only remaining obstacle is for Boatswain's last Pro League club, Defence Force, to sign off on the move.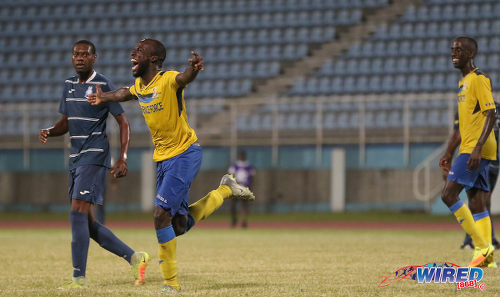 Defence Force team manager Basil Thompson confirmed that they have not been officially contacted by Alajuelense yet and only knows what he read about the deal in the media.
"After I commented on what I read on Wired868 yesterday, I got an email [from a football agent] to clarify what is happening," said Thompson. "[…] So I told him I would like to speak to a representative from the club and not an agent."
Agent Sergi Roca explained to Wired868 that the current hiccup is a result of the 23-year-old Boatswain's unusual professional status.

Boatswain, a former St Benedict's College student, was approached by the Trinidad and Tobago Defence Force to enlist as a soldier and joined their football club in January, after starting last season with Point Fortin Civic.
He has not officially joined the regiment yet nor does he actually have a professional contract. Essentially, he is an amateur player registered in a professional league.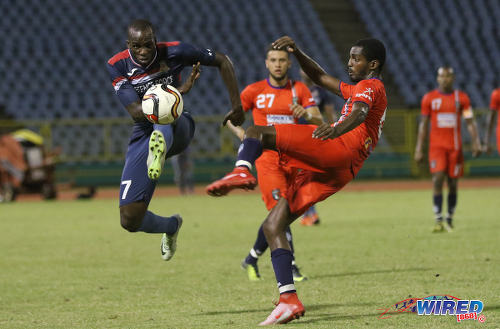 Roca, a Spanish agent with contacts in Central America, said the intricacies of the T&T Pro League can be confusing to foreign agents. Most Trinidad and Tobago footballers receive one-year contracts which expire at the end of every season. It means players are often unpaid during their off-seasons.
FIFA law allows players to freely speak to other teams once they have six months remaining on their professional contracts or less.
Roca said agents tend to speak directly to Pro League players in an effort to get accurate information on their employment status. He claimed to have also engineered moves for Trinidad and Tobago goalkeeper Jan-Michael Williams and defender Daneil Cyrus to Honduran team, Juticalpa, as well as forward Jerrel Britto's current deal with Honduras Progreso.
He hopes that an agreement can be reached with the "Teteron Boys" soon while Alajuelense are keen on the player.
For his part, Thompson insisted that Defence Force will not interfere with Boatswain's proposed move.
"The Defence Force is not standing in his way and we want him to progress and do better for himself," Thompson told Wired868. "But we hope the club contacts us so we can do the transfer properly."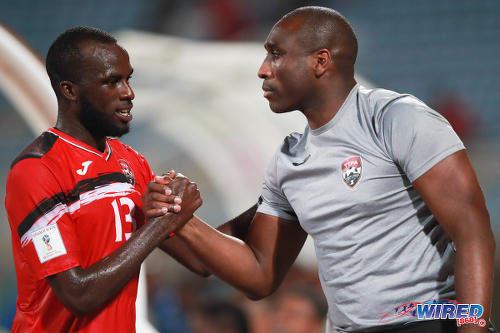 Boatswain made his first competitive start for the Soca Warriors against Costa Rica in San José, just nine days ago, after national captain Kenwyne Jones pulled up with an injury during the pre-match warm up.
And his pacy, energetic performance stretched the opposing team at times, as he forced opposing goalkeeper Keylor Navas into a superb double save in the first half and should have been rewarded with a penalty in the second half after he was dragged away from the ball by Costa Rica defender Michael Umaña.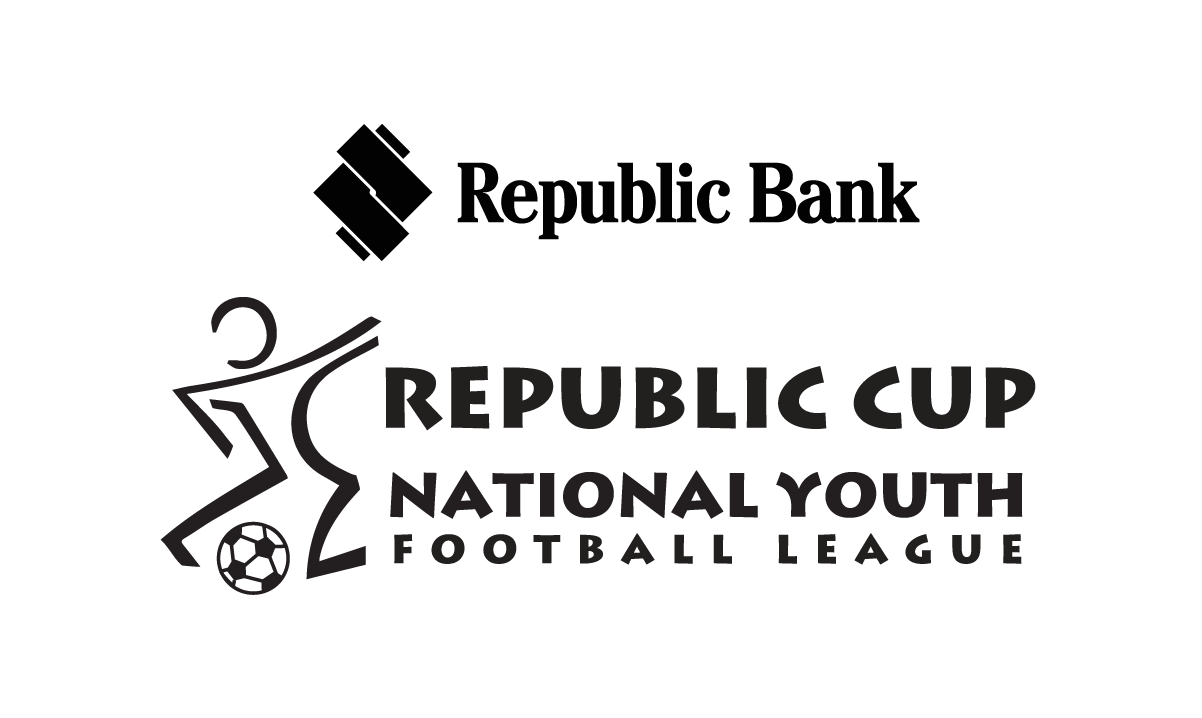 Alajuelense officials, via Roca, were soon in touch.
"They were looking at me from the two [World Cup qualifying] games in March and the interest grew after the game in Costa Rica," Boatswain told the TTFA Media. "I know it's going to be a big step up but I am ready. I am prepared to go there and settle in as quickly as possible and work my legs off to be successful on a personal level and to help the club achieve their goals."
Alajuelense are one of Costa Rica's most successful teams with 29 national championships, three Central American crowns and two CONCACAF Champions League titles. They will compete in the CONCACAF League this August—alongside Pro League outfits, Central FC and San Juan Jabloteh—after finishing third in their domestic competition last season based on an aggregate table.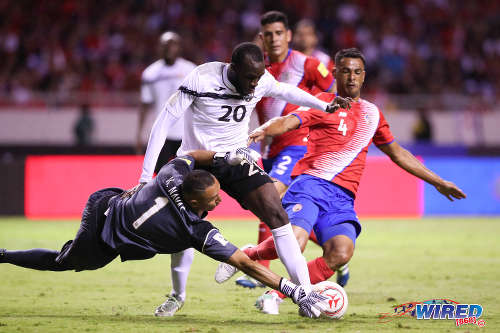 Alajuelense do have the dubious distinction of being the first club to be punished by CONCACAF for racist fan behaviour after, two years ago, their supporters directed "monkey noises" at Montreal Impact forward Dominic Oduro in their Estadio Alejandro Morera Soto home ground in Alajuela.
CONCACAF fined Alajuelense an undisclosed amount and gave the club a provisional one match ban.
Boatswain is looking forward to witnessing the positive side of Alajuelense's fervent fan base, though.
"I have an idea of what the game is like there," said Boatswain. "They are crazy about the game and I know the fans will be looking to see what I can do at the club."
Boatswain's move is just another chapter in his fairytale year which began with him leading the line for cash-strapped table proppers, Point Fortin Civic.
A qualified paramedic—after completing courses at the Emergency Training Institute of Trinidad and Tobago (ETITT) in Charlieville, Chaguanas—Boatswain was still working part-time with Wells Services Petroleum Company in South Oropouche, at the start of 2017, to compliment his meagre salary at Civic.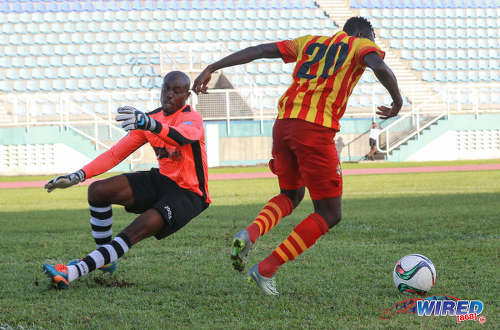 Although Civic were cut adrift at the bottom of the Pro League standings, Boatswain was near the top of the scoring charts with seven goals; and a surprise January switch to Defence Force finally gave him a platform to compete for honours.
Newly appointed Warriors coach Dennis Lawrence was in the stands as, within weeks of his transfer, Boatswain steered Defence Force to the 2017 Pro Bowl trophy with a hattrick against Police FC in the semifinals and a solitary item in the final against Central.
"Since last season, I've really looked at [Boatswain] because I saw he was scoring goals and his team wasn't playing well, which has to say something about his quality," Defence Force coach Marvin Gordon told Wired868, after the Pro Bowl final. "But what really made me push the button was when we beat [Point Fortin Civic] 7-2 last December and he came off the bench and scored two against us.
"There and then, I decided I had to get him."
Boatswain was grateful to Gordon and Defence Force, although his stay there looks to have lasted barely five months.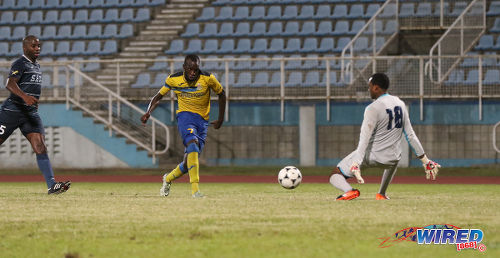 "Two to three years ago I began playing in the Pro League with Civic and then Marvin Gordon brought me to Defence Force and I want to thank him for that," he said.
Lawrence gave Boatswain his first taste of international football on his own coaching debut against Barbados on 10 March 2017 and the striker responded with a double.
He has not scored for Trinidad and Tobago since then although, remarkably, he is only player to feature in every single outing under the current Warriors coach so far.
Boatswain explained that he works hard on the training ground with the national team and hopes to repay Lawrence's faith in him.
"Dennis Lawrence saw something in me and he gave me that chance [and] I am thankful for that," said Boatswain. "And I hope I can continue to improve so I can come back into the team and deliver and help us to have a good chance of qualifying…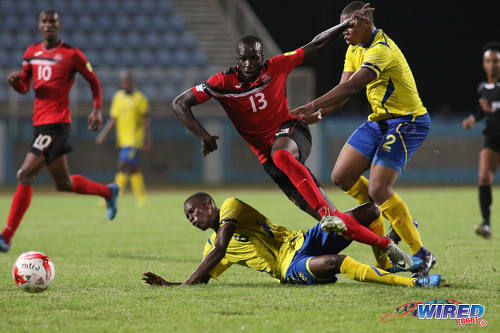 "[Warriors assistant coach and Trinidad and Tobago record goal scorer] Stern [John] has been doing some extra finishing with me and it has been helping me."
Alajuelense are just as impressed with Boatswain's raw potential and are also willing to gamble on the speedster. If he moves to Costa Rica, he would be following in the footsteps of Trinidad and Tobago teammate and full back Aubrey David, who represented defending champions Deportivo Saprissa last year.
Former Strike Squad goalkeeper Michael "Brow" Maurice also had a professional stint in Costa Rica during his heyday.
Despite the recent individual career moves of the Warriors players, Boatswain said they remain focused on the Russia 2018 qualifiers and are anxious to produce good results in September when Trinidad and Tobago hosts Honduras before travelling to Panama.
"I hope I can continue to improve so I can come back into the team and deliver and help us to have a good chance of qualifying," said Boatswain. "The games in September are really important for us… Kenwyne [Jones] is the main man so I came in knowing I would have to be working hard to get into the team. He has been really good overall in the camp and he is a good striker I believe.
"Hopefully all of us can be in good shape [and] at our best for the rest of matches coming up."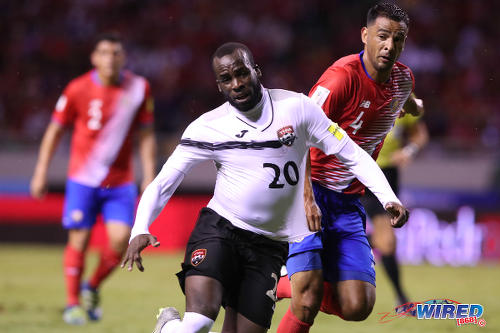 Editor's Note: Jamille Boatswain officially signed on Saturday 24 June and, pending registration is now a LD Alajuelense player.