Trinidad and Tobago lost their third successive match in the CONCACAF Hex last night with a 2-1 defeat to Costa Rica in San José. And, at the final whistle, the Soca Warriors conceded further ground to their five opponents in the quest for the three and a half qualification spots available for the Russia 2018 World Cup.
Yet, in four months' time, Soca Warriors supporters might remember Wednesday 13 June as a turning point.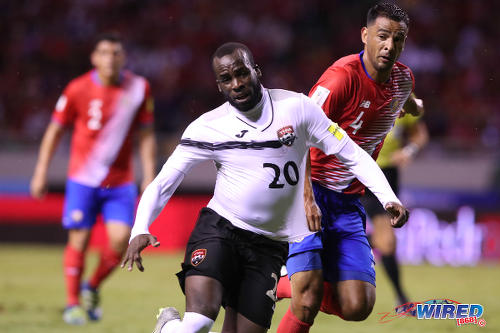 In Panama City yesterday, Panama and Honduras played to a 2-2 draw which means that, despite the San José setback, Trinidad and Tobago's destiny remains in their own hands. And they may not need a point in the Azteca Stadium after all.
The Warriors will resume their World Cup campaign in Port-of-Spain on 1 September against Honduras and three points for the two-island republic will move coach Dennis Lawrence's troops into fifth place.
Four days later, Trinidad and Tobago play away to a Panamanian team that have now failed to win any of their last five matches—their only triumph of the Hex came in the open round on 11 November 2016 when they defeated Honduras 1-0 in San Pedro Sula.

Another triumph in Panama City and the Warriors will again face the United States in Port-of-Spain with a potential World Cup place at stake—albeit a FIFA Play-off berth.
Of course, it seems a much simpler task on paper than it is in reality. But, arguabl,y for the first time in the Hex, there was also on-the-field evidence that Trinidad and Tobago are not done yet.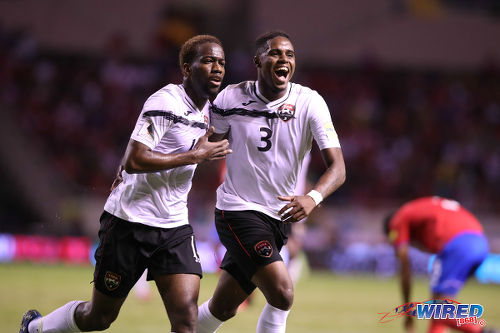 Outside of Mexico City, San José has long been the most undesirable tourist destination for the boys in red, white and black. Two of the country's most successful past coaches, Everald "Gally" Cummings and Leo Beenhakker, both travelled there and lost and it is not since 1985 that Trinidad and Tobago have managed a point away to Costa Rica.
Yet, at the hour mark, Trinidad and Tobago goalkeeper Jan-Michael Williams had made just one save outside of the two goals conceded while Costa Rica custodian Keylor Navas had been forced to defend his goal area on four occasions. And, for the third straight game, Lawrence had a legitimate reason to feel aggrieved at the officiating as a disallowed penalty shout was added to disallowed "goals" against Mexico and the United States.
As full time loomed, Navas, a two UEFA Champions League winner with Real Madrid, was so timid about putting the ball into play from goal kicks that he earned a scolding by Cuban referee Yardel Martinez.
Lawrence and his boys might have got nothing tangible in San José. But, if Trinidad and Tobago were indeed inhibited by self-doubt ever since the likes of Dwight Yorke and Russell Latapy hung up their boots, then the last team standing from the Caribbean might have secured something almost as valuable last night.
At the start of the year, Jamille Boatswain was playing up front for the Pro League's worst team last season, Point Fortin Civic. Defence Force coach Marvin Gordon saw something in the raw, fast poacher and offered the 23-year-old the chance to become a soldier and compete with veteran Devorn Jorsling, the Pro League's record goal scorer, for the starting role up front.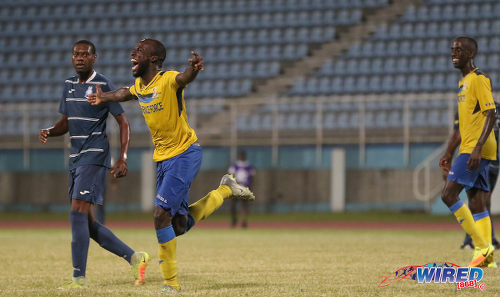 Boatswain claimed the centre-forward position at Defence Force in just under two months—thanks, in part, to a Jorsling injury. And, four months later, Warriors captain Kenwyne Jones looks to be in trouble too under similar circumstances.
In the 51st minute, Boatswain made a diagonal run on to a pass by teammate Daneil Cyrus only for the panicked Costa Rica defender Michael Umaña to tug him back by his shirt.
Inexplicably, Martinez did not punish Umaña by awarding a penalty kick, which would have given Trinidad and Tobago a chance to make it 2-2. But Boatswain will remember the look of terror in the Costa Rican defender. He should also recall an illustrious Real Madrid goalkeeper praying for the final whistle.
Having faced the core of a Costa Rican team that eliminated Italy and England from the 2014 World Cup, the Trinidad and Tobago players must know they can compete now—at least if they properly apply themselves.
With any luck, there will be no more news of players turning up late for training, slipping out of the camp to party or demanding nights out with their wives. Not when they realise that professionalism and dedication to the craft is the biggest difference between them and several of football's household names.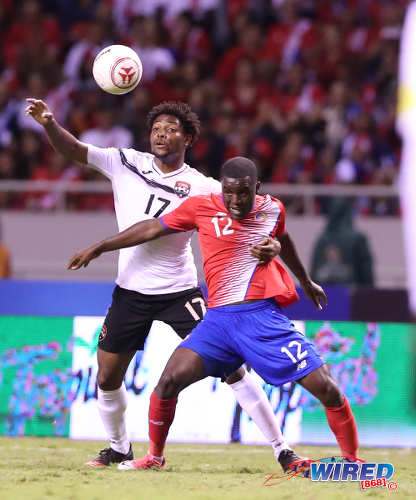 This is not to say that Trinidad and Tobago were anything near flawless last night—from a tactical standpoint or otherwise.
Lawrence gambled again with his team sheet as the Warriors started with four offensive midfielders behind a lone striker in a remarkable show of chutzpah on hostile soil.
The biggest punt of all was in Defence Force playmaker Hashim Arcia who made his World Cup qualifying debut in central midfield. Arcia does his best work in the offensive third of the field with his club and it showed last night.
He was flat-footed when, after just 45 seconds, Francisco Calvo headed Costa Rica ahead off a Joel Campbell corner kick. And Arcia was beaten again in the 44th minute, when opposing captain Bryan Ruiz sent him the wrong way on the edge of the area before hitting a sublime left-footed effort into the far corner.
Ironically, it was the change that Lawrence had not made—not intentionally anyway—which made the most significant impact last night.
Captain Kenwyne Jones pulled up during the pre-match warm-up and Lawrence, a former Defence Force man himself, put his faith in another soldier.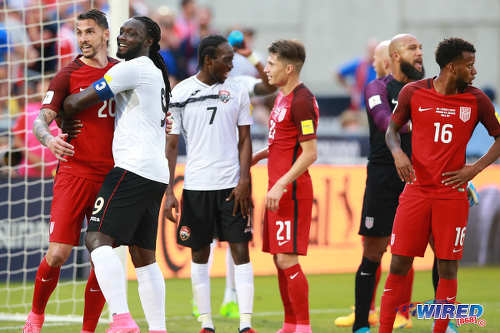 Boatswain's hold-up play is nowhere near Kenwyne's level while he also lacked the latter's aerial presence to threaten from crosses. But his pace and willingness to chase any ball within the same zip code forced the Costa Rica defence to take a deeper line; it meant more space for the Trinidad and Tobago midfield—and, in particular, Kevin Molino—to exploit.
Joevin Jones served the first warning of Trinidad and Tobago's intent in the 28th minute with an angled free kick, which Navas saved at full stretch.
Then, two minutes later, Arcia almost pulled the Warriors level with a clipped effort from a Nathan Lewis pass—only for Navas to again pull off the block.
The best was still to come from the famous Costa Rican goalkeeper. In the 32nd minute, Arcia mishit an attempt which fell fortuitously to Boatswain in the opposing penalty area.
Boatswain sized up Navas and tried to dart around him for a simple finish. Navas' ability to chase the striker and produce a block, despite being practically on all fours, seemed like something from a sci-fi movie and, in the same sequence, he followed that up with another save from close range as the Ticos survived rebound efforts by Arcia and then Boatswain again.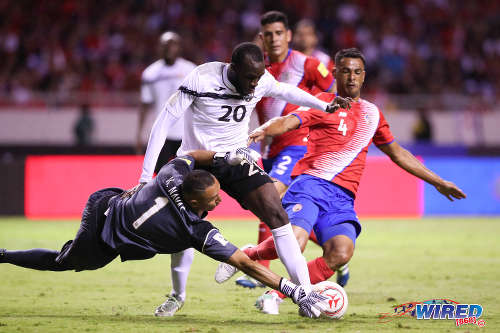 Navas had no answer for Molino, though. On another Trinidad and Tobago counter-attack, Joevin crossed low from the left and, although Boatswain might have been the target, the ball landed for Molino who found the far corner superbly with his supposedly weaker left foot. One all!
Navas had got a touch on the ball but, unable to keep it out, he screamed in frustration.
As the mobile front three of Molino, Joevin and Boatswain sprinted towards the substitutes' bench to celebrate, it was easy to imagine that this is what Trinidad and Tobago's football future will look like.
Of course, it is still too early to dismiss Kenwyne and his attributes. But at least there are now signs of a feasible Plan B.
Still, one minute before the interval, Ruiz brought the Warriors back down to earth with a classy move and finish.
Lawrence replaced Arcia with Khaleem Hyland at half-time, presumably to add more experience, grit and calm to the midfield area;  it proved futile. This was not a coach's game. More than anything else, it was like a table tennis match: attack versus counter-attack.
Boatswain should have earned the penalty off Umaña and he had another shot saved by Navas' legs. Molino too found an opening, driving one effort into the side netting from a sharp angle.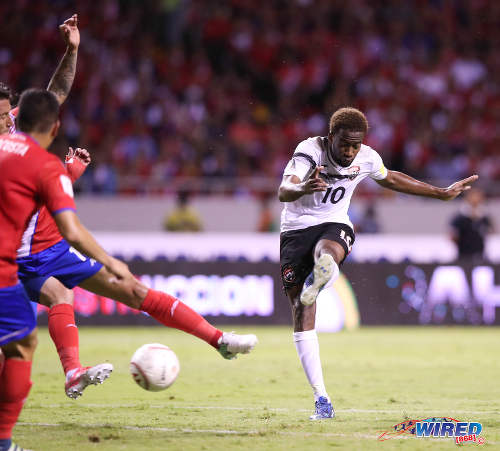 At the other end, Cyrus was caught in possession and was relieved to see Costa Rica forward Johan Venegas hit overbars while Campbell also wasted a decent look after a sloppy Hyland giveaway.
Lawrence swapped Joevin for Carlos Edwards in the 77th minute and then Mekeil Williams for Shahdon Winchester in the 89th. Whatever the intention, there was again little visible sign that either change made Trinidad and Tobago more solid defensively or more dangerous offensively.
The last 20 minutes were scrappy for both teams and Navas decided not to take any chances as he wasted as much time as the referee would allow. The hosts were thus relieved at the final whistle.
So what now?
Next month, Costa Rica, Honduras, Mexico, Panama and the United States are all guaranteed between three to six competitive fixtures against CONCACAF best teams in the 2017 Gold Cup tournament. Trinidad and Tobago are the only team from the Hex that failed to qualify for that competition.
Worse, there are no FIFA match days available between now and 28 August. It means the Trinidad and Tobago Football Association (TTFA) will need to get creative to find decent warm-up games for the Warriors. And, even then, Lawrence has no guarantee that any of his foreign-based players will be available to take part.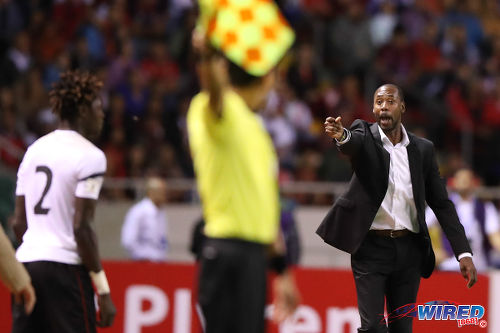 It is imperative that the likes of Boatswain, Lewis, Arcia and Gonzales get the opportunity to continue their development at this level. And soon. No doubt, Lawrence can learn more about his players too—and it is about time he had a look at the United States-based duo of Ataulla Guerra and Neveal Hackshaw as well as Slovenia-based left-back Keston Julien. Perhaps the lanky coach will extend his search further afield while there will inevitably be fresh attempts to woo former England National Under-17 team captain John Bostock.
Trinidad and Tobago's position in the CONCACAF standings remains as precarious as ever. But at least, Lawrence now has something concrete he can work with.
The Warriors are far from finished.
(Teams)
Trinidad and Tobago (4-1-4-1): 21.Jan-Michael Williams (GK) (captain); 2.Aubrey David, 5.Daneil Cyrus, 4.Sheldon Bateau, 17.Mekeil Williams (12.Shahdon Winchester 89); 15.Curtis Gonzales; 7.Nathan Lewis, 18.Hashim Arcia (8.Khaleem Hyland 46), 10.Kevin Molino, 3.Joevin Jones (11.Carlos Edwards 77); 20.Jamille Boatswain.
Unused substitutes: 1.Marvin Phillip (GK), 22.Adrian Foncette (GK), 6.Radanfah Abu Bakr, 13.Hughtun Hector, 14.Andre Boucaud, 16.Alvin Jones, 19.Kevan George, 23.Leston Paul, Triston Hodge,
Coach: Dennis Lawrence
Costa Rica (3-3-3-1): 1.Keylor Navas (GK); 19.Kendall Waston (4.Michael Umaña 22), 2.Johnny Acosta, 15.Francisco Calvo; 16.Christian Gamboa, 5.Celso Borges, 8.Bryan Oviedo; 12.Joel Campbell, 11.Johan Venegas, 10.Bryan Ruiz (captain); 21.Marcos Ureña (13.Rodney Wallace 81).
Unused substitutes: 18.Patrick Pemberton (GK), 23.Leonel Moreira (GK), 3.Kenner Gutierrez, 6.Jose Salvatierra, 7.Daniel Colindres, 9.Ariel Rodriguez, 14.Randall Azofeifa, 17.Yeltsin Tejada, 20.David Guzman, 22.Ronald Matarrita,
Coach: Oscar Ramirez
Referee: Yardel Martinez (Cuba)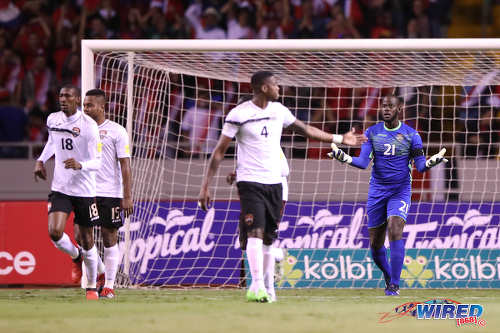 CONCACAF Hex results
(Sunday 11 June)
Mexico 1 (Carlos Vela 23), United States 1 (Michael Bradley 6) at Mexico City;
(Tuesday 13 June)
Panama 2 (Blas Pérez 41, Roman Torres 90), Honduras 2 (Romell Quioto 6, Alberth Ellis 65) at Panama City;
Costa Rica 2 (Francisco Calvo 1, Bryan Ruiz 44), Trinidad and Tobago 1 (Kevin Molino 34) at San Jose;
Standings
Mexico              6-4-2-0-9-2-14
Costa Rica        6-3-2-1-9-4-11
United States  6-2-2-2-11-8-8
Panama            6-1-4-1-4-4-7
Honduras        6-1-2-3-6-14-5
T&T                    6-1-0-5-3-10-3