"It was our individual errors that cost us the game and the USA took advantage of it."
That was Trinidad and Tobago head coach Dennis Lawrence's blunt assessment of his team's 2-0 loss to the USA at Dick's Sporting Goods Stadium in Colorado last evening. The 2018 World Cup Qualifying match, the Warriors' fifth, reminded supporters of a classic Clint Eastwood western as it saw them produce some good stuff along with some bad and some ugly.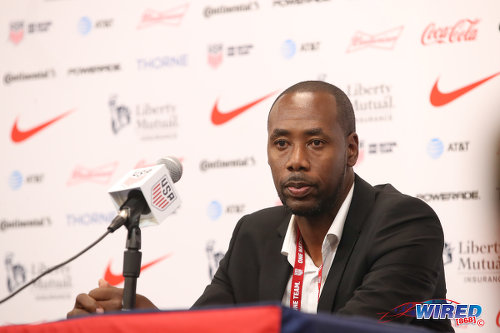 After spending two weeks in training at the University of Colorado's Prentup Field getting used to the special conditions spawned by Colorado's 5,340 feet above sea level altitude, Lawrence was satisfied that the tactical plan he devised to counter the home side's system worked—at least for the entire first half.
"We knew that [USA] were going to play a 4-4-2 diamond system," Lawrence told the post-match media conference, "and felt up against [Jozy] Altidore and [Clint] Dempsey that solidity was needed at the back."
For what was the biggest match of his brief coaching career so far, Lawrence opted for a 3-4-2-1 formation.

"Also, because of this, our aim was to get the get ball wide and cross before they could turn back into their formation."
His team delivered although not as spectacularly as if Kenwyne Jones' 32nd minute header off a Khaleem Hyland chip forward had been a couple of centimetres lower.  That was the "good."
"We had a little joy with it, Kenwyne's unfortunate header hitting the crossbar. And I think Nathan's 'goal' was a very close call that went against us again."
The "bad" was the bad luck that came when Nathan Lewis put the ball in the net in the 62nd minute but the goal was ruled offside. It came immediately after Christian Pulisic had opened the scoring for the USA, running on to an Altidore pass to slot home from close range.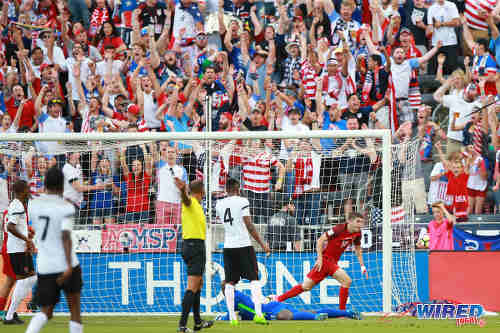 Lady Luck has not been good to Lawrence in the early part of his coaching career so far. In the fourth round game versus Mexico in March at the Hasely Crawford, Joevin Jones sent a left-footed screamer into the net from distance, only to have it disallowed for offside by the Jamaican referee. T&T eventually went down 0-1 in that crucial match-up.
Lawrence noted that he had given a lot of thought to the formation he should use but in order to deploy it he had to make some adjustments to the roles played by Jones (J) and Kevin Molino.
"I asked Kevin to play in a specific wider position tonight and he played it as best he can," he explained. "Then, I brought him in the middle and he did well so I was totally pleased with his effort and commitment.
"Joevin came into the camp late and I always knew that him playing 90 minutes in these conditions as wing-back after playing for his club on Sunday would have been tricky. He gave it his all and I took him off when I felt he didn't have much left in the tank."
Lawrence did not say so clearly in words but unforeseen circumstances may also have affected his original plan. Lewis was probably not in the original plan but, with Levi Garcia ruled out through injury and Cordell Cato through his late suspension, he eventually got the nod as a starter.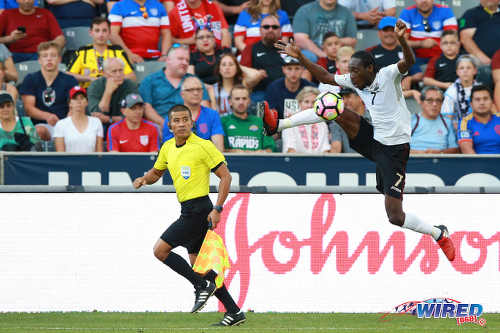 "Nathan didn't let me down tonight," Lawrence said. "He did well in the recent Caribbean Club Championship and, given the squad options, he came in."
Overall, Lawrence was pleased with how his team had adapted to his plans. But he would not have been pleased with the "ugly." The USA's propensity for taking advantage of lapses is well known and Lawrence would almost certainly have stressed it over and over in the run-up to this game. Yet, both American goals came from two possession lapses in midfield, one by the national skipper Jones (K) and the other by the usually dependable Hyland.
"We want Khaleem to get on the ball," Lawrence commented wryly, "but we don't want him to give it away cheaply in the middle of the park. So except for that moment, my overall point of view he did what I asked him to do, just need to execute better in those moments in the future."
The coach seemed to suggest that he felt generally good about his team with the next crucial Hex assignment scheduled for San José, Costa Rica, on Tuesday.
"The positive looking ahead to Costa Rica is that the boys understood what I wanted them to do," he concluded, "so tactically that's not what cost us the game—but giving away the ball twice."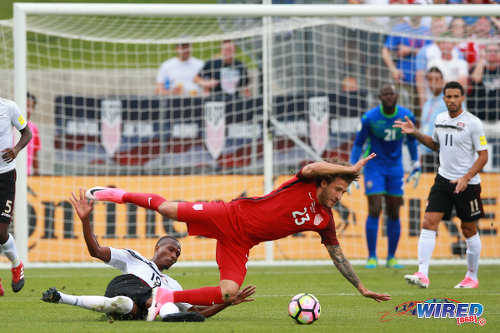 USA coach Bruce Arena also commented on the T&T tactical approach.
"I didn't expect Trinidad to play a back three," he admitted, "and how high upfield the wingbacks and the defence were when they gained possession also caught me by surprise. So, yeah, although we won, I think they did a tremendous job and were well prepared for this game.
"They put our backline under pressure and deserve a lot of credit. Hopefully now, [Trinidad and Tobago] could start knocking off a few teams and ease the pressure on us."
The Soca Warriors' next chance to do so will be in Costa Rica next Tuesday on a venue where the two-island republic have never won and only once registered a point—32 years ago in the 1986 World Cup qualifying series.